Creating a beautiful table for Easter doesn't need to take you a long time, often times you can dress your table in minutes. This Easter Flower Basket Centerpiece comes together in minutes and is simply adorable with the Bunny Napkins. Just a few flowers, basket and simple supplies are all you need.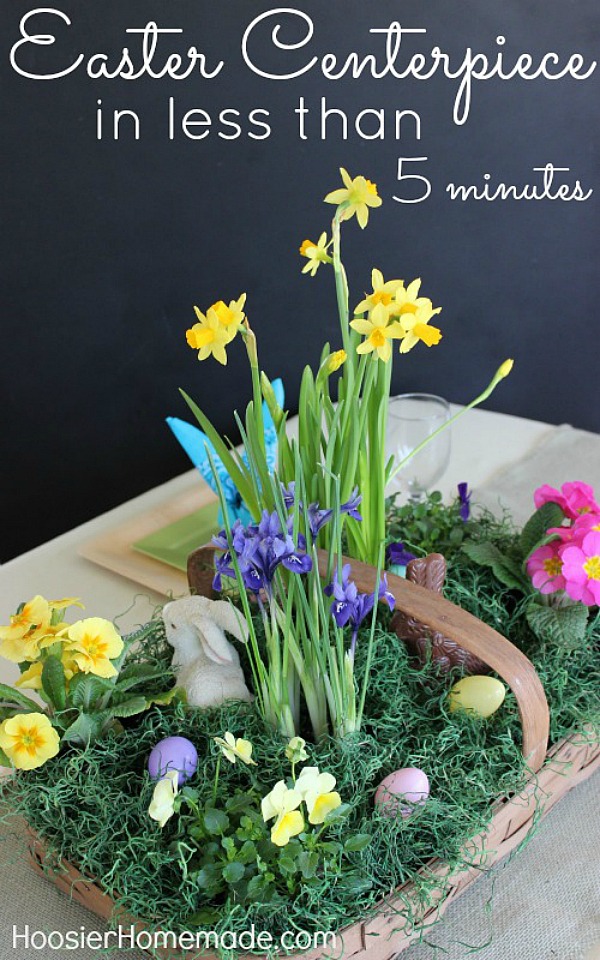 Over the years I have spent lots of time making our holidays extra special, while I still make them special, I have learned to cut back on time and still keep the holiday special. Whether that's setting a special table with a beautiful centerpiece, putting together an Easter basket or baking a family favorite Easter dessert – holidays are a special time here.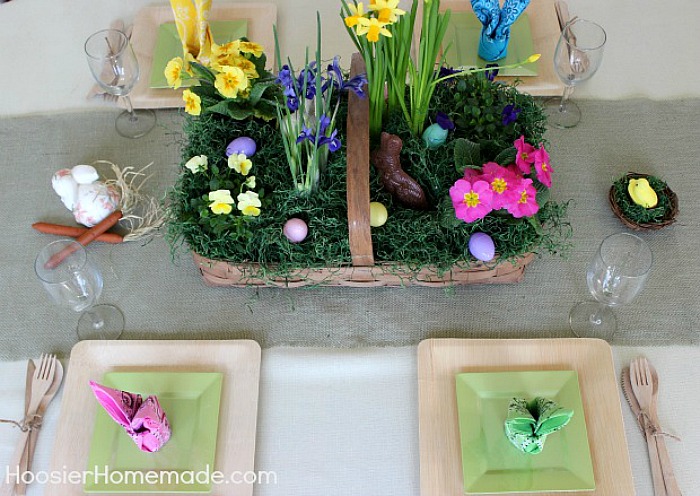 First let's chat about the table and then I will show you how to create the centerpiece.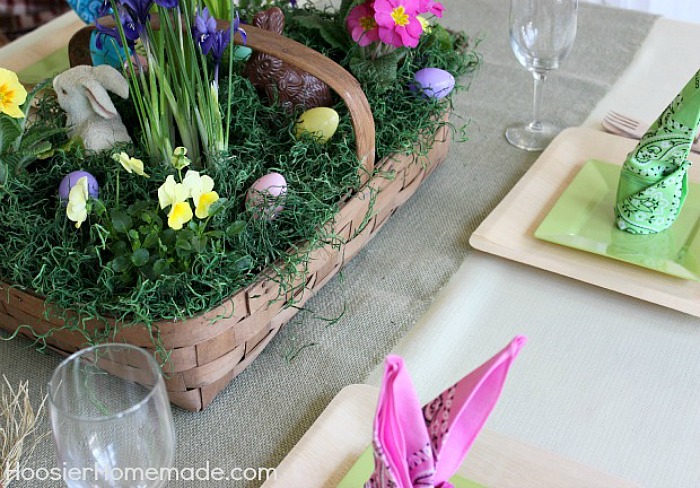 I started with a pale yellow tablecloth that I found at TJ Maxx, and then added a runner made with green burlap from the Fabric Store. I simply cut the burlap to 18 inches wide (any size is fine) and frayed the edge a little.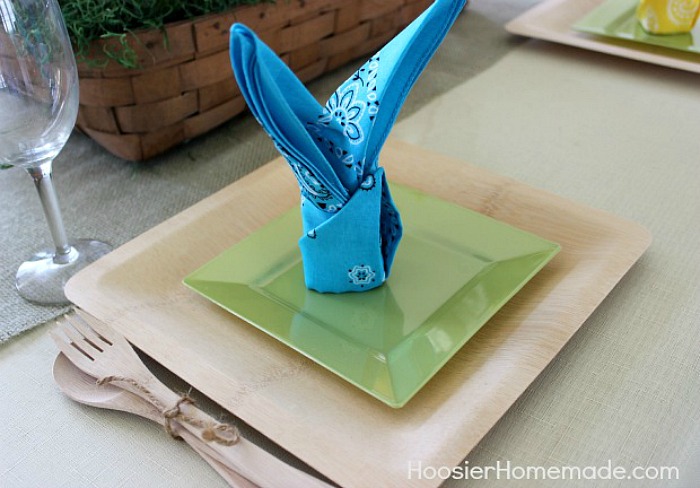 The large plate looks like bamboo, with a small green plate on top, and the silverware are also bamboo they are from EcoParty and we found all of the pieces at Party City.
I tied the silverware with a piece of twine. And the Bunny Napkins are simply adorable. Learn how to fold the Bunny Napkins.
Now let me show you how to create the Easter Flower Basket Centerpiece…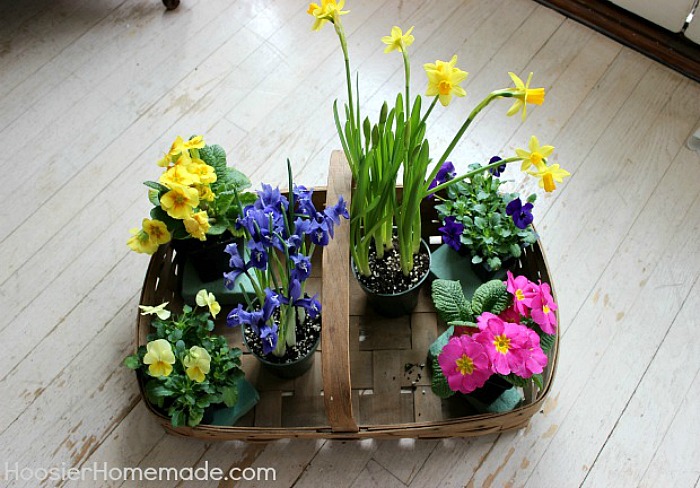 I started with a large flat basket, one I already had. Any size or shape will work, however I have found that a flat bottom on the basket makes it easier.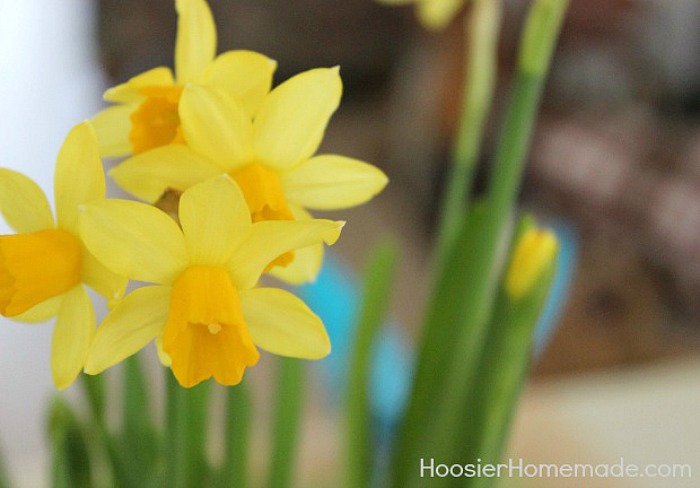 These are Tete-a-tete Daffodils, I love how small and precious they are.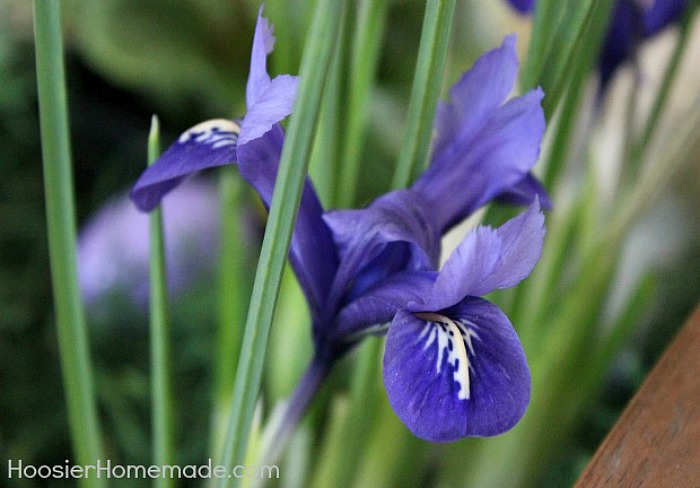 And these are Harmony Mini Iris.
Primrose in both pink and yellow.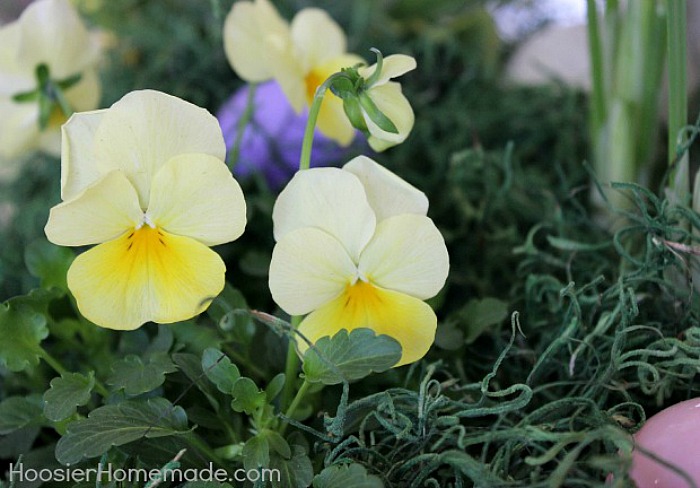 The little Violas are so sweet!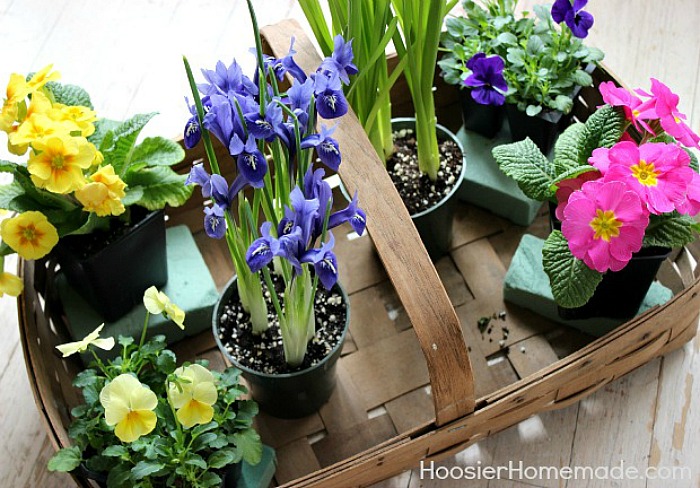 I added the flowers, they are from a local garden center. To add different heights, I set some of them on top of floral foam. You can find the floral foam in the floral department at Walmart or craft store.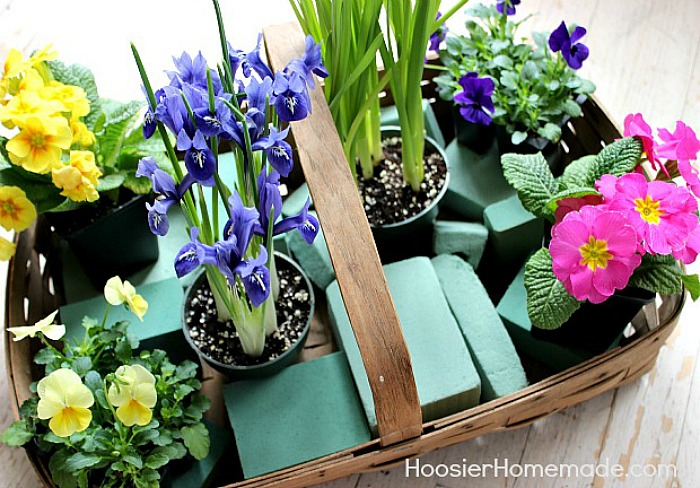 Then I filled in with more foam. You don't have to do this, it just made it easier to add the grass and I used less. Plus when you set the bunnies and eggs into the basket, they won't fall down.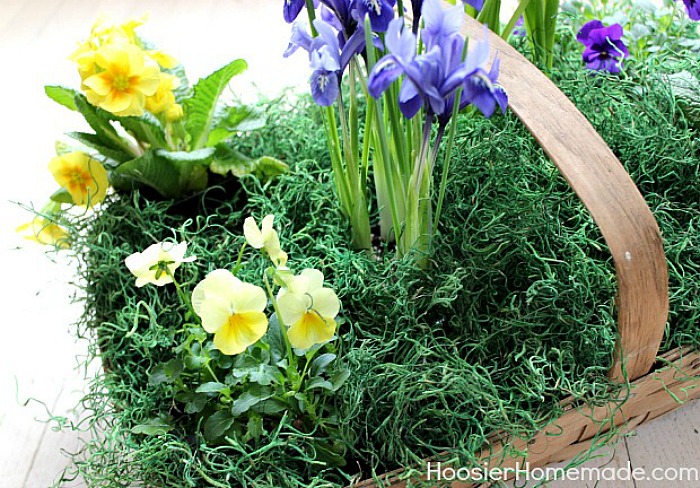 Now it's time to add the grass. Oh…the grass! Let's chat about this for a minute…
I originally wanted to use Wheat Grass, fresh, real grass. But after looking at least 10 stores in 2 different nearby towns and a phone call to our local florist, we came up short. So onto plan B…
I knew if I was having trouble finding the grass, it wouldn't be easy for you to find it either, and that would defeat my whole purpose of showing you an easy Easter Flower Basket Centerpiece.
So we settled on fake grass, we found Spanish Moss at Hobby Lobby, it's in the floral area and comes in a large bag for around $6. And comes in several different colors. There was plenty to fill my whole basket with some left over. And I think, even though it's not fresh grass, it does look really good!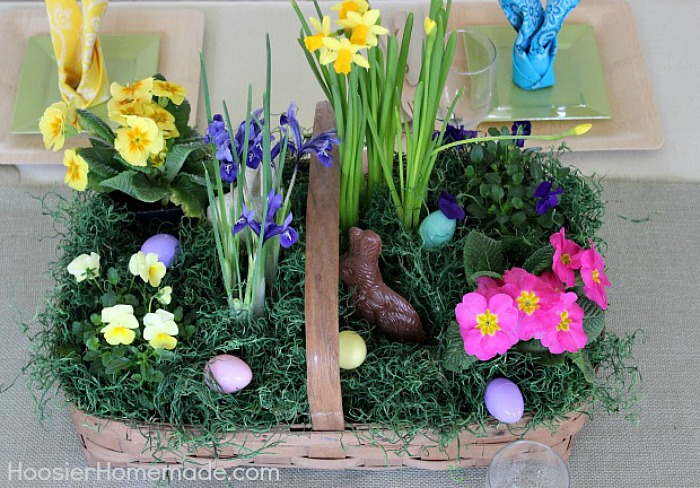 Then it was time to add the bunnies; chocolate and ceramic and some small plastic eggs.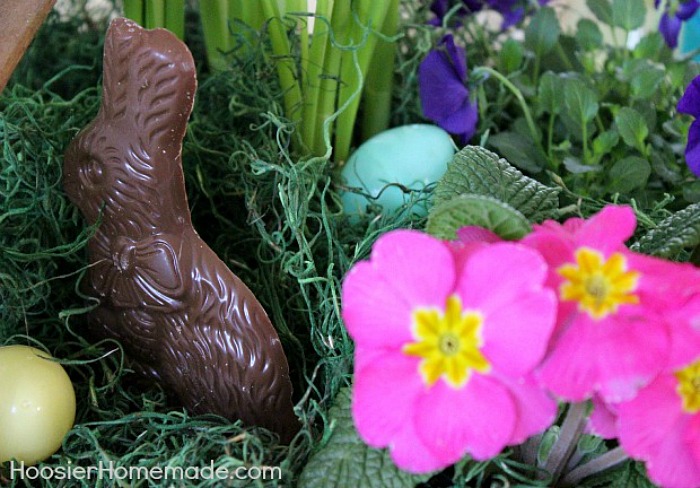 I like the nostalgia of this chocolate bunny, but any bunny will do.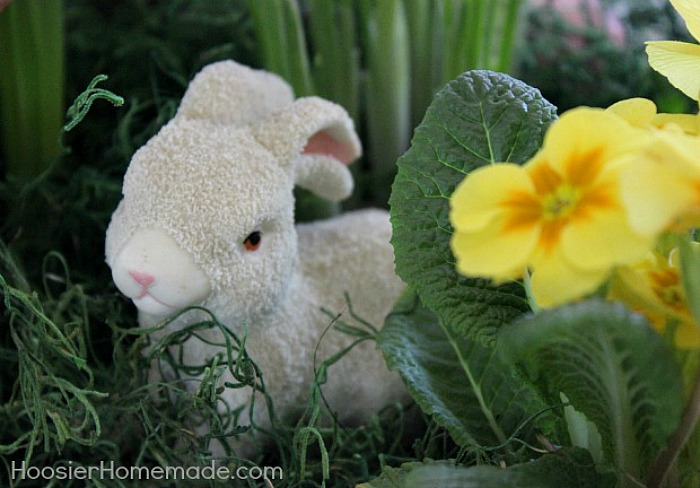 And the ceramic bunny is one that I have had for a long time.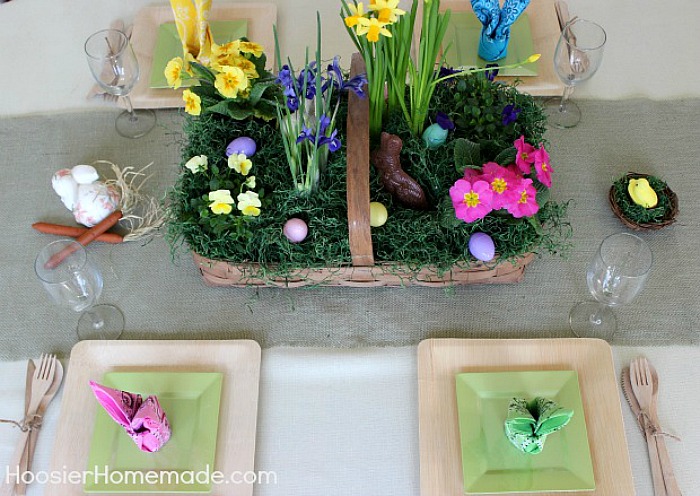 Now we have created a beautiful Easter Tablescape in a short amount of time!
Wishing you and your family a blessed Easter!!