Decorating your home doesn't need to take a lot of time, supplies or money! This DIY Wreath takes only 4 supplies, about 15 minutes to make and can be used throughout the whole year.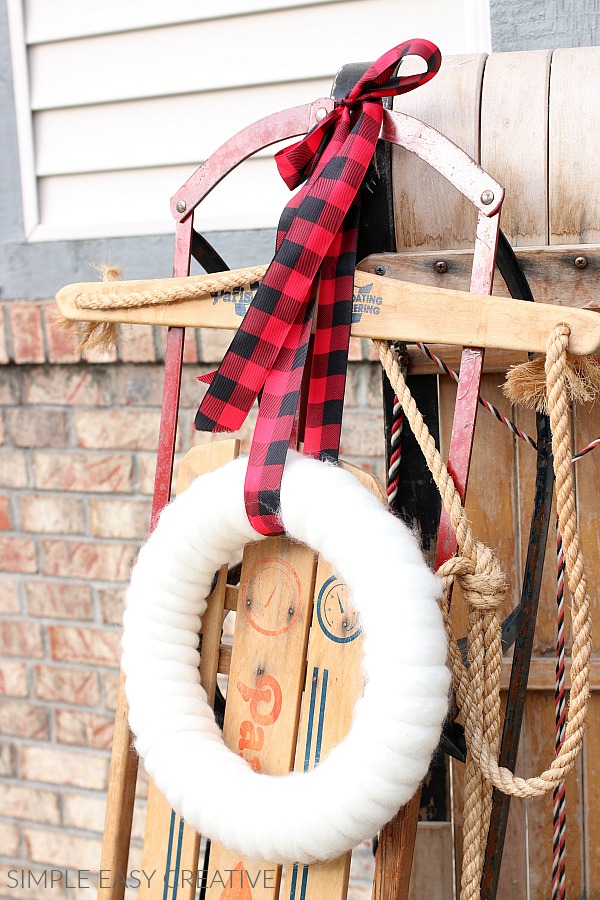 While this wreath is quick and easy, the best part is that it's so versatile. Here are several DIY wreath ideas for you to use throughout the year –
Winter – leave the red and black ribbon or change to a silver or gray ribbon. Add some snowflakes.
Valentine's Day – add a pink or red ribbon. Maybe some hearts too.
St. Patrick's Day – Add a green ribbon
4th of July – Add a red and blue ribbon for – red,white and blue
Fall – Add a Fall foliage printed ribbon
Halloween – Add a red and black ribbon
Thanksgiving – Add a rust colored ribbon
I think it all sounds really fun! Now my head is spinning with ideas!
The nice thing about decorating the front porch with sleds and the wreath, is that they can stay up all Winter.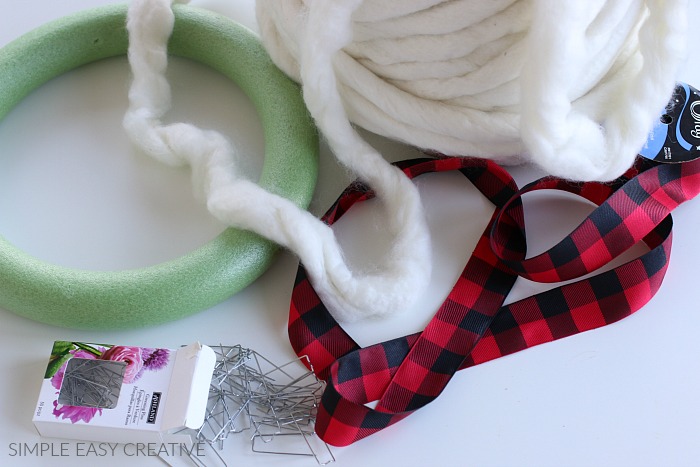 You can put together this Wreath in about 15 minutes. Let's get started –
Wreath Supplies
Wreath Form – I found the form that is more compact, and not just styrofoam works best.
Yarn – I like this thick yarn, it's called Free Spirit by Loops & Threads. And a little goes a long way, you can easily make several wreaths for gifts from one package of yarn.
Ribbon
Floral picks – you could also use heavy wire or paper clips, these picks are super easy though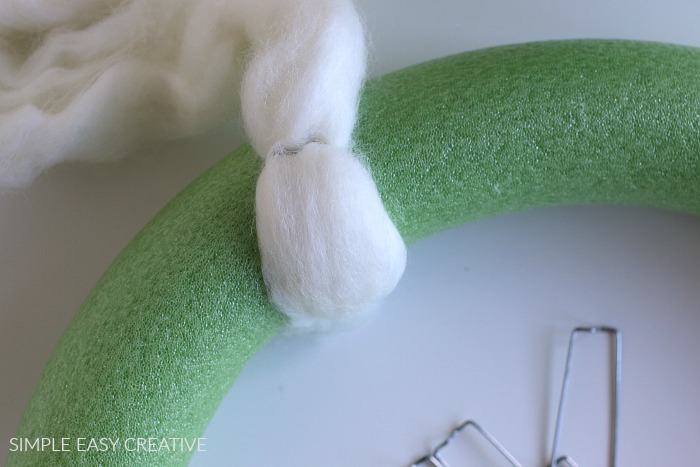 Step 1
Begin by securing one end of the yarn to the wreath form with a floral pick. Don't worry about it showing because you can easily cover it.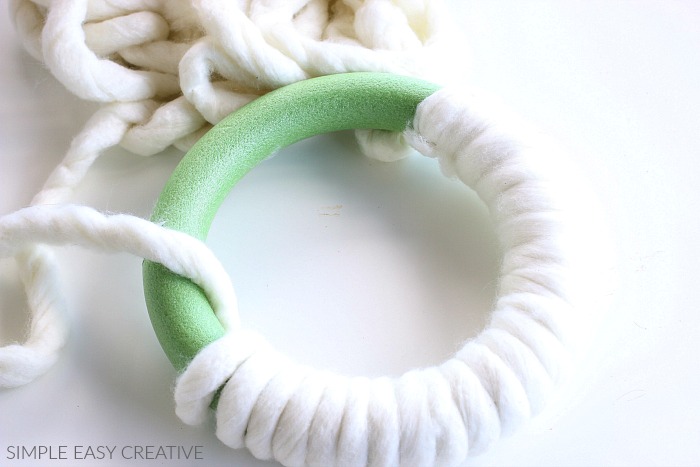 Step 2
Wrap the yarn around the wreath form. I found it easiest to cut a long piece of yarn and then simply feed it through the center.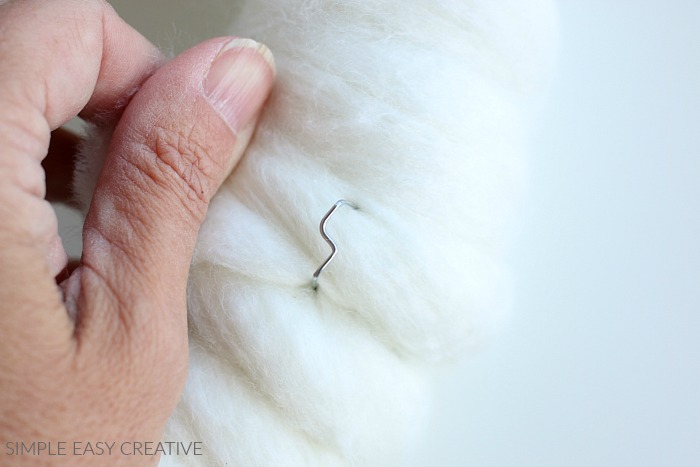 Step 3
Using another floral pick, secure the end to the wreath form.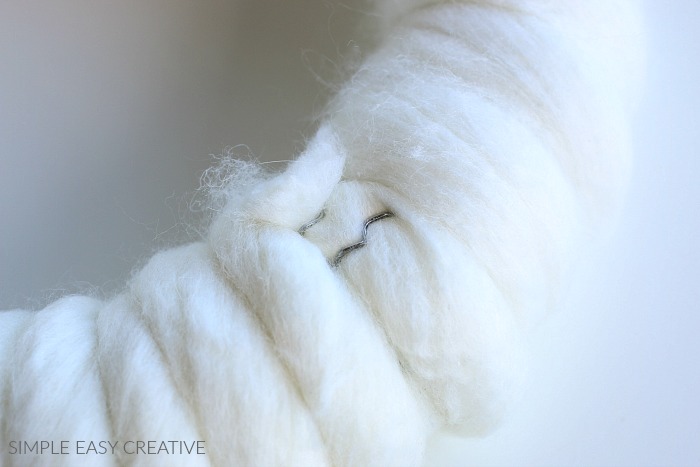 Step 4
Cut the yarn, close to the floral pick. Don't worry, this will be covered with the ribbon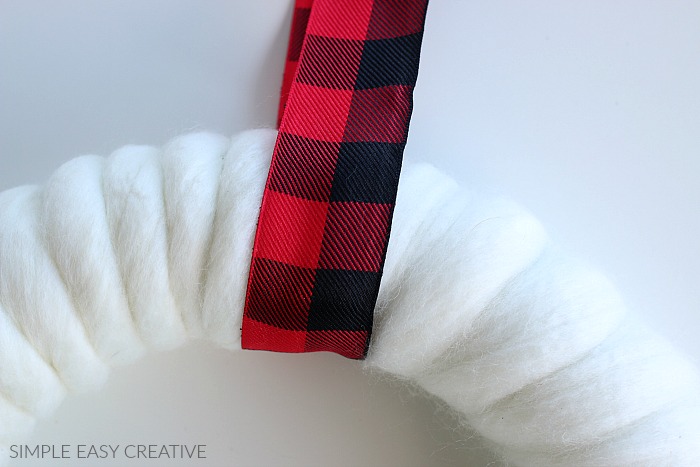 Step 5
Now add your ribbon. This one is very simple, and looped loosely around the wreath. I kept it this way to make it easy to change the ribbon for different holidays or seasons.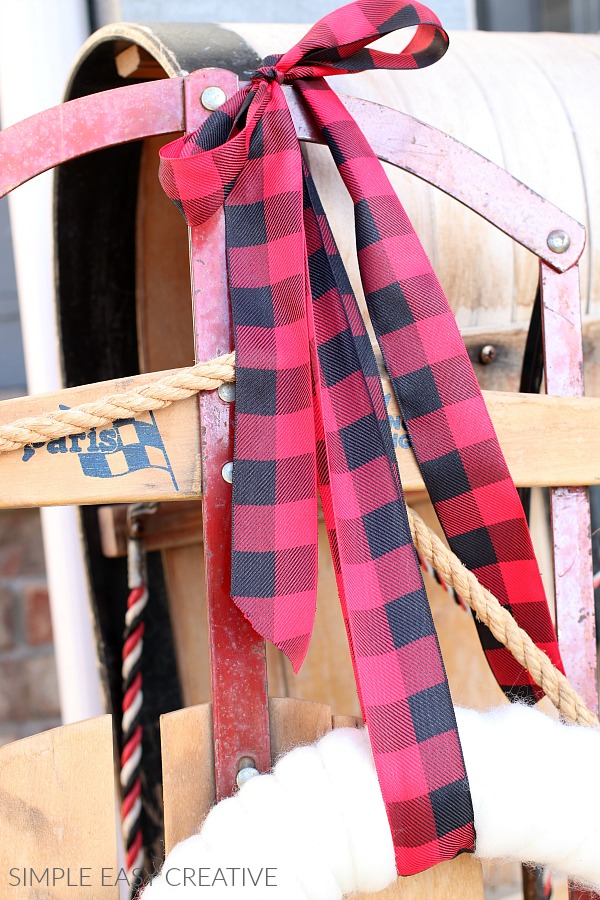 To display the wreath, I wrapped the ribbon around the sled and tied a bow. Depending on where you live, you will want to have the wreath in a protected area.
Looking for more super easy decorating ideas? Click on the photo –