Cupcake Tuesday~Key Lime Cupcakes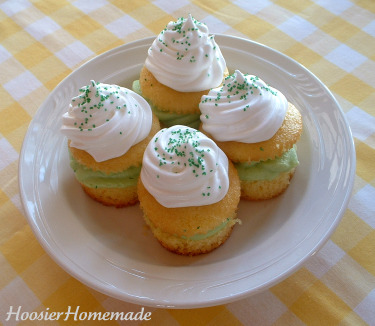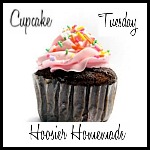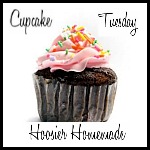 Welcome to Cupcake Tuesday!   If you are new here, grab a cup of tea or a glass of milk and enjoy a cupcake!
Did you all get a chance to see my first video on how to decorate cupcakes? I hope you found it helpful. If you have other questions for the What's New, Cupcake? authors, be sure to leave a comment, and we will be answering those soon. I'm planning on having a vlog for you a couple times per month, so if there is a special cupcake you would like to see, Please leave me a comment and I'd be happy to show it 🙂
If you haven't entered the giveaway for the signed copy of the What's New, Cupcake? book yet, tonight is the last night! Hurry 🙂
Now, for the Lime Cupcakes…a couple months ago, I shared my Mini Key Lime Cupcakes over at Lifetime Moms. They were so delicious, that I thought they would taste good in a regular cupcake too. So, I played around a little and came up with a couple different variations for you.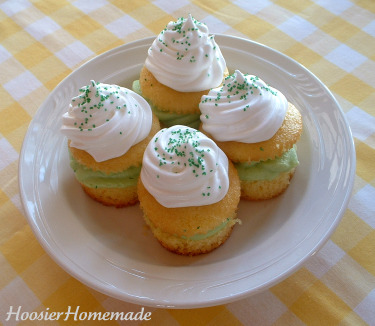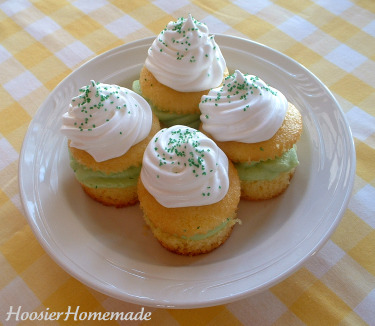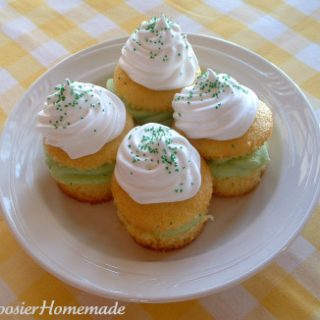 Key Lime Cupcakes
Key Lime Cupcake recipe from HoosierHomemade.com
Ingredients
Vanilla or Yellow Cupcakes
1 box (4 oz) Vanilla Instant Pudding & Pie Filling
1/2 cups Whipping Cream
1/4 cup Key Lime or Regular Lime Juice (I used freshed squeezed)
4 drops of Green Food Color
1/2 cups Powdered Sugar
Instructions
In a large bowl, beat pudding and whipping cream with a wire whisk for 2 minutes.
Let stand 3 minutes.
Beat in lime juice and food coloring, stir in powdered sugar.
Cover and refrigerate.
After cupcakes are cooled, slice off the top 1/3 of the cupcake.
Spoon filling onto cupcake , and add the top of the cupcake.
%http://hoosierhomemade.com/wp-content/uploads/Key-Lime-Cupcakes.fixed_.4.jpg
I used real whipping cream for the topping.
Beat until stiff peaks form, add a dash of vanilla for flavor and about 1/2 cup powdered sugar.
Place in decorator bag, and pipe onto the top.
Add a few green sprinkles if desired.
For the second variation, I left the cupcakes whole and filled the inside with the Key Lime filling.
There are several ways to fill a cupcake, most of the time, I use an apple corer to make a hole in the center and then fill.
Top with whipping cream and a wedge of fresh lime.
%http://hoosierhomemade.com/wp-content/uploads/Key-Lime-Cupcakes.collage.jpg
Now it's your turn! Please share your cupcake or muffin recipe! For the guidelines, you can visit Cupcake Tuesday.
Please be sure to link back to this post, so that your readers can see all the yummy creations and visit some (or all) of the other participants.