Christmas Mantel: Believe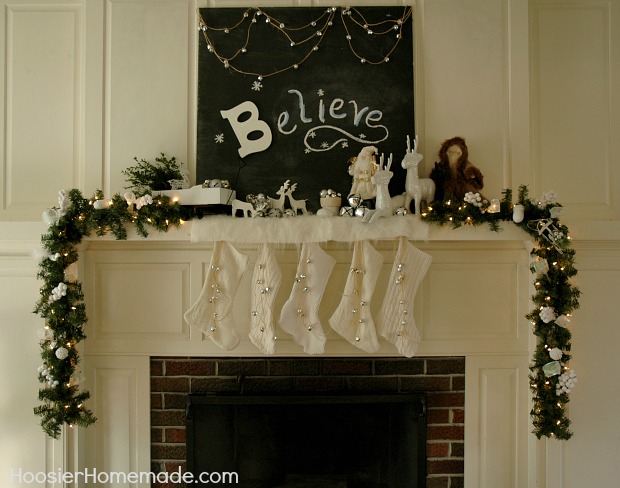 Our Christmas Mantel is a bit different this year, in fact most of our Christmas trees and decorations are not our usual style. I'll have to admit, it's taking me a little time to get into the spirit this year, not sure if it's the lack of snow, being so busy or simply life. So this new spin on our Mantel and other decorations is very refreshing for both Doug and I.
The Mantel started with a feeling…a wish…that the spirit of Christmas could live in all of us, not only in just the hearts of little children. You know…that sparkle and smile when a child sees the Christmas lights or sits on Santa's lap. The warmth you get from believing about more than the presents or cookies.
And so, after lots of thinking and chatting about my idea, Doug and I designed our "Believe" Christmas Mantel…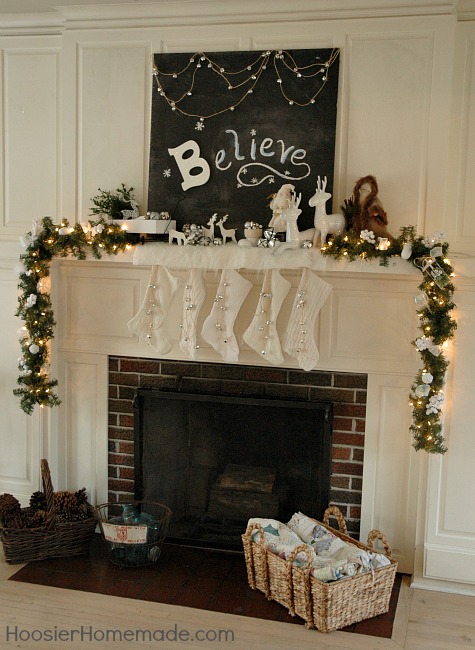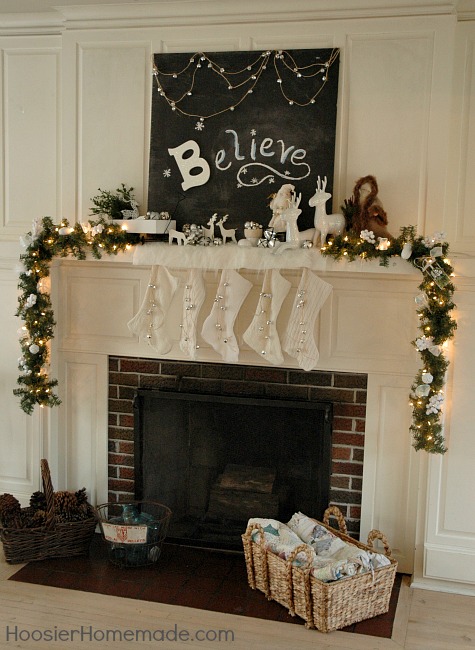 Just like in the Polar Express book and movie, the bells of Christmas ring for those that believe! So we began with the jingle bells as our theme and added lots of different white accents.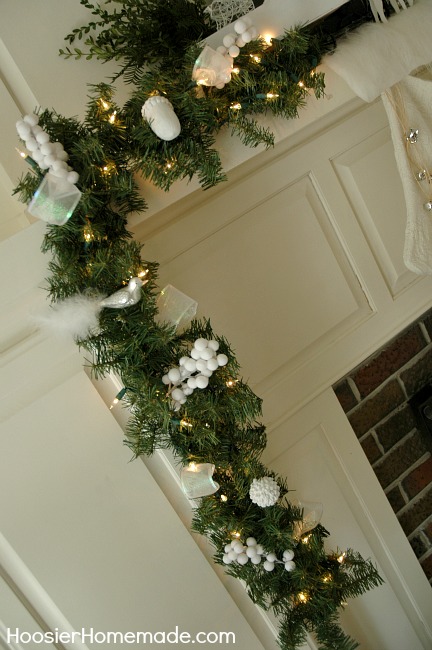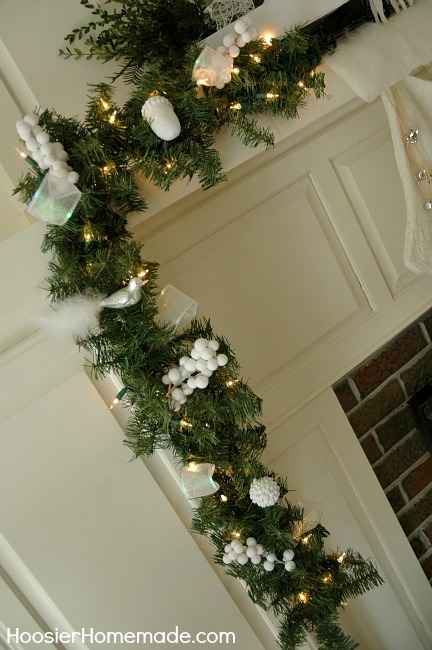 I decided to change up the usual garland that goes all the way across and just had a piece on each end of the Mantel. I started with one 9 foot length for each side, added the lights and folded it in half, securing it to the Mantel with wire. Then I added some picks with white tiny snowballs, ribbon and some white ornaments including a white bird, acorn and pinecone.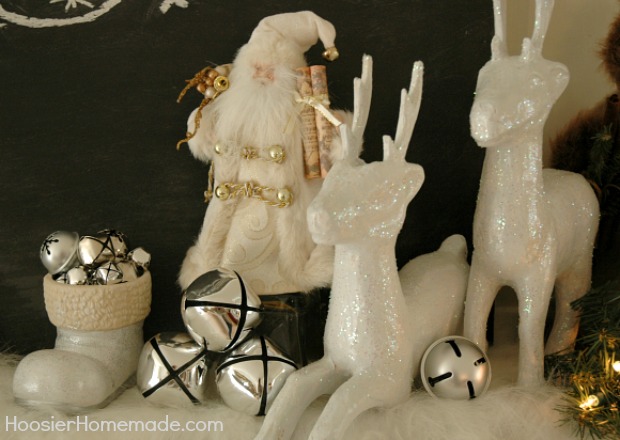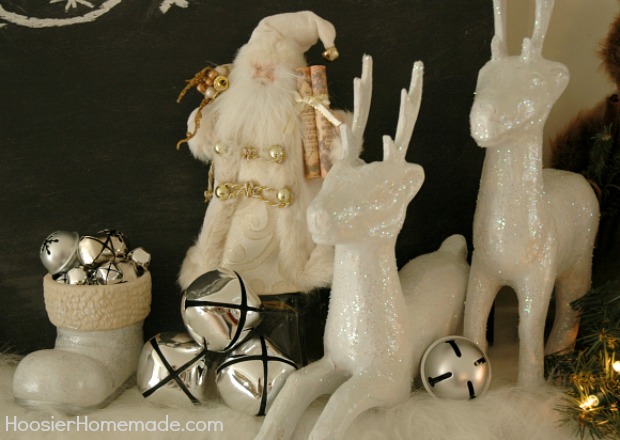 We found the deer at Michael's, they began as gold paper mache' and we transformed with white spray paint, spray adhesive and glitter. A white Santa, a boot filled with bells and other various sizes of bells were added on top of a piece of white fur fabric.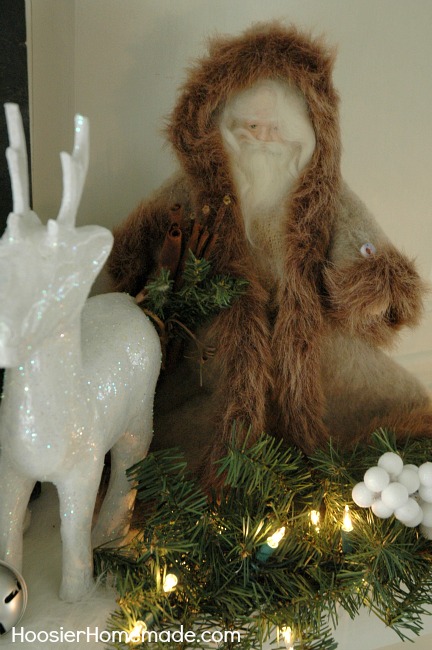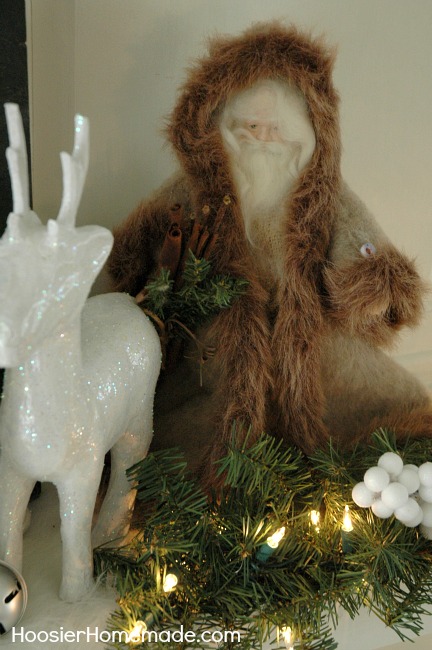 A treasured woodland Santa got tucked in the end.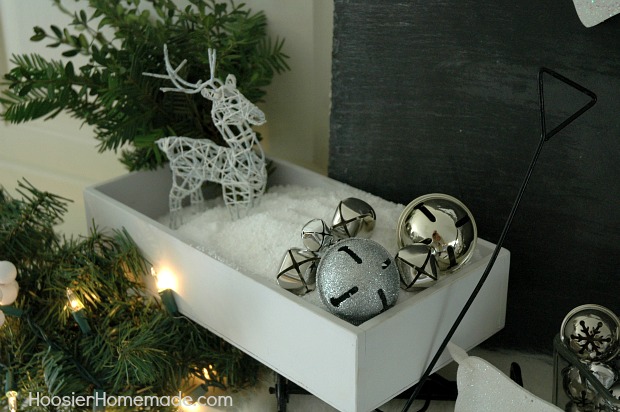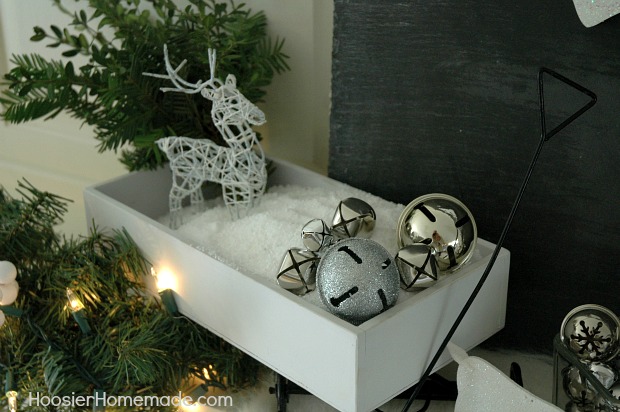 On the opposite end, a little wagon received a new look with a coat of white spray paint, then filled with Epson salt, fresh greens to resemble a tree being brought home in the wagon, a deer and a few more bells.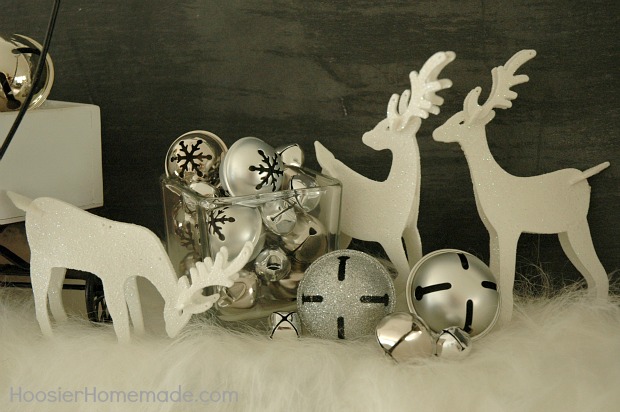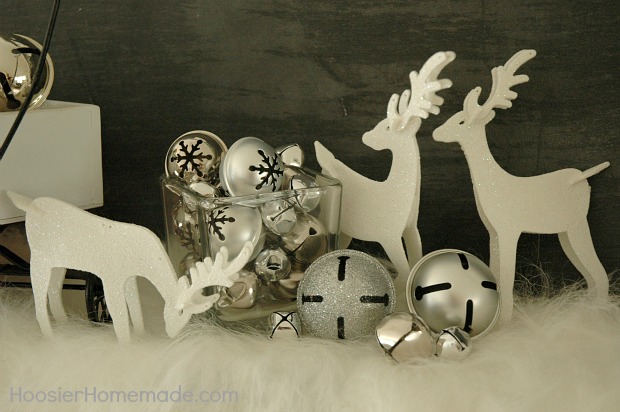 More white deer, these were ornaments and I just removed the string and yes…more bells!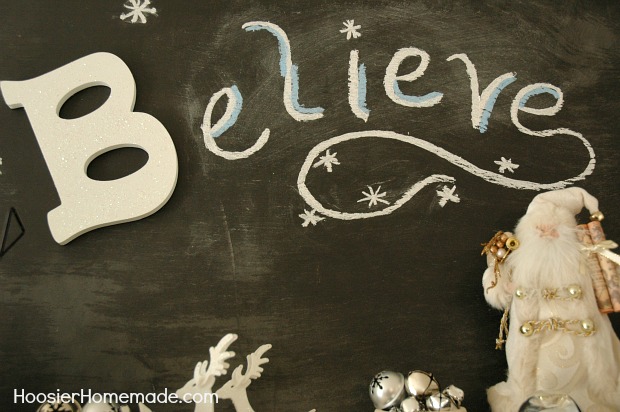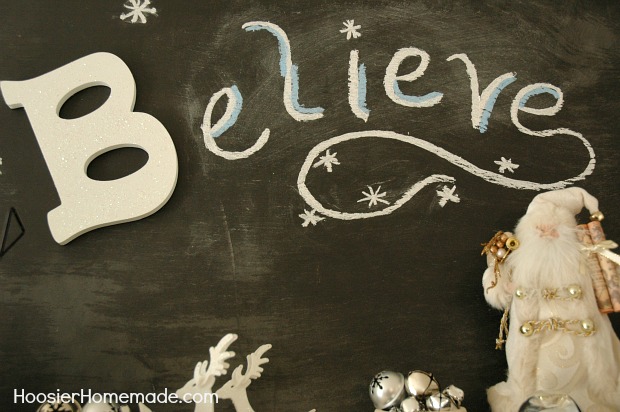 The Chalkboard, which is actually slate, anchors the Mantel with "Believe!" The wooden initial received a coat of spray adhesive and sprinkle of glitter, then the rest of the word is in chalk. My little trick for drawing with chalk, wet the board and wrap the chalk in a damp cloth…works like a charm!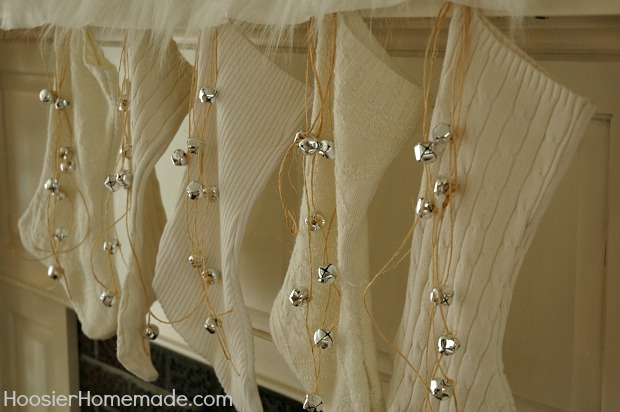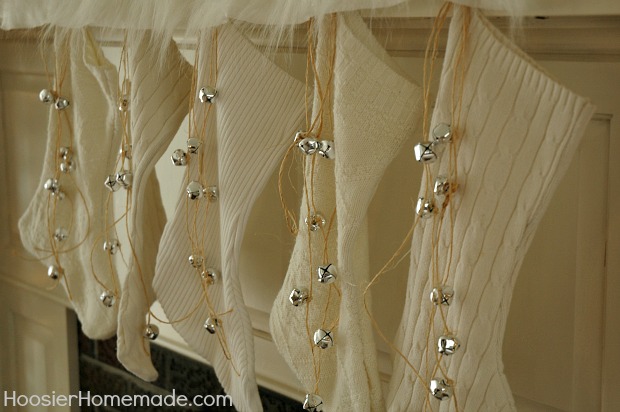 The stockings I made last year from thrift store sweaters, received strings of twine tied with bells.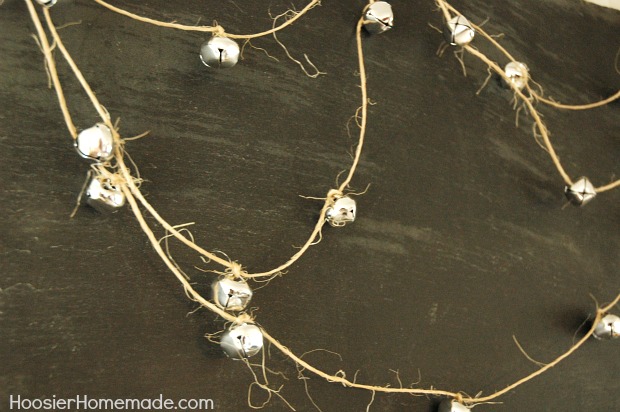 And more twine with bells across the top of the Chalkboard.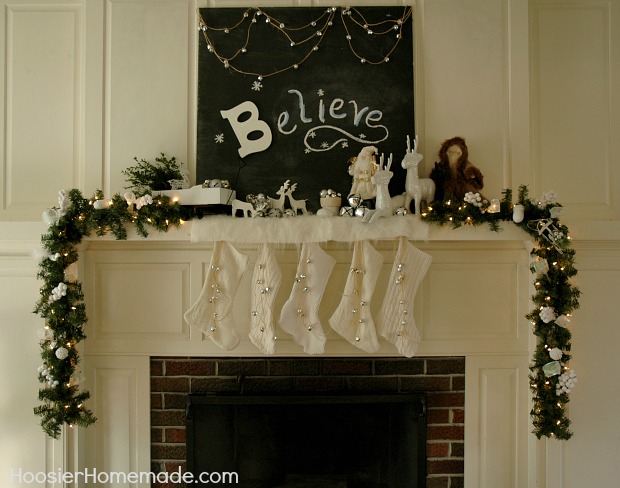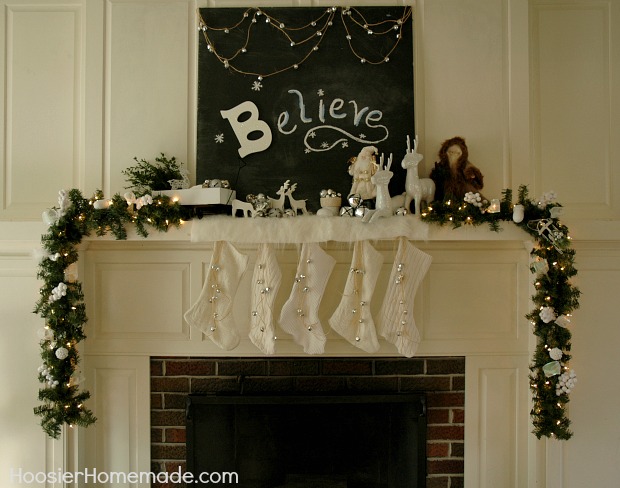 Do the bells of Christmas ring for you?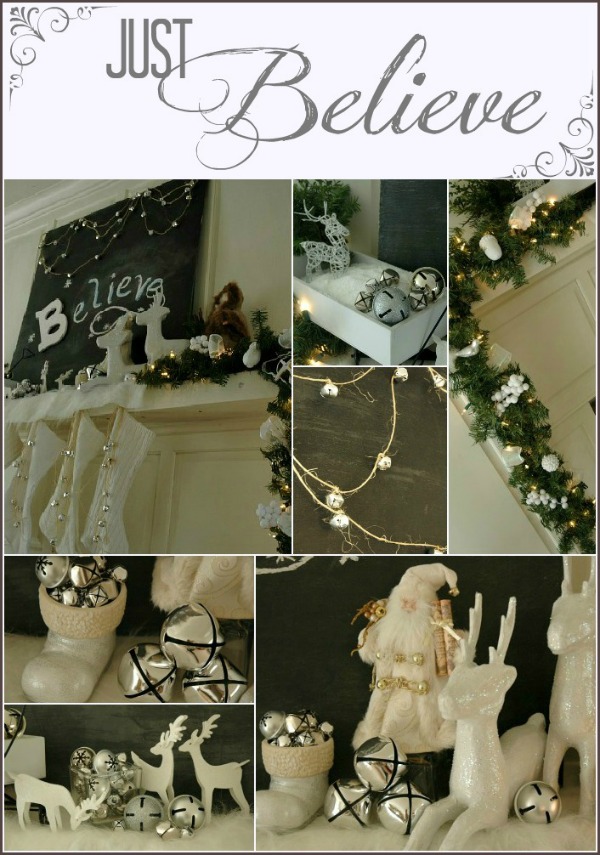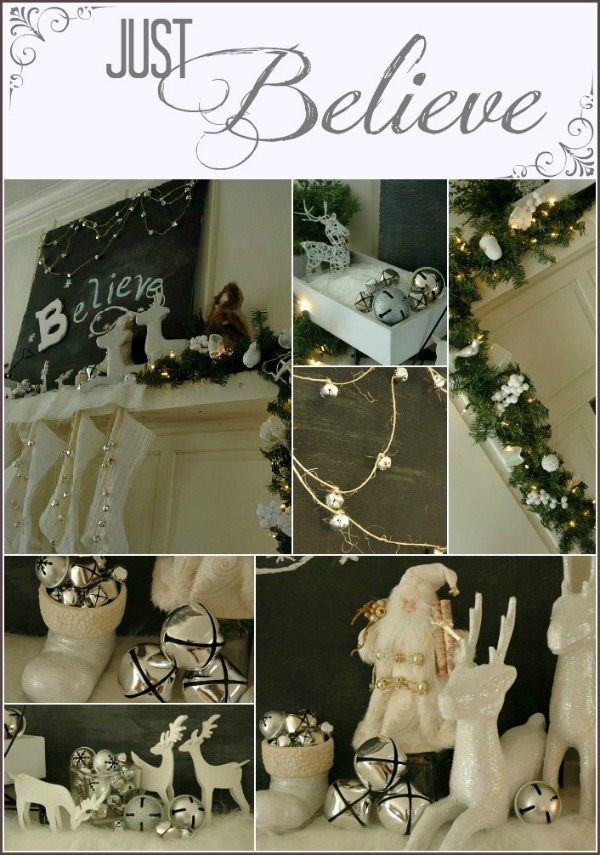 "At one time most of my friends could hear the bell, but as years passed, it fell silent for all of them. Though I've grown old, the bell still rings for me as it does for all who truly believe." – Chris VanAllsburg from The Polar Express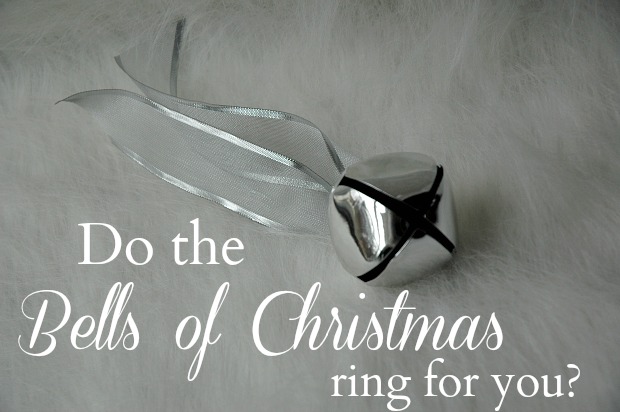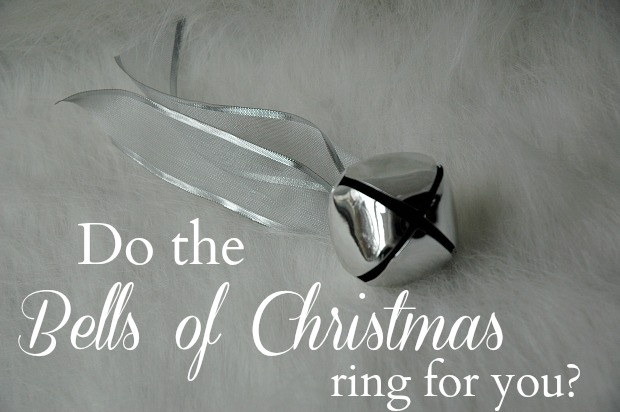 May the bells of Christmas continue to ring for you this year and years to come!
Linking to…Holiday Mantel Party at Lettered Cottage, Show & Tell Friday, Weekend Wrap up Party, Graphics Fairy