Fresh Floral Arrangement for the Holidays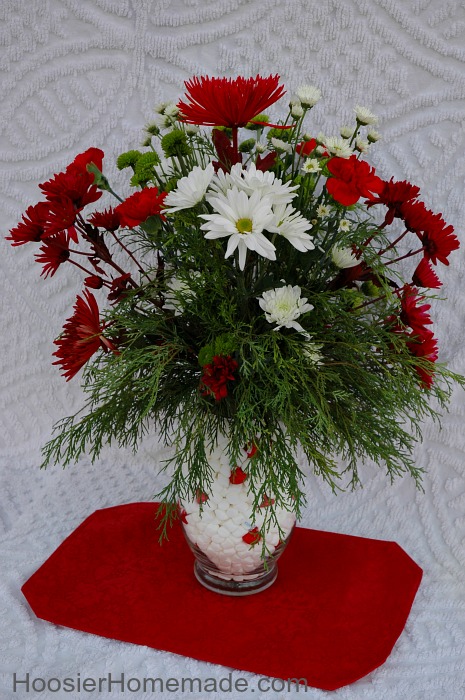 Growing up with a yard full of flowers was something most children were not lucky enough to have. But I count my blessings every day to have two wonderfully talented parents that passed down there creativity to me. You see for more than 40 years, my Mom was a florist, she began by using just the flowers that her and my Dad grew in their yard and later became a Floral Shop owner.
Now, with that being said, I'm not really sure she would be all that excited about the Fresh Floral Arrangement I made. I have to admit, I have done better, but I'm still happy with the way it turned out. And even better, I'm excited to share with you some tips that I learned from my Mom.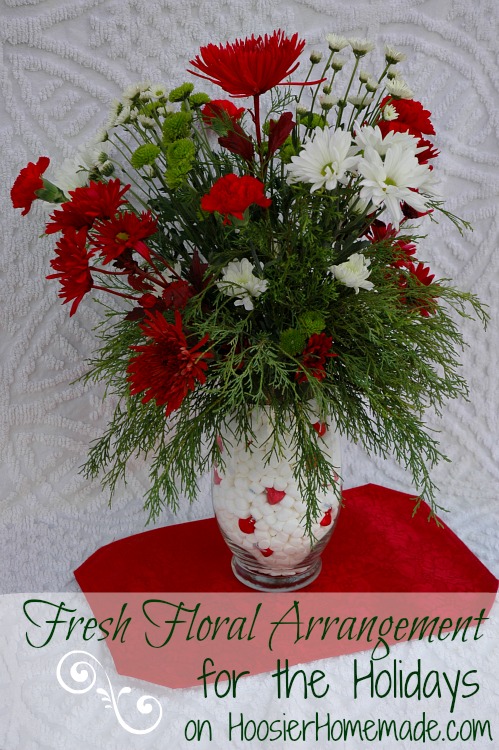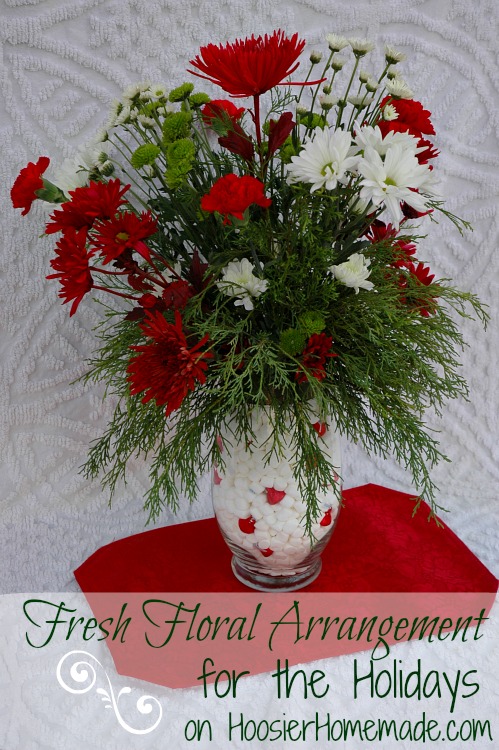 One of the best things about this Fresh Floral Arrangement, is that you don't have to spend lots of money to make it yourself or buy it from the florist. During a recent trip to Walmart Headquarters, I enjoyed a day full of Holiday Bliss, and had the opportunity to create a Floral Arrangement for the Holidays, I will show you that one in a minute, but first let me show you what you will need.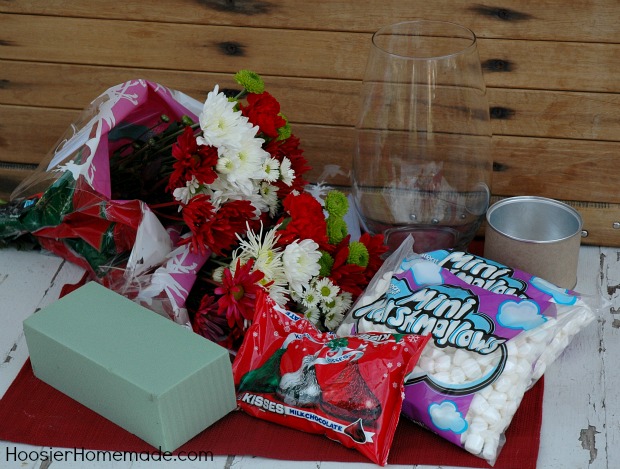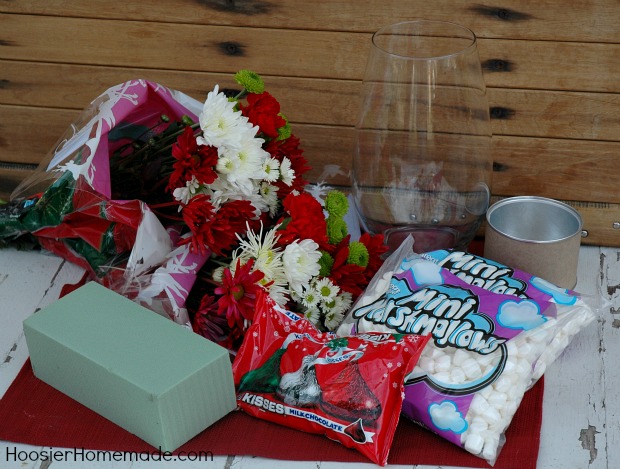 Fresh Floral Arrangement Supplies
Fresh Flowers – there is a large variety of flowers at Walmart, and I have to say after the last bunch I bought lasting a few weeks, I won't be visiting the florist anytime soon
Vase – tall and slender is best
Floral foam
Container to hold the foam and water
Filler for the vase – I used mini marshmallows and Hershey's Kisses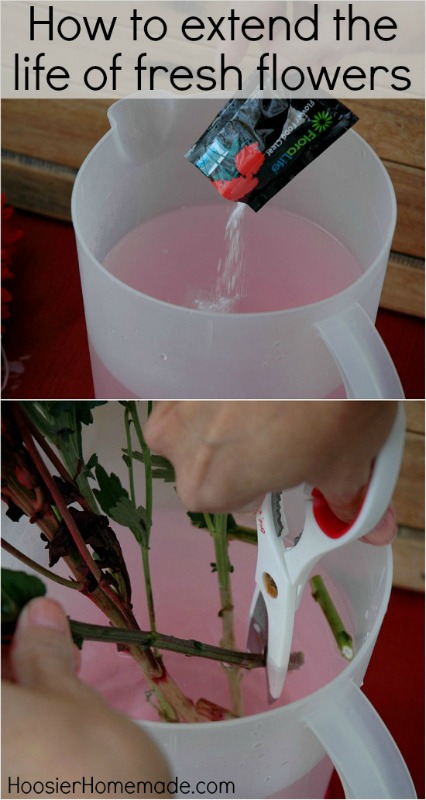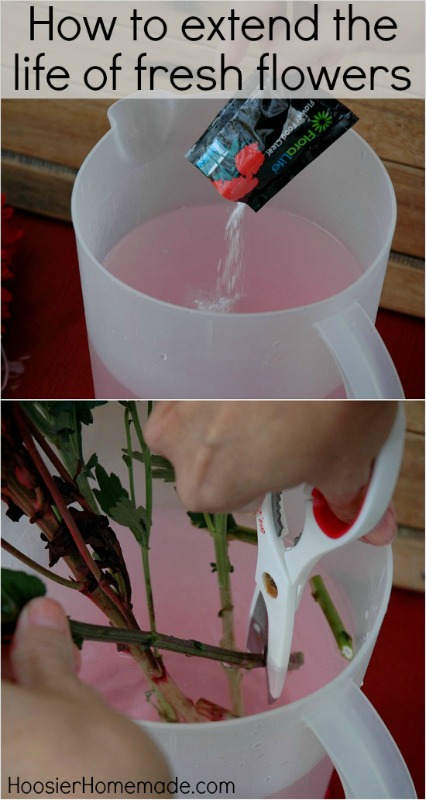 First we need to treat the flowers, remember I told you earlier about the tips I had for you.
Start with warm water. Whether you are arranging the flowers or simply putting them in a vase, always use warm water.
Empty the packet of floral life that comes with the flowers. I've also heard some people adding soda or vinegar to the water, the dry packet is best in my opinion.
Using heavy scissors, cut the flower stem UNDER the water. This prevents air going into the freshly cut stem before the water and the life of your flowers will be extended greatly.
Change the water every 4-5 days, again warm water, floral life and cut under the water.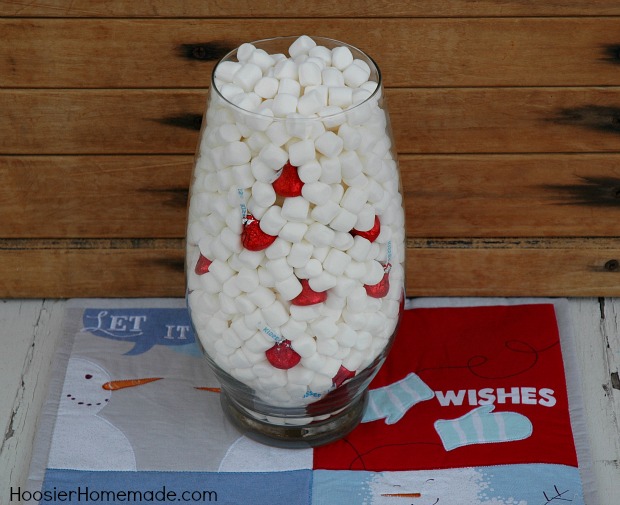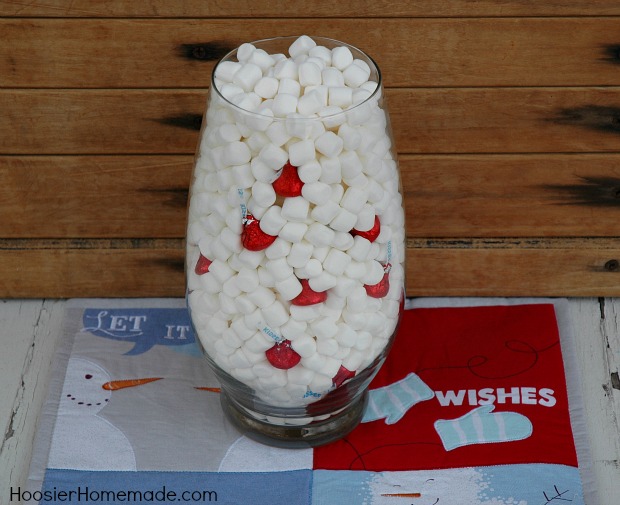 Now it's time to start arranging the flowers. Fill your vase with whatever filler you want, I used mini marshmallows and Hershey's Kisses, but you could use fresh fruit, cranberries, ornaments, pretty much anything.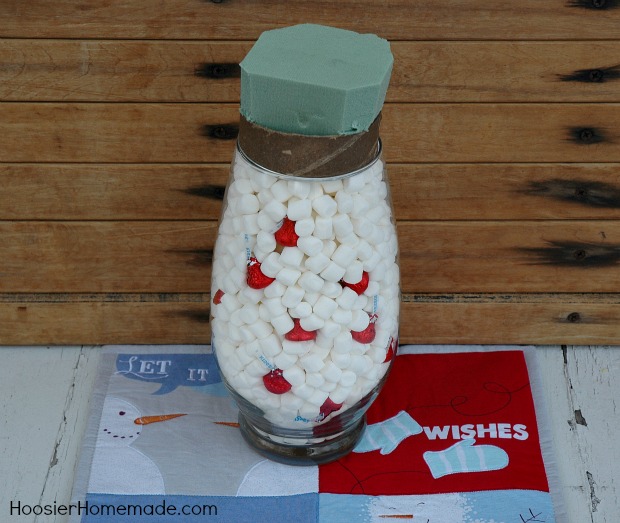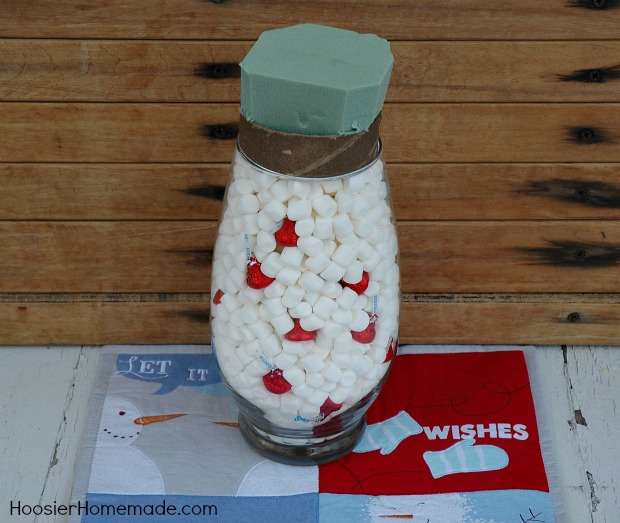 Next you need to add your container and fill it with floral foam, be sure to soak the foam in water.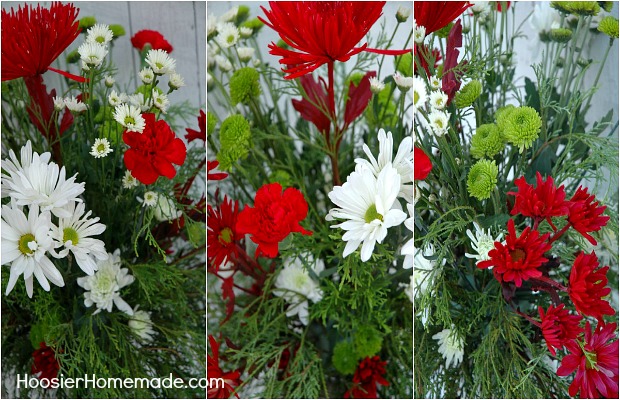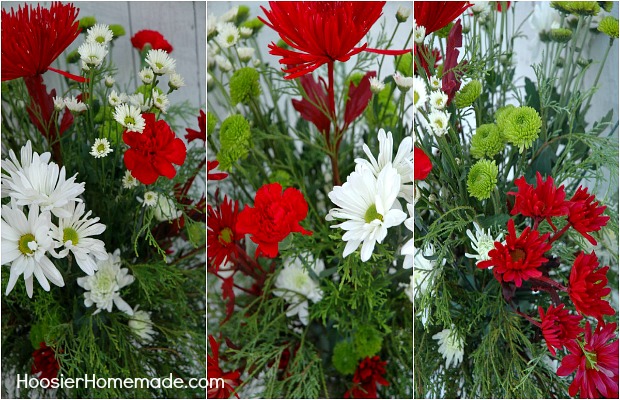 Now it's time to add the flowers. ..
Start with the largest flowers first and place them in center
Then add slightly smaller flowers around them in a circle
Fill in with the smallest flowers
Add in the greenery
Cut small pieces and add it to cover the floral foam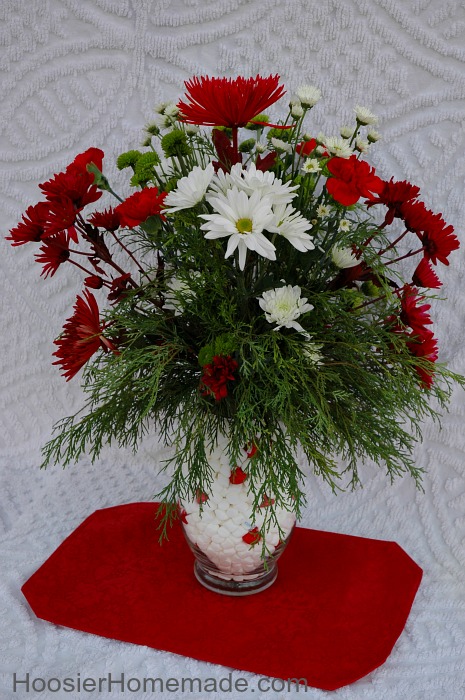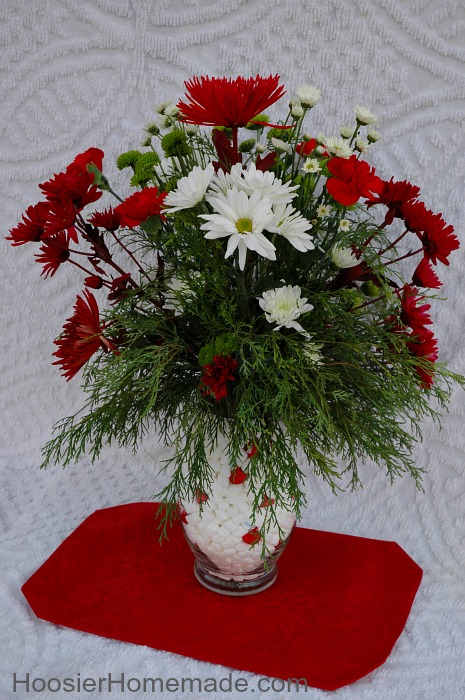 And in case you are pinched for time, like I usually am, here is another easy Fresh Floral Arrangement for you…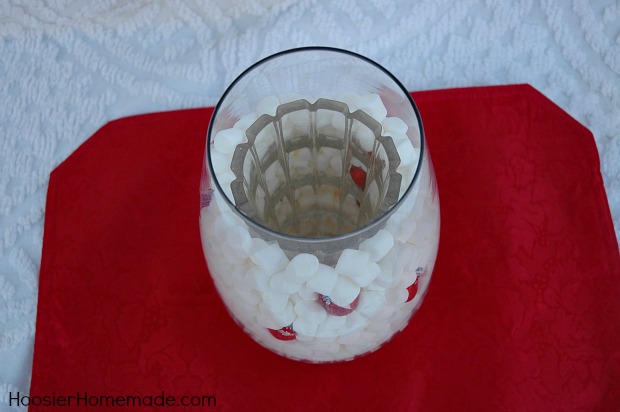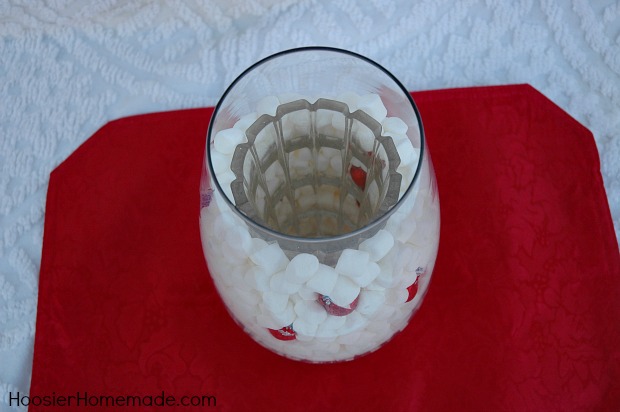 Start with the same tall vase, but add a smaller vase inside. Then fill in around the smaller vase with whatever filler you like.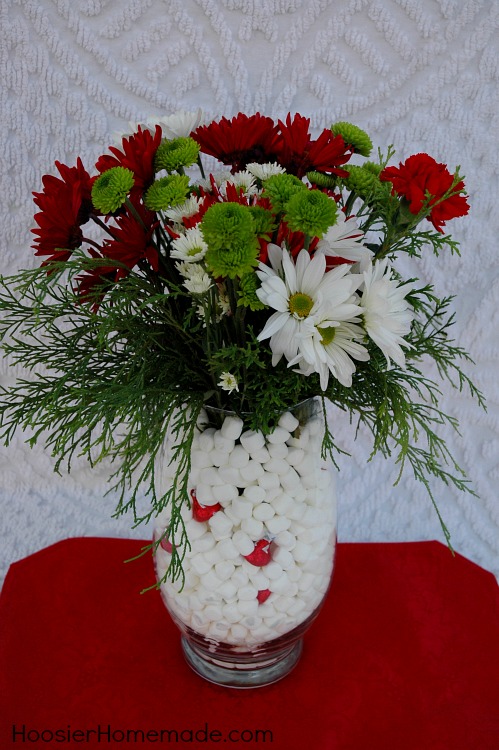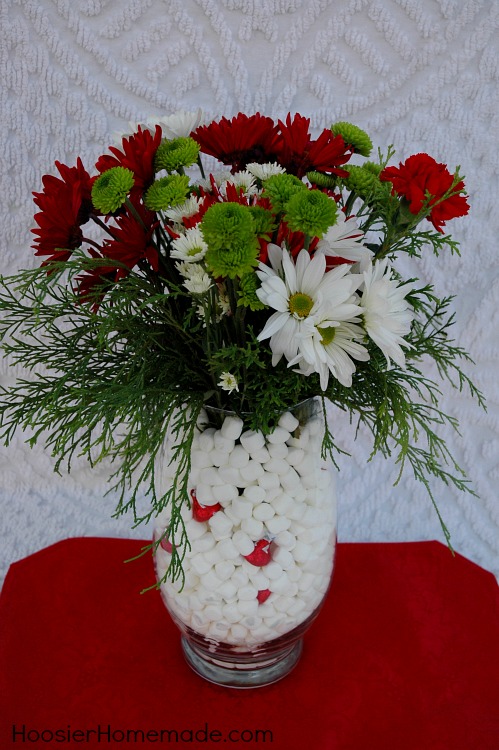 Fill the smaller vase with warm water, and add the flowers.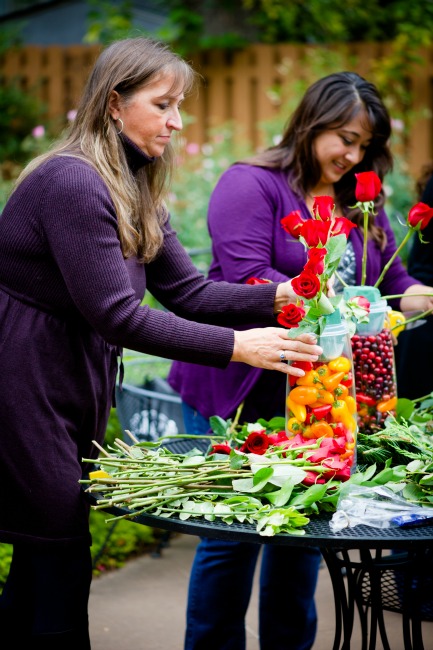 Here I am working with the beautiful roses.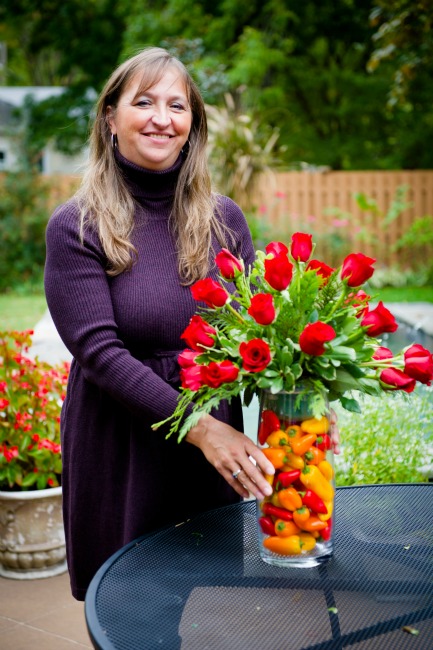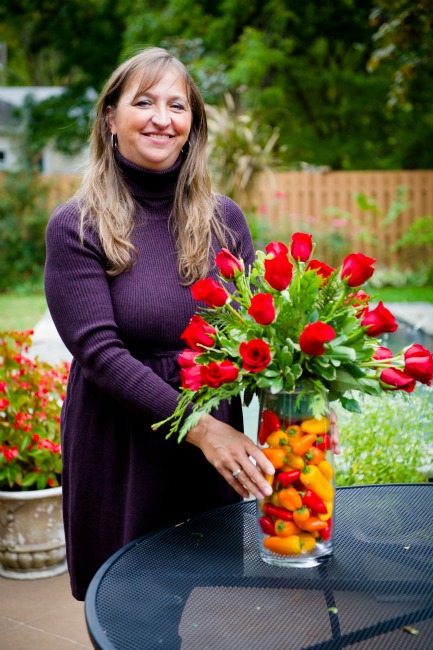 I love the bright colors of the sweet peppers. One last tip for you…
When creating your Floral Arrangement, be sure to keep in mind where you will be putting it.
Tall arrangements are best for the Buffet, shorter arrangements are best on the table.
You want your guests to be able to see over the arrangement and easily be able to talk


Linking to…Christmas Craft Party