Christmas Eve Gift Basket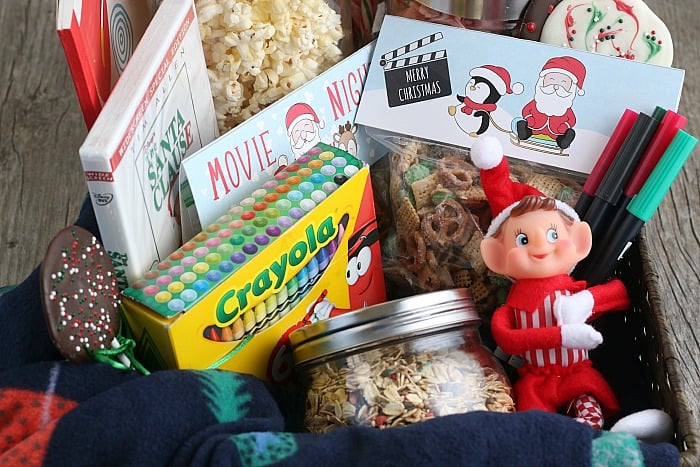 Create memories with this meaningful gift basket! This Christmas Eve Gift Basket will be loved by the whole family! Reindeer Food, FREE Printable Games, Hot Cocoa, Christmas Movies, a cozy blanket to curl up with and treats as you wait for Santa to arrive!

Like many families, one of our Christmas Eve traditions is for our boys to open one gift, and that gift is always Christmas pajamas. Why not take that thought, and create a meaningful gift basket that everyone in the family will enjoy.
This Christmas Gift Basket is complete with snacks, Reindeer food to sprinkle on the front lawn, Hot Cocoa mix, a Christmas movie, a cozy blanket to keep you warm, fun FREE Christmas printables complete with games and bag toppers.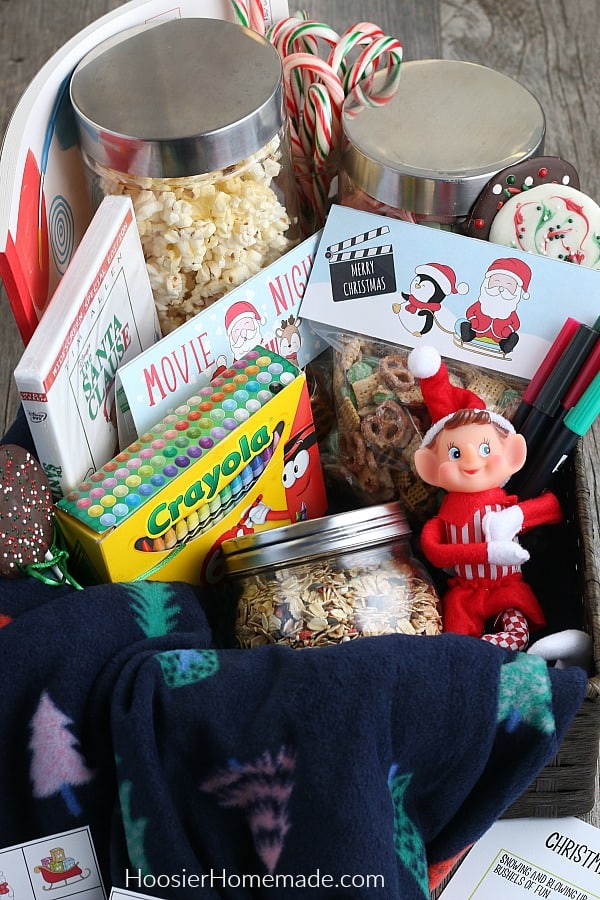 While this Christmas basket is great for your Christmas Eve celebration, it certainly can be used any time during the holiday season. It also makes a wonderful gift.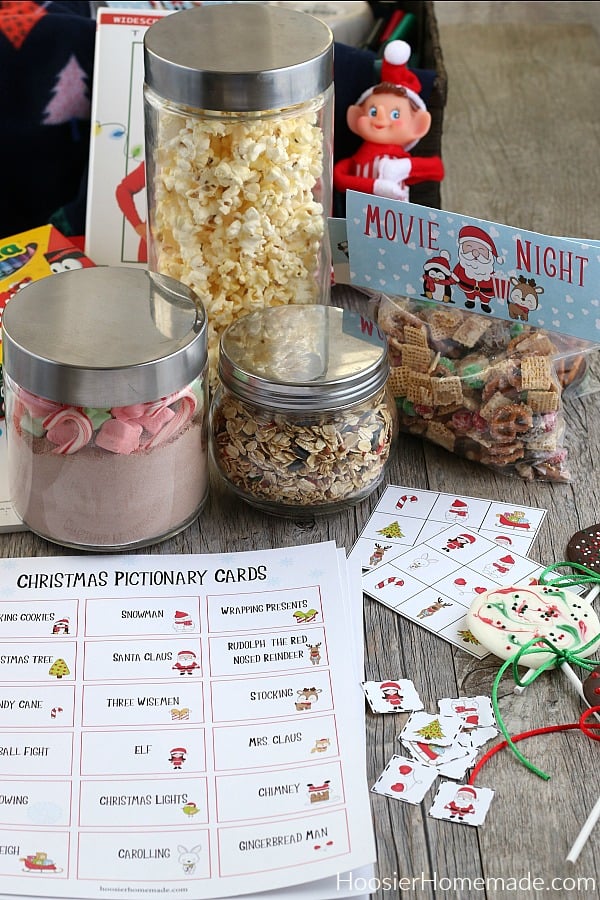 Christmas Eve Gift Basket
The gifts that you add to your basket are totally up to you. Here is what we used…
Basket – any size you want to use is fine
Blanket – you can find inexpensive throws online or most department stores have them as well
Jars – for the Popcorn, Reindeer Food and Hot Cocoa Mix with marshmallows and candy canes.
Christmas movies – this one is a box set with 4 movies
Tablet, Crayons or Markers – to play the Christmas Pictionary Game with the printable
Snacks for bags – Pretzel Hugs and Christmas Candy Crunch are easy to make and everyone loves them
Christmas printables – more on these below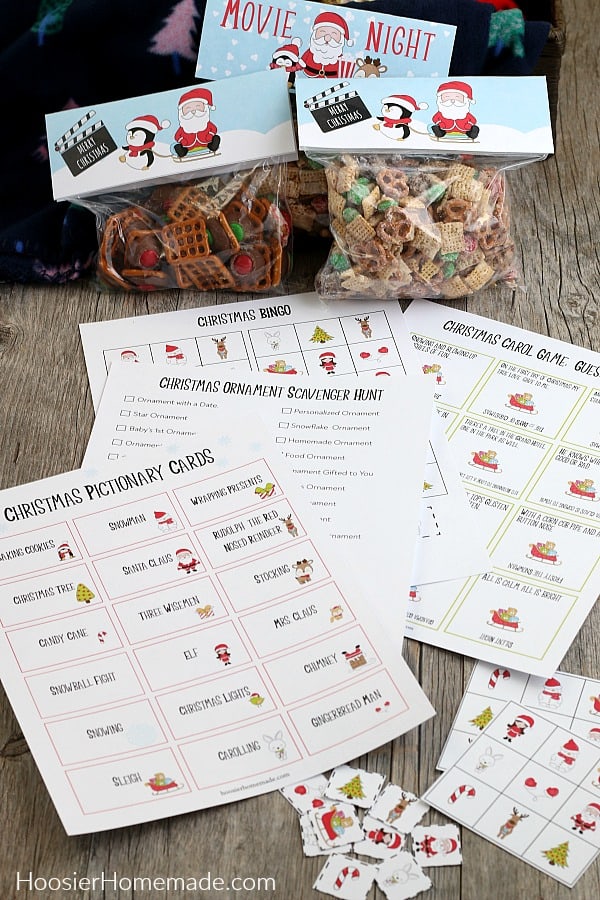 This set of Christmas printables includes –
Christmas Bingo
Pictionary Cards
Ornament Scavenger Hunt
Christmas Carol Guessing Game
Bag Toppers
You can also grab the FREE Printables from the Christmas Movie Night Gift Idea to add to this set.
When you join the Monthly VIP Printables Club you will have instant access to ALL of the Exclusive printables we have shared with this special group!
Enter your name and email below and we will send over the FREE Printables for Christmas, and you will be ready to create family memories!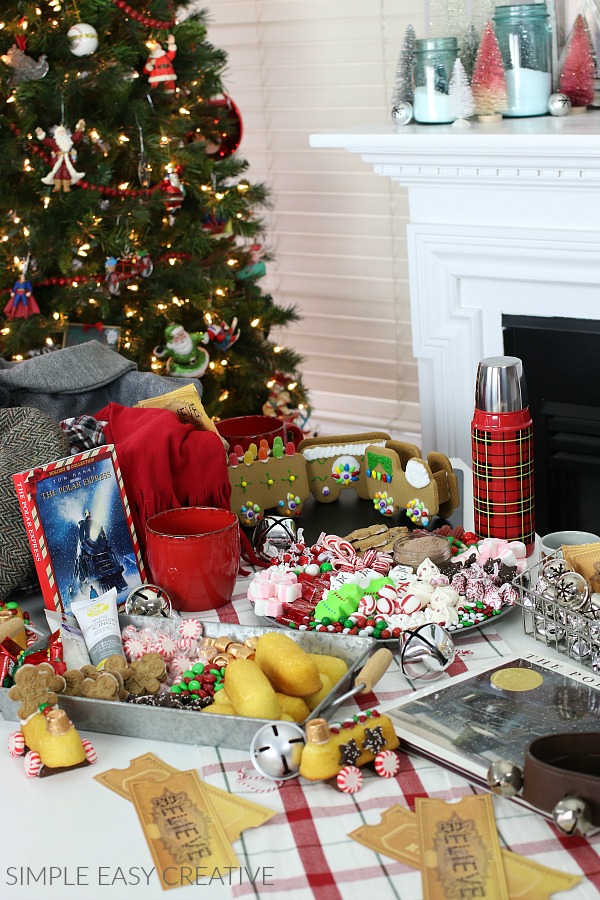 Does your family love The Polar Express? This would be a fun Christmas Eve celebration as well!