Create memories with this meaningful gift basket! The Night Before Christmas Gift Basket will be loved by the whole family! Reindeer Food, Snowman Soup, Christmas Movies, a cozy blanket to curl up with and new pajamas as you wait for Santa to arrive!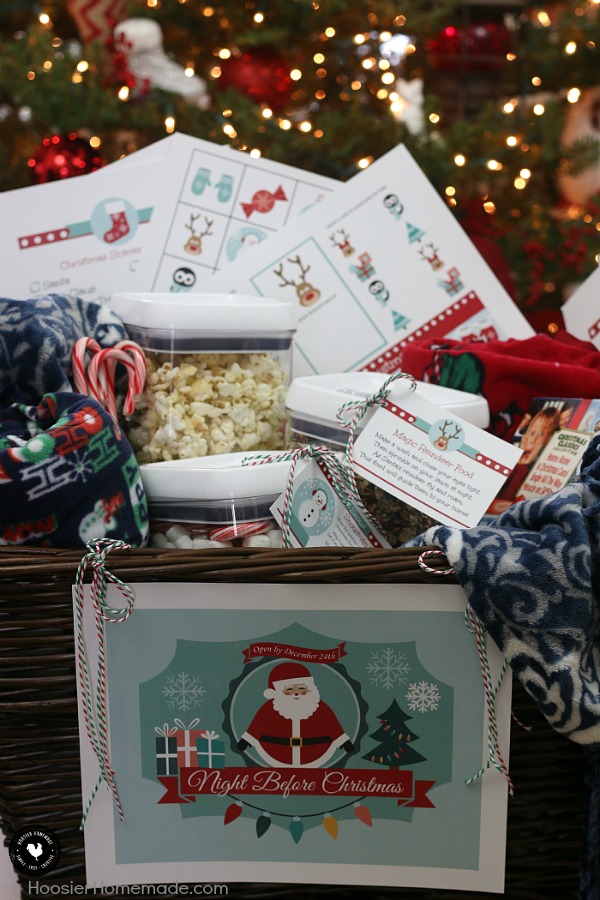 Like many families, one of our Christmas Eve traditions is for our boys to open one gift, and that gift is always Christmas pajamas. Why not take that thought, and create a meaningful gift basket that everyone in the family will enjoy.
This Christmas Gift Basket is complete with snacks, Reindeer food to sprinkle on the front lawn, Snowman Soup also known as hot cocoa mix, Christmas movies, a cozy blanket to keep you warm, Christmas pajamas and fun printables complete with games and tags.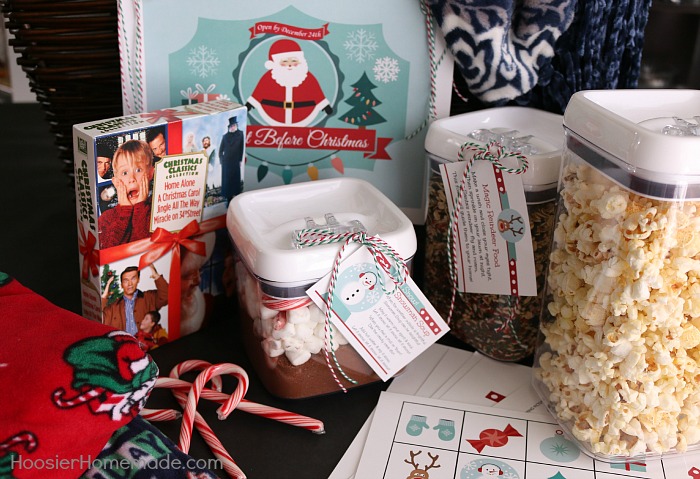 The gifts that you add to your basket are totally up to you. Here is what we used…
Basket – depending on the size you want you can find a wide variety of BHG baskets at Walmart
Blanket – I love this Velvet Plush Throw
Canisters – The Flip Tite Storage Set has endless options, we filled them with popcorn, Reindeer Food and Hot Cocoa Mix with marshmallows and candy canes.
Christmas movies – this one is a box set with 4 movies
Christmas pajamas
The Night Before Christmas printables – you can find these over on Oh My Creative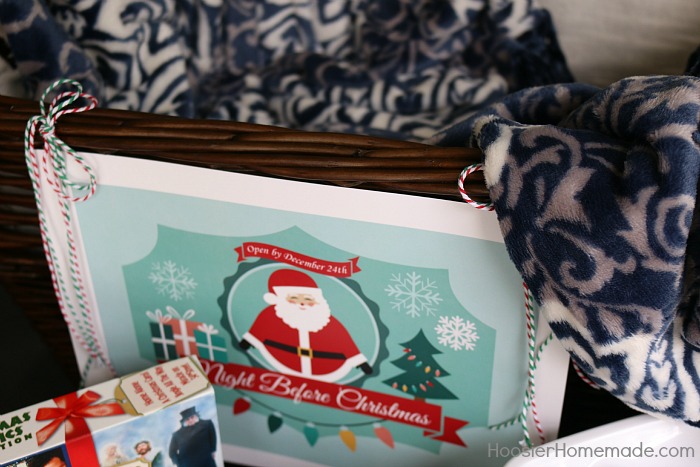 This cozy blanket is the Better Homes and Gardens Snowflake Medallion Velvet Plush Fringe Throw. And let me tell you…I absolutely love this blanket. It's super soft and perfect for curling up on the couch to watch movies. And it's under $13.50.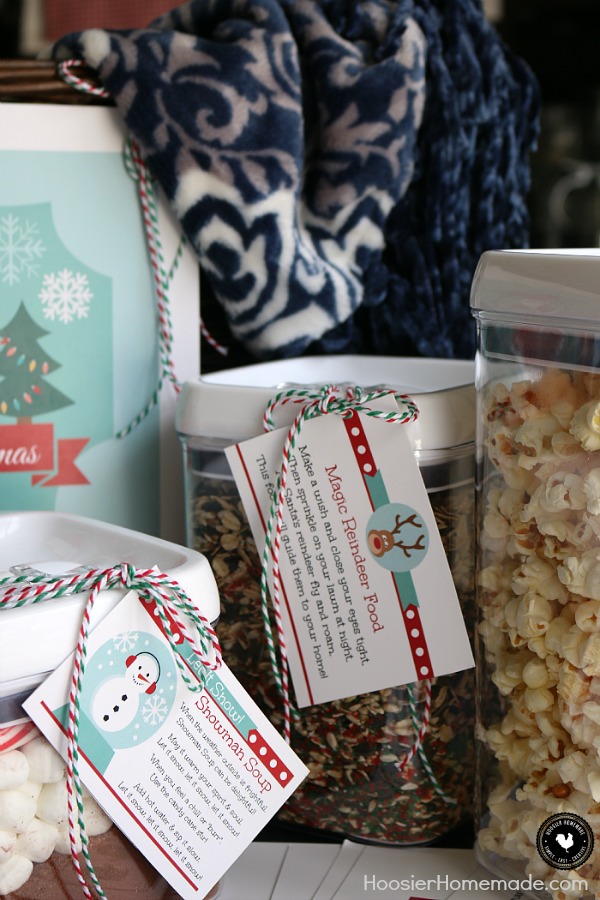 We first used these BHG Live Better Flip Tite Storage Set to organize our craft supplies, and as you can see, the options are endless for uses. This time we filled the set with Reindeer Food, Popcorn and Snowman Soup.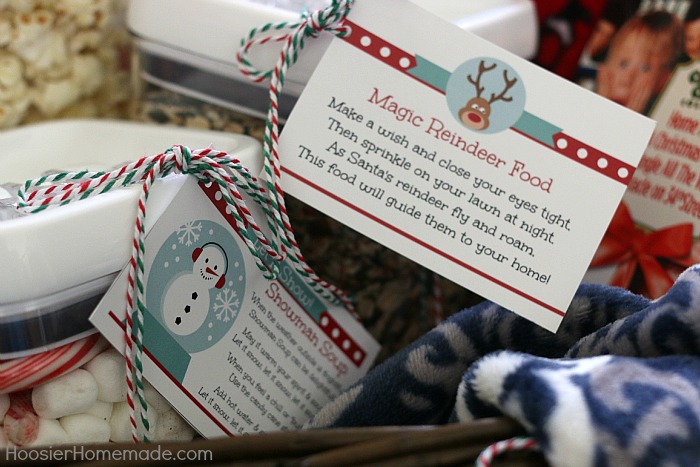 Then we printed out the tags and attached them with red and green twine. The kids will have a blast feeding the reindeer!
You can find these products and lots more on Walmart.com/BetterHomesandGardens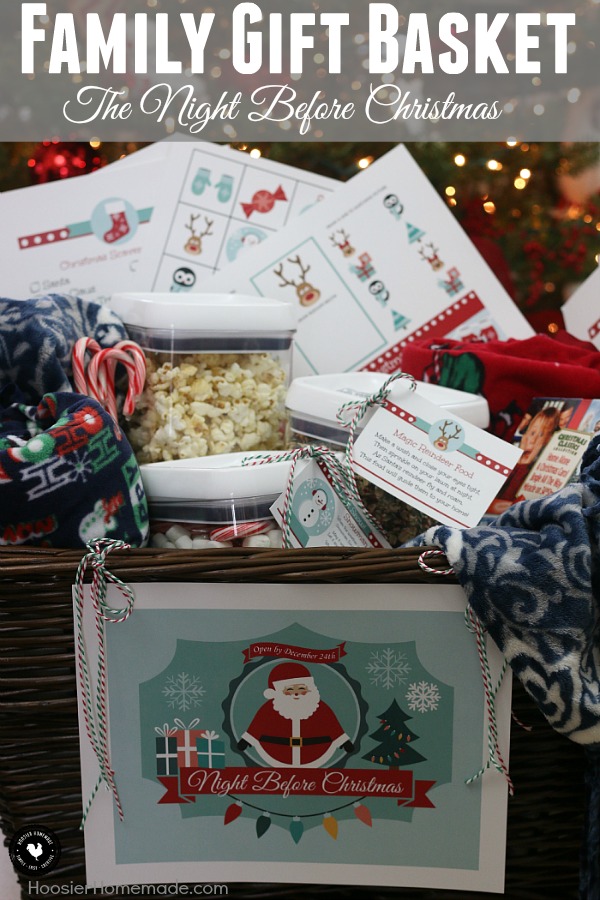 For more inspiration visit Better Homes and Garden Live Better on Facebook ,Twitter,Instagram and Pinterest!