Cherry Pie Filling layered with Crumb Topping in fun mason jars, it doesn't get any better than that!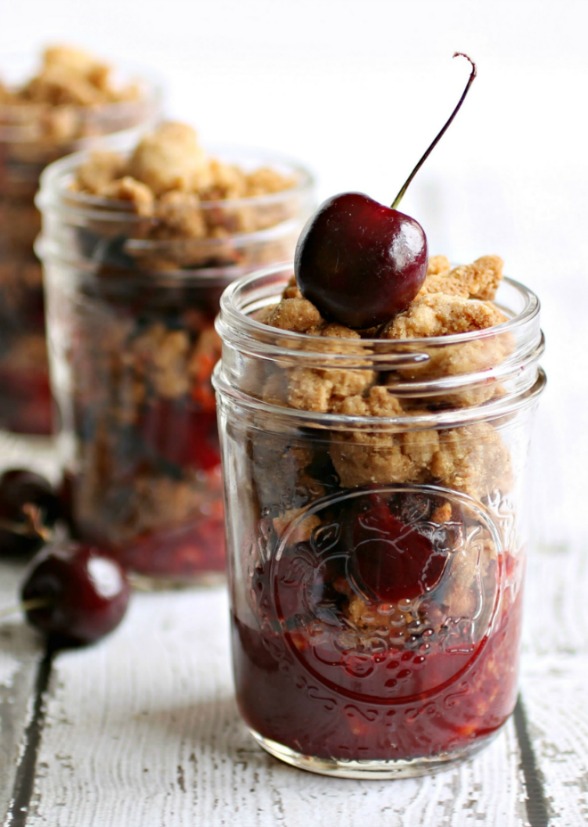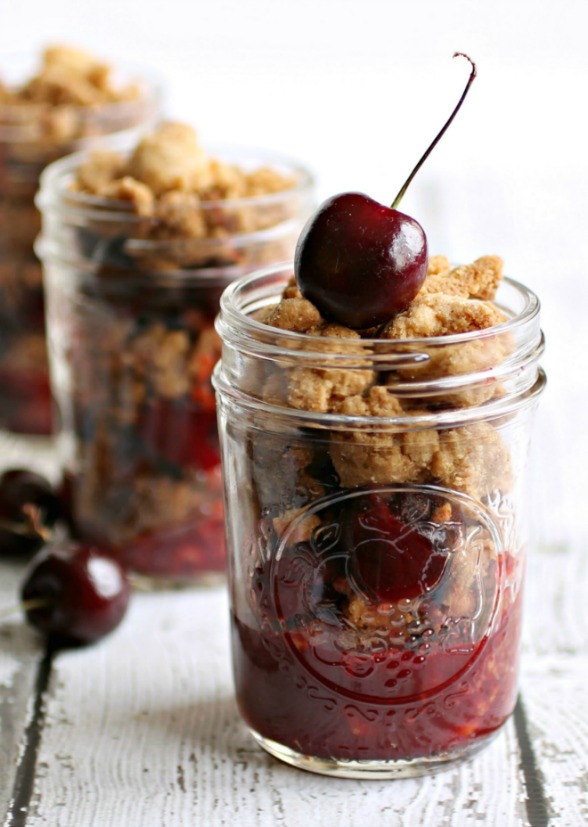 I'm super excited to welcome back to Anita from Hungry Couple! She has joined our Hoosier Homemade Team and will be sharing a delicious recipe with you each month! Last month Antia shared Blueberry Pie that is almost too gorgeous to eat! You can find more of her recipes on Hungry Couple and A Cocktail Life, follow her on Pinterest, Facebook, Twitter and Google+.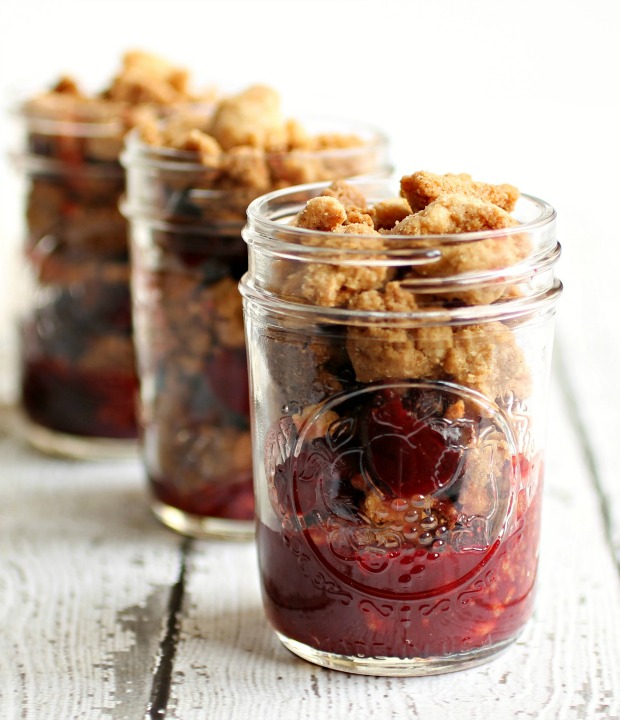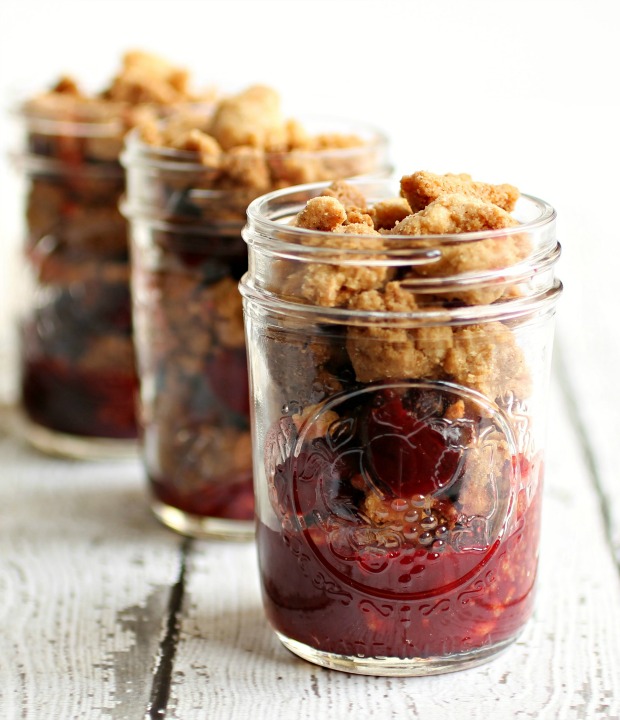 If your home is anything like mine, then crumb theft is a serious problem. You go to all the trouble of making a beautiful crumb cake or crumble topped pie, leave it on the counter to cool and come back later to discover that it's been looted. The cake might still be there but there's a noticeable thinning of the crumb top. You look around and demand to know what happened only to be met with blank stares and innocent looks. And, sometimes, crumb dust on whiskers and shirt lapels.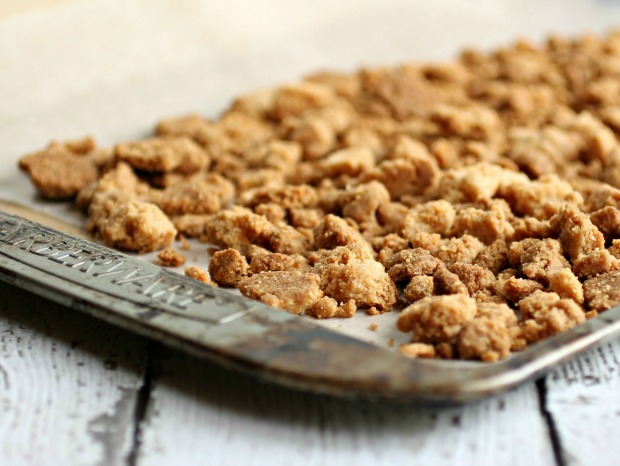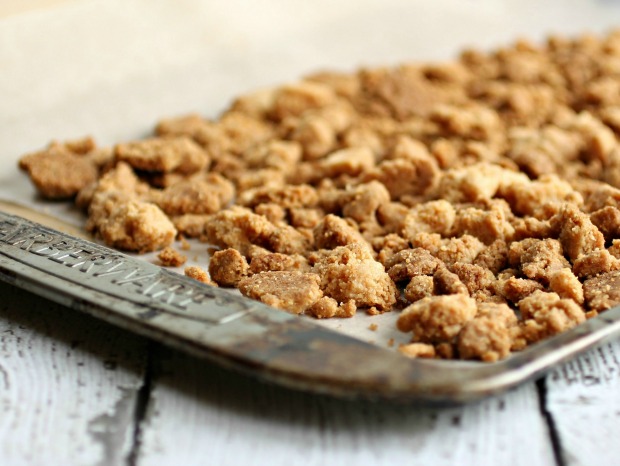 It got so bad I began making extra crumb topping to account for theft. So you'd have this short little cake that looked as though it had fallen victim to a crumb avalanche. I wish I could say it solved the problem.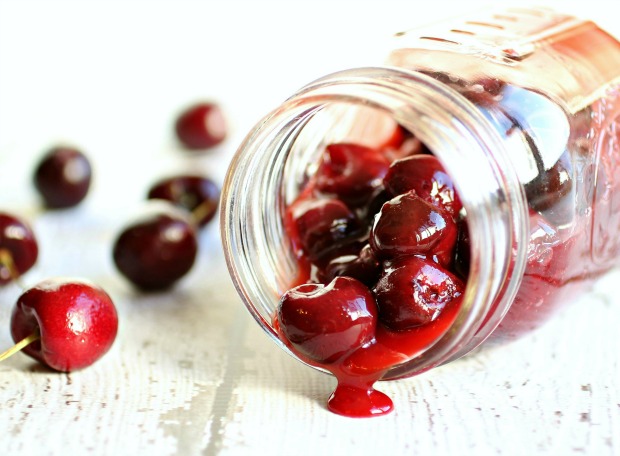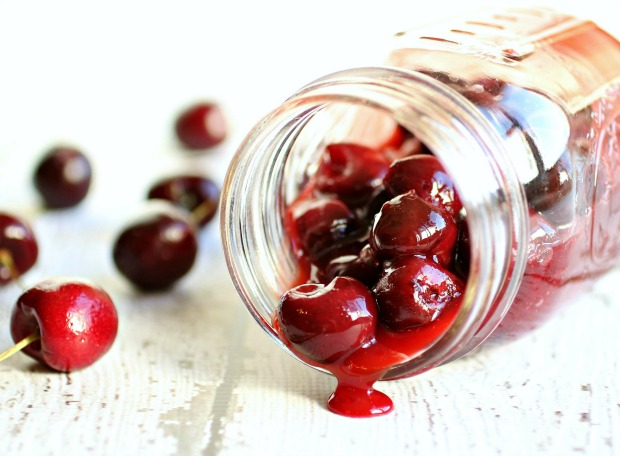 And that has led to the current drastic measure of omitting the cake and pie crust altogether and just going with filling and crumb. It's all anybody around here seems to want anyway. And, to own the truth, I'm not without blame in this. I am all about the crumb. I'm also all about summer picnics and road trips and portable crumb pie. So, we have jars stuffed with homemade cherry pie filling and lots and lots of crumb. And everybody is happy. Enjoy!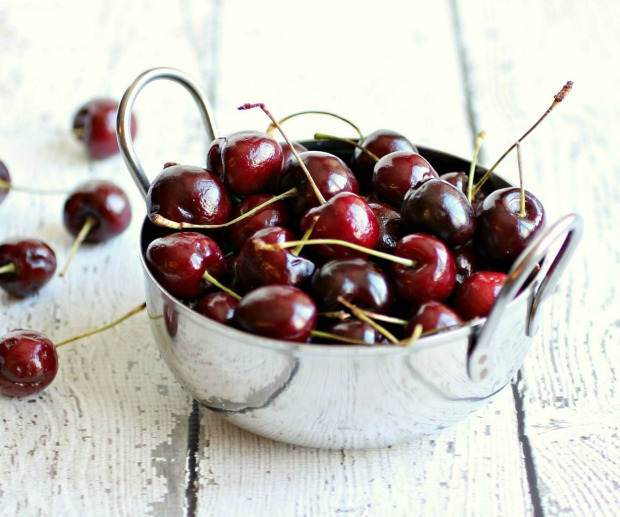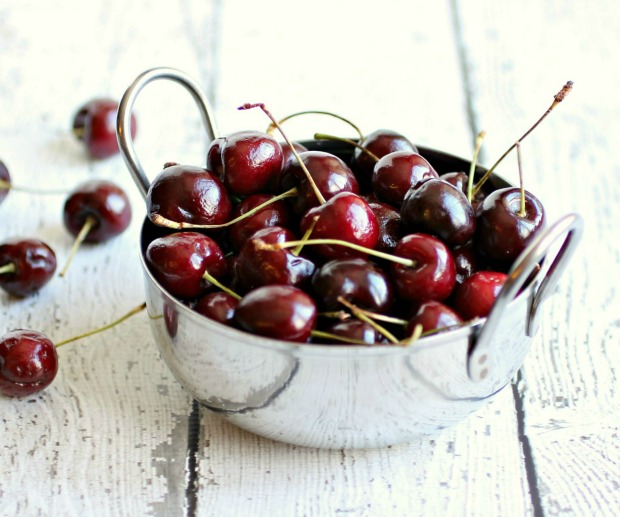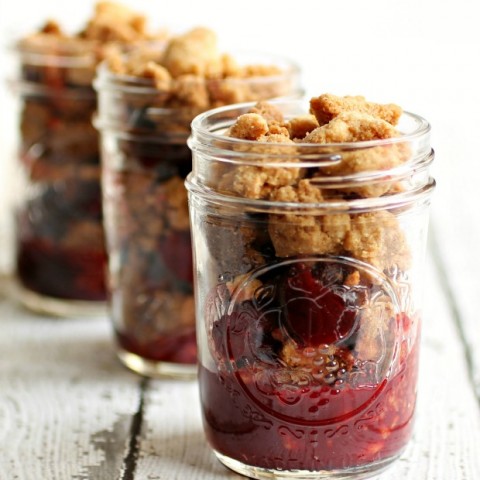 Cherry Crumb Pie in a Jar
Enjoy Cherry Pie in a fun portable jar. Recipe on HoosierHomemade.com
Ingredients
Cherry Pie Filling
1 lb. Sweet Cherries, pitted
3 Tablespoons sugar
1 Tablespoon lemon juice
3 Tablespoons water
1 Tablespoon all purpose flour
Pinch of salt
Crumb Topping
1 1/4 Cups all purpose flour
1/3 Cup sugar
1/2 Teaspoon baking powder
1/2 Teaspoon salt
1/4 Teaspoon cinnamon
1 Stick unsalted butter, melted
Instructions
Cherry Pie Filling
To make the cherry filling, place the cherries, sugar, lemon juice, water and salt in a pot and cook over medium heat, stirring frequently, for a couple of minutes until the sugar has dissolved.
Stir in the flour and continue stirring and cooking for an additional couple of minutes until the mixture begins to thicken.
Cover, remove from the heat and let stand for about an hour or until the pot cools.
The residual heat will cook the cherries through without breaking them down. Use right away or refrigerate for up to a couple of days
Crumb Topping
To make the crumb mixture, combine the flour, sugar, baking powder, salt and cinnamon in a bowl. Pour in the melted butter and stir to combine. Let stand for about 10 minutes. Using your fingers, crumble the mixture onto a baking sheet lined with parchment paper
Bake in a pre-heated 350 degree oven for 10 minutes.
Using a spatula, rotate the crumbs to avoid burning and continue baking for an additional 10 minutes. The crumbs will be soft when you first take them out of the oven but will harden a bit as they cool.
Assemble Jars
To assemble the portable pies, spoon a heaping tablespoon or two of the cherry filling into each of four 8 oz. jars, top with a heaping tablespoon or two of crumbs and repeat until you get to the top of the jar. You should have enough to fill four jars.