Blueberry Pie with Lemon and Thyme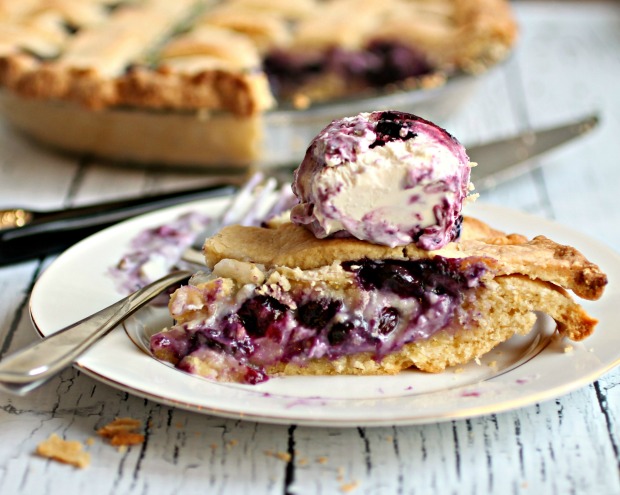 Inspired from a favorite quick bread, this Blueberry Pie is not your normal pie, it has Fresh Thyme, Lemon Zest and Goat Cheese along with Blueberries in a Cornmeal Crust.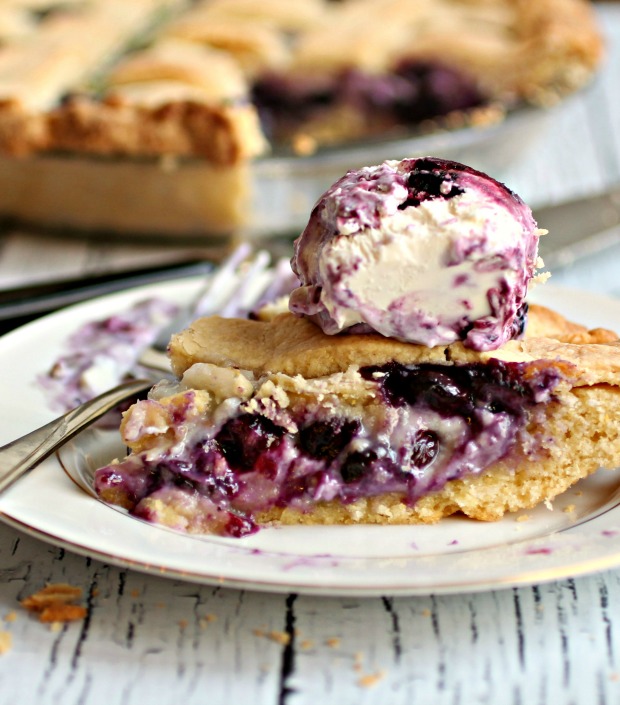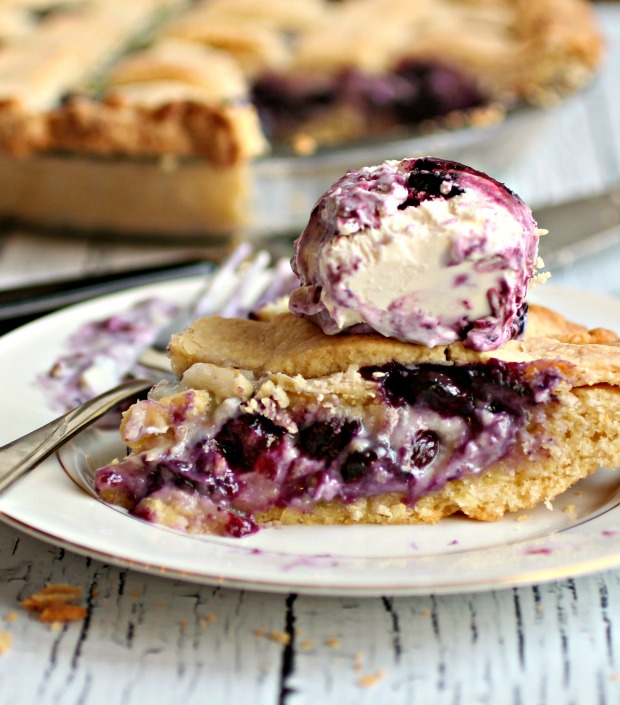 I'm super excited to introduce you to Anita from Hungry Couple! She is joining our Hoosier Homemade Team and will be sharing a delicious recipe with you each month! You can find more of her recipes on Hungry Couple and A Cocktail Life, follow her on Pinterest, Facebook, Twitter and Google+.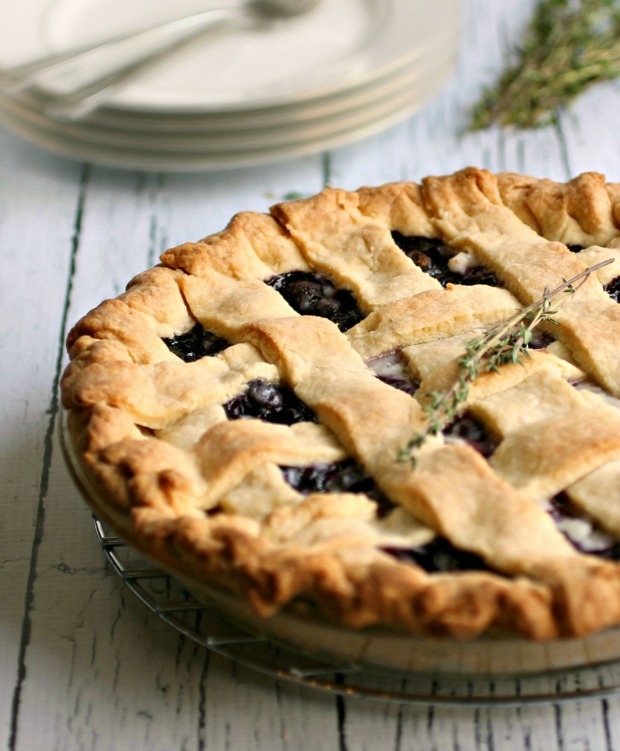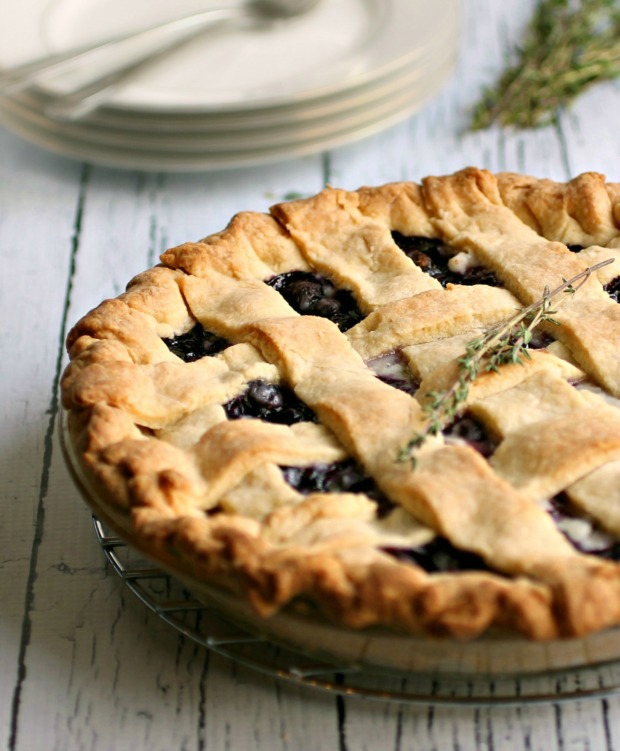 Let's talk about pie. Sweet fruit baked into tender, flaky pastry, served warm with maybe a scoop of ice cream on top. It's been way too long and I needed some pie. The only question was which kind.
All winter I mourn the slim fruit pickings and long for the bounty of summer. Now I couldn't decide. I mentally ran through the list of fruit options and almost everything appealed to me. But I'm the kind of cook that let's the market selection dictate my choices so, I took myself shopping at my local farmer's market. No lack of options there but a basket of beautiful, glistening blueberries called my name.
Back home I decided to borrow some ideas from one of my favorite quick breads and include lemon zest, fresh thyme, cornmeal and goat cheese. I honestly wasn't completely sure what to expect but my first taste of the pie made me think I'd never want any other kind again. Check out this post from The Kitchn for a great tutorial on making a lattice crust.
I served this with a scoop of my Homemade No Churn Blueberry Cheesecake Ice Cream. Enjoy!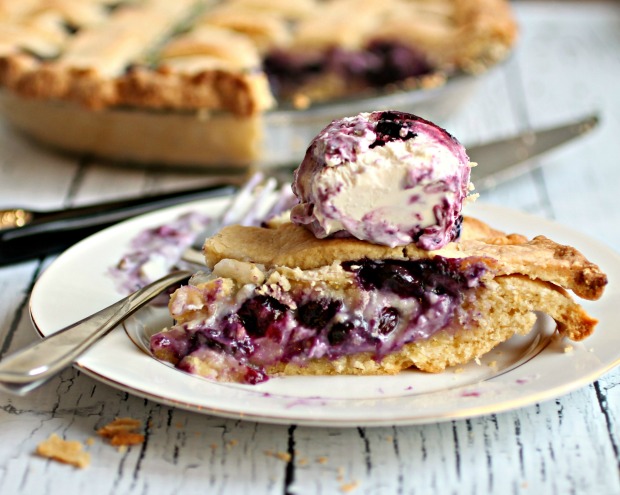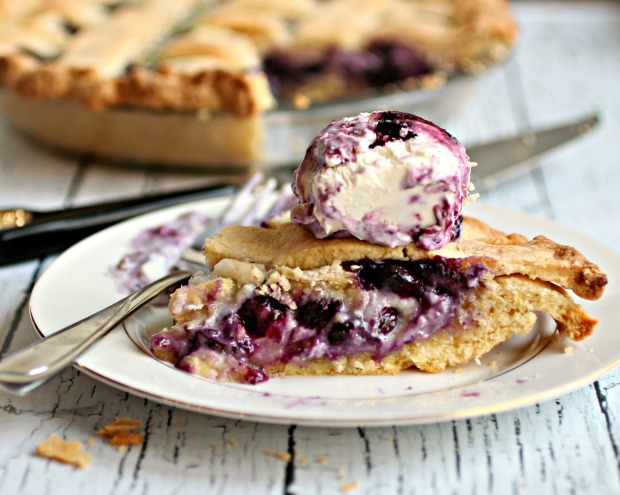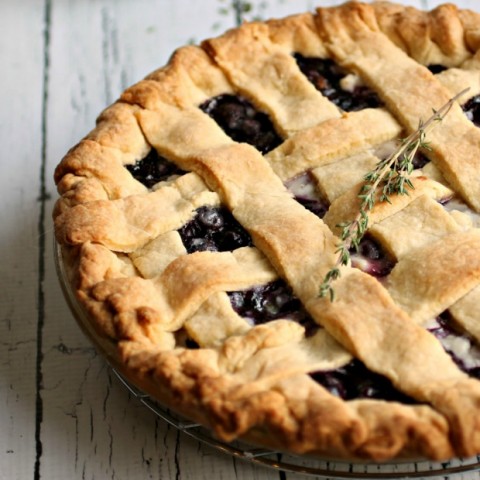 Blueberry Pie with Lemon and Thyme
Blueberry Pie packed with flavor from Lemons, Thyme and Goat Cheese. Recipe on HoosierHomemade.com from Hungry Couple
Ingredients
Crust
2 Cups all purpose flour
1/2 Cup cornmeal
2 Sticks unsalted butter, well chilled and cut into 1" pieces
1/4 Cup sugar
1 teaspoon baking powder
1 teaspoon salt
1/2 Cup ice water
Filling
3 Cups blueberries
1/3 Cup sugar
1/2 Cup crumbled goat cheese
Zest of 1 lemon
1 teaspoon fresh thyme leaves
1 Tablespoon all purpose flour
Pinch of salt
Instructions
Crust
To make the crust, combine the flour, cornmeal, butter, baking powder, sugar and salt in a food processor with a steel blade and pulse just until it resembles course crumbs. Slowly pour in the ice water and pulse until a dough ball forms. Wrap the dough in plastic wrap and refrigerate for at least one hour.
When ready, cut the dough in half and return one half to the refrigerator. Roll out the other half on a well floured surface until you have about a 10" round. Place the dough round into a 9" pie dish and crimp the edges slightly.
Filling
To make the filling, in a large bowl combine the blueberries, sugar, goat cheese, lemon zest, thyme, flour and salt. Pour into the prepared bottom crust.
Roll out the second half of the dough and cut into strips (I used a pizza cutter). Weave the strips into a lattice top and crimp the edges.
Bake the pie in a pre-heated 375 degree oven for 30 - 40 minutes or until the crust is a light golden brown.