Baseball Treats~Babe Ruth Bars & Baseball Cupcakes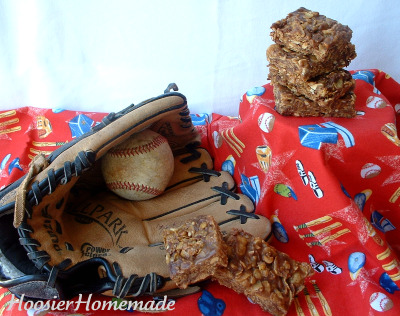 We love baseball! Our lives are filled with baseball, my middle son, Nick plays on the LaPorte High School team, and my youngest son, Casey also plays Little League.
Recently, it was my turn to provide sandwiches and snacks for Nick's team. I wanted to make something fun for the players. I have made Twix Bars hundreds of times for lots of different occasions, so I thought Babe Ruth Bars would go perfect for a baseball treat. And of course, I couldn't take regular cupcakes, I just had to bake some Baseball Cupcakes.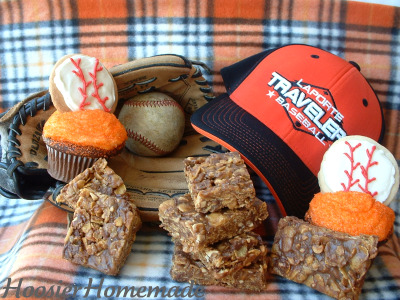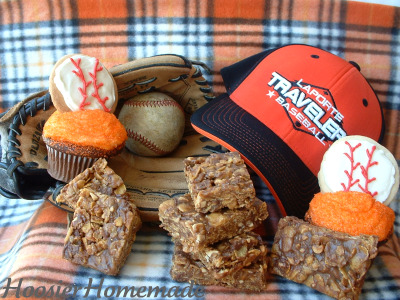 Baseball Cupcakes:
Bake your favorite cupcake and frost with white frosting
Dip or sprinkle with Orange Sugar (I used Wilton)
Bake sugar cookies and cut into circles
Note: I used the Almond Sugar Cookie recipe from Bake at 350, the same one I used for the Shamrock Cookies. I used a glass to cut the circles, because my round cookie cutter was too large to have them on top of a cupcake.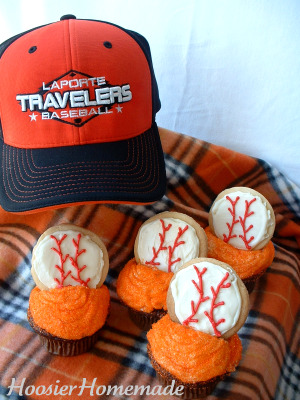 Babe Ruth Bars: (adapted from All Recipes)
1 cup Peanut Butter
1 cup White Corn Syrup
1/2 cup Brown Sugar, packed
1/2 cup White Sugar
6 cups Cornflakes cereal
1 cup Chocolate Chips (I used milk chocolate)
2/3 cup Peanuts
Directions:
In a large bowl, measure cornflakes, chips and peanuts. I gave the peanuts a slight chop, just to make them easier to eat. In a saucepan, combine, peanut butter, corn syrup and sugars. Cook and stir just until smooth, it does not need to boil. Pour over cornflakes mixture and stir well.
Press into 13 x9 sprayed pan, and let cool. I found that if they cool slightly, maybe 10 minutes, they cut much easier, then you can let them cool the rest of the way.