Welcome to Cupcake Tuesday!   If you are new here, grab a cup of tea or a glass of milk and enjoy a cupcake!
Well, it's been a little while since I used that button, seems kinda funny. The Cupcake Challenge is over, I emailed the entries earlier tonight. Good Luck to everyone who entered!
Since everyone seemed to really enjoy the Cupcake Challenge, and because it was suggested by a reader. I've decided to have a Holiday Challenge! So get those creative juices flowing! We will start in early November, so that we all have enough time to use all the ideas during the Holidays!
I have a couple bits of information for you! Beginning next week, I'll be posting Cupcake Tuesday in the morning at 7 a.m. Also, if you could take a second or two, and vote for me, I'd greatly appreciate it! In the sidebar, I have a little poll, please tell me how often you would like a cupcake newsletter. Thanks much!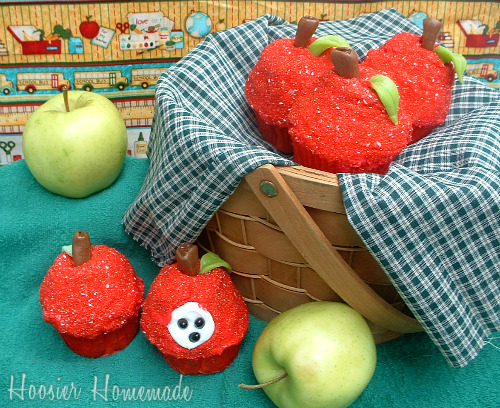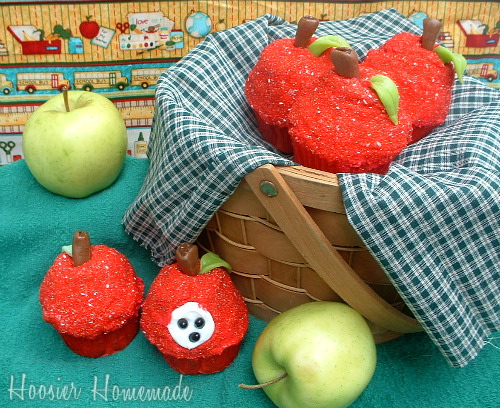 Even though my boys have already started school, many of you are just starting this week.
I'm sharing today's Back to School Apple Cupcakes for two reasons. First, of course, they are super cute for Back to School. They will also be the very special cupcakes for a wedding that I'm baking for next year. The couple are having their wedding reception at an Apple Orchard, and have chosen several of my cupcakes to serve. I'm so excited!! We will serve some of these Apple Cupcakes too!
Sorry, no video today, my house was in desperate need of attention this weekend, and since Doug was home most of the day, I recruited him to help.
I thought it would be fun to include one of my childhood school picture for you to enjoy laugh at 🙂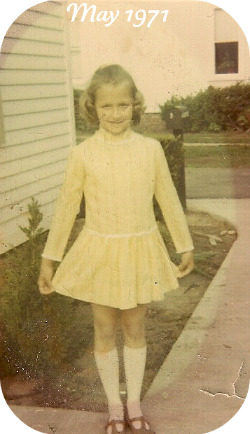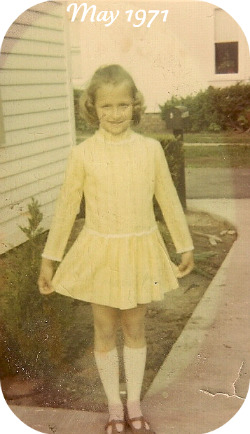 Yep, May 1971!!! Yikes…I'm old!
These Apple Cupcakes are from one of my favorite books, What's New, Cupcake? They were actually very easy to put together.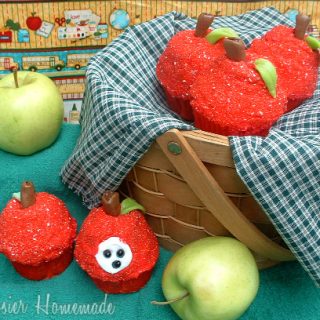 Back to School Cupcakes
Festive apple cupcakes for Back-to-School at HoosierHomemade.com.
Ingredients
Cupcakes baked in Red Liners
Frosting (Buttercream or canned, whatever you like best)
Mini plain or chocolate doughnuts
Tootsie Rolls (1 tootsie roll makes 2 stems)
Green Fruit Chews (Tootsie Fruit Rolls, Jolly Rancher, I used AirHeads)
Black candy-coated sunflower seeds
Instructions
Reserve a little white frosting, if you want to make a bite mark in the apple.
Trim about 1/3 of the bottom half of the doughnuts.
Put a small amount of frosting on cooled cupcakes and add doughnut to top of cupcake, cut side down.
Place in freezer for about 10 minutes.
While the cupcakes are firming up in the freezer, create the leaves and stems.
For the stems…
Cut 1 Tootsie Roll in half, diagonally, mold into the shape of a stem.
For the leaves…
Cut taffy or fruit chew in rectangles. I placed mine in the microwave for about 8 seconds to soften.
Trim one side to form the point of the leaf, then pinch together the other end to make it look cupped.
Using the back of a paring knife, mark the veins in the leaf.
Work with one cupcake at a time, leaving the others in the freezer.
Generously frost the tops of the cupcakes, including the doughnut, fill in any gaps, frosting the top and sides.
Roll in decorating sugar.
Add the stem and leaves.
To create the bite mark...
Carefully using a paring knife and spoon, remove a small piece from the side of the doughnut area.
Place the reserved white frosting in a small Ziploc bag and snip the corner.
Pipe on the frosting and smooth with the back of the spoon.
Add black sunflower seeds.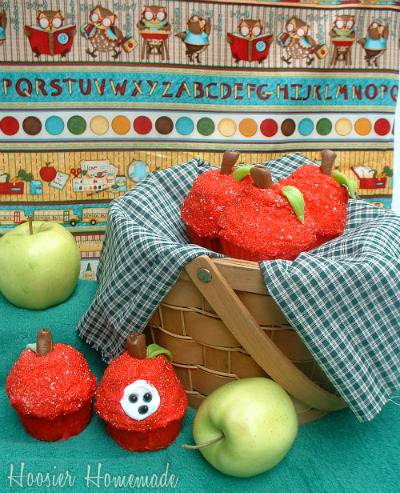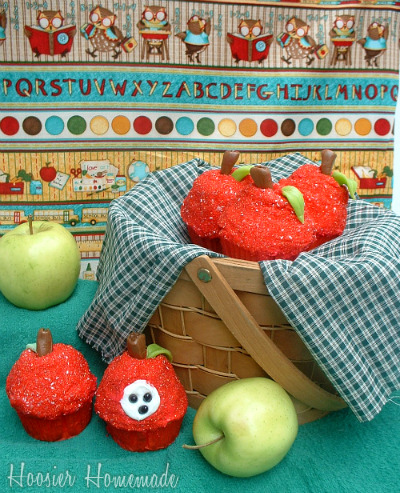 Be sure to head on over and link up to Delicious Dishes (Tues a.m.) on It's A Blog Party, my other blog, where I host a different linky party everyday! I'm starting a new, yummy giveaway too!
Now, it's time to share your creations! Please be sure to link back to this post so your readers can enjoy all the entries and visit one or all of the participants.