Arugula Salad with Green Lentils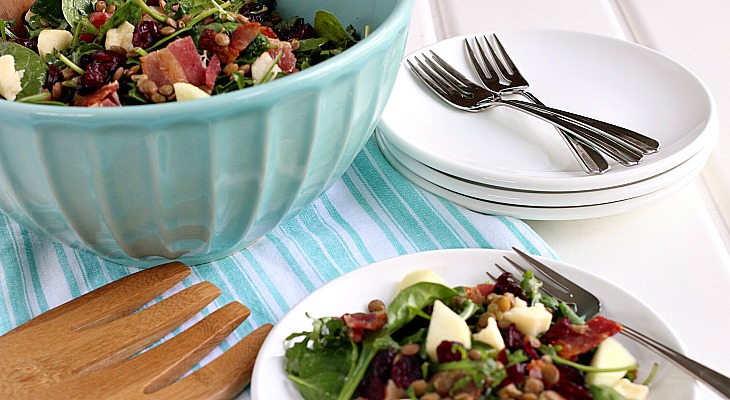 With the weather warming up I find myself craving a big salad! This Arugula Salad with Green Lentils tastes amazing and keeps me full until dinner. I love getting all of my veggies and proteins in!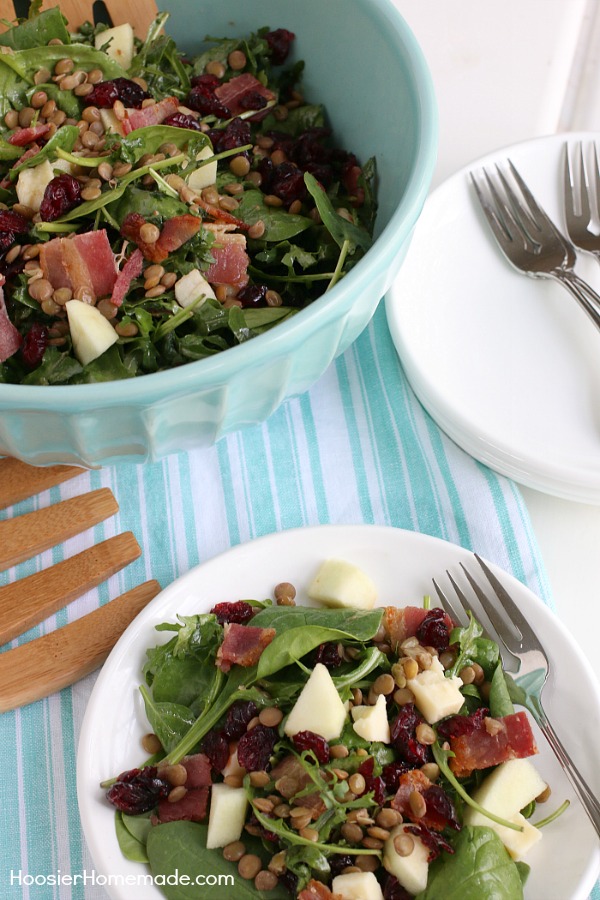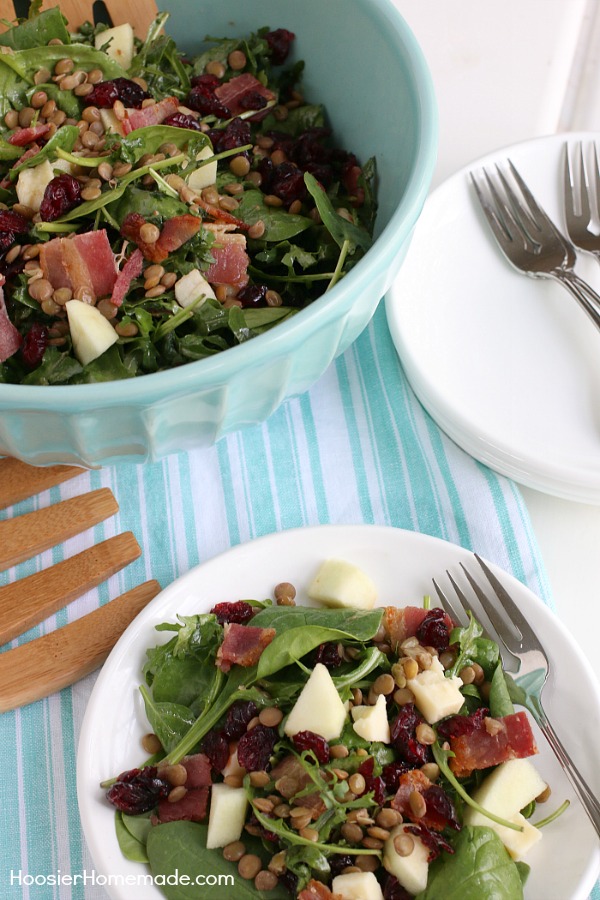 There is nothing like a good salad in the spring! Fresh vegetables make the salads so crisp and refreshing, but sometimes they leave me a little bit hungry. My solution? Throw in some lentils! This Arugula Salad with Green Lentils just might be my favorite salad to date.
I was first introduced to the goodness of lentils when I made Sweet Potato Bread, it truly surprised me. The flavor was delicious, and the bread was really moist. Then I made Lentil Cookies, I never knew that these easy to cook lentils were taste so good, and be good for you too!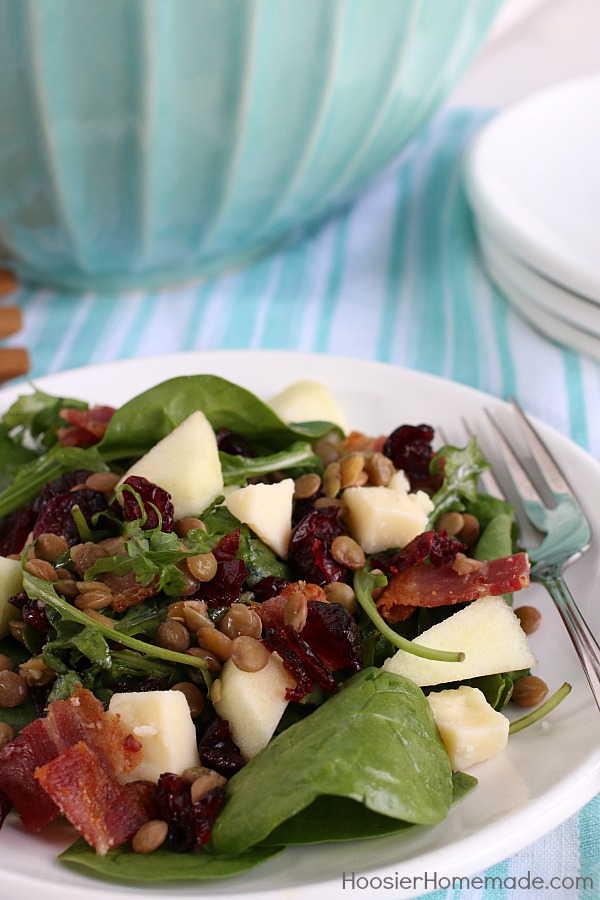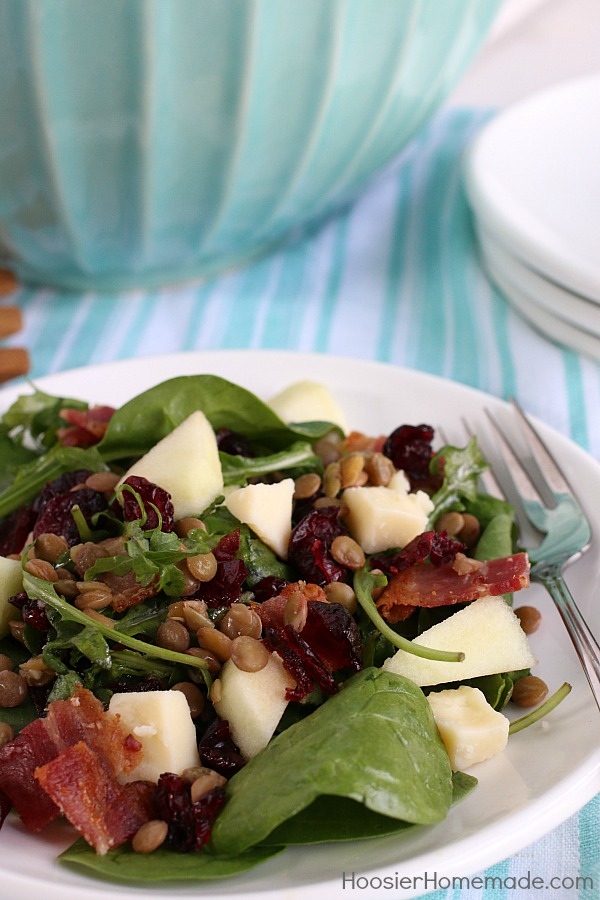 Dry lentils are so easy to store (they keep easily for up to a year in a cool, dark location) so I always have them on hand. Cooked lentils can be refrigerated for up to a week- so I like to make a big batch on the weekend so I have them on hand for lunches. They are high in fiber and protein and low in fat, they make my salads really filling!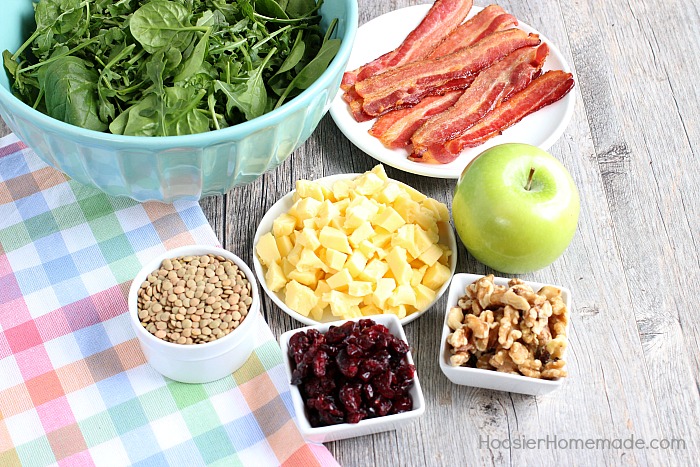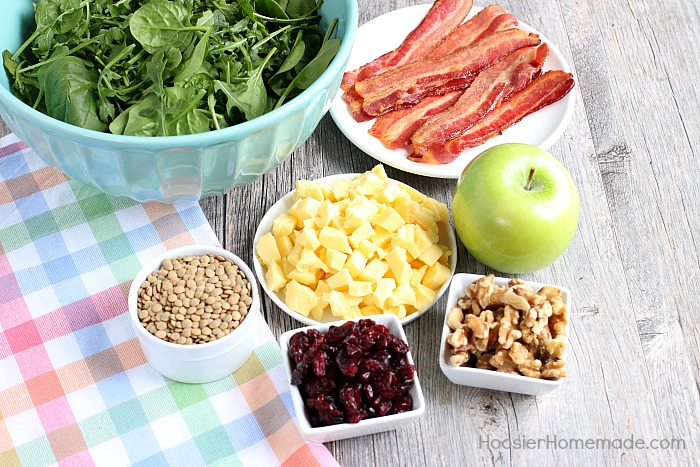 My other favorite salad ingredients- bacon (yum!), a Granny Smith Apple (adds a nice tart flavor and great texture), walnuts (a little bit sweet and a lot crunchy), and dried cranberries. Just thinking about all this makes my mouth water!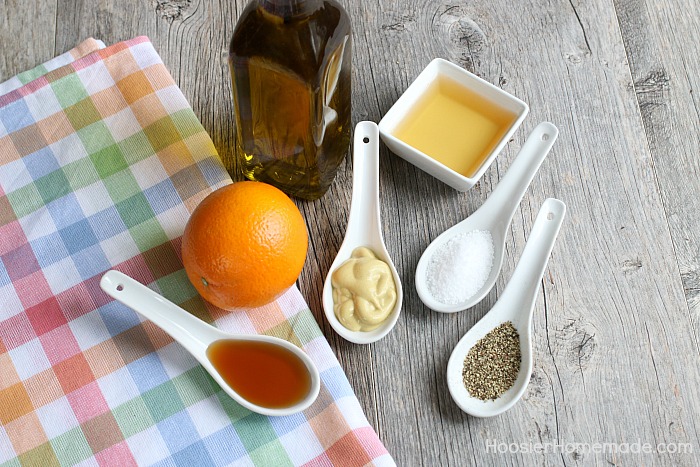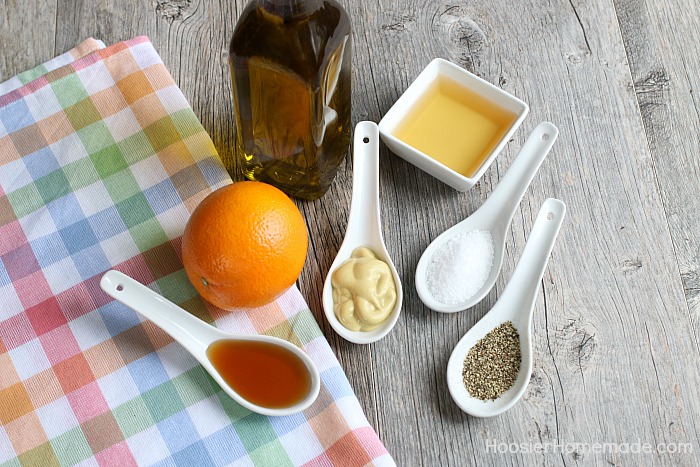 I love to make my own salad dressing. It really only takes a minute. My go to is a mixture of apple cider vinegar, Dijon mustard, orange juice and spices. This salad really does taste like spring- and fills you up!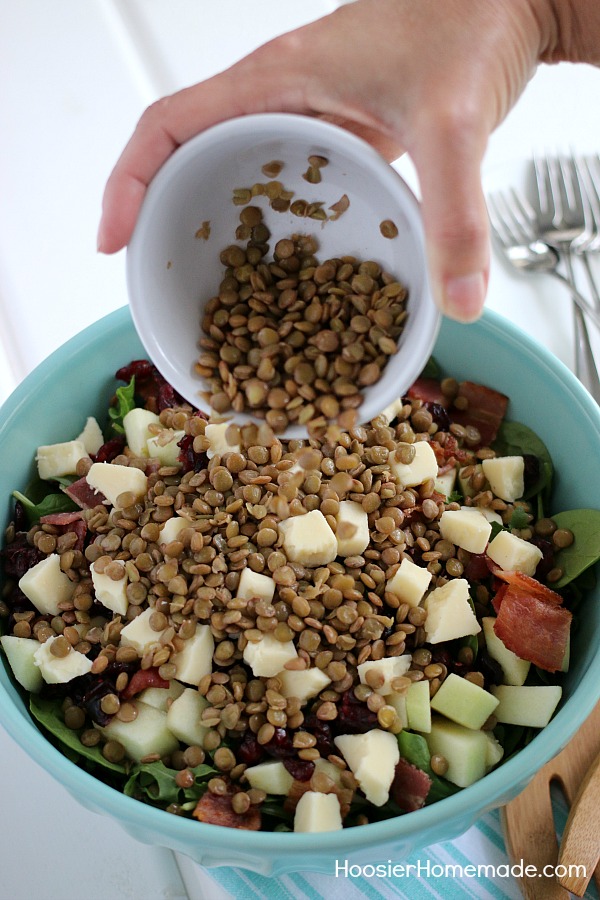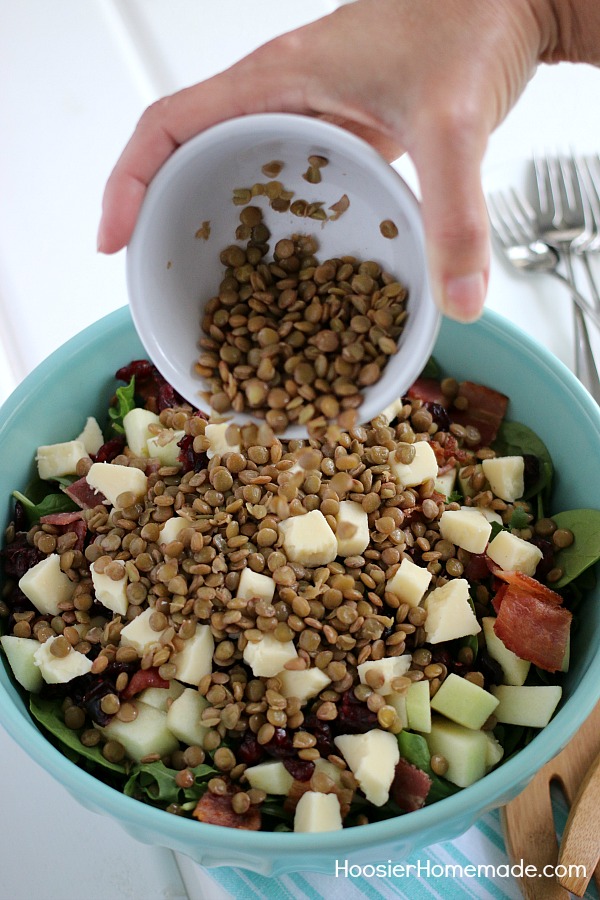 We are having friends over this weekend and I am thinking of serving this salad- all of its complexities really make it a show stopper! It will be perfect to serve on the porch on a warm evening.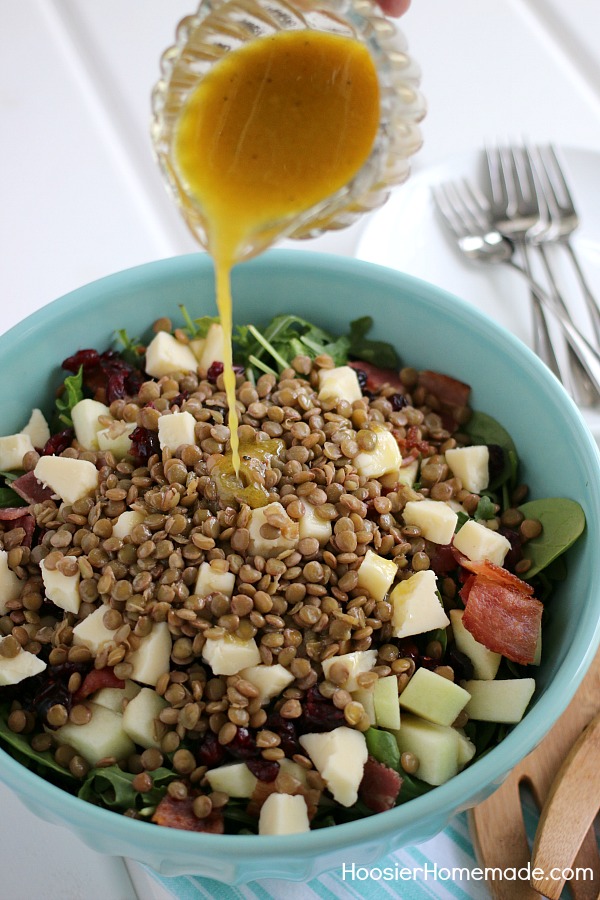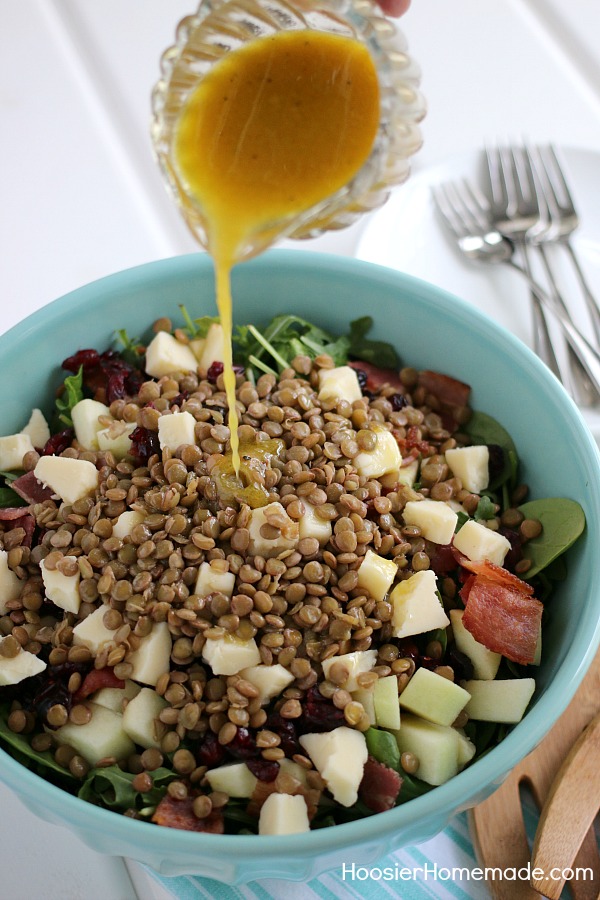 Are you a big salad fan? Have you ever tried lentils in your salad? They really are the star of the show!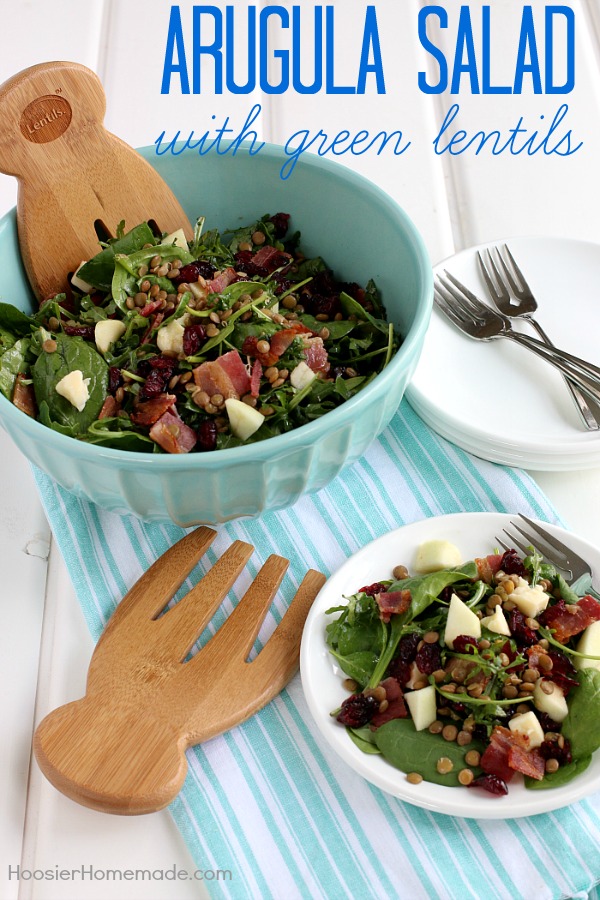 Next time you need a salad for lunch or for a dinner party, try this Arugula Salad with Green Lentils!
I'm looking forward to getting outside and enjoying the fresh air while walking and gardening this spring, I bet you are too! Be sure to enter the #SpringCleanse sweepstakes!! You could win a Fitbit Flex 2, a NutriBullet, Anthropologie measuring spoons, a Lentils.org kit, and more!
#SpringCleanse Canadian Lentils Sweepstakes
For more recipes using Lentils.org check out their website and follow them on Pinterest, Instagram, Facebook, Twitter and You Tube.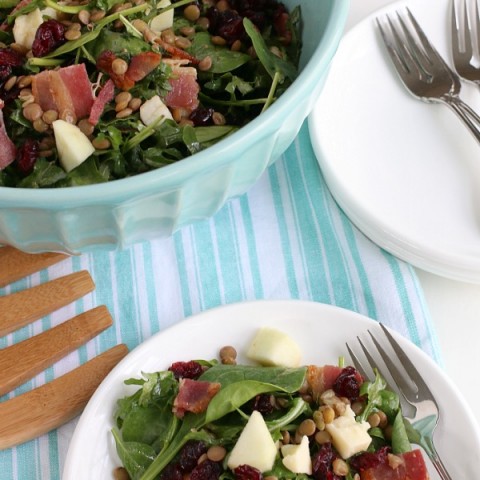 Arugula Salad with Green Lentils
This easy to prepare salad is perfect for Spring parties, yet easy enough for weeknights.
Ingredients
8 oz Baby Arugula and Baby Spinach mix
1/2 cup dry green lentils, cooked and drained
1 Granny Smith Apple, peeled and diced
8 slices (8 oz) thick-cut bacon, cooked and cooled
1/2 cup walnut halves, toasted and chopped roughly
1/2 cup dried cranberries
6 oz white cheese, like mild white cheddar, crumbled
1/2 teaspoon Kosher salt
Dressing
3 tablespoons apple cider vinegar
1 teaspoon orange zest, grated
2 tablespoons orange juice, freshly squeezed is best
2 1/2 teaspoons Dijon mustard
2 tablespoons maple syrup
1 1/2 teaspoons Kosher salt
1/2 teaspoon black pepper
2/3 cup olive oil
Instructions
Cook bacon in oven on wire rack with a cookie sheet under, at 400 degrees for about 20 minutes or until crispy. Cool.
Pour Lentils into a small saucepan and cover with water, about 1 inch higher than lentils. Bring to boil, lower temperature and continue to boil for 15 minutes. Watch carefully so water doesn't cook out. Drain and cool completely.
Toast walnuts in small pan for about 5 minutes or until lighted browned, cool
Add greens to large bowl.
Peel and dice apple, add to greens
Roughly chop walnuts and add to greens
Add dried cranberries to greens
Crumble cheese and add to greens
Mix well
Sprinkle chopped bacon on greens
Sprinkle lentils on top of bacon
Sprinkle with 1/2 teaspoon Kosher salt
Mix well
Dressing
To a small bowl, add cider vinegar, orange zest, orange juice, Dijon mustard, maple syrup, salt and pepper
Whisk in olive oil
Pour over salad and mix well
Serve immediately
This is a sponsored conversation written by me on behalf of Lentils.org. The opinions and text are all mine.