Happy Cupcake Tuesday! I'm so excited you are here! Looking for a cupcake recipe? Be sure to check out the Cupcake Heaven page, there are over 200 cupcake recipes and decorating ideas!
Nothing beats a chocolate cupcake…except maybe one with peppermint! I love the cool creamy flavors of chocolate and peppermint together! Somehow it just screams the holidays to me!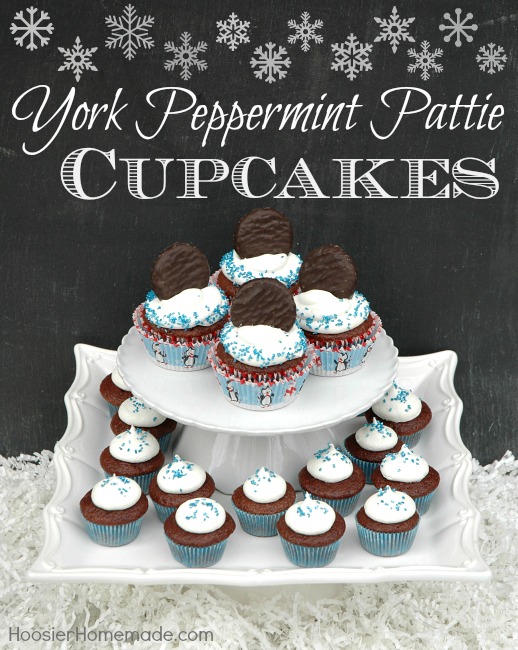 Baking with peppermint flavoring can sometimes be difficult, the extracts and oil are very strong, so just an extra drop could make the cupcake taste overpowering. But luckily, International Delight has the answer!
I have used International Delight Coffee Creamers in several recipes…Irish Cream Push Pops, Chai Tea Latte Cupcakes and even a Heath Bar Milkshake. There are many different flavors to choose from, and it's a super easy way to add extra flavor to your recipes.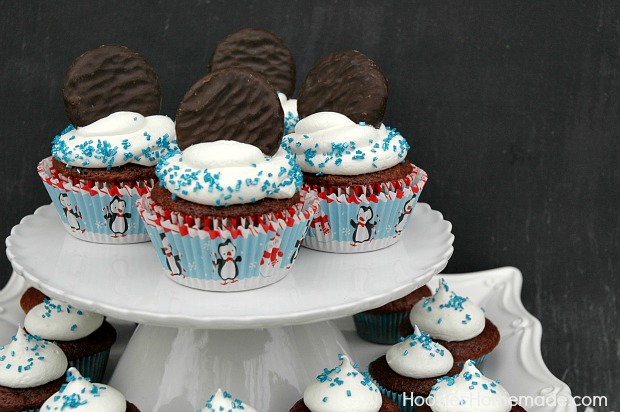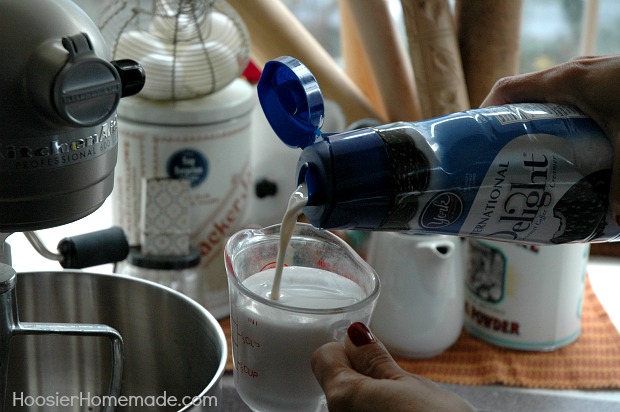 We are making this recipe super easy by starting with a cake mix, any chocolate flavor will do, then you will substitute the milk for York Peppermint International Delight.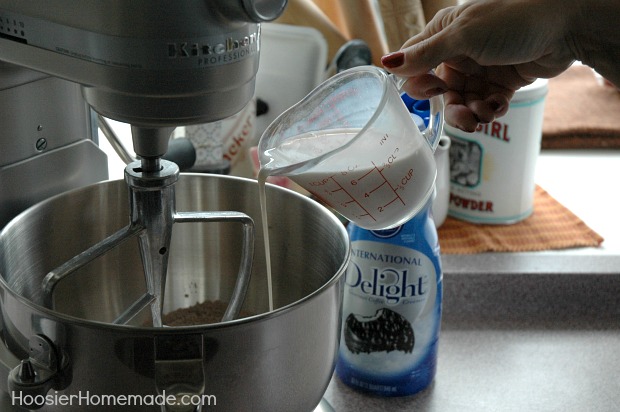 Add to the mixer along with the cake mix, 4 eggs and 1/3 cup oil.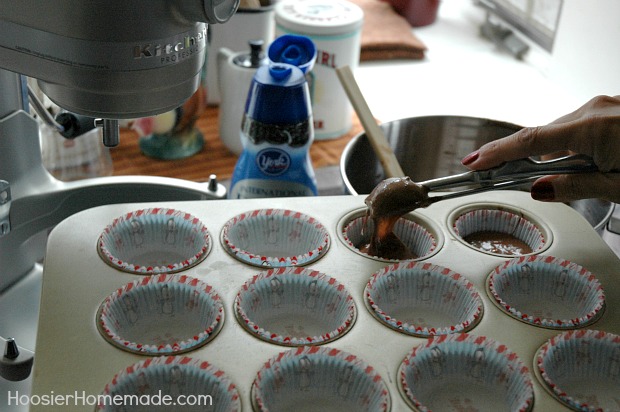 After the batter is mixed well, divide into cupcake liners. I like using a cookie dough scoop to fill with, about 1/4 cup per regular liner. And in case you are wondering, the regular liners with the penguins are from Wilton and the mini liners are from Michael's.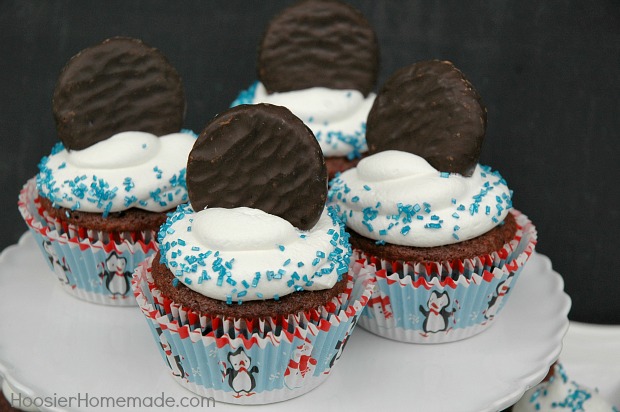 When I was deciding on the frosting, I wanted one that was cool, creamy and refreshing. I thought about a marshmallow frosting of some kind, then remembered that Cool Whip has a new frosting that I have wanting to try. It worked perfectly! The consistency is thick enough for piping, and the flavor is a great combination with the chocolate and peppermint!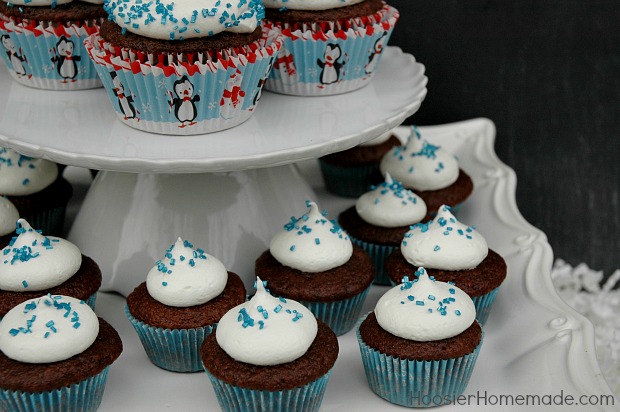 And the Mini Cupcakes are just so stinkin' cute you almost don't want to eat them!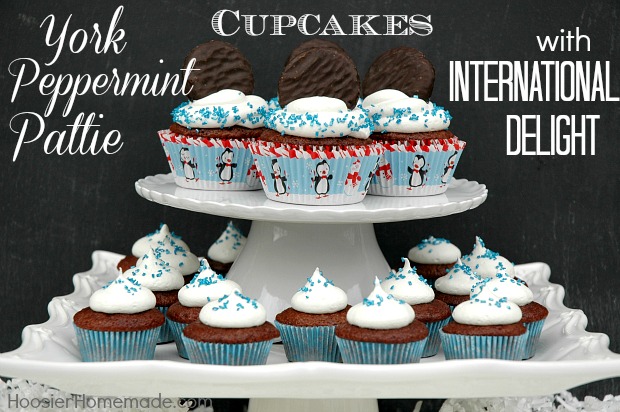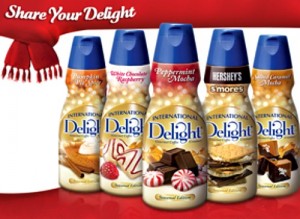 International Delights has partnered with the Coats for Kids Foundation and for every International Delight product purchased and then entered into their Share Your Delight page,50 cents will be donated to help bring coats to children in need!
Try all of the new Seasonal International Delight Flavors
Pumpkin Pie Spice
White Chocolate Raspberry
Peppermint Mocha
Hershey's S'mores
Salted Caramel Mocha
York Peppermint Pattie Cupcakes
The perfect combination for the holidays or anytime! Chocolate and Peppermint with a fluffy frosting. Recipe from HoosierHomemade.com
Ingredients
Cupcakes
1 box chocolate cake mix
1 cup International Delight York Peppermint Coffee Creamer
4 eggs
⅓ cup oil
Decorations
COOL WHIP Frosting
Jumbo Round Tip
Blue Sanding Sugar
York Peppermint Patties
Instructions
Preheat oven to 350 degrees and fill cupcake pan with liners
Combine all ingredients and mix well
Divide into liners and bake 12-15 minutes or until a toothpick comes out clean
Cool completely
Frost as desired - I used COOL WHIP Frosting
Notes
To frost cupcakes, fit a decorator bag with a jumbo round tip and fill with COOL WHIP frosting. Sprinkle edges with blue sanding sugar and top with York Peppermint Pattie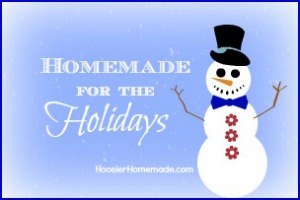 Linking to…Gooseberry Patch
The International Delight Facebook page shares coupon savings and a chance to share your delight this holiday season.
This is a sponsored conversation written by me on behalf of International Delight. The opinions and text are all mine.