Welcome to Cupcake Tuesday!   If you are new here, grab a cup of tea or a glass of milk and enjoy a cupcake!
Today is a very special day at our house! Our oldest son, Andrew, turns 19!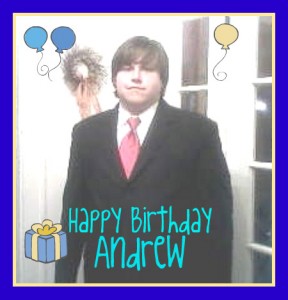 In honor of Andrew's birthday, I made him his favorite dinner!
Chicken Nuggets and Fries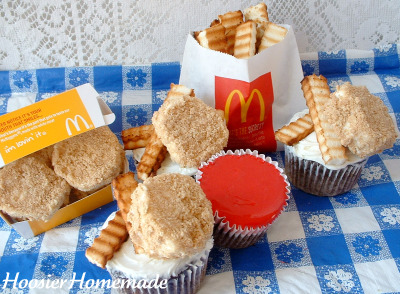 With a little dessert too! After seeing the fries in the new What's New Cupcake? book, I knew right away what I wanted to bake for Andrew's birthday.
They were really very easy too!
Chicken Nugget and French Fry Cupcakes
Love fast food? You'll love these Chicken Nugget and French Fry cupcakes from HoosierHomemade.com!
Ingredients
Cupcakes (baked and frosted with a thin to medium layer of frosting, I baked Chocolate, Andrew's favorite)
1 can of white frosting (yes, I said canned frosting, it's the best for these projects)
1 pound cake (I couldn't find pound cake, so I bought an angel food cake in a loaf size, I bought it instead of baking it because I wanted the consistency of store bought)
A Crinkle Cutter (I used my Pampered Chef cutter)
A baggie full of cereal, crushed (I used Cinnamon Toast Crunch, but Corn Flakes would work just fine)
Instructions
To make the Fries

Cut pound cake into strips, trim around all the edges, and place on cookie sheet.
Preheat broiler, place cookie sheet in oven.
Be sure to watch the fries VERY closely. I literally stood at the oven and counted to 10 and kept checking.
When one side turns brown, flip them until all sides are brown.

For the nuggets

Cut cake into squares, then trim the edges into a circle (of sorts) if they aren't perfect, that's better.
Crush cereal as fine as possible, place in bowl.
Heat a couple scoops of frosting in the microwave for about 20 seconds, spoon frosting over nugget and place on plate, sprinkle with cereal crumbs, gently pat them into the frosting, picking out any larger pieces.
Spoon crumbs on the edges.
Place in freezer for about 5 minutes to make them easier to handle, then frost the bottom and dip into crumbs.

To Assemble

Place a couple fries and nugget on top of frosted cupcake.
Tint frosting bright red, frost another cupcake to make it look like ketchup.
http://hoosierhomemade.com/cupcake-tuesday-nuggets-with-a-side-of-fries/
Happy Birthday, Andrew! We love you!
I stopped at McDonald's in our hometown, and the nice gals there gave me the empty containers to display in.
Disclaimer: McDonald's did not pay me to display their wrappers, but I did receive them for free.
Did you enjoy our Spring Blog Hop? I hope so!  I have chosen the winners for the giveaways…the Dual Chamber Decorator Bag goes to Brittany, Congrats! Email me your address and I will mail it out to you!…and the winner of the Recipe Box is Pamela from Live, Laugh, Love with the Pondering Princess, Congrats! Email me your address and I will pass it on to Shelley! 🙂
Do you have questions about cupcake decorating that you have been wanting to ask? Head on over and leave us a comment, the authors of What's New Cupcake? and Hello, Cupcake are answering your questions.
This post linked to:
~Foodie Friday hosted by Designs by Gollum
~I'm Lovin' It hosted by Tidy Mom
Now it's your turn! Please share your cupcake or muffin recipe! For the guidelines, you can visit Cupcake Tuesday.
Please be sure to link back to this post, so that your readers can see all the yummy creations and visit some (or all) of the other participants.