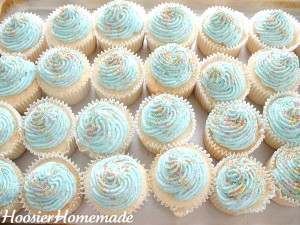 There are as many different ways to make Buttercream Frosting as there are bakers mixing it.
I have been sharing my Cupcakes for quite awhile now, so I thought it was past time that I share with you how I make my Buttercream Frosting.
Buttercream Frosting recipe from HoosierHomemade.com
Ingredients
1 cup Real Butter
4 cups Powered Sugar
2-4 tablespoons Milk
1-2 tablespoons Vanilla
Food Coloring (optional)
Instructions
I start with 2 sticks or 1 cup of real butter, I leave it out to soften to room temperature.
Then I whip it until it's creamy and fluffy
For every 1/2 cup of butter or 1 stick, I use about 2 cups of powdered sugar. For this recipe, I used 4 cups of powdered sugar.
I scoop it into a measuring cup and then use my whisk to sift it.
Add the powdered sugar, a little at a time, I alternate with milk and vanilla, I'm sorry I don't measure, but it's about 2-4 tablespoons of milk and 1-2 tablespoons of vanilla.
Beat well after each addition.
Now you can add any color that you would like.
http://hoosierhomemade.com/buttercream-frosting/
My friend's daughter requested white cupcakes with blue frosting for her classmates for her birthday.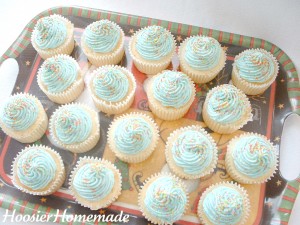 I used my decorator bag and star tip 1M, and sprinkles from Albanese Confectionery Company.
Linking to…Ingredient Spotlight