Homemaker's Labor Day eBook Bundle Sale

If you aren't familiar with Bundle of the Week, they offer wonderful eBooks to help you with everything you could possibly need to know when it comes to homemaking.  There are bundles for cooking, cleaning, organizing, meal planning, and so many other helpful topics.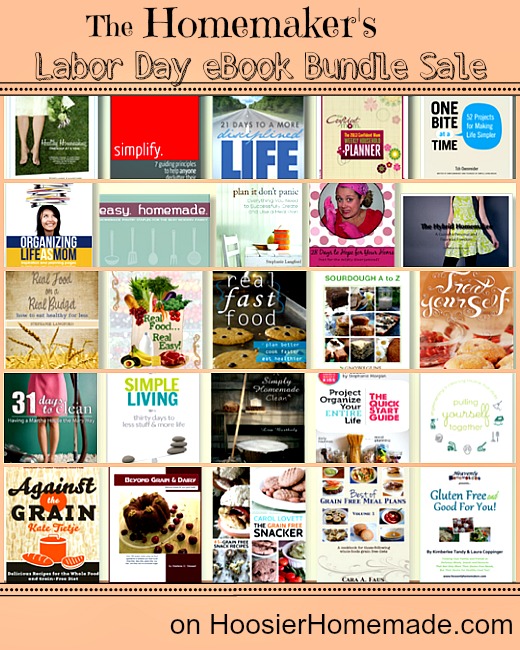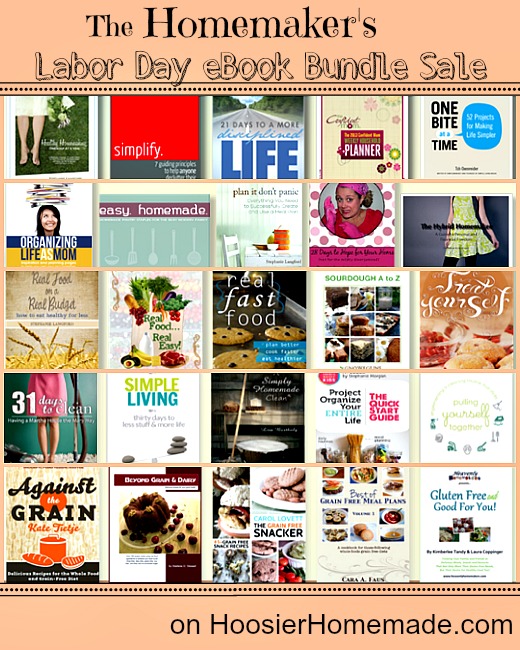 Bundle of the Week is offering an amazing sale on their most popular eBook bundles during the week of Labor Day.  Each day they will have a very special bundle priced at only $7.40 for the entire bundle.  There are some wonderful eBooks in this sale such as Real Food on a Real Budget, Simple Living, 31 Days to Clean, and many others.
September is the new January, and if you're making resolutions for yourself as the kids head back to school, this bundle is for you! Get the tools you need to set goals and take control of your life at more than 75% off retail price.  Order the New Year's Resolution Bundle here on Monday September 2nd.
This homemaking bundle includes five amazing resources to help you run your home more efficiently! Covering everything from organizing your schedule and household records to meal planning, cleaning and budgeting, it's the perfect collection to help you keep your home resolutions. Get all 5 ebooks at a savings of more than 80%.  Order the Homemaking Bundle here on Tuesday September 3rd.
Serving your family "real food" is important, but how do you do it without breaking the budget or sacrificing taste? This collection includes the resources you need to eat delicious, whole foods on a budget. Packed full of recipes and tips, it's sure to be a go-to resource in your kitchen. Get it today for almost 90% off its retail price!  Order the Real Food Bundle here on Wednesday September 4th.
Although spring is over, fall is a great time to clean and organize before the holidays, and this bundle will walk you through decluttering, cleaning and organizing your home! At more than 75% off, it's a value that can't be beat.   Order the Spring Cleaning Bundle here on Thursday September 5th.
Going grain-free can be overwhelming for families dealing with gluten-intolerance or Celiac disease, and this collection includes more than 275 gluten-free and grain-free recipes plus a wealth of information and tips from the authors' own experiences. And all at a savings of more than 80%!   Order the Gluten & Grain Free Bundle here on Friday, September 6th.
Disclosure: There are affiliate links in the post. You can read my Disclosure Policy for more information.