White Elephant Gift Exchange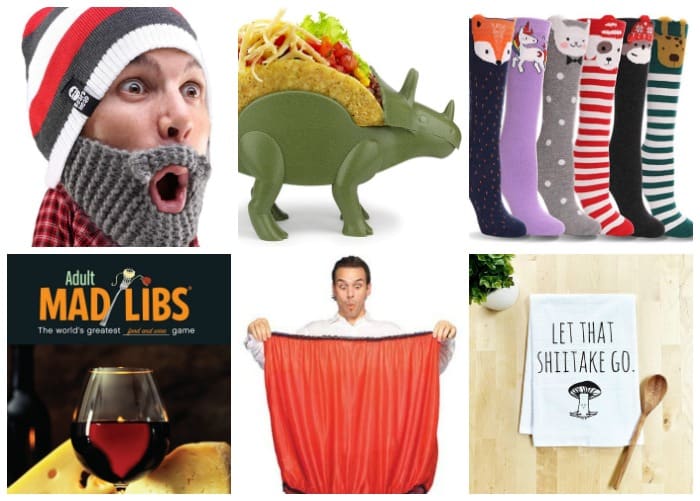 Have you ever been invited to a White Elephant Gift Exchange? I think White Elephant Gift parties are becoming even more popular. In the 21st century, you better believe that if we get invited to one, we are going. Whether you host one of these parties or go to one, you will be laughing the whole way through. The whole point of a gift exchange like this is humor and to take the pressure off everyone around the holidays!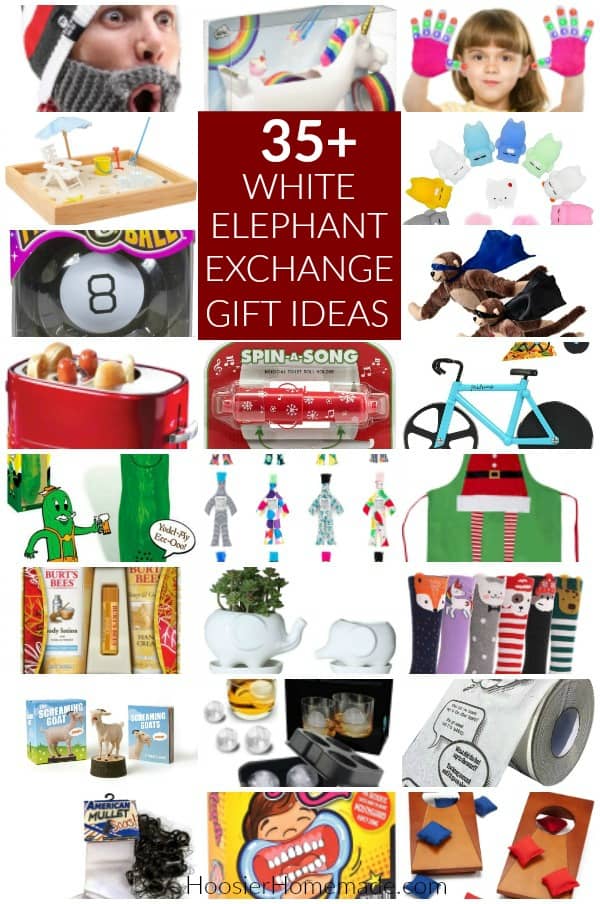 Welcome to Day 14 of the 100 Days of Homemade Holiday Inspiration! Each day we will be inspiring you with recipes, decorating ideas, crafts, homemade gift ideas and much more!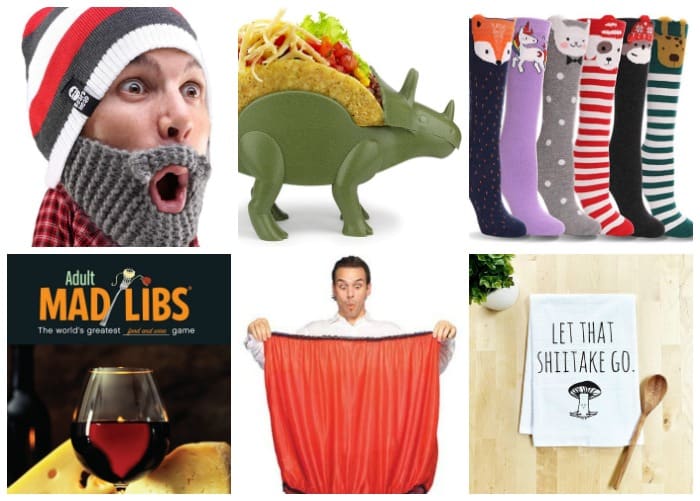 Cruiser Beard Beanie – Taco Holder – Animal Socks
Adult Mad Libs – Big Undies – Kitchen Towel
What is a White Elephant Gift?
When you have a white elephant gift exchange, you are providing a funny gift that brings laughter to those who are attending the party. The white elephant gifts don't usually make sense and they are just loads of fun for all involved. Essentially, you can bring anything to a party like this, but it's more fun if you do it based on WHERE the party is held.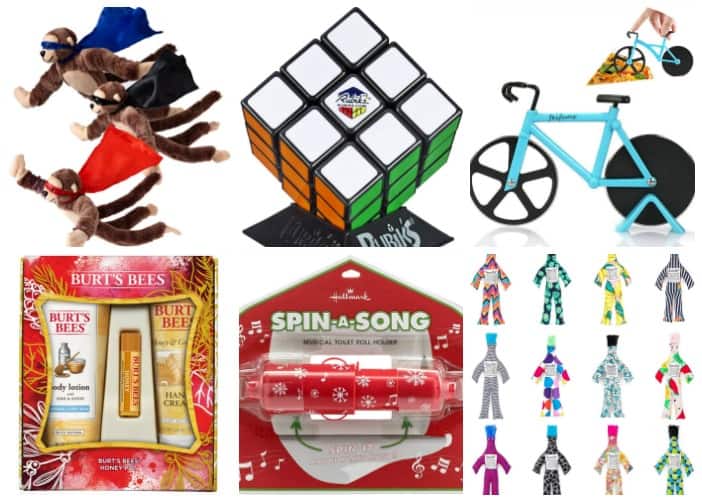 Slingshot Flying Monkey – Rubiks Cube – Pizza Slicer
Burt's Bees Gift Set – Musical Toilet Roll Holder – Dammit Doll
How to Throw a White Elephant Gift Exchange Party
Throwing a white elephant gift exchange party is easier than you think. You'll first need to invite everyone and tell them the rules of the game. The main thing is that each person brings their own white elephant gift.
Once they get to the party, explain the rules to them, so that everyone is on the same page. It can be confusing when some people have never done an exchange like this. Just take the time to make sure everyone is on the same page, you'll be glad you did.
Rules of a White Elephant Gift Exchange Party
Believe it or not, but there aren't a ton of rules for bringing along a gift for an exchange. If you haven't been to a party like this or haven't thrown a party like this before, you'll want to pay attention to these rules!
Everyone has to bring a wrapped gift to the party.

Each player has to draw a number, so they know in which order they'll be able to choose their gift.

Each person participating in the exchange has to sit in the circle.

The very first person who drew first gets to pick the first gift to unwrap.

After the first person goes, everyone else can choose to unwrap a gift or choose to steal a gift.

In a typical game, a gift can only be stolen 3 times.
Keep in mind that there are many variations to this type of gift exchange, but you can always choose to switch things up!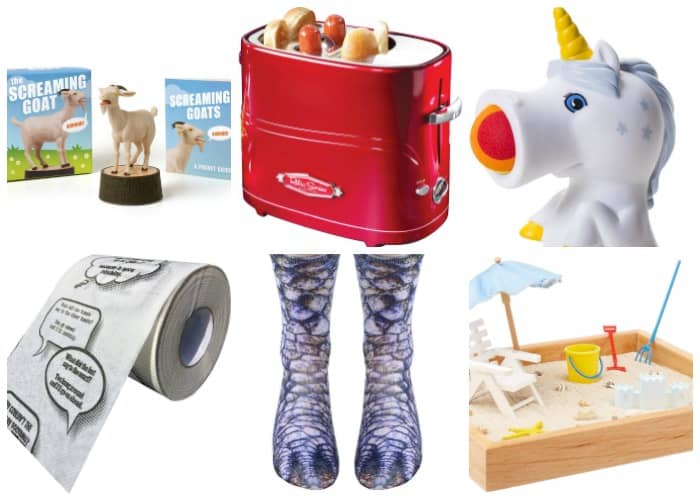 The Screaming Goat – Hot Dog & Bun Toaster – Unicorn Popper Toy
Novelty Toilet Paper – Animal Paw Socks – Mini Sandbox
White Elephant Gift Ideas
In general, white elephant gifts are funny. If you're looking for funny white elephant gift ideas, then I wanted to give you a few ideas. A funny gift to bring along with you may be a Rubik's cube, water bottle, or a Hot Dog and Bun Toaster. In the grand scheme of things, these items may not seem hilarious, but they are when you are expecting something just a little more awesome.
Desktop Cornhole Toss – Coffee Mug – Magic 8 Ball
Unicorn Tape Dispenser – Desktop Boxing Bag – Plant Holder
Office White Elephant Gift Ideas
Most white elephant parties are thrown in an office. It's a fun way to celebrate the holidays without a lot of pressure to buy something expensive. Some ideas for good office white elephant gift ideas include desktop cornhole, desktop boxing, or even a magic 8 ball! All of these gift ideas are fun, but also appropriate for the office gift exchange.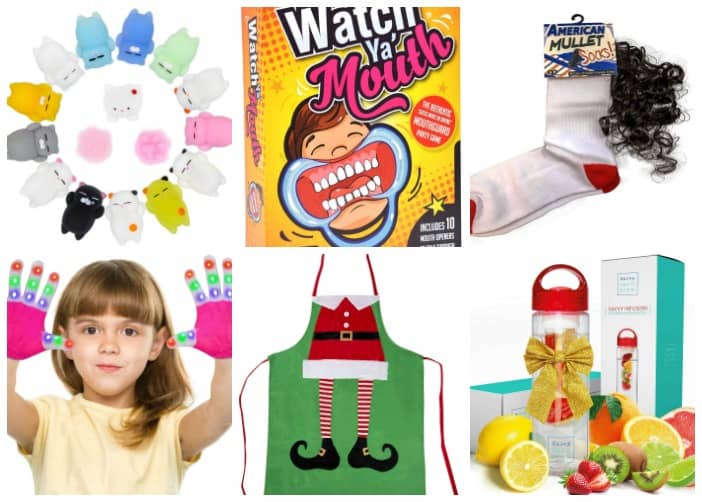 Squishy Cat Set – Watch Ya' Mouth Game – Mullet Socks
Light up Gloves – Elf Kitchen Apron – Infusion Water Bottle
Family White Elephant Gift Ideas
Having a family white elephant gift exchange does change things a little bit. If you are going to have little ones around, you'll want to keep it semi-appropriate. However, there are still a lot of white elephant gifts that are hilarious and perfect for a family setting. Try a Squishy Cat Set, Watch Ya' Mouth Game, or even American Mullet Socks. All these gifts are in good fun and great gifts for your next elephant gift exchange.
Now that you know a little more about a White Elephant Gift Exchange, I hope you'll be able to enjoy this type of party just a little more. The basics of it are to invite people over, everyone brings a goofy gift, and then you exchange those gifts in a systematic order.
Do you plan on having a gift exchange like this soon? If so, what do you plan on bringing?
Follow along with the 100 Days of Homemade Holiday Inspiration for more simple recipes, easy crafts, homemade gift ideas, decorating tips and much more!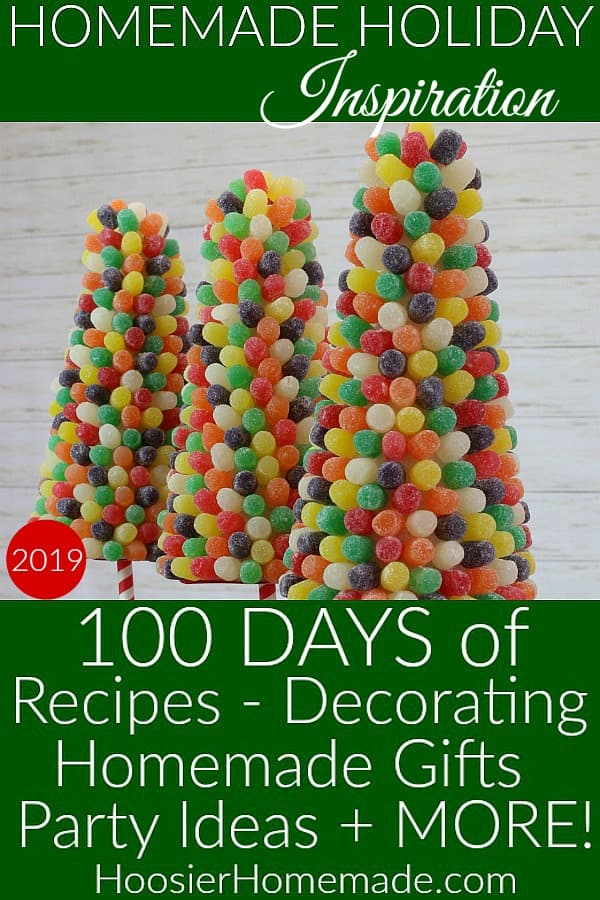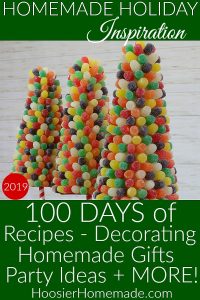 NOTE: This post has affiliate links in it. That means – if you click on one of the links and purchase an item, we receive a small percentage. There is NO additional cost to you.