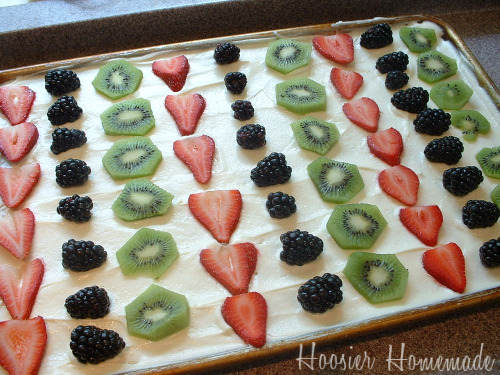 Welcome to another great week of Menu Planning! Last week was another super busy week for me. I really hope I can have a little time to play catch up soon. I absolutely love being busy, but it drives me crazy when I can't be organized while being busy. Our meals were good, but I wasn't able to stick to the schedule very well. We had lots of baseball games and a trip to Chicago to take Casey for his check-up with the Doctors, all went well.
So, this week, I'm hoping to get back on track. We have a little break with Nick's travel baseball team, and Casey's team only has 2 games this week.
Casey turns 13 on Saturday! So we will be having a little party with a few friends, stay tuned for some fun cupcakes and of course, great food.
Slowly but surely, I'm getting all the recipes posted from Andrew's Graduation Party. Today I'm sharing this yummy Fruit Pizza. I haven't made Fruit Pizza in many years, but when I recently saw Cris' recipe on her blog Goodeness Gracious, I knew that I wanted to make it for the Graduation Party. It was a hit with everyone.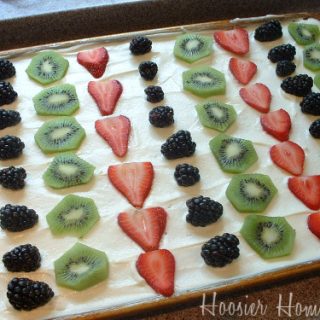 Fruit Pizza
A refreshing fruit pizza recipe to serve this summer - from HoosierHomemade.com
Ingredients
1 1/2 cups butter
1 cup sugar
3 cups flour
1 1/2 tablespoon Almond extract
1 1/2 cups Marshmallow Fluff
8 oz. Cream Cheese, softened
Strawberries, Blackberries, Kiwi…or other fruit that you like
Instructions
Preheat oven to 350 degrees.
Cream butter, sugar and Almond Extract until fluffy.
Add flour slowly, until well combined.
Press cookie dough mixture into a greased cookie sheet or jelly roll pan.
Bake about 15 minutes or until golden brown. Cool.
Beat Cream Cheese until fluffy, add Marshmallow Fluff and beat until well combined.
Frost cookie. And top with fruit of your choice.
Notes
I found it easiest to slice and just serve right out of the pan.
Here is what we will have the rest of the week…
Monday ~ Homemade McGriddles, Fried Potatoes, Fruit
Tuesday ~ Chicken Stir- Fry and Rice
Wednesday ~ BBQ Meatballs and Oven Fries
Thursday ~ Taco Pizza (recipe from Home Sweet Home)
Friday ~ Grilled Honey-Soy Pork Chops, Salad, Deviled Eggs
Saturday ~ Casey's Birthday Celebration – Wow, another teenager in the house
Sunday ~ Buffet (leftovers from party)
Have you heard about my new blog? It's A Blog Party! Every day is a different linky party. Come join us on Tuesday for Delicious Dishes!
Don't miss Cupcake Tuesday tomorrow, come on back and link up your Cupcake or Muffin creations!