Watermelon Granita and Homemade Popsicles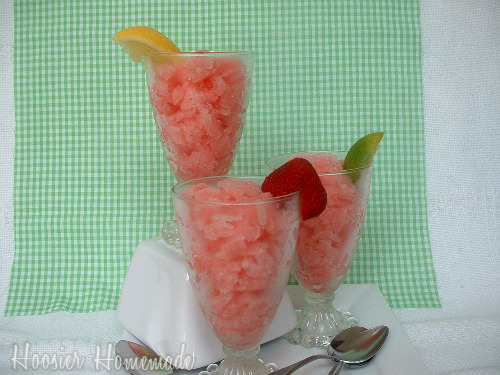 It's been so hot lately, I haven't been baking much (as you probably have noticed), my family still loves to have a treat though. Since cupcakes weren't in order for the day, and our Summer Lime Pie was gone, I decided to give this Watermelon Granita a try.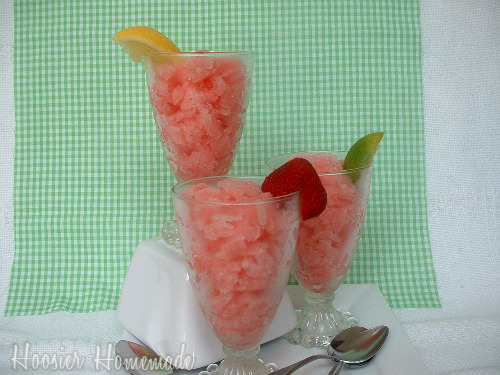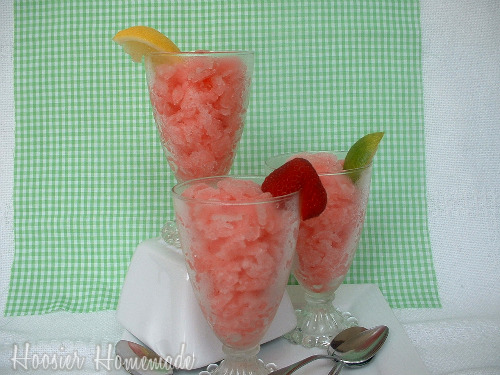 Even though the name sounds really fancy, it is actually just fruit juice and simple syrup (sugar and water).  I love having fresh fruit, but it seems like when I buy a Watermelon much of it goes to waste. They are usually pretty big, even for our family. I'm not a Watermelon lover, I know…the shame of it…but Doug and the boys all love it. So this cool dessert was a perfect way to use some of the watermelon so it didn't go to waste.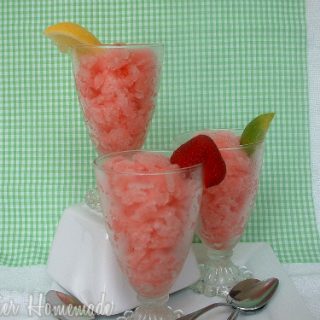 Watermelon Granita
Refreshing Watermelon Granita from HoosierHomemade.com
Ingredients
1 1/4 cups sugar
1 1/4 cups water
6 cups cubed watermelon
Instructions
Picture Instructions
%http://hoosierhomemade.com/wp-content/uploads/Watermelon-Gran-collage.jpg
Blend watermelon in blender until smooth
Place a strainer over a large bowl and using the back of a spoon, push juice through the strainer
Juice before it's strained
After it's strained, it almost looks like jello
Freeze for 1 hour
Stir with a fork
Step-by-Step Instructions
In a small saucepan, bring sugar and water to a boil.
Cook and stir until all the sugar is dissolved, set aside.
In a blender, process watermelon, about 2 cups at a time, until smooth.
Strain and discard pulp (see pictures below)
Add sugar mixture to watermelon and pour into a 8 inch square dish.
Cool to room temperature.
Freeze for 1 hour, stir with fork, return to freezer for 3-4 hours longer or until completely frozen.
With a large spoon, scrape Watermelon Granita and place in serving glass. Garnish with fresh fruit, lemon or lime if desired.
We had enough juice left to make some Homemade Popsicles too. Nick and his girlfriend bought these plastic molds at Michael's for only $1.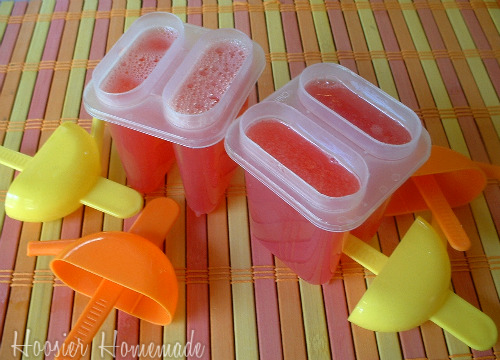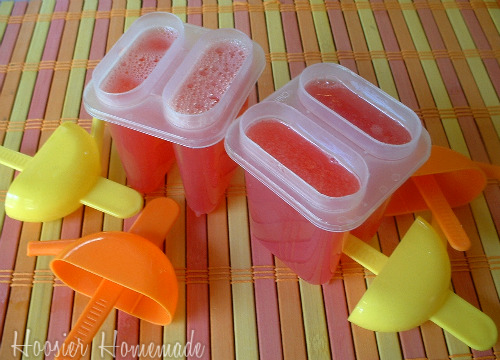 The boys have also been making Pink Lemonade Pops. Those were especially yummy!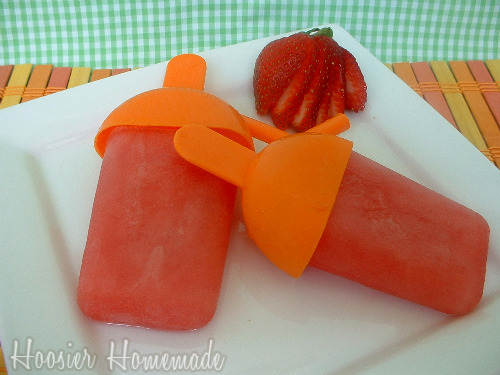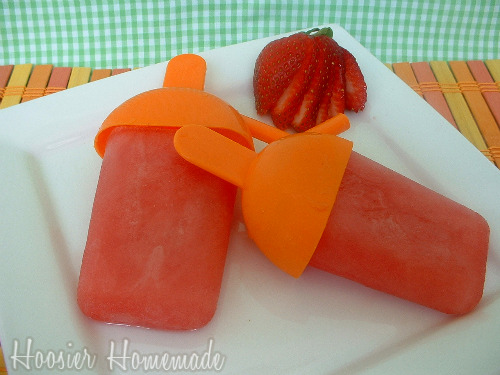 So…which would you like to try, the Watermelon Granita or the Homemade Popsicles?
I'm linking to…Eat at Home