'Twas the night before Christmas, when all through the house, not a creature was stirring, not even a mouse. You know the classic poem. We have brought it to life in our Vintage Christmas Decorating.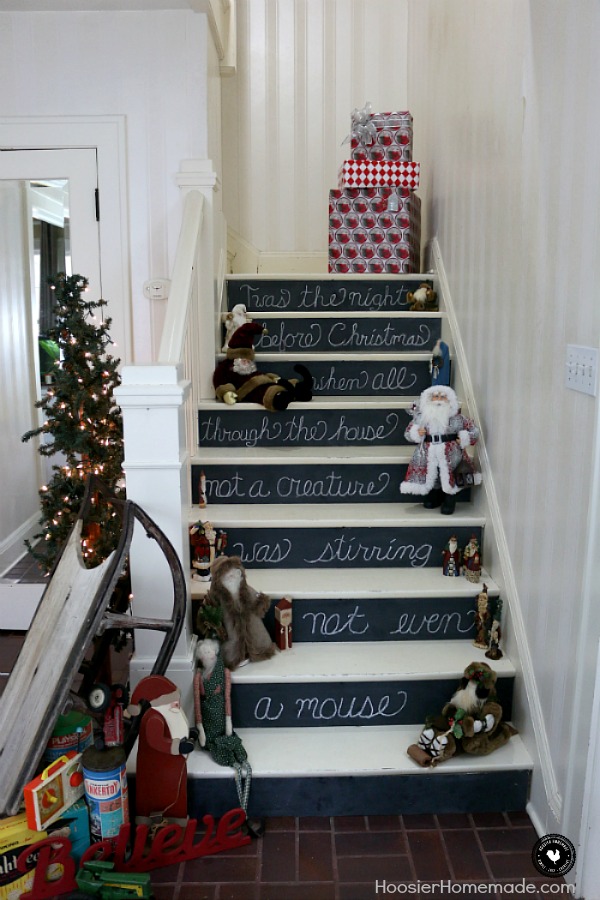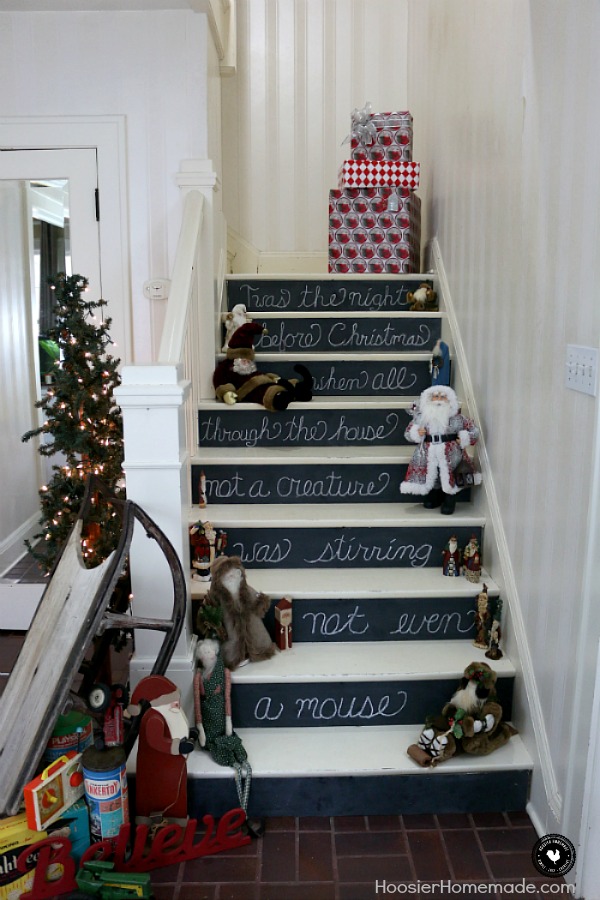 Each year when it comes time to decorate our home for Christmas, I try to think of a theme. This year, we decided that we would add a beloved Christmas poem into the decorating.
'Twas the night before Christmas,
when all through the house,
not a creature was stirring,
not even a mouse.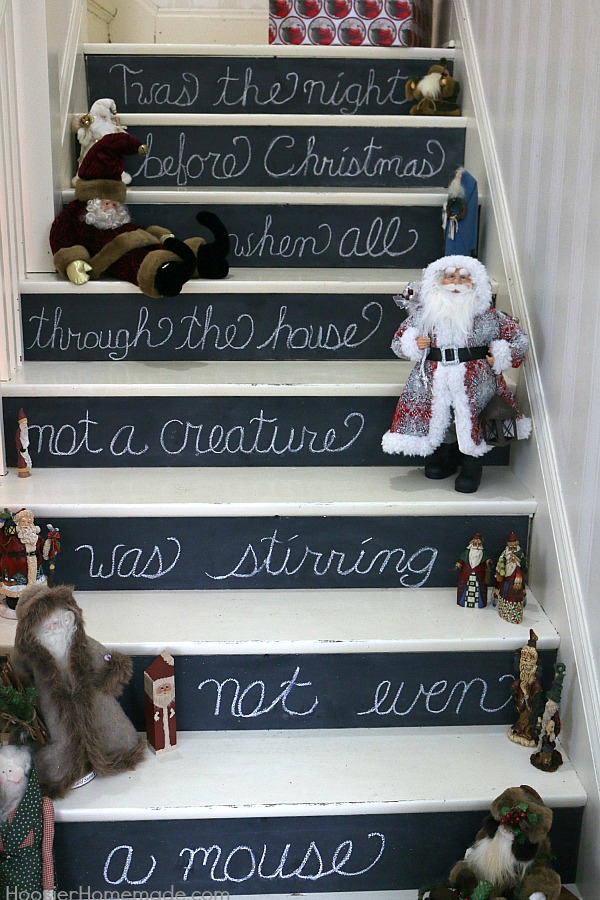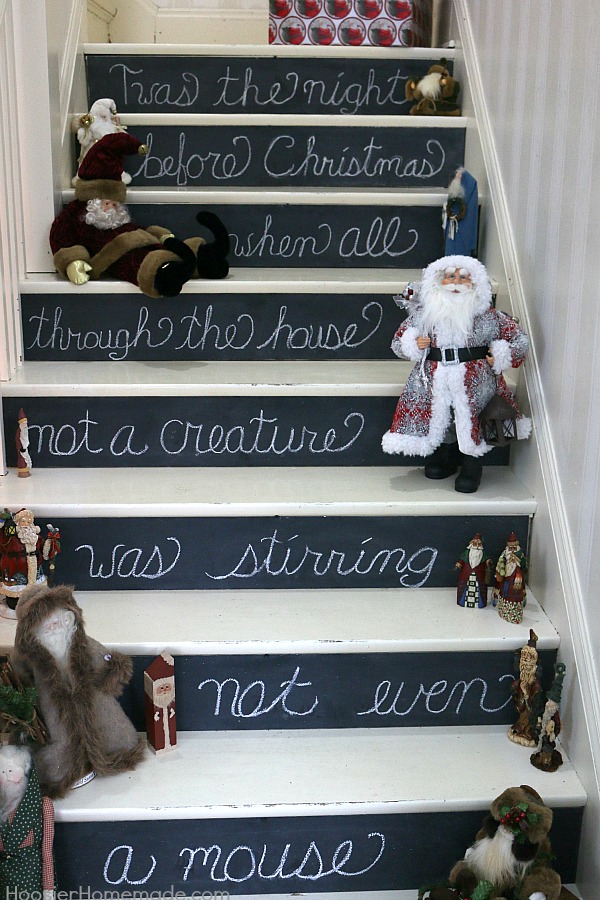 We will be sharing a full tutorial on how to make the chalkboards for your stair risers soon, but I was so excited, I just had to share our home with you! Do you remember the Halloween stairs that we added a Jack o' Lantern face to?
Well, while we were working on those, we were talking about ideas that we could make the stair decorations a little more permanent. Now, these chalkboards are not attached, so they aren't permanent, however, they can definitely be used for any holiday, which is what we plan on doing.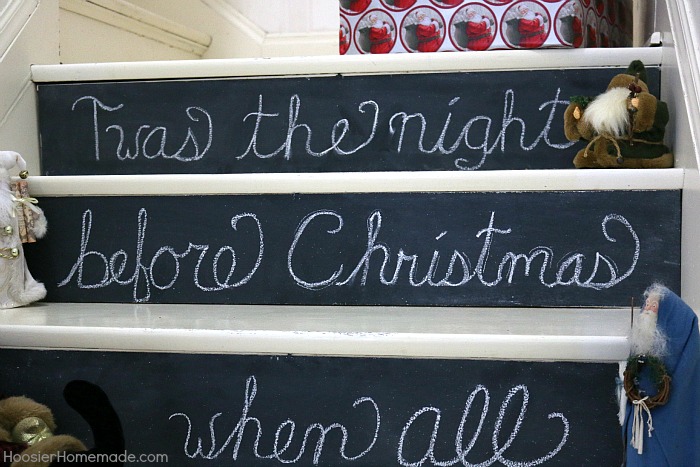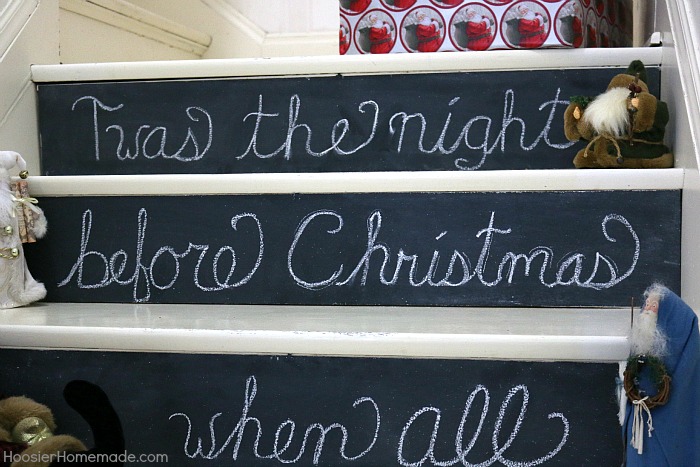 I was recently inspired to try my hand at hand lettering by the very talented, Dawn Nicole. So I ordered the Complete Book of Chalk Lettering a couple months back and took some time to read it over. There are some amazing ideas in the book, seriously. This time though, I decided to stay with a little more traditional lettering for a couple reasons – 1) I was short on time and 2) it definitely takes practice to master the art of hand lettering.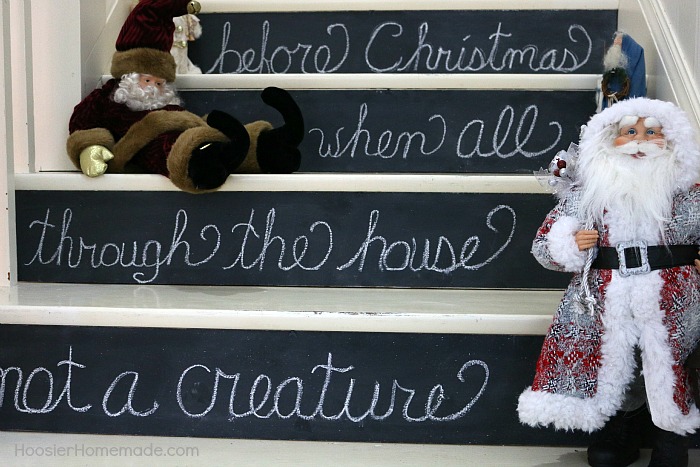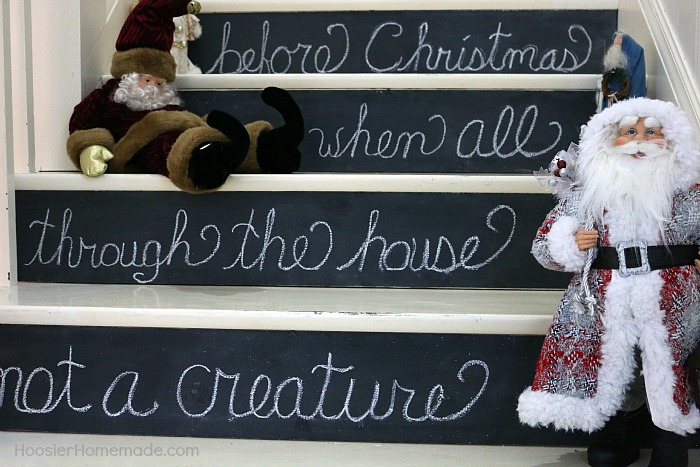 The addition of my Santa collection adds a special touch and charm to the stairs. They make me smile each time I'm running up and down the stairs.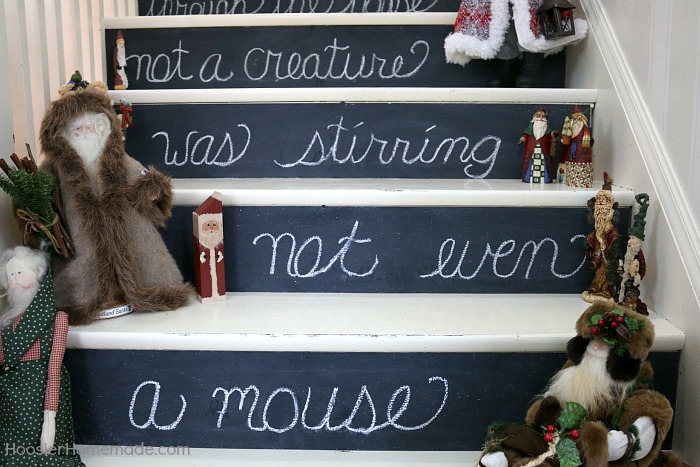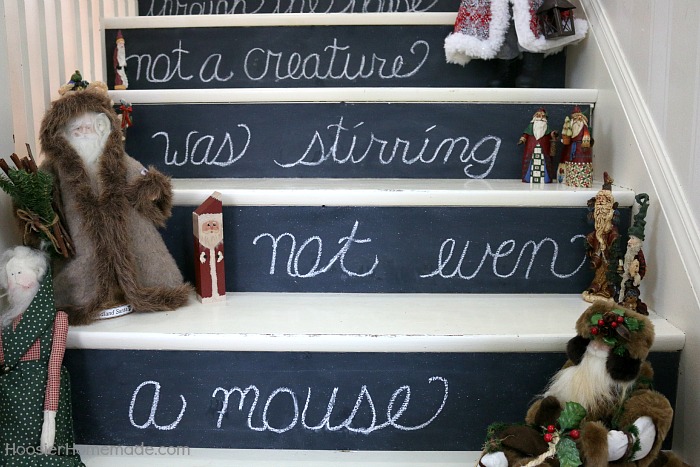 The combination of the larger Santas and the smaller ones works well.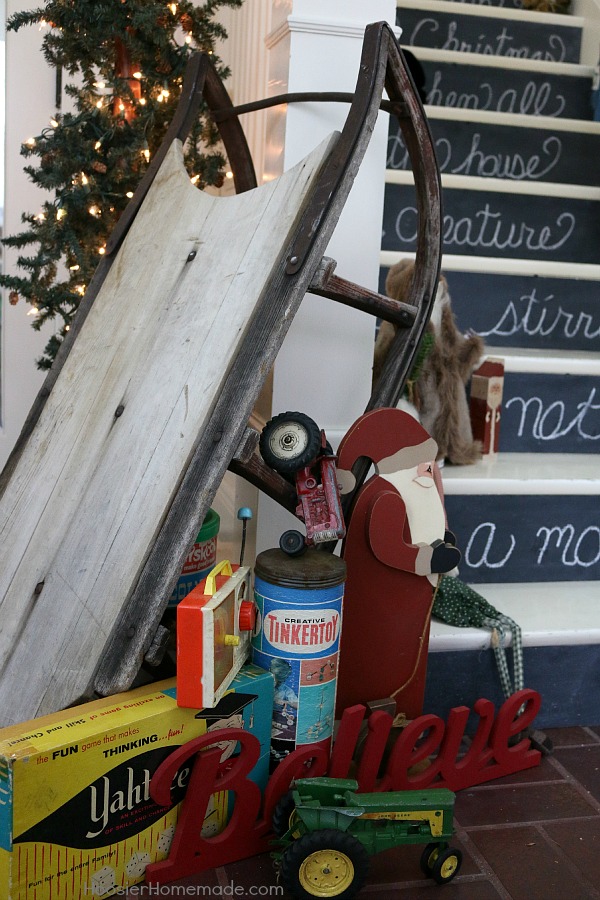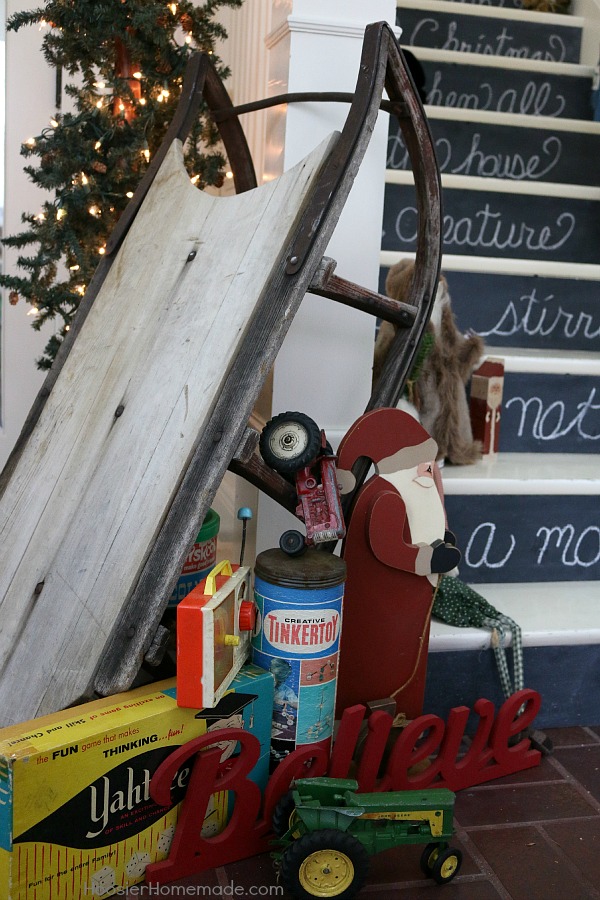 At the bottom of the stairs, I added a simple lighted Christmas tree, a vintage sled and some of our vintage toys. The "Believe" sign fits in perfectly with the theme.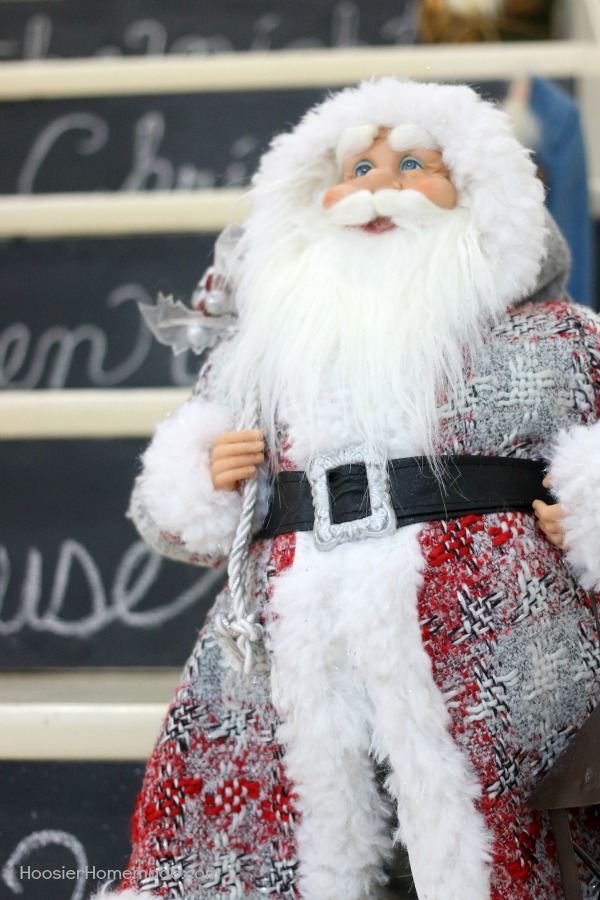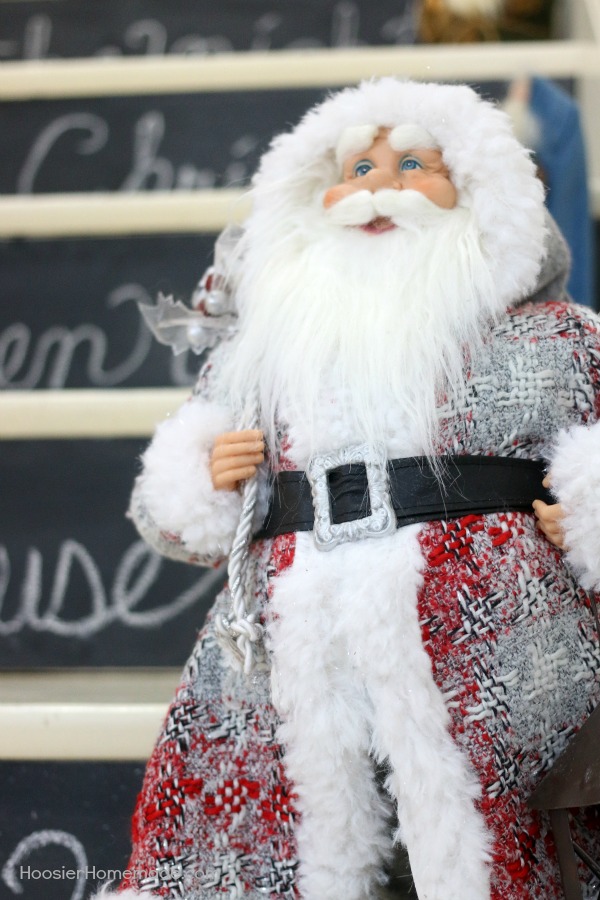 This special Santa is the star of the stairs. He is watching over the children and making sure they have been nice.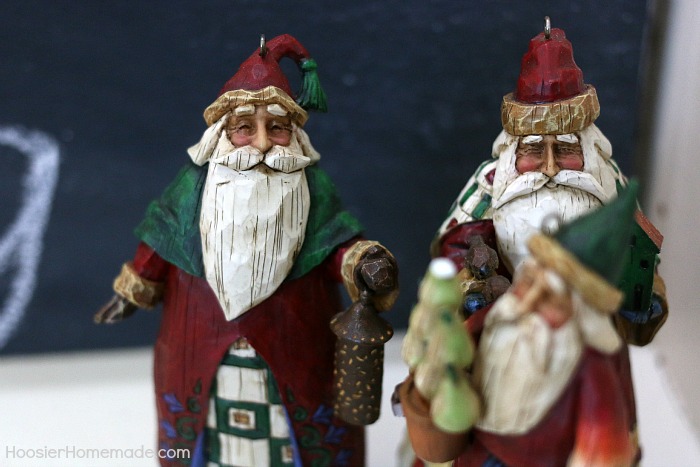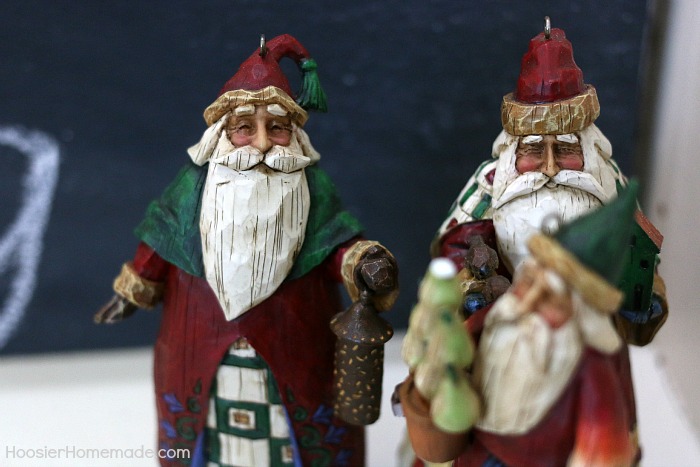 Each and every one of the Santas brings a special memory to our family. These were given to each of my boys from their grandparents.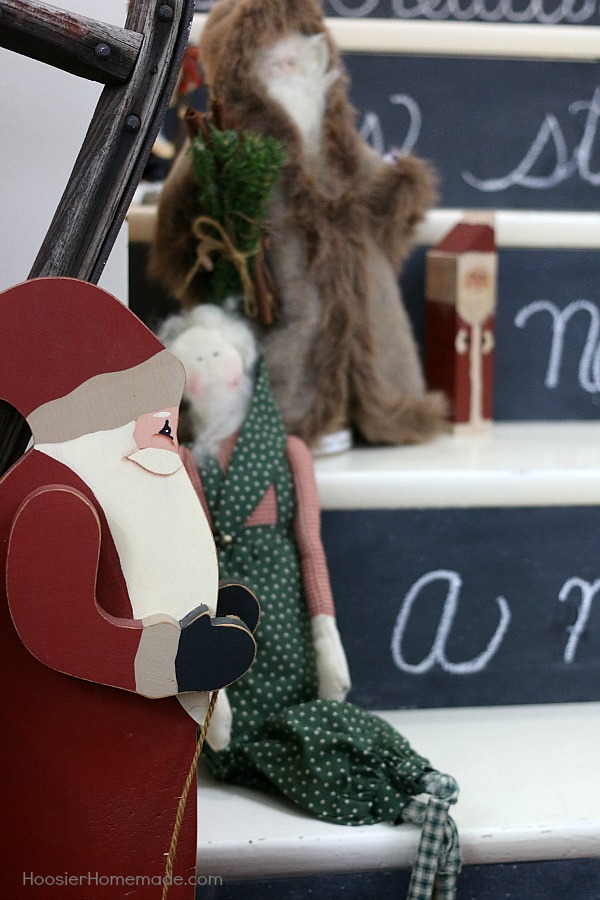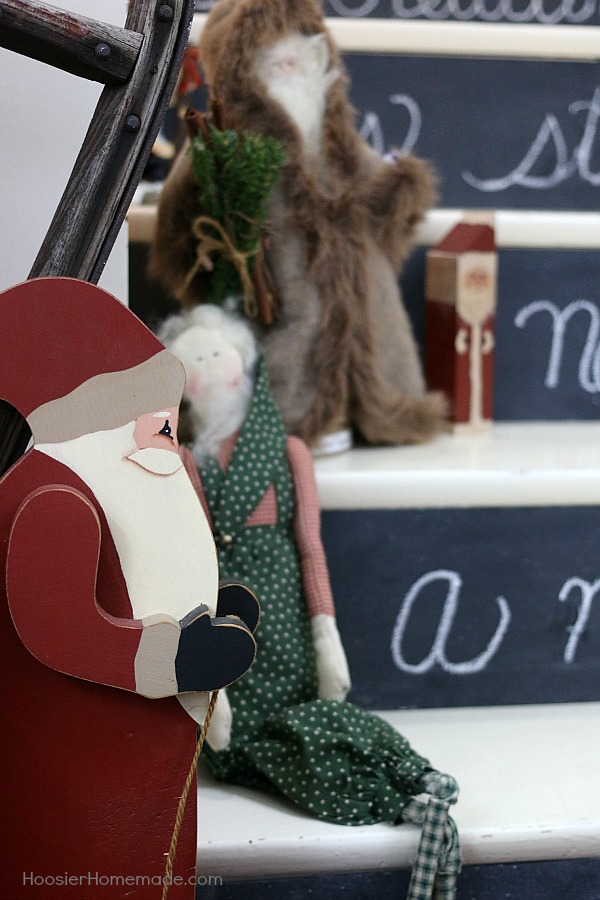 And the different textures work well too.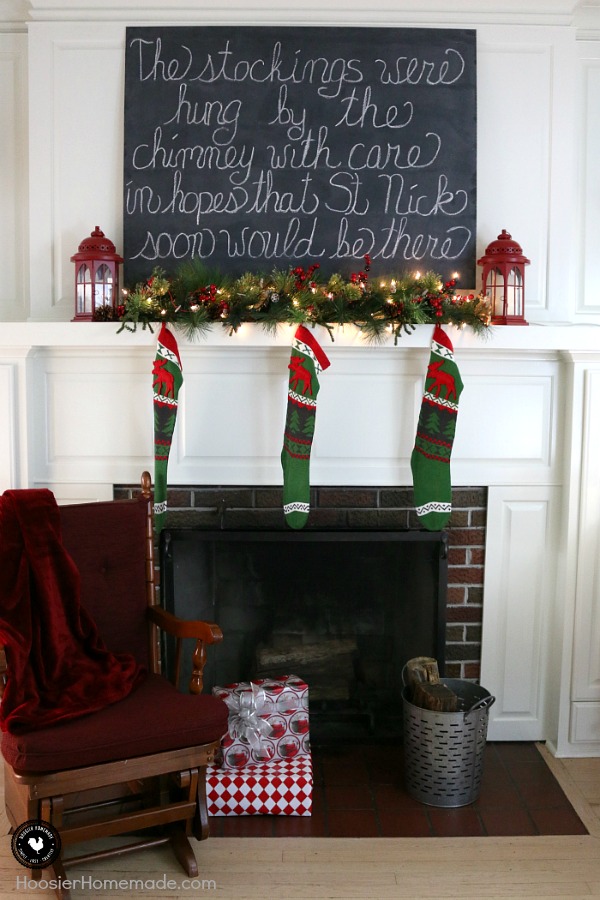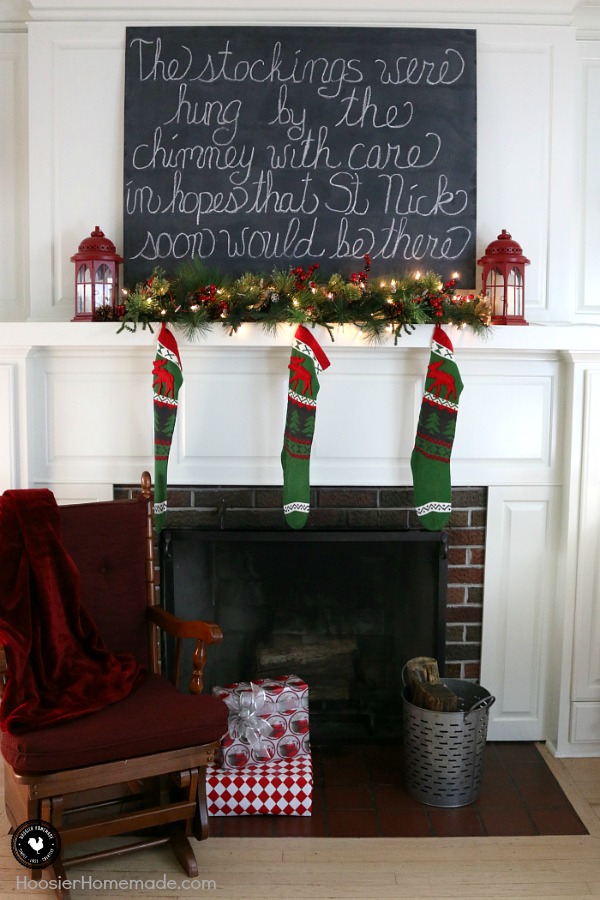 We then carried the theme onto the Christmas Mantel.
The stockings were hung by the chimney with care,
in hopes that St. Nick soon would be there.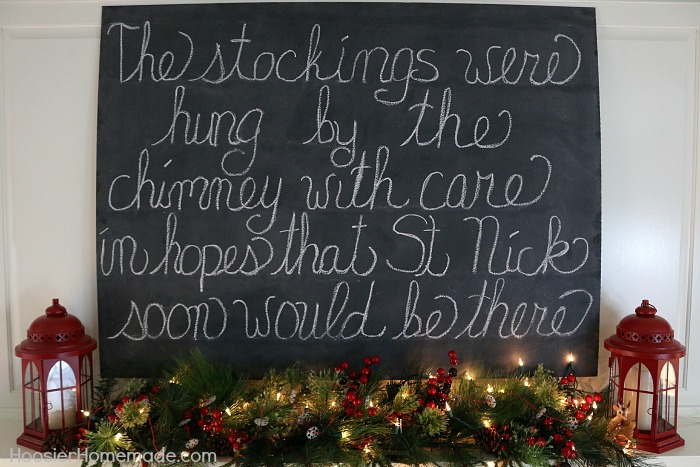 Each year when it's time to decorate the mantel for Christmas, I think back to all of the past years and the different ways I have decorated it. There hasn't been one that I didn't love, and it seems like each year, I love it more than the year before.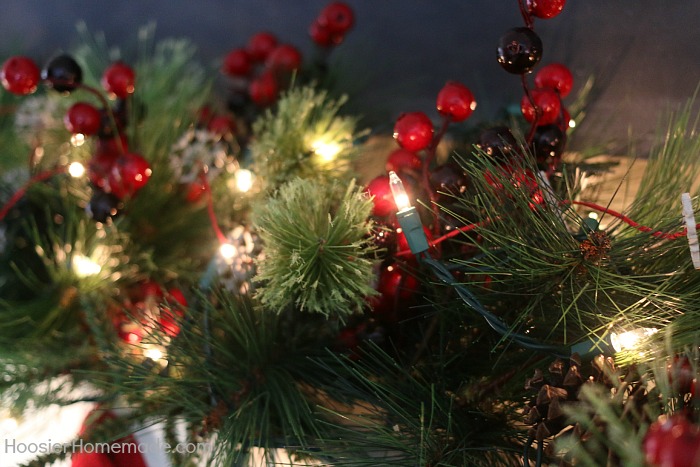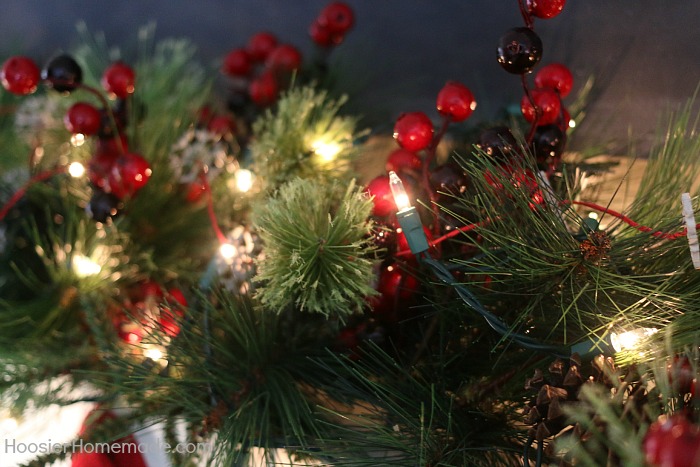 The special thing about this year's Christmas Mantel, besides the poem, is that it is simple. We used greenery stem to create the garland (more on that coming soon) added lights, some red berries and a wooden snowflake garland that I found on clearance earlier this year.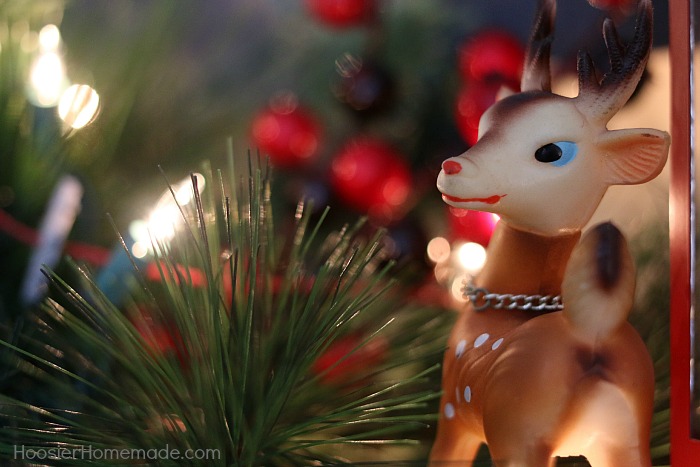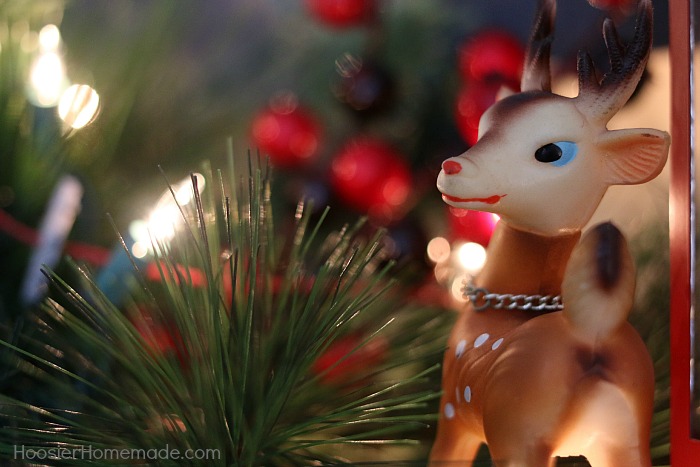 And the vintage deer – he is extra special too.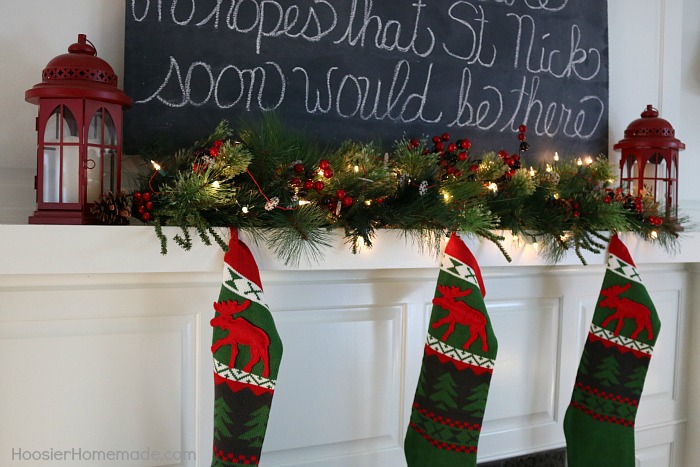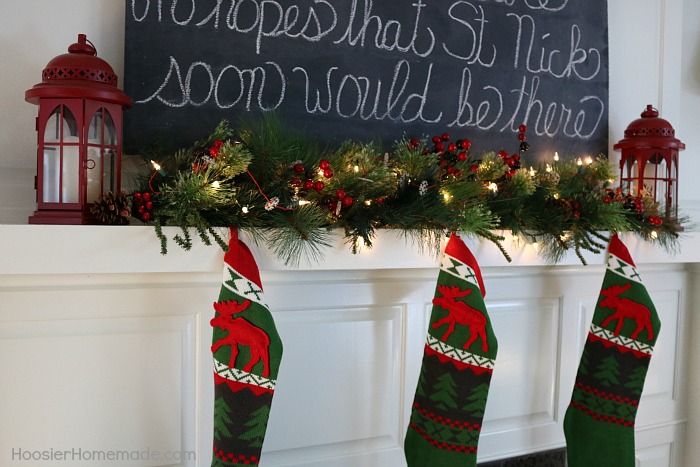 Of course, we needed stockings to hang on the chimney for Santa to fill. I found these vintage looking stockings at Hobby Lobby. And the red lanterns are from the Better Homes and Gardens line at Walmart. I have used them in a lot of my decorating, I love how they look.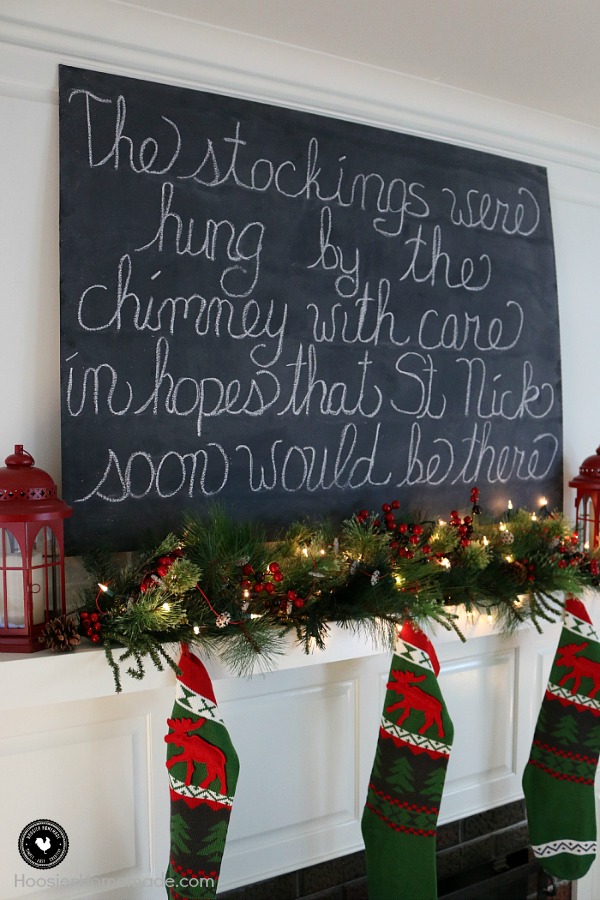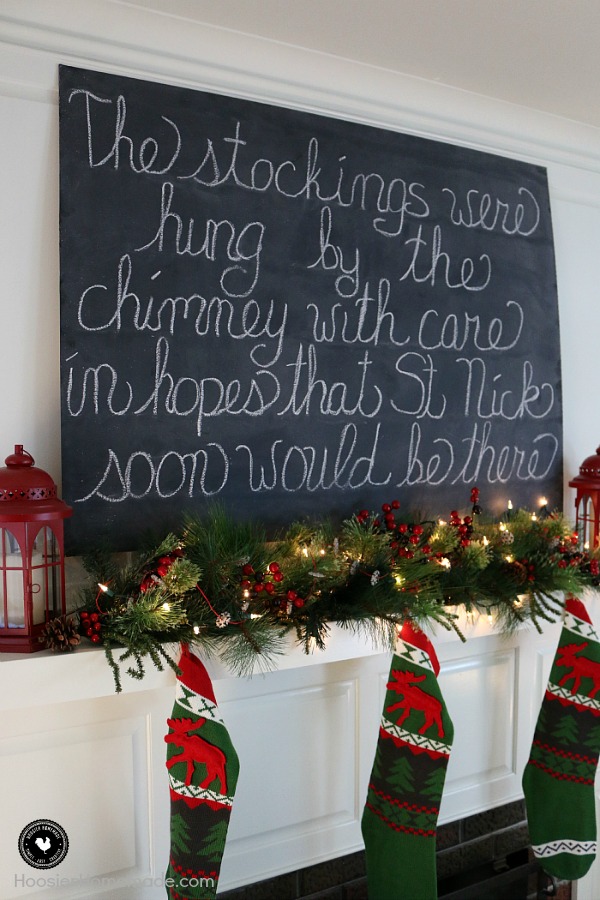 Stay tuned for the chalkboard tutorials coming soon.