Valentine's Day Gifts for Men- Food Edition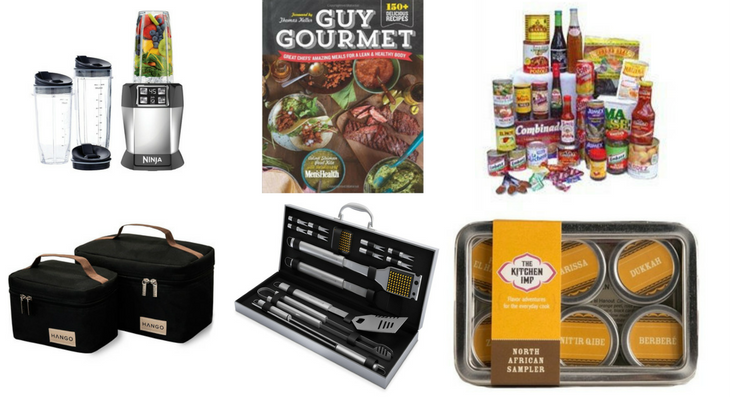 Guys are hard to shop for- they think clothes are boring (and never know their size), technology is confusing, and flowers are out of the questions. But food- they all love food! So I put together a Valentine's Day Gifts for Men- Food Edition! 
They say that a way to a man's heart is through his stomach- I don't know how true that is, but I know they all love to eat! So I rounded up some gifts to help your man in the kitchen! If you are looking for more traditional gifts- check out this post– I've got you covered there too!
For the Health Nut


–Smoothie Makers: Aka blenders! If you want the ultimate gift- give a Vitamix. They are really amazing- you can make smoothies, soups, purees- basically anything in them! We have a Nutri Ninja and like it too!
-Lunchbox: The best way to cut calories is to not go out to eat for lunch! This lunch box comes with portion control containers that fit right inside- perfect for lunch packing! This one is super manly – it almost looks like a tool box!
-Cookbooks: No, really! Esquire's Eat Like a Man and Guy Gourmet: Great Chefs' Best Meals for a Lean & Healthy Body are perfect for the man in your life. And if you're lucky, he'll make you dinner!
For the Grill Lover


-New Grill Tools: My husband's grill cleaning brush is disgusting. It is definitely time for a new one. And his tongs somehow were put in the recycling bin… so these new grill tools might be in his future! And I love that they have a case where we can store them all!
–Basket Set: Generally, the only cooking my husband will do is on the grill. So I am thinking if he adds these baskets to his arsenal, he can cook the whole meal- not just the protein!
–Grill Cover: Our last one blew away… we had to chase it down! This cover has air vents so that the wind won't blow it away!
For the Adventurous Foodie


-Sushi Rolling Kit: Friday is sushi Friday at our house! But how fun would it be to make our own? This kit has great reviews and would make an excellent Valentine's date night!
–Mexican Delicacies: Does your man love taco Tuesday? Surprise him with 28 authentic Mexican delicacies to make your tacos even more fun!
–Spices: Ready to make new marinades or seasoning mixes? Try spices from around the world- including Africa and India! You will both enjoying trying new flavors and finding new favorites!


Are you inspired to have a food themed Valentine's Day? It is a twist on the usual chocolates and candies- but a very good one!