Valentine's Gifts for Him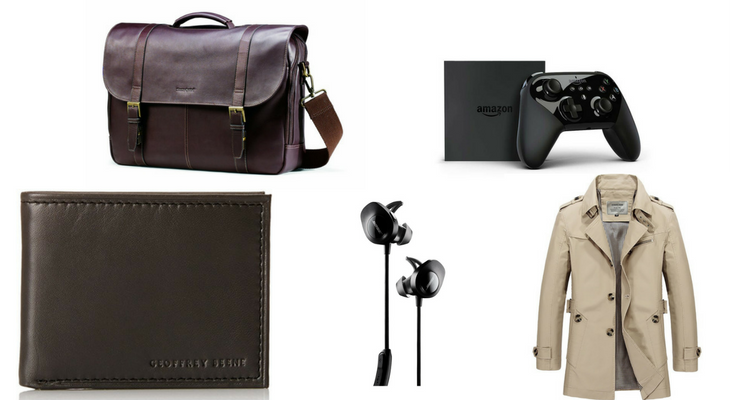 I think that guys are hard to shop for! Girls are happy with chocolate or jewelry – but guys- they are difficult! To make your life easier,  I've searched high and low for the best gifts Valentine's Gifts for Him. 
After Christmas was over this year, it was my mission to talk to all of the men in my life (my three sons, husband, family friends) and ask what they got for Christmas that they loved. Then I tucked all of that away for this- my Guide to Valentine's Gift for Him!
Electronics

We all know that guys like toys- so here were some of the favorites I found! The Alexa or Echo is really a present for the whole family, so it is my favorite!
Perfect for guys on the go! One son loves to run in them and the other loves to sleep in them!
Bluetooth speakers were high on the list- along with the Amazon Echo Dot. Put them together, and you get Alexa! If you already have a great speaker, then I would go with the Echo Dot!
What guy wouldn't love this Apple Watch? Everyone loves the new builtin heart rate monitor- and that it is super water resistant- you can swim in it!
If you have a gamer in your life, they need this! All-new Fire TV Gaming Edition is everything you need for easy, affordable gaming on your HDTV – including Amazon Fire TV, Game Controller, two games, and a 32 GB microSD card for expanded storage.
Accessories


Lots of guys don't like to shop- but they like to have fun accessories! Here are a few favorites! My husband's wallet and jacket are so old, and he never seems to even think to update them, making them a great gift!
This wallet is small enough to not be annoying but large enough for all of the essentials!
This is one sharp looking laptop case!  It's a leather laptop case featuring fold-over flap with adjustable buckle straps and logo embossed at front. The perfect man bag!
Another big theme- outerwear! My husband has been wearing the same coat forever- this is such an upgrade and makes him look so put together!
For the guy that has everything (and wears ties a lot!). I love the stripes on this one!
What are you getting the men in your life for Valentine's Day? Do you ask for specific gifts? I will be back next week with another guy gift guide- all about food!