Summer is upon us and you know what that means – it's cooler season. Whether you are packing your cooler with a picnic for the beach, heading to a party or potluck, or having friends over for a cookout, I've put together my tips to pack your cooler.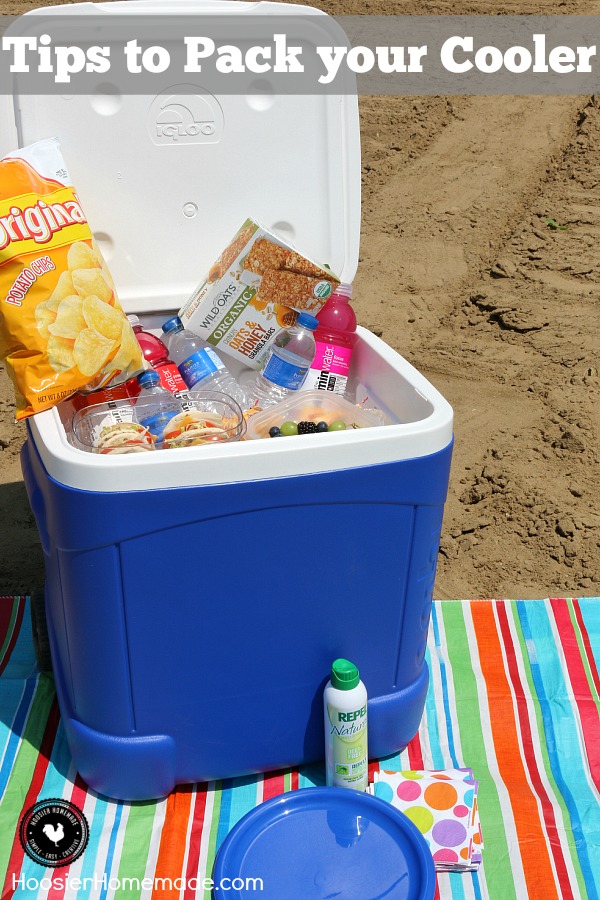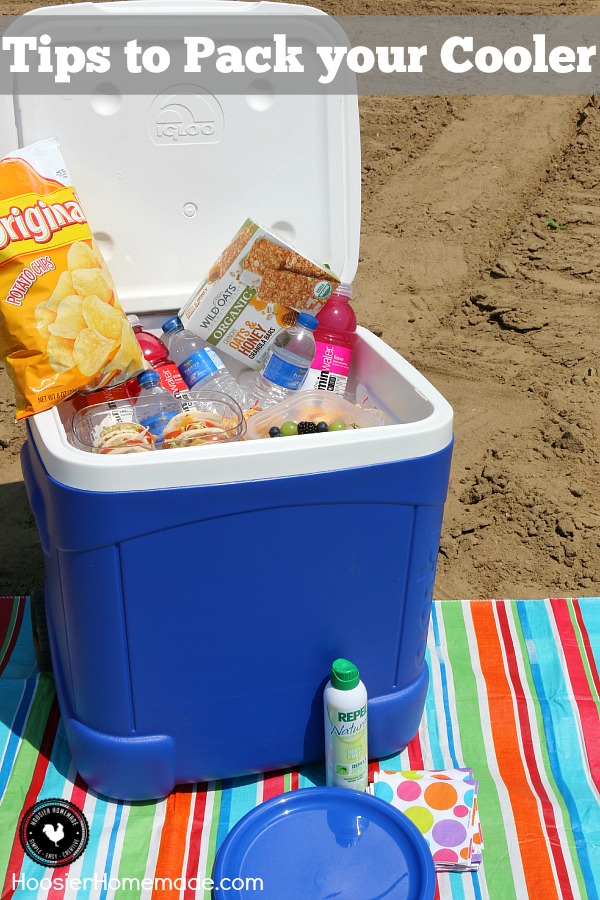 We are blessed to live in an area where we have lots of lakes and parks. Taking a picnic to the beach or park is something that I love to do. Perhaps the reason is because I'm a snacker – you know, the kind of person that rather just snack all day than eat an actual meal, and typically when you pack food for a picnic, it's snack type, or at least finger food.
So today, we are packing a cooler and heading to the beach. We have kept it simple (because that's my style) but included some delicious sandwiches and other food to go with them.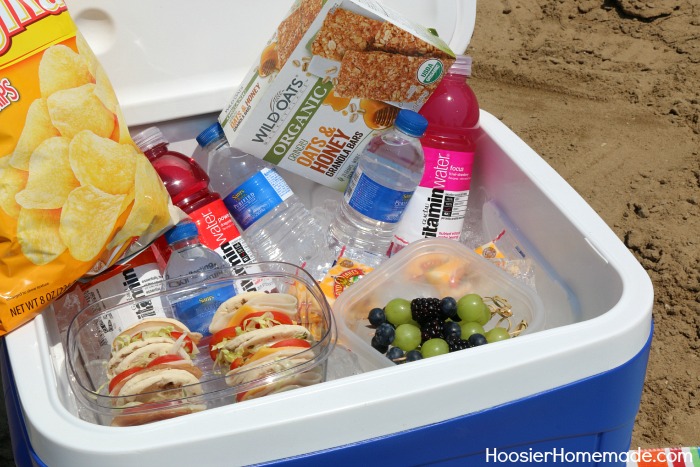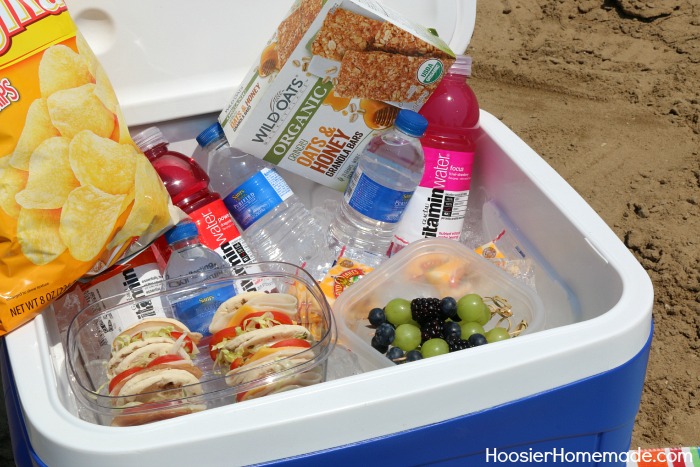 Let's chat first about what to pack. Keeping it light and simple is key, especially if it's a really hot day, you don't want anything heavy.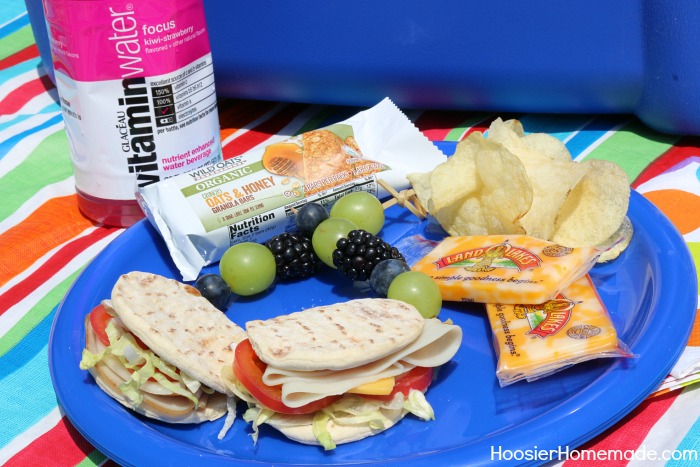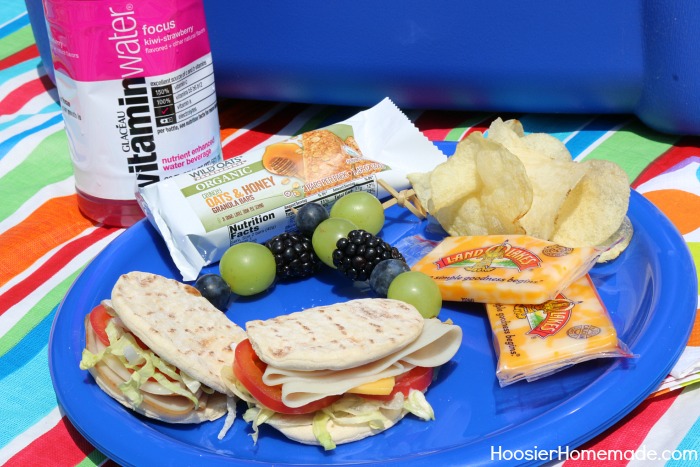 Food for a Picnic
Sandwiches – we made small sandwiches with Flatout Foldit Sliders, filled them with lunchmeat, cheese, lettuce and tomato.
Fruit – having the fruit ready to eat is a great idea, we chose 3 of our favorites – grapes, blueberries and blackberries, washed them and threaded them onto small skewers for easy eating.
Cheese – we found that individually wrapped pieces of cheese work great
Chips – nothing too heavy or full of flavor though
Snacks – we chose granola bars for a healthy snack
Drink – again nothing too heavy, water is always best. Flavored water like Vitamin Water works great if you like something with a boost of flavor
The next items that you will need are a blanket or tablecloth, plates and napkins. We used a plastic tablecloth and plastic plates found in the housewares department at Walmart, and napkins from the party section. I like using the plastic plates because they are a bit heavier than your ordinary paper plates, yet they are lightweight. They come 4 in a package for $1, so even if you don't want to take them back home after your picnic, you aren't losing too much.
And lastly, don't forget the Bug Spray. Even if it's during the day, there can be bothersome insects.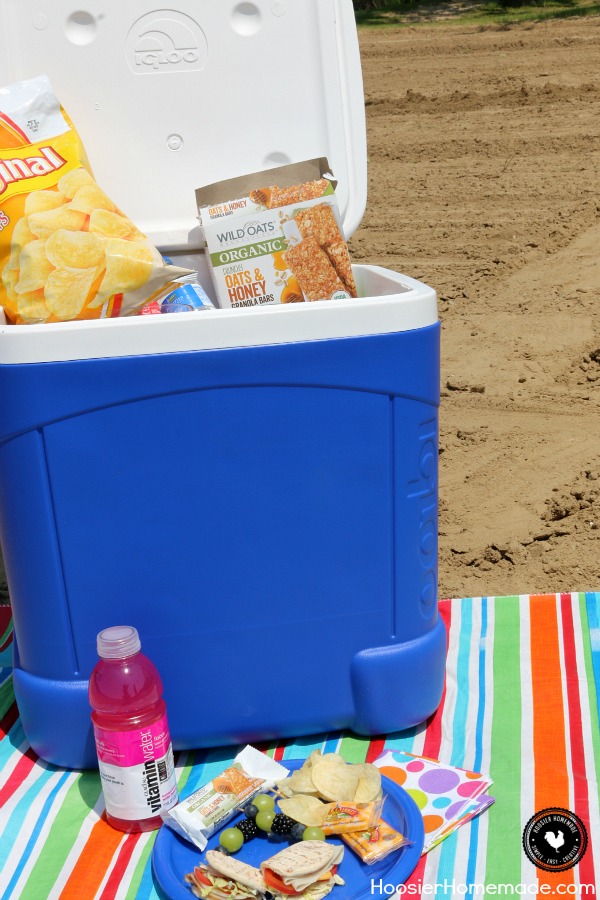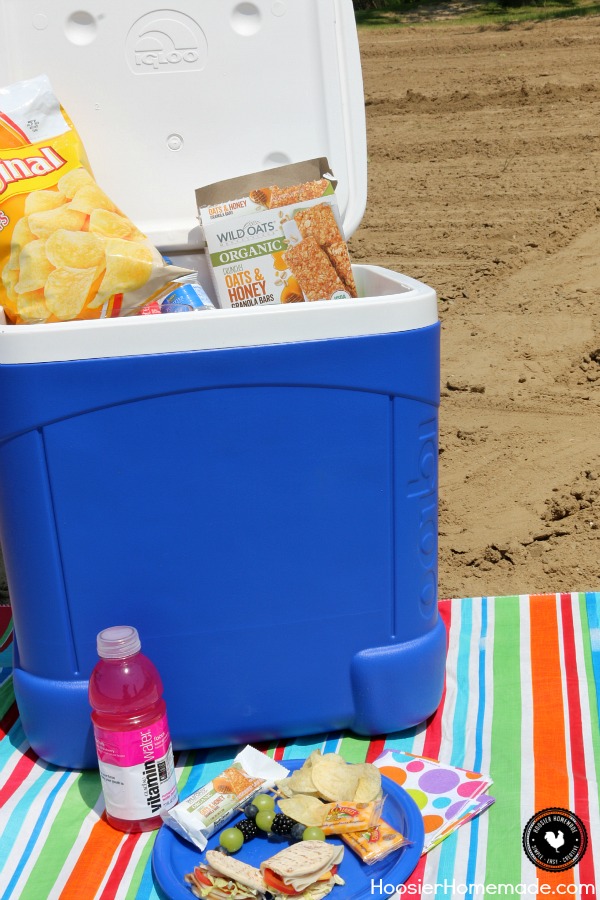 Tips to Pack your Cooler
Choosing a Cooler – you want your cooler to be big enough to hold everything, but not so big that it's too heavy to lift.
Food and Drinks – pre-chill your food and drinks, if they are already cold, the ice will last longer instead of packing warm items that will quickly melt the ice
Coolers – ultimately you want to have 1 cooler for drinks and 1 cooler for food, but sometimes you don't have that much to pack
Food storage – be sure to pack food in a container that won't be smashed. There is nothing worse than making a bunch of sandwiches, then pulling them from the cooler to find that they are smashed. If you are packing separate coolers for food and drinks, pack the food in the order it will be consumed.
Packing – load the drinks first, then the food
Ice – put the ice in last, cold air travels down, so add the ice after you pack the food
Heat – be sure to keep the cooler out of the sun, sometimes that's hard at the beach, an umbrella works well for that, or even a heavy blanket
Water – do not drain the cold water from the cooler, the water will continue to keep your food and drinks cool.
Now it's time to head to the beach. Here are a few shots from Lake Michigan that I thought you would enjoy seeing.