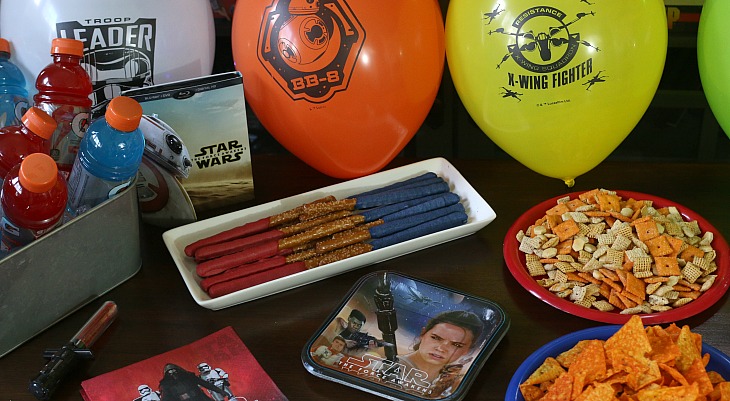 Calling all Star Wars fans young and old! Put together this fun and simple Star Wars Movie Night in minutes. It's complete with themed treats, snacks and drinks.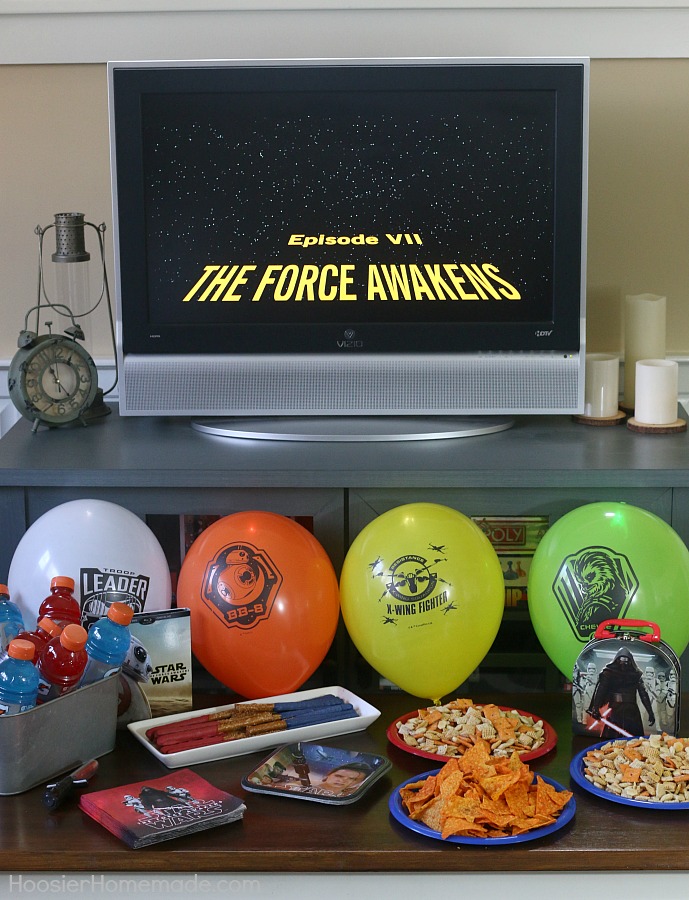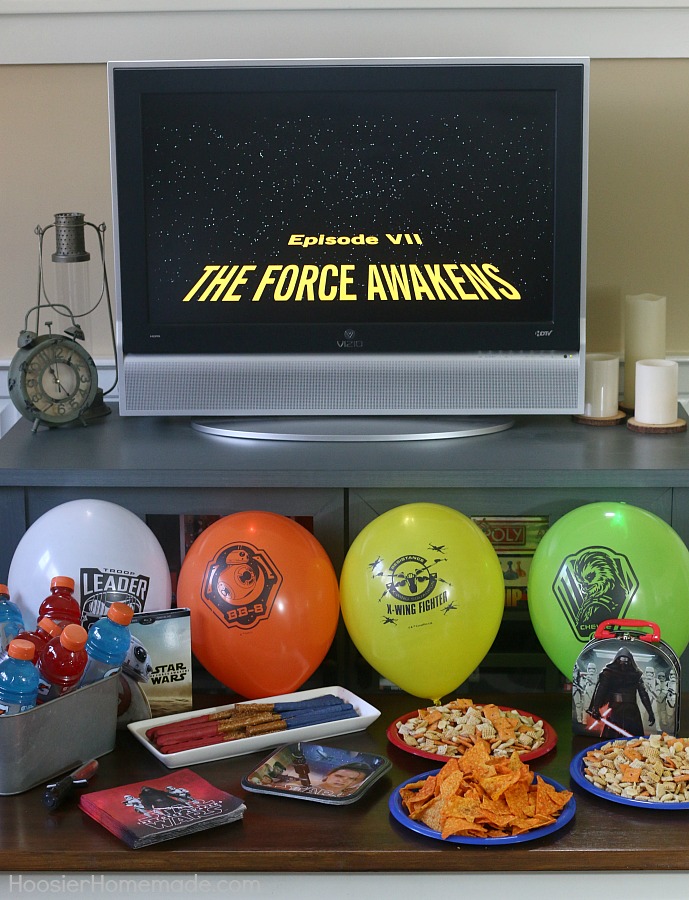 Last holiday season Star Wars fans were treated to a new installment of their beloved franchise: The Force Awakens. In this new movie we got to see some new faces, get reacquainted with some old ones, and experience some thrills along the way. It was truly a great time for Star Wars fans, but unfortunately it couldn't last forever.
Just like Yoda had to leave Luke to finish his story, so did The Force Awakens have to leave theaters. But fret not! For just like Yoda returned as a force ghost, so too does The Force Awakens. Except instead of a spirit, it returns as a Blu-ray + DVD disc.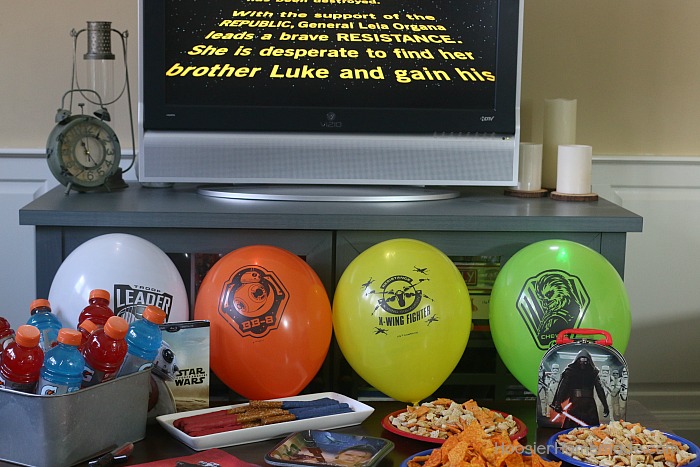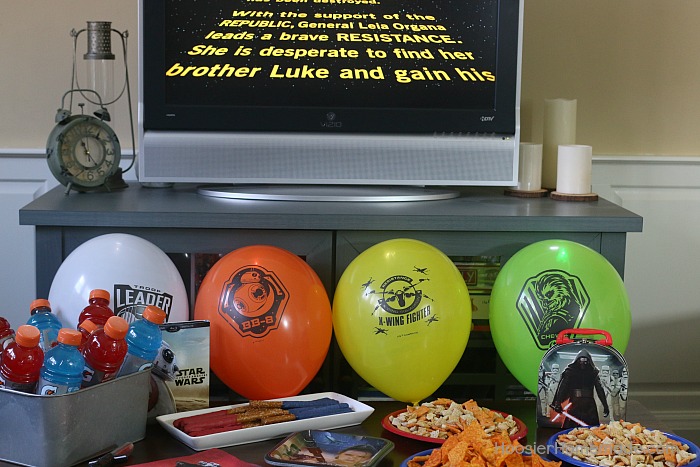 That's right; starting today, you can relive the magic again with The Force Awakens in the comfort of your own home. And now that you can watch it anytime, how about a fun movie night party to celebrate?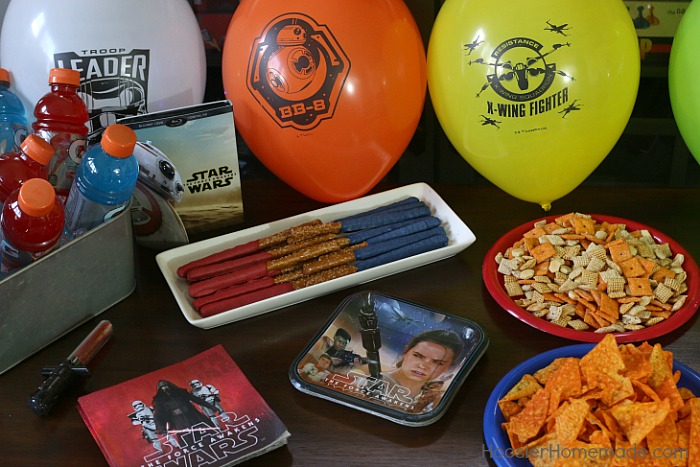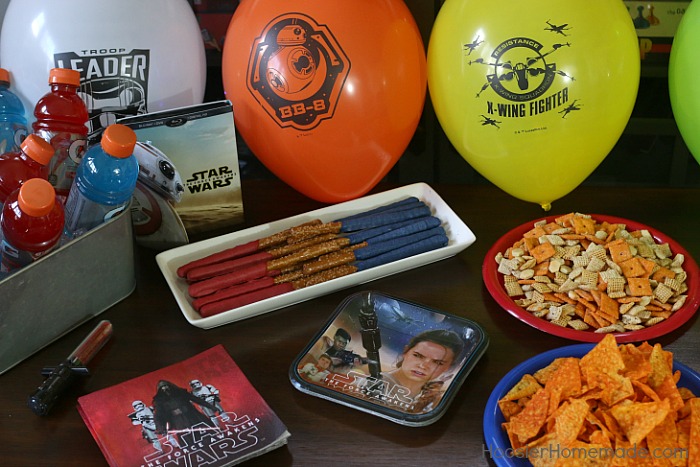 To celebrate the release in our home, we grabbed a few treats related to the movie. First off, we've got lightsaber-styled pretzel rods. As delicious as they are easy to make, these candy dipped pretzel rods can come in whatever color your little jedi could want. For our party, we opted to stick with blue and red to represent the two lightsabers of the film. Choose your side, and chow down.
To make the lightsaber pretzel rods, we melted red and blue candy melt disks and simply dipped the ends of the pretzel in the melted chocolate. Then laid them on wax paper for a few minutes until they are dried.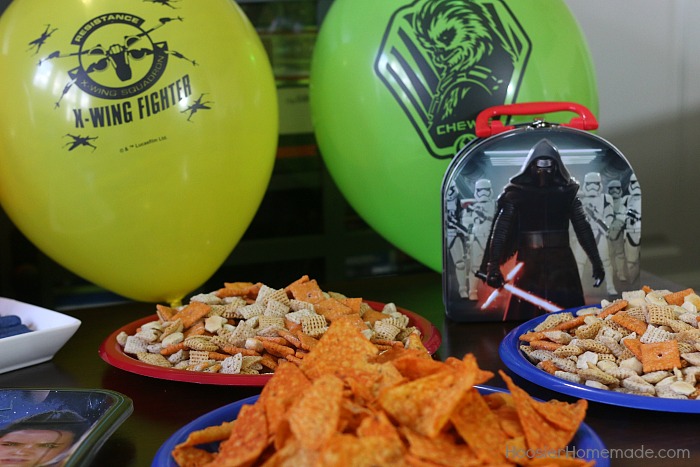 Since the pretzel rods are sweet, we needed a salty treat. We whipped up a batch of the Zesty Ranch Chex Mix. It's the perfect movie night snack.
We also added a fun little lunchbox to the Star Wars Party, it's filled with bubbles which aren't great for indoors, but we loved the metal container.
After choosing your treat to eat, wash it down with some drinks based on the light and dark sides of the force. Will you choose the path of light, satisfying your taste for justice? Or will you choose the dark side, quenching your thirst for power? No matter what side you choose, you can be sure that these drinks will please your guests. We served red and blue small bottles of Gatorade, the options are endless for fun drinks for your Star Wars Movie Night Party.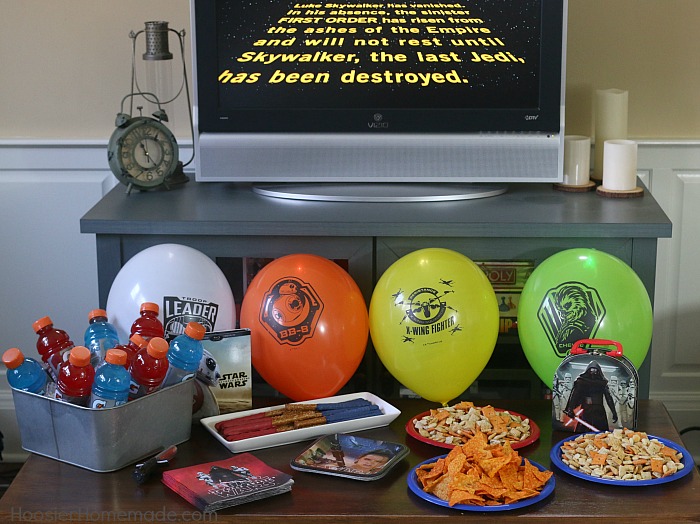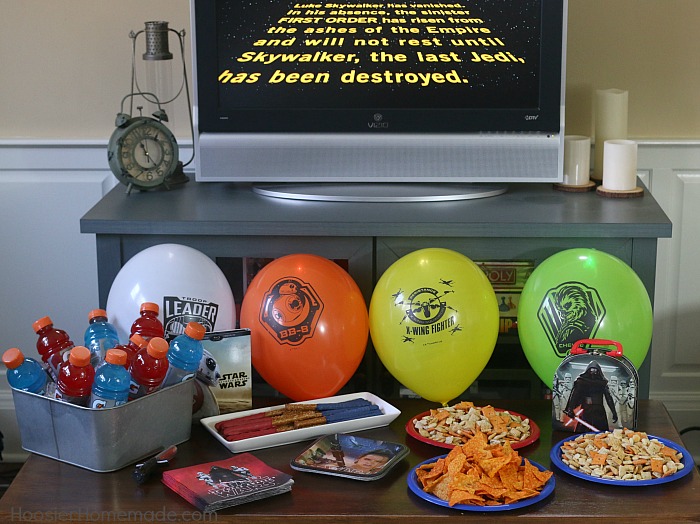 There are also pre-made snacks that can be enjoyed at your party, like these suckers shaped like Kylo Ren's lightsaber. This sith themed candy lights up at your touch, turning you into a small scale version of the dark jedi. This treat is certain fun for young ones that like to play along with what they watch. I'd recommend picking up a few of these for your movie night party.
We also added fun Star Wars plates, napkins and balloons to our movie night. You can find everything at your local Walmart.
Star Wars is truly a franchise that people of all ages can enjoy, and with these treats you can create a party to match. Once The Force Awakens releases, you can grab it along with these treats and have yourself a great movie night party. And be sure to share on social media using #Showusyourforce