St. Patrick's Day Candy Wrapper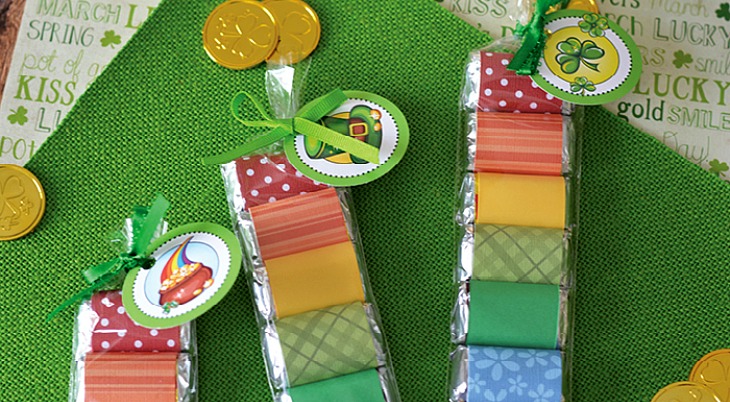 Grab the scrapbook paper! It's time to make a St. Patrick's Candy Wrapper, fill the bags and tie the treat with a printable St. Patrick's Day tag.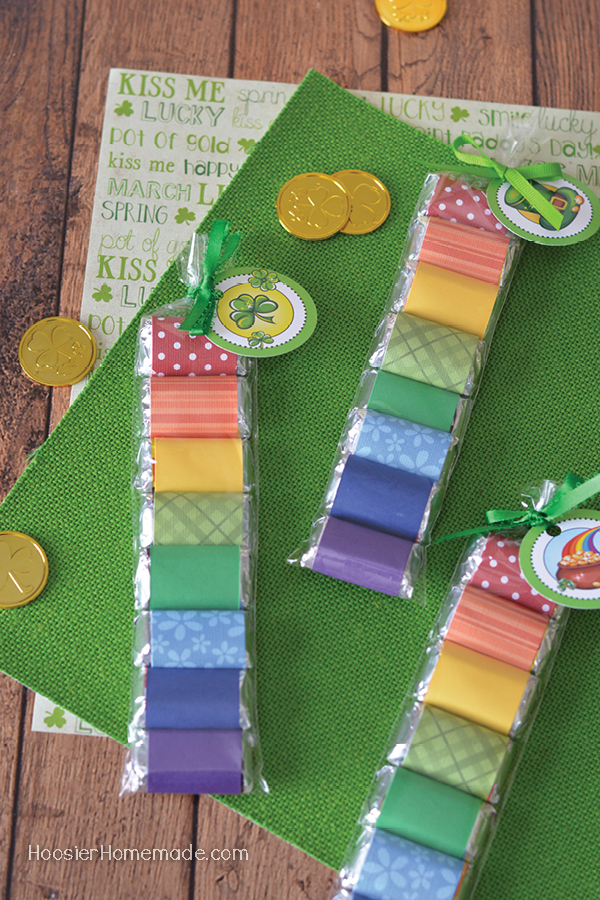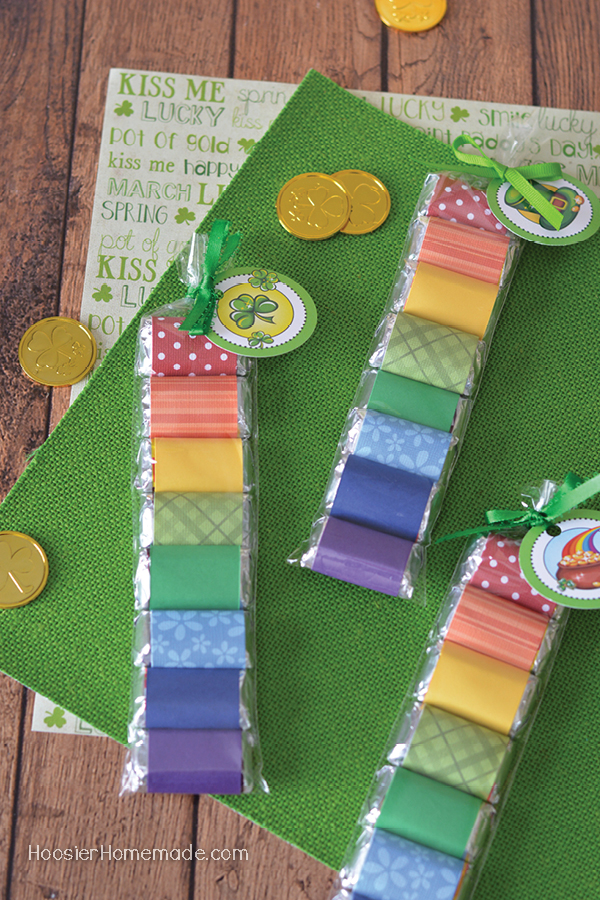 What comes to mind when you think of St. Patrick's Day? For me, it's 3 colors: green, gold, and rainbow! I'm sure you thought of a few things as well: candy, leprechauns, gold coins, pots of gold, or four leaf clovers.
I've made candy wrappers and treat bags for Valentine's Day and Christmas before, so I couldn't resist trying them for St. Patrick's Day, too. Let's get creative and make some St. Patrick's Day Candy Wrappers, complete in the color (or rainbow) of your choice.
Pull out your spare ribbon and scrapbook paper in every color that you own. Try an array of greens with shamrock-patterned paper; or a sample of yellows complete with pots of gold; maybe go all out for ROY G BIV!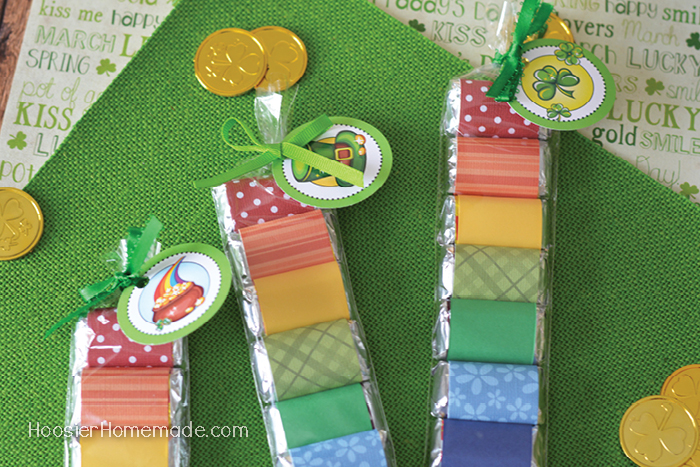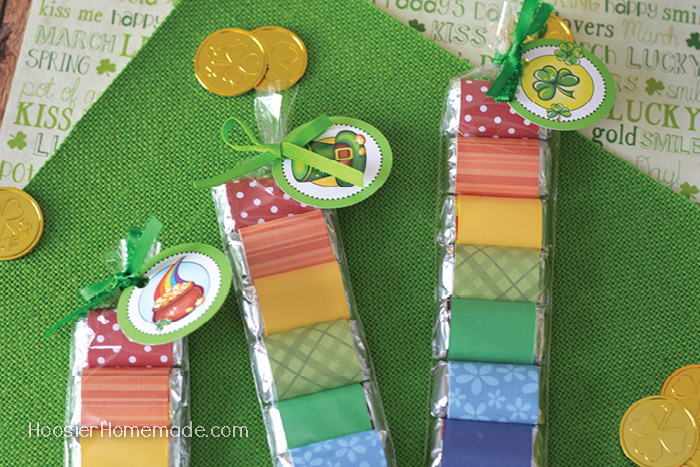 Full directions are written here in our Valentine's Day Treat Bag post. But, I've included the supplies list below.
St. Patrick's Day Candy Wrapper Supplies:
Hershey's Miniature Candy Bars – 1 bag of chocolate will make 6 treat bags with 6 pieces of candy in each bag (and there will be a few extra for you to enjoy while working!)
Scrapbook Paper
Ribbon
Scissors
Tape
Ruler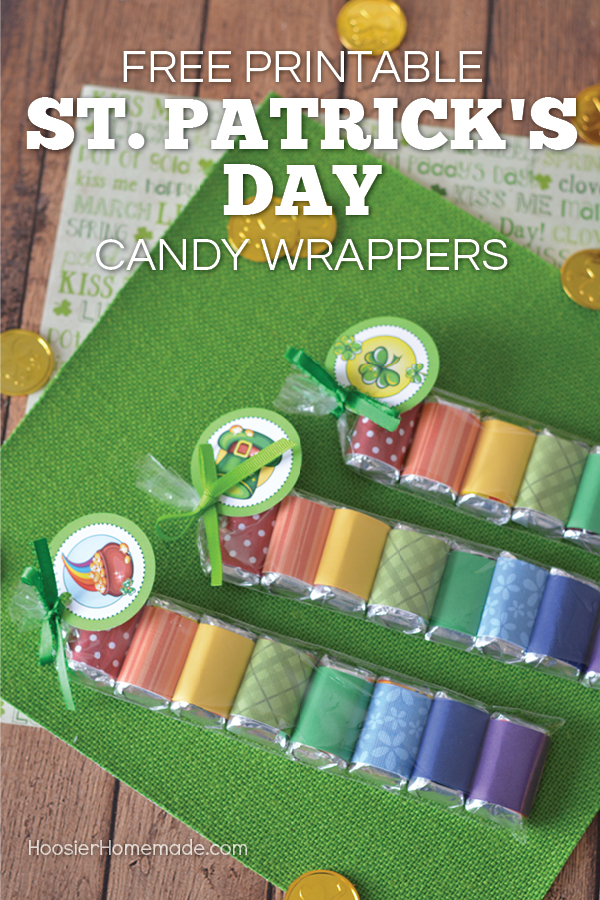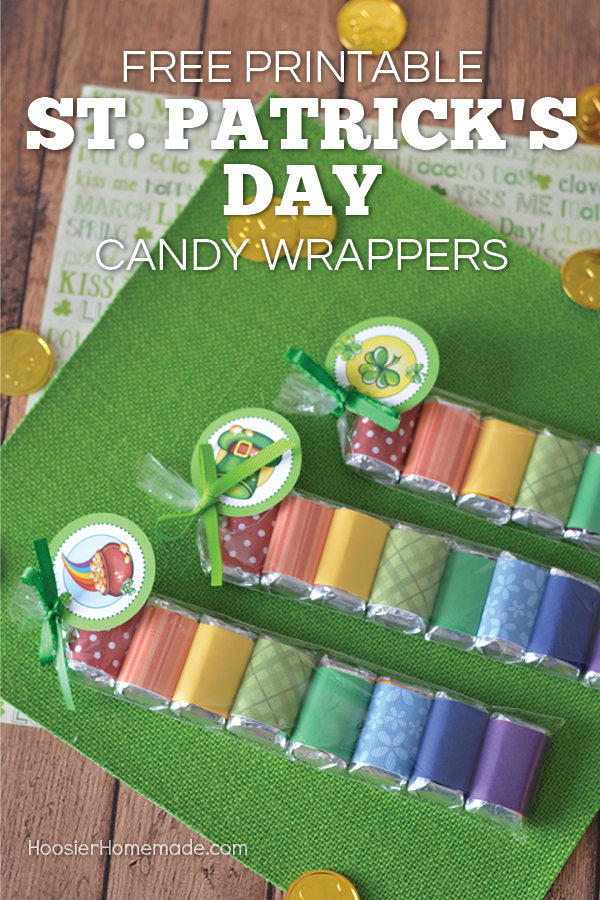 It's as simple as cutting your scrapbook paper to size and taping it around the candy. Check out this post for complete details and measurements. Once those candies are wrapped, you are ready to create the St. Patrick's Day Treat Bags.
I organized it so that each bag of my wrapped candies would be in a different pattern. Try one bag of greens, one bag of golds, one bag of rainbow, or mix-and-match to the design of your choice!
Once laid out the way you like, place them in the pretzel bags and close with a twist tie.  Attach the St. Patrick's Day tag with twine or ribbon. Find the free St. Patrick's Day Tags here. Bonus: they can also be used as St. Patrick's Day Cupcake Toppers!
These St. Patrick's Day Treat Bags would make a wonderful gift for your kids and their school teachers, or for neighbors, family, and friends. Share these with someone special to give them a bit of luck for the day!
If you don't assemble these St. Patrick's Day wrapped candies into bags, consider sharing them from a pot of gold instead! And if you make green cupcakes today, don't forget to add the St. Patrick's Day gift tags as a Cupcake Topper.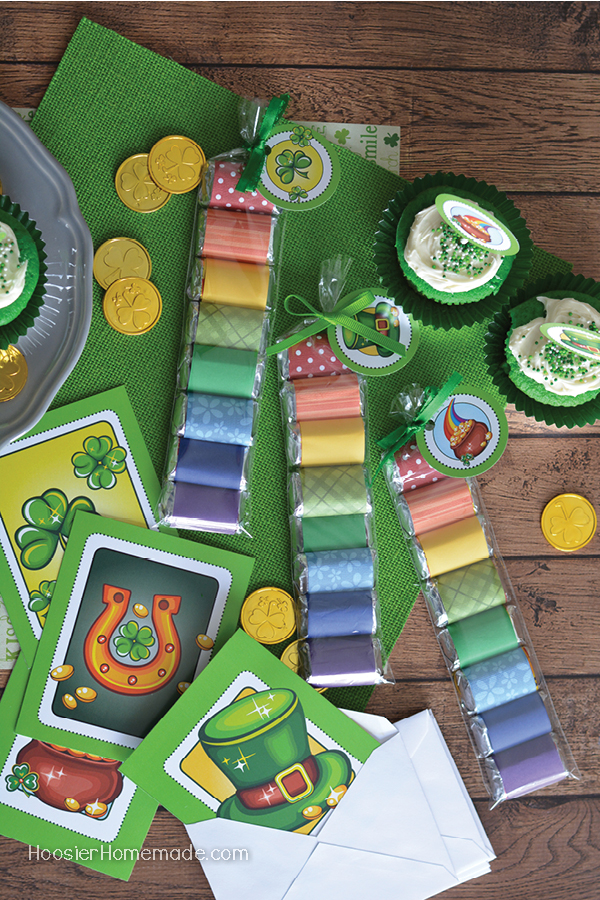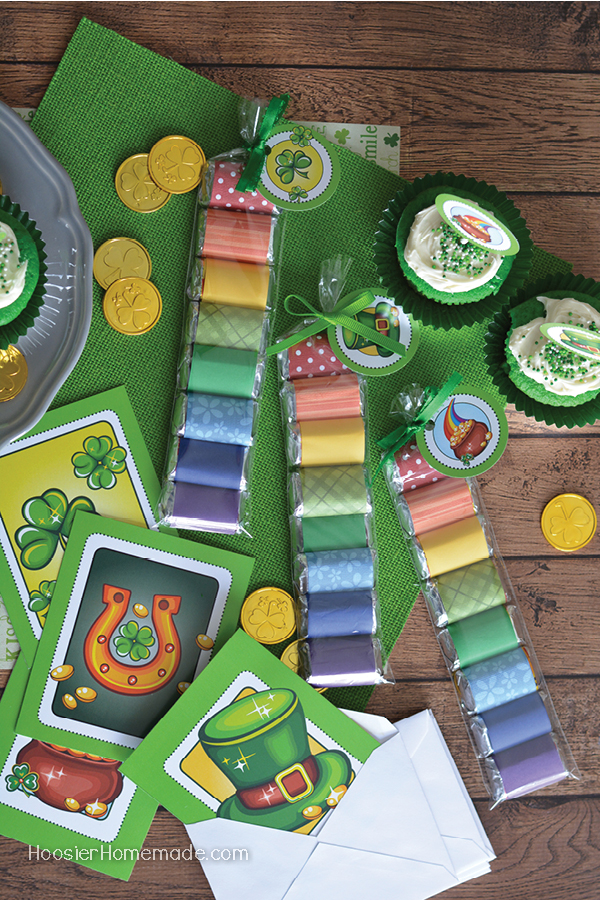 Not only are there tags for the candy treat bags, but we there are also the Printable St. Patrick's Day Cards that are perfect to add to gifts or send to friends. And of course, we couldn't forget about Cupcake Toppers for your St. Patrick's Day Cupcakes!