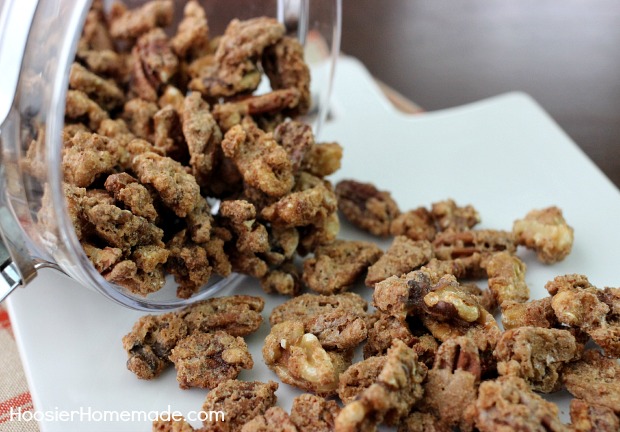 With a hint of sweetness, these crunchy Spiced Nuts are perfect for the holidays! They make a great homemade gift as well as a delicious addition to any party.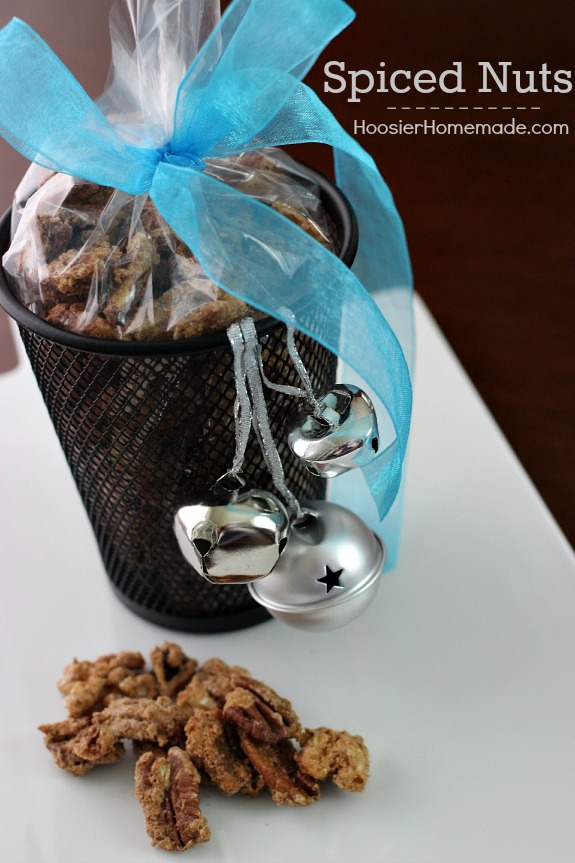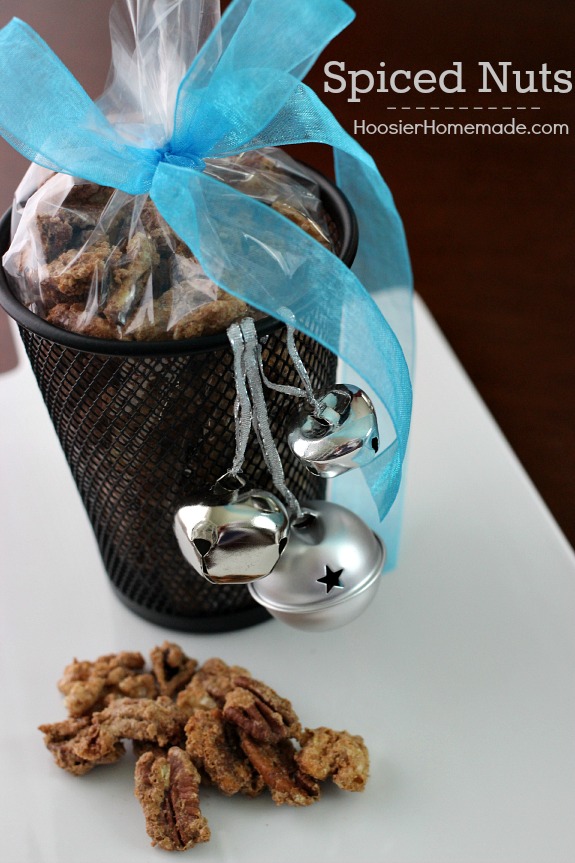 Making homemade gifts from my kitchen during the holidays is something I love to do. For many, many years, I have put together food baskets filled with homemade treats. This year, I will be adding these Spiced Nuts. They go together quickly and are delicious – quite addicting, actually.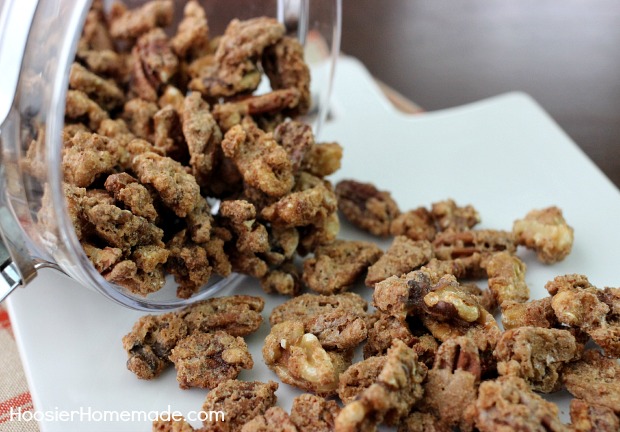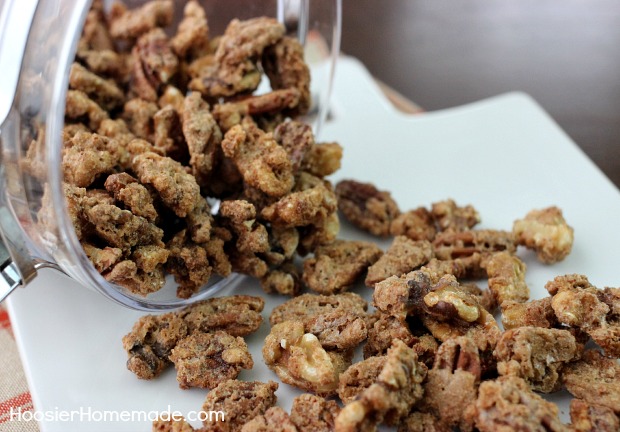 Over the years, I have made lots of different recipes with nuts as the star ingredient, but this one is the best. The ingredients are simple, beginning with my favorite Fisher Nuts, I used a combination of pecans and walnuts, but you can certainly use your favorite. Then for the coating, a mixture of brown and white sugars, and spices – cinnamon, nutmeg, ground ginger, and ground cloves. The ingredients that sets these Spiced Nuts apart from others is an egg white, it is whipped with water until frothy, then mixed with the sugars and spices. The nuts are coated then into the oven they go, spread evenly on a cookie sheet.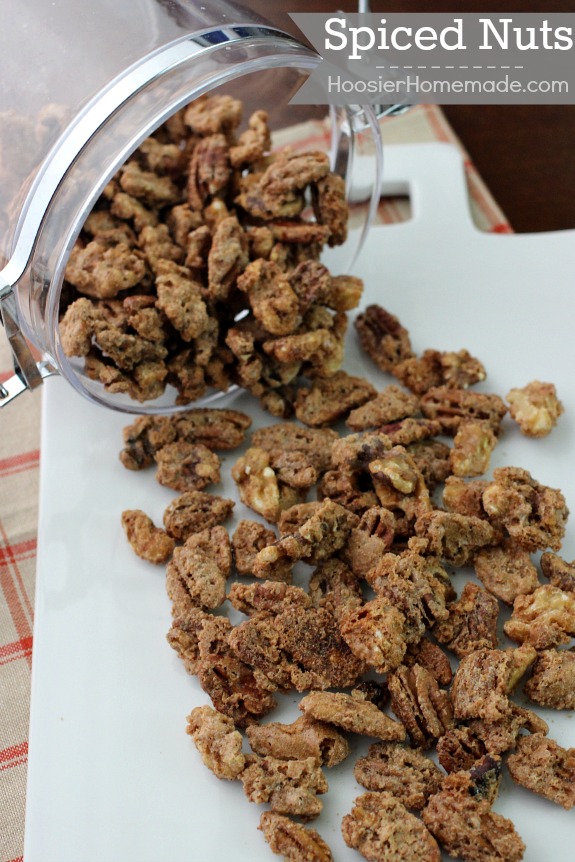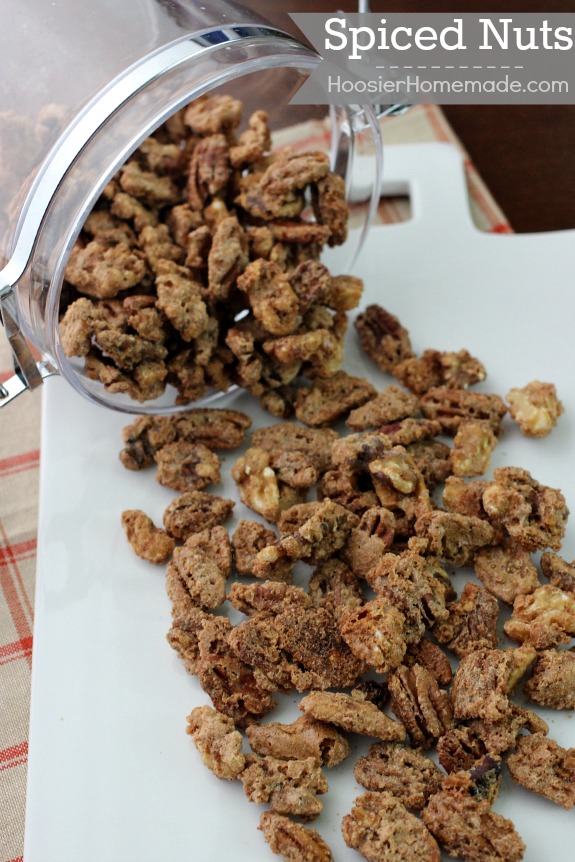 I actually had to hide these Spiced Nuts from the boys (and myself) until I was able to get the photos of them. I think they are perfect for the holidays, but really any time is great. Did you know that nuts hold a lot of nutritional value? And Fisher Nuts have no preservatives in them.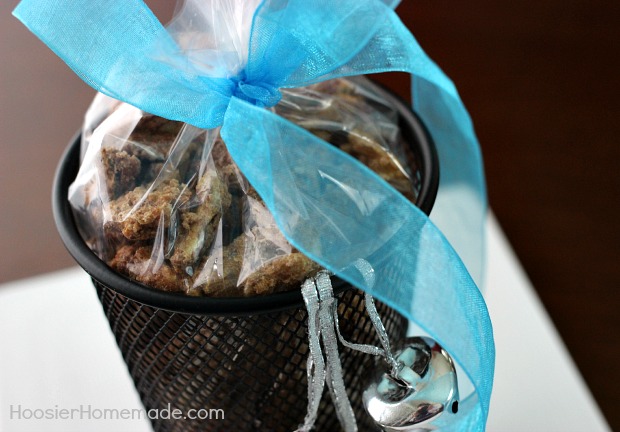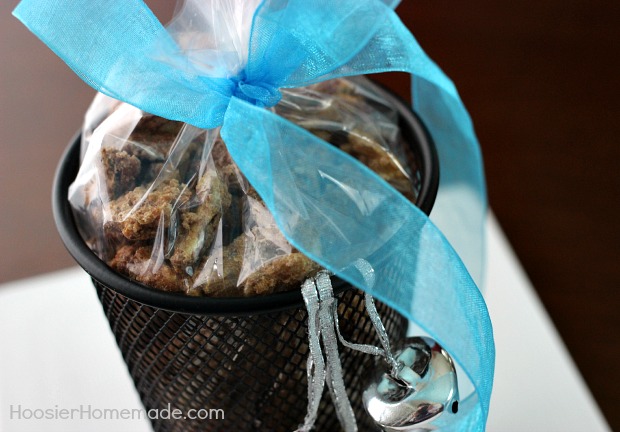 To give the Spiced Nuts as a gift, allow them to cool completely. Then fill a plastic bag and close tightly with a ribbon. We added the bag to a wire basket, that is actually a pencil cup holder, and a few silver bells tied on. Simple, and delicious!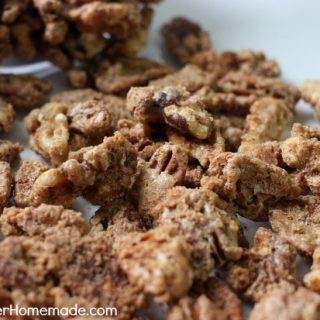 Spiced Nuts
A hint of sweetness coats these delicious, crunchy Spiced Nuts.
Ingredients
4 cups of nuts - combination of your favorite
1 egg white
1 tablespoon water
1/2 cup brown sugar, packed
1/2 cup white sugar
1 1/2 teaspoons cinnamon
1/2 teaspoon nutmeg
1/2 teaspoon ground ginger
1/4 teaspoon ground cloves
Instructions
Preheat oven to 325 degrees, and line a cookie sheet with parchment paper
Combine sugar and spices into a medium bowl, set aside
Beat egg white and water until frothy in a small bowl
Add egg white mixture to sugar and spices, stir to combine
Add nuts to large bowl, add spice mixture and stir to coat
Spread evenly on cookie sheet
Bake at 325 degrees for 20 minutes, stirring occasionally
Store in airtight container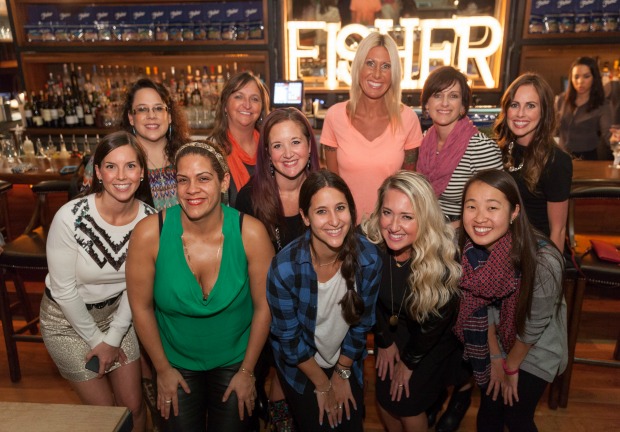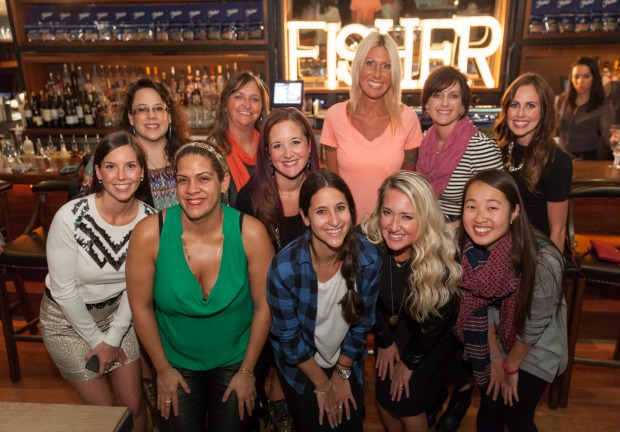 Recently I had the honor of attending an special event in New York City for Fisher Nuts. Myself and some of the most amazing bloggers I know had the opportunity to meet Chef Alex Guarnaschelli at her restaurant, Butter, and taste some of the delicious food she prepared using Fisher Nuts.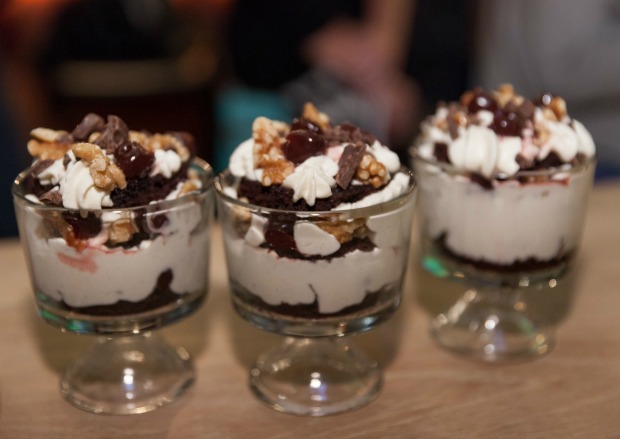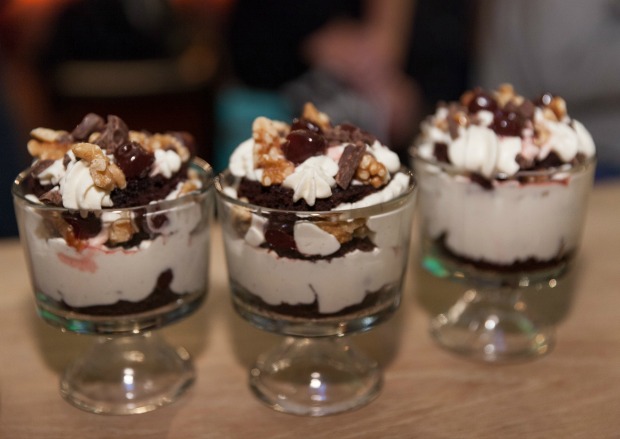 Of course, I enjoyed dessert the most. These Black Forest Trifles were heavenly! This recipe is perfect for the holidays, beginning with a luscious chocolate cake, then layers of cherries that are soaked in brandy, whipping cream and walnuts.
Meeting Chef Alex was super cool! She is very down to earth and hard working. She had many stories to tell of her adventures with food, the one that I was shocked about was the story she told about the cooking eel, (yes I was squirming ) it escaped the pan she was cooking in it. Her daughter thought it was awesome, Alex, not so much.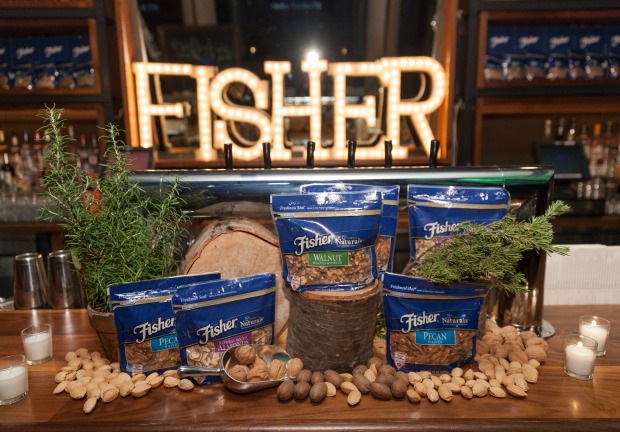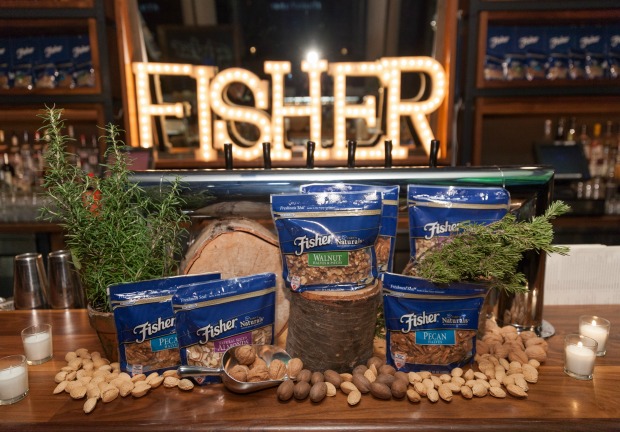 The Butter Restaurant was also gorgeous!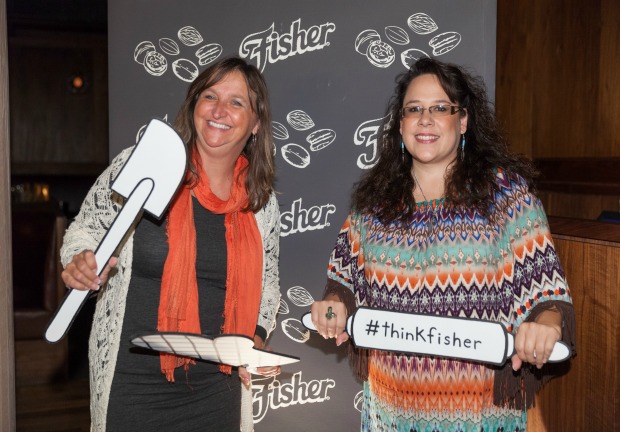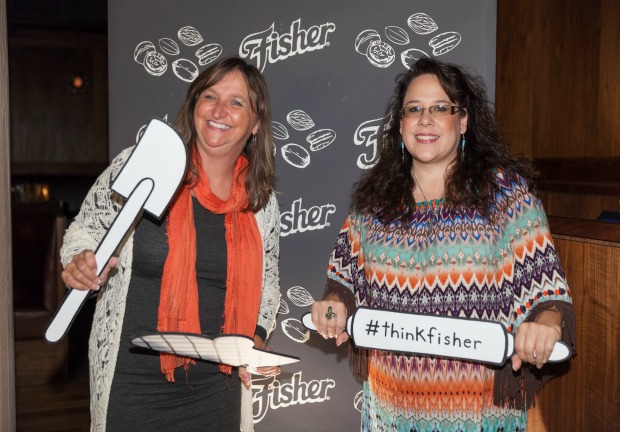 And I was happy to see my long time friends, like Lori from My Wooden Spoon.
Visit Fisher Nuts for more recipes, follow them on Facebook and Pinterest for more recipes!