Happy Cupcake Tuesday – I'm so excited you are here! Looking for a cupcake recipe? Be sure to check out the Cupcake Heaven page, there are over 200 cupcake recipes and decorating ideas!
When my boys were young, Smurfs were a popular cartoon on TV, even though many were reruns, they enjoyed watching it. Along with Papa Smurf and Smurfette, all the little blue Smurfs were always busy in their village working and helping each other.
With the Smurfs 2 Movie releasing on Wednesday, July 31, I thought it would be fun to share some Smurfs Cupcakes with you. They are super easy to make and would be a fun treat after seeing the movie.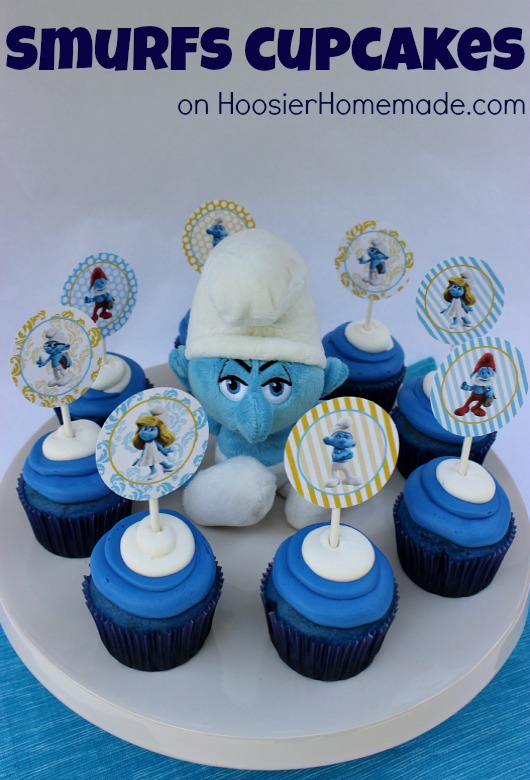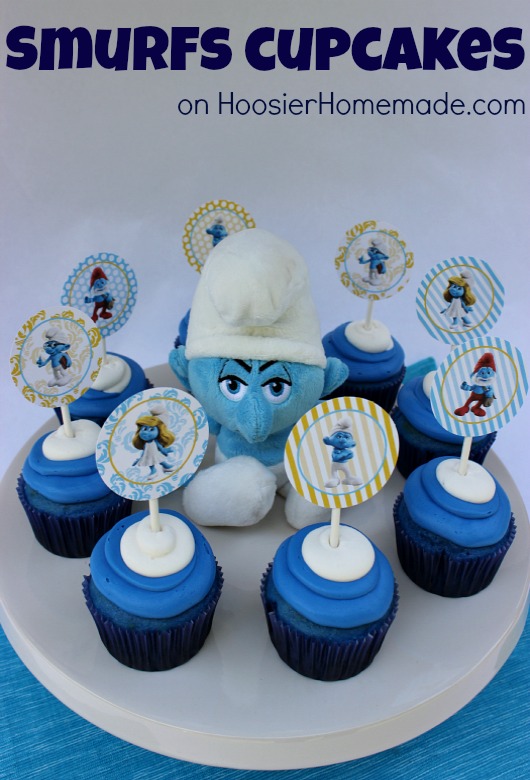 For the blue cupcakes, I used a white cake mix and added the special ingredients to make it taste more like homemade, then colored the batter with royal blue gel coloring. You could also make Blue Velvet Cupcakes, if you wanted chocolate flavor instead of vanilla.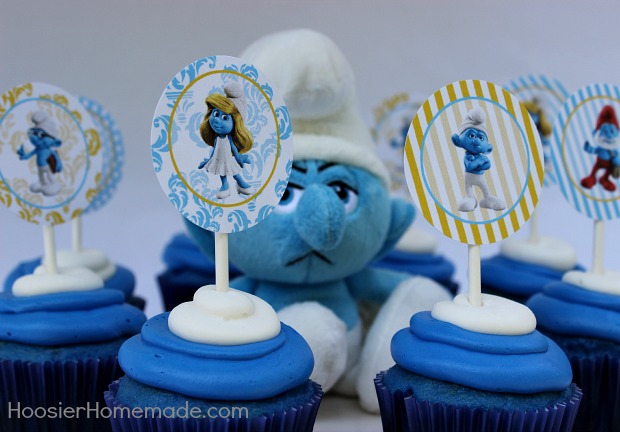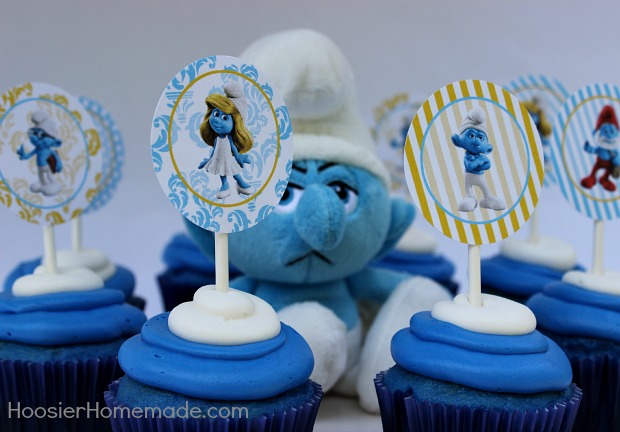 Now, let's decorate the Smurfs Cupcakes – first you will need frosting, your favorite is fine or even pick up a can at the store. Color about 3/4 of icing with royal blue coloring then fill a decorator bag that is fitted with a #2A decorator tip. Add a large swirl of the blue frosting to the cupcake.
Then fit another decorator bag with a #2A decorator tip and add the white frosting. Add another swirl of white frosting. If you want to add the Smurfs Cupcake Toppers, I found them over at The Paper Affair Etsy Shop, print them out, cut them with a hole punch and attach lollipop sticks.
You could also add some white sprinkles or create a Smurfs face on the cupcakes if you want.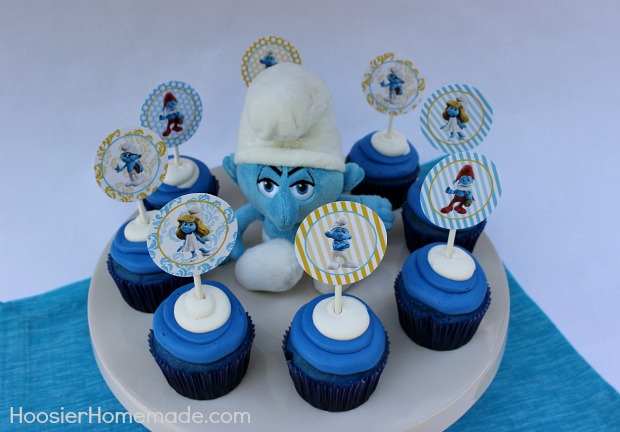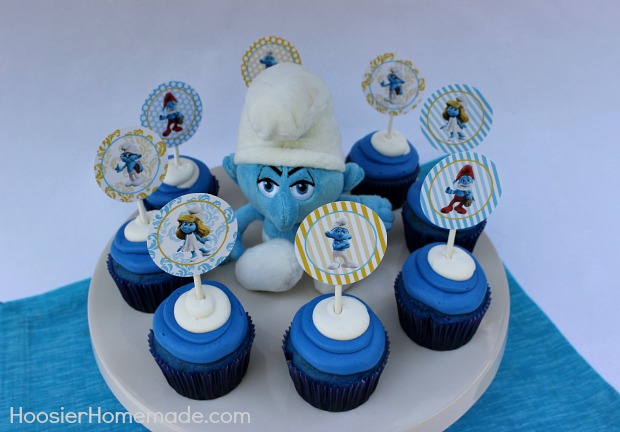 During a recent visit to Walmart Headquarters, I had the opportunity to get a sneak peek at the Smurfs 2 Movie. In this sequel to the blockbuster comedy The Smurfs, the evil wizard Gargamel creates a couple of mischievous Smurf-like creatures called the Naughties that he hopes will let him harness the all-powerful, magical Smurf-essence. But when he discovers that only a real Smurf can give him what he wants, and only a secret spell that Smurfette knows can turn the Naughties into real Smurfs, Gargamel kidnaps Smurfette and brings her to Paris, where he has been winning the adoration of millions as the world's greatest sorcerer. It's up to Papa, Clumsy, Grouchy, and Vanity to reunite with their human friends Patrick and Grace Winslow, and rescue her!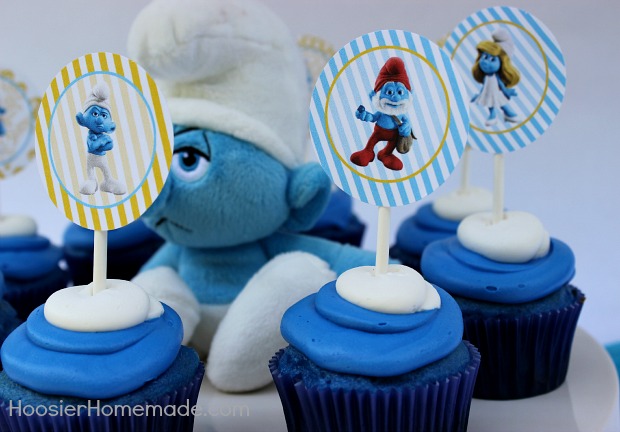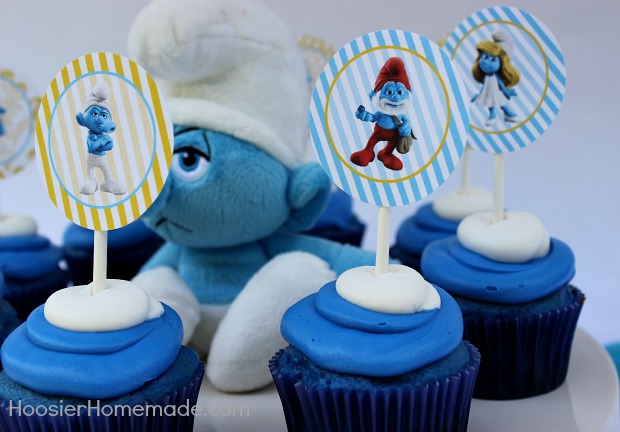 To get a jump start on the new Smurfs 2 Movie, Walmart is offering a movie value pack that includes the first Smurfs Movie on DVD only, a ticket to the Smurfs 2 Movie, a pre-order for the Smurfs 2 when it comes out on either DVD or Blu-ray and a chance to win a West Coast Customs Smurfs Dash Electric Vehicle!