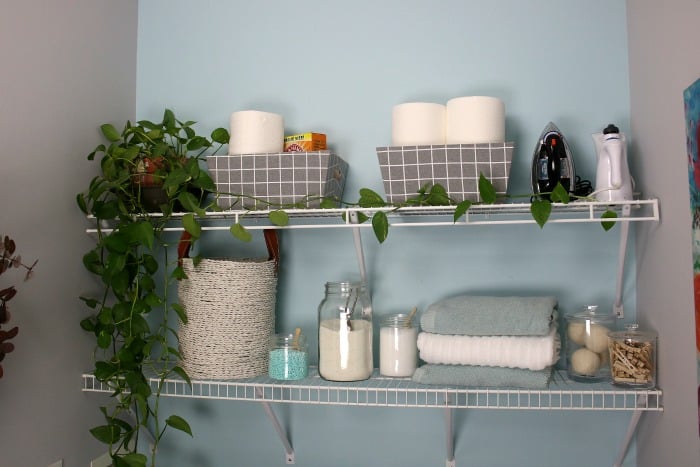 The laundry room is often times an overlooked space in our home, and definitely an overworked room. It needs to be a functional space, but what if it could be a beautiful part of our home too? These Small Laundry Room Ideas won't break the bank, and will leave you actually wanting to do the laundry.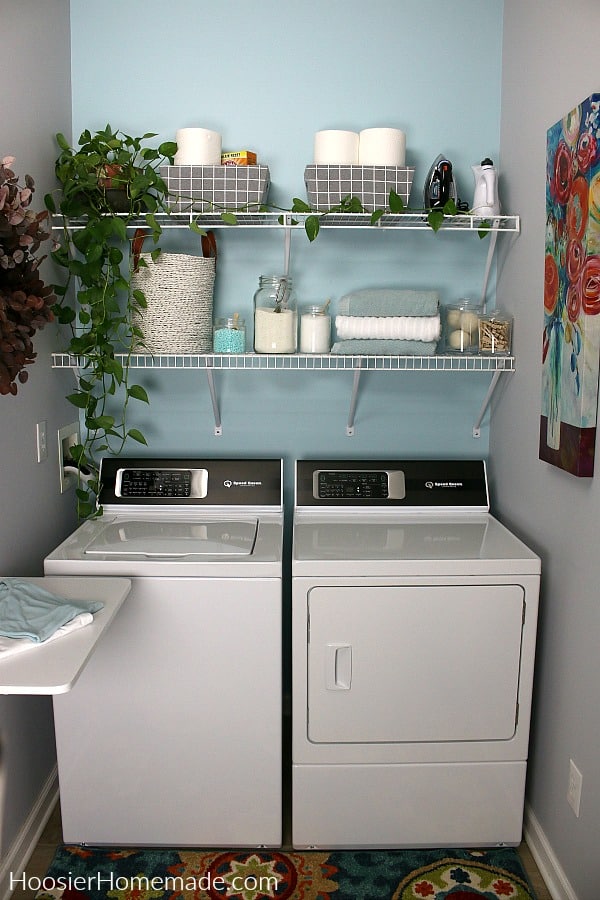 This is a sponsored post brought to you by Speed Queen and Women's Choice Awards. All opinions are my own.
After living in our other home for 10 years, moving to a new home and a whole new city has been both really amazing, and at the same time surprising. A new home to paint and decorate can be both exciting and overwhelming, and often at the same time.
Since falling in love with our first Speed Queen set and sharing the laundry room makeover in the basement of our last home, we were super excited to have the chance to have a Speed Queen washer and dryer in our small laundry room.
Before the new washer and dryer set could be installed, the walls needed to be painted. Since the laundry room is small, it was a quick weekend project once we had all the supplies we needed. Let's get started –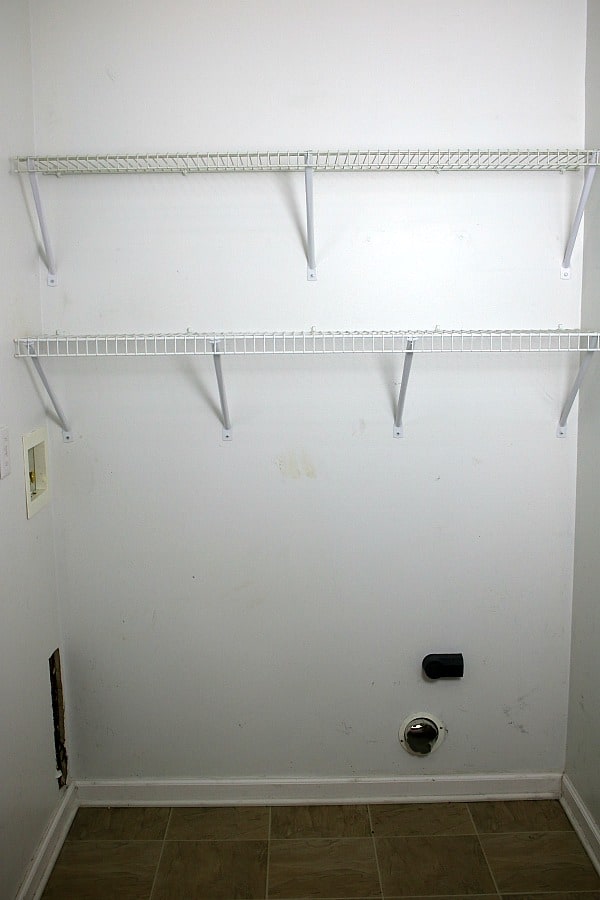 While the laundry room space didn't need a lot of updating, there were a few things that needed to be done. First on the agenda was paint, and the shelves were functional, but they were different colors. We also wanted the space to be comfortable, and not plain looking.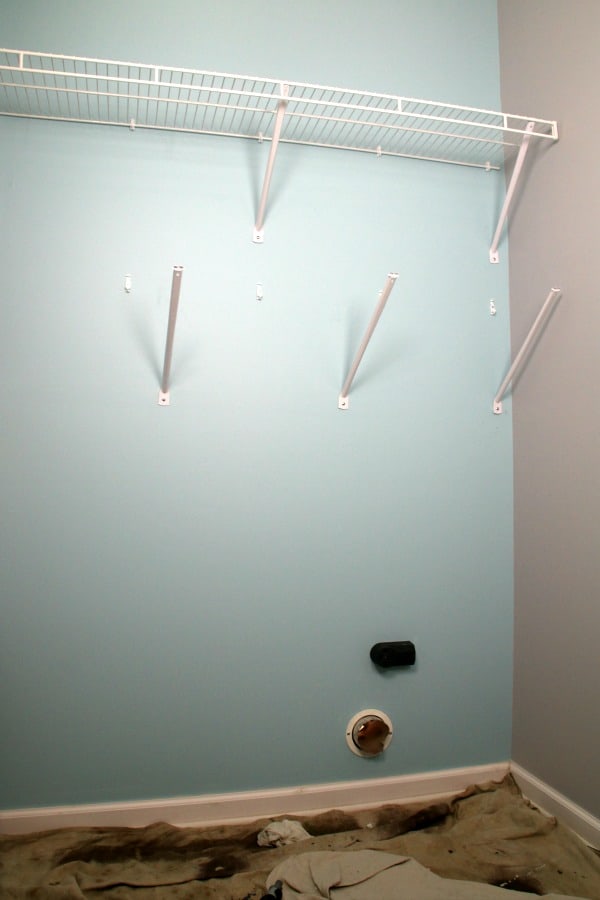 Giving the walls a fresh coat of paint made all the difference. For the accent wall, I sent a vase that I loved the color of with my husband to the paint store to match the color, it's "fun guy" from Dutch Boy, and the other walls are "garden stone" shade of gray.
Then the shelves were installed, making sure they are secure with drywall anchor clips. Most shelving units will come with the supplies you need to hang them. But since we removed the shelves to paint, we wanted to be sure they were safely hung back on the wall.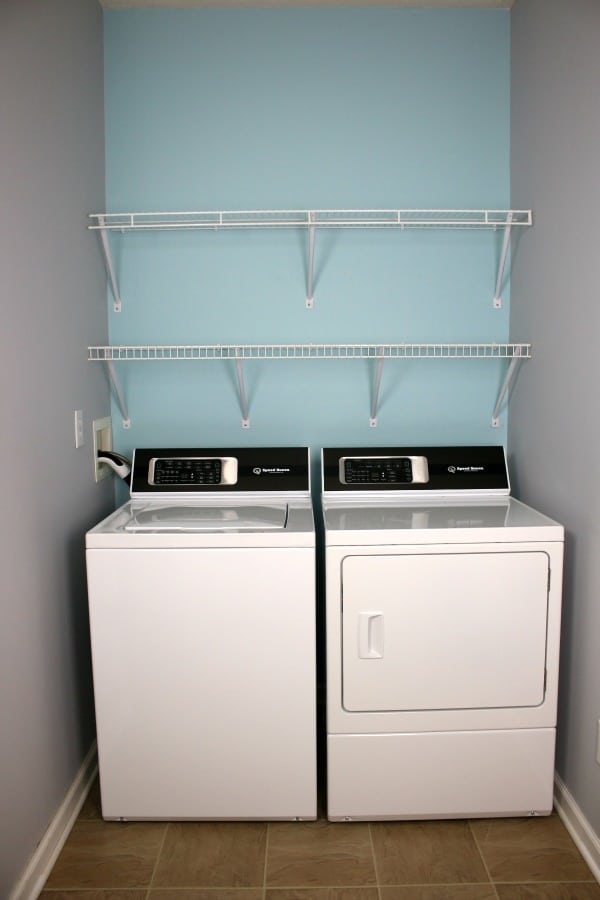 Now it was time to add the washer and dryer into the space. If you are installing your washer and dryer yourself, Speed Queen has the instructions on their website.
The Top Load Washer is built with a Solid Mount Suspension System that features a full steel base with heavy-duty springs for best-in-class out-of-balance performance. Less vibration means longer machine life. They are built to last longer and deliver exceptional wash results.
The Speed Queen Perfect WashTM provides a better clean that's gentle on your clothes. And the full tub wash and rinse fills the entire tub with water to achieve maximum cleanliness.
As the perfect companion, the Speed Queen Dryer has the same outstanding performance as the washer. It's built with the same durability and technology to last a lifetime. The Speed Queen DR7 dryer features multiple technologies designed to save energy and money, while delivering the perfect dry, every time.
The reversible door allows you to configure your dryer so it's most convenient in your space. Moisture Sensors & Moisture Level Selection allow you to preset the dryness level of each load and automatically stops the cycle once that level is reached. And the Time Remaining Display eliminates guesswork by clearly showing when your laundry will be finished.
Speed Queen in currently offering a 10 year warranty on their machines. This is a limited time offer and will run until the end of September. Find a location near you!
Speed Queen has earned the Women's Choice Award as America's Most Recommended Luxury Washer & Dryer in America.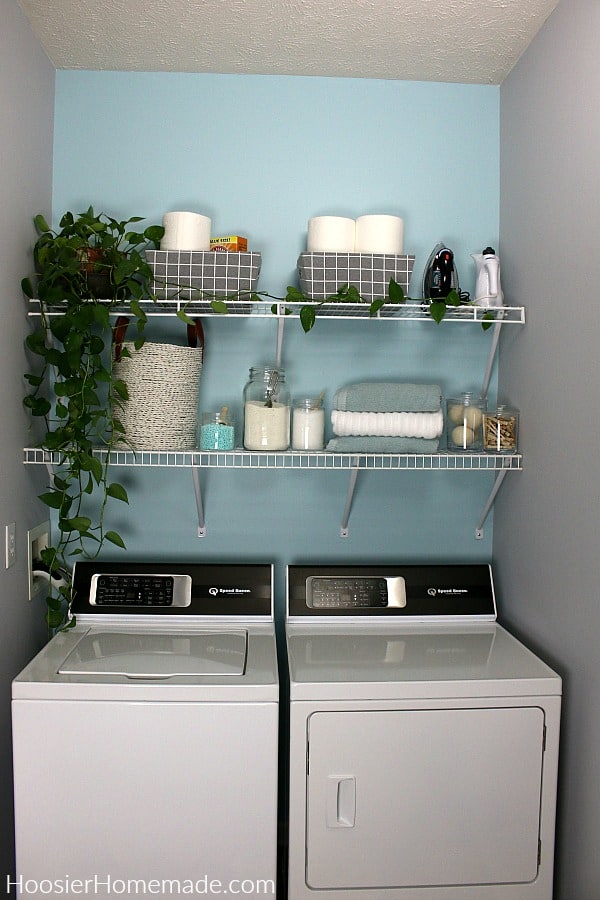 Once the washer and dryer were in place, it was time to begin decorating and adding the laundry room essentials.
On the stop shelf, a couple baskets to hold paper towels, the iron and steamer. To brighten up the space, an ivy plant was added.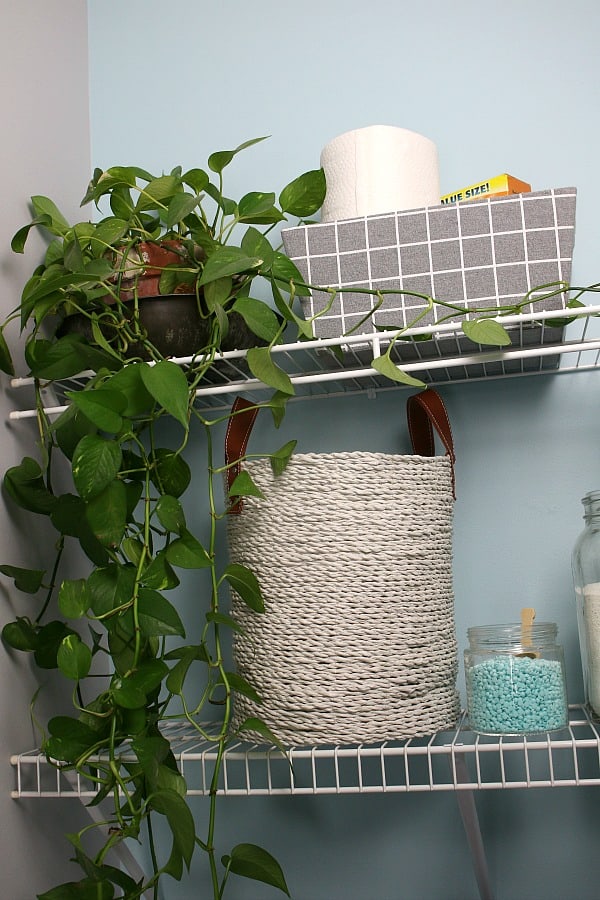 A tall basket to hold extra laundry soap and cleaning supplies was added to the bottom shelf. With a small space, it's important to use as much area as you can, and adding baskets is perfect. They look great, but are also very functional.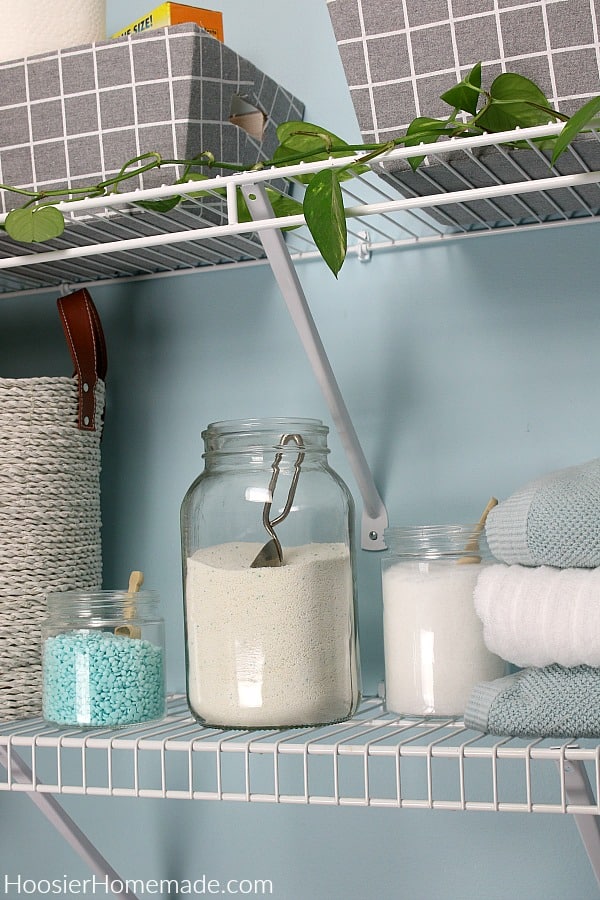 Then the laundry soap and fabric softener was added to glass jars for even more convenience.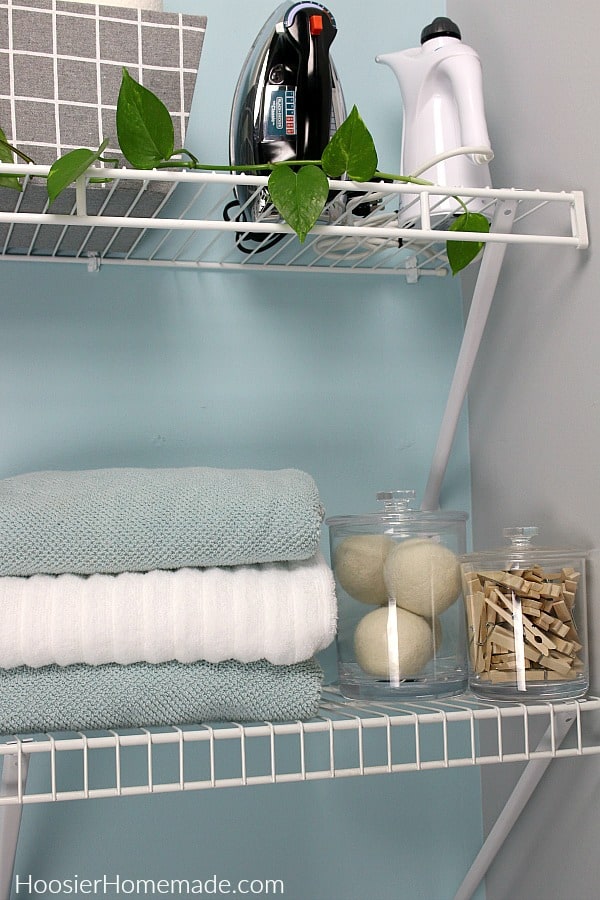 We recently started using dryer balls instead of sheets, and I like them really well. While I don't hang clothes on a line anymore, I do use the clothespins for various tasks around the house, having them in a jar is convenient and looks nice too.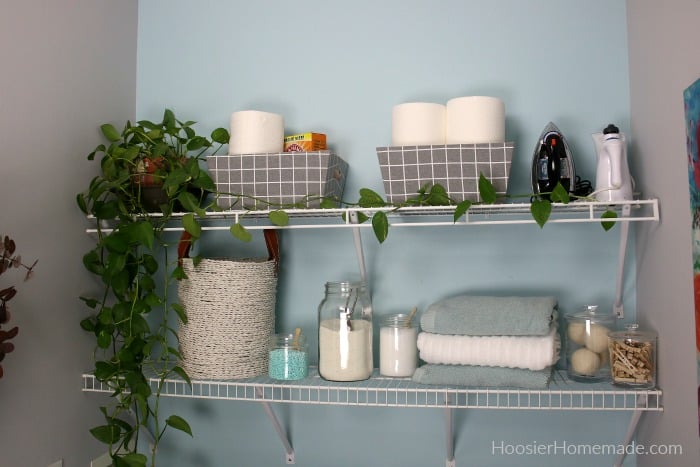 Combining functionality and design isn't difficult.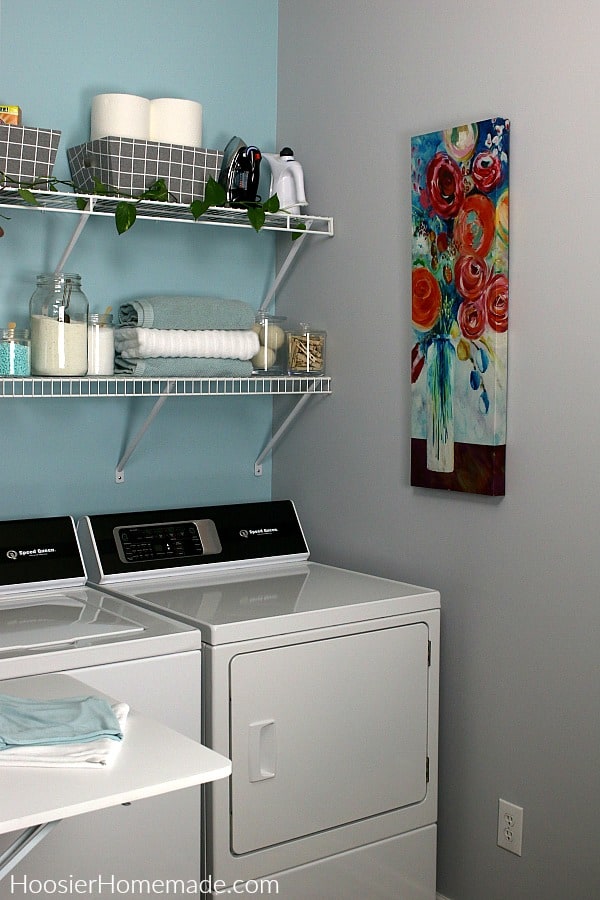 When I first began thinking about how to decorate the walls in the small laundry room, the signs that say "laundry" or "wash" were what I thought of. However, when I went shopping, the bright colors in this canvas caught my eye. Not only does it brighten the space, it also makes it feel more comfortable, home like.
On the opposite wall, I decided to hang a wreath. The color is great, and the textures are interesting as well. And again, it just feels more like home.
Honestly, just hanging some unusual pieces on the wall made all the difference.
We also added a small wall-mounted folding table. Since the space is small, there wasn't room for a regular folding table. This one is working out great.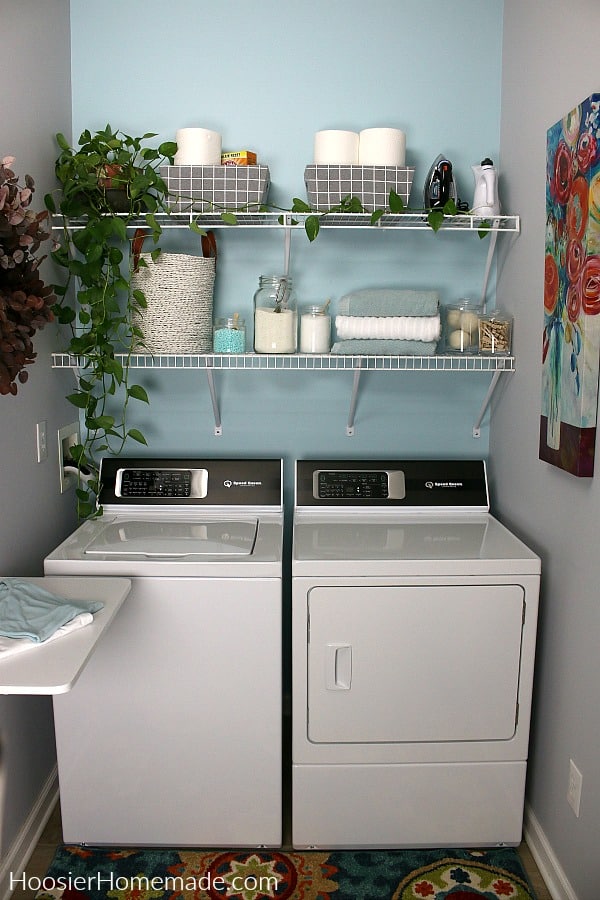 And the final piece to pull the space together was a bright colored rug.
Do you have a favorite part of this small laundry room?


Speed Queen Dryer – DR7
Paint Colors – Fun Guy (teal) and Garden Stone (gray)
Baskets from Home Goods
Floral print and Rug from At Home store
Wreath from Hobby Lobby
Jars – large mason jar, smaller jars from At Home store