Do you feel like you are always doing laundry? I know I do! And my laundry room was not so inspiring. Finally, I was tired of it- if I was going to be doing laundry so much, I at least wanted to do it in a pretty space! This Laundry Room Makeover will inspire you to change your space.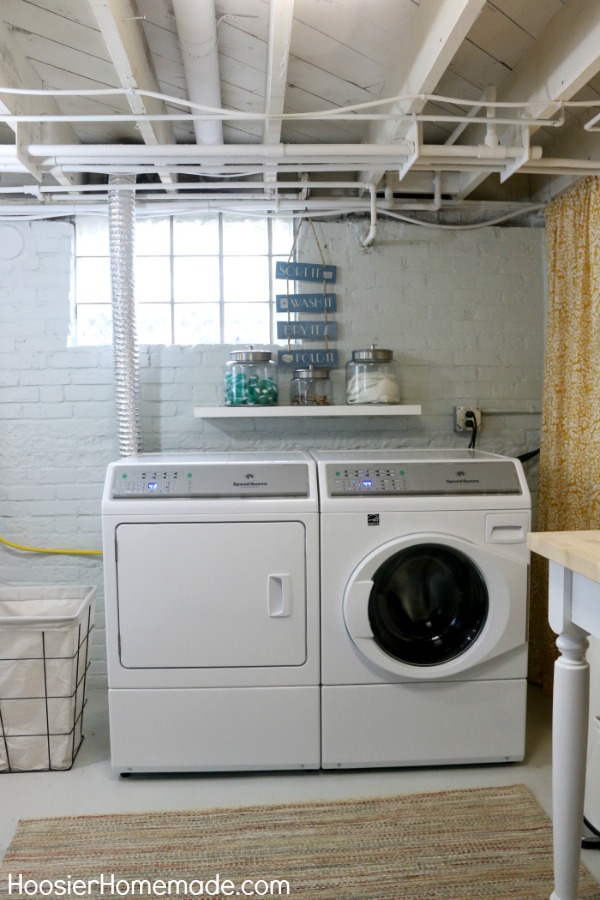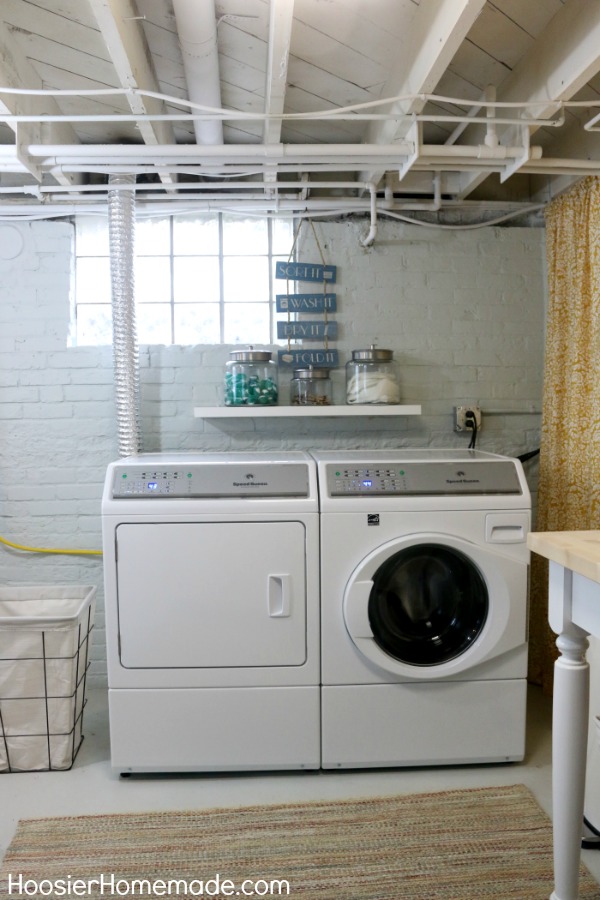 Our basement and laundry room area has been on our to-do list since we moved into our home 9 years ago. It's not a space that is comfortable by any means, so it has ended up becoming a drop and go area. You know – the space that you drop something and run really quickly so you don't see the mess? Although our main living area is clean, neat and organized, the basement and attic aren't. I blame that on being busy, but honestly, we probably just have too much stuff.
Can you relate?
Well, this Laundry Room Makeover will definitely inspire you. As always, we kept it simple, so you can create a laundry room like this in your own home!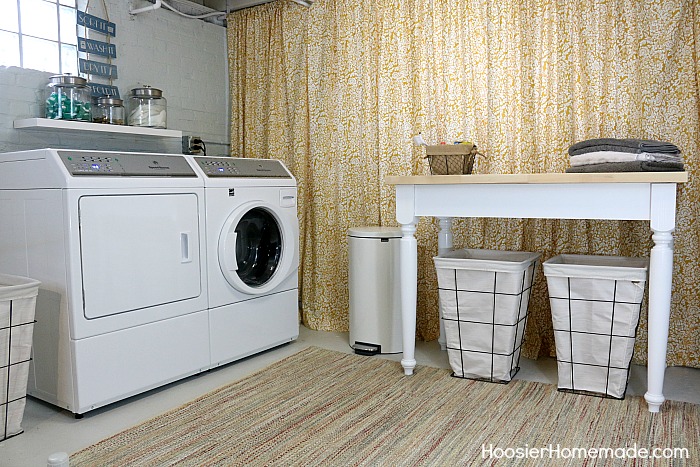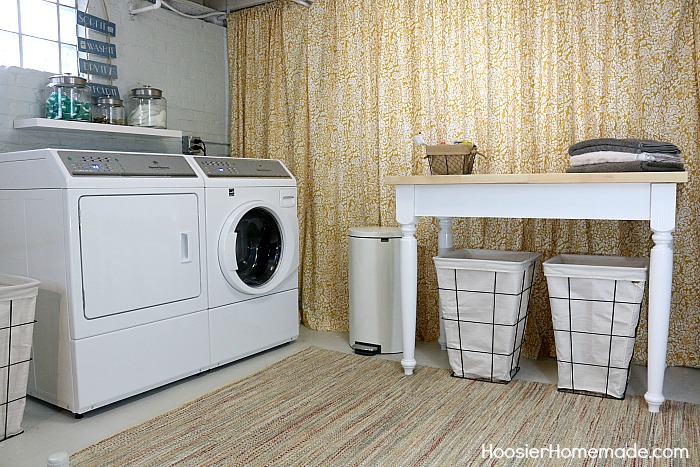 Originally we thought we would like the laundry area on the back entryway. We had plans to get a stacked washer and dryer and keep everything up there. Actually, I thought that would be better, because I just could not imagine how the laundry room in basement could possibly look good. Well – I was totally wrong.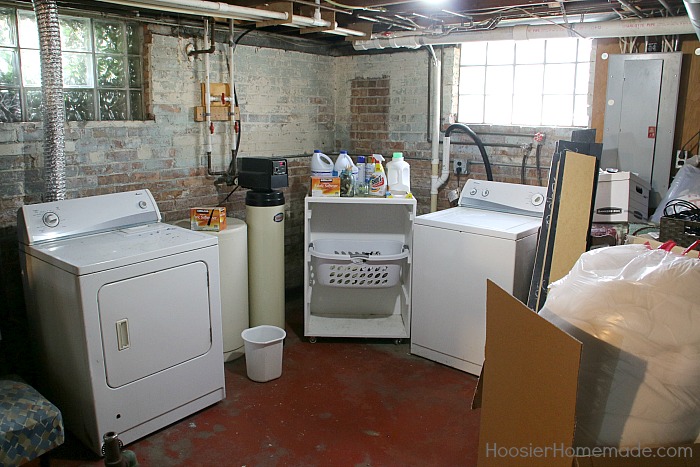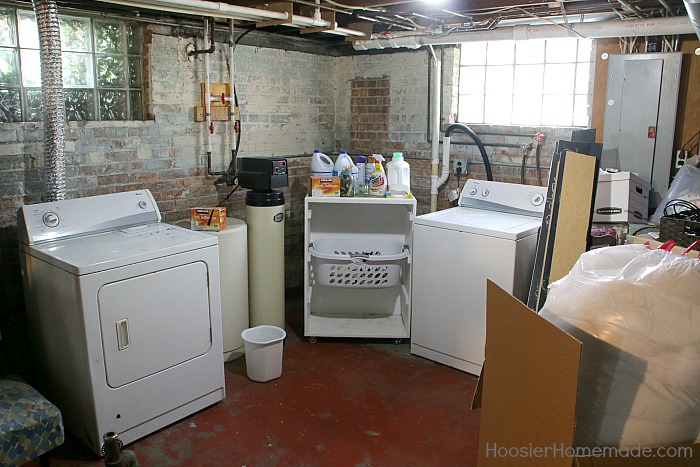 I know it comes as a shock, and believe me, every time I went to the basement, I hated it. But this is the before. The walls, floor and ceiling were in bad shape. The water softener was in a bad location, and yes – there was stuff everywhere. Really, the only good thing about this space was our mobile laundry station – and windows.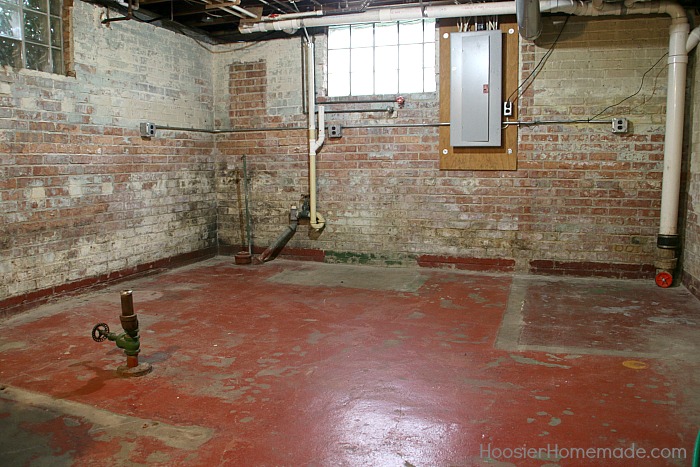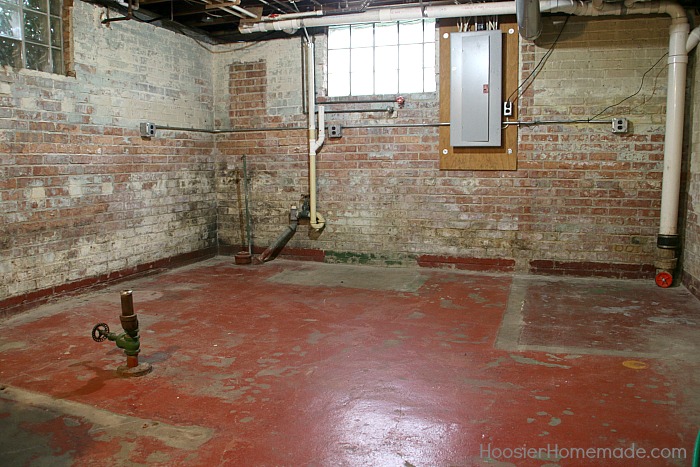 So the first thing that Doug did was clear everything out and clean. The ceiling, walls and floor all had to be cleaned before the painting.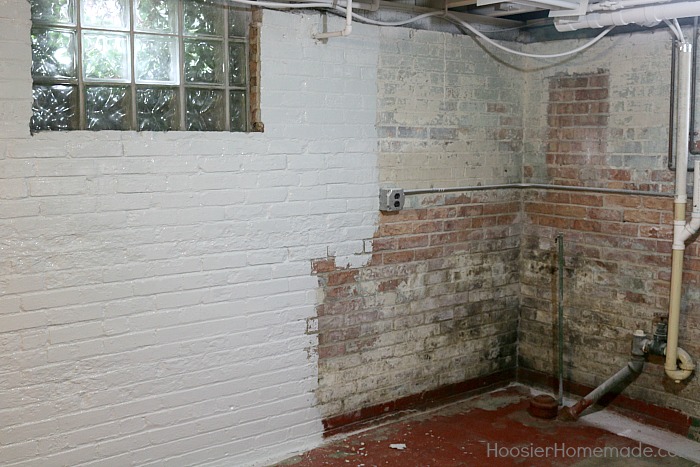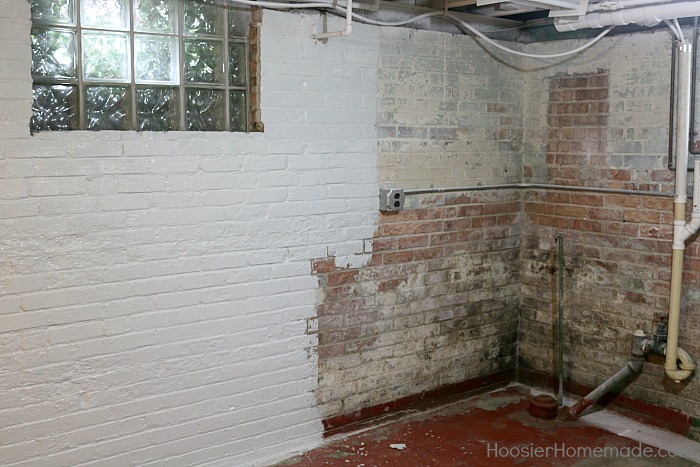 This photo is pretty unbelievable. I have heard time and time again – a coat of paint will change a space. Well seeing is believing here. Doug used Behr Basement and Masonry Waterproofer Paint on the walls, and Behr 1-part Epoxy Concrete and Garage Floor Paint on the floor. The ceiling was painted with regular white ceiling paint.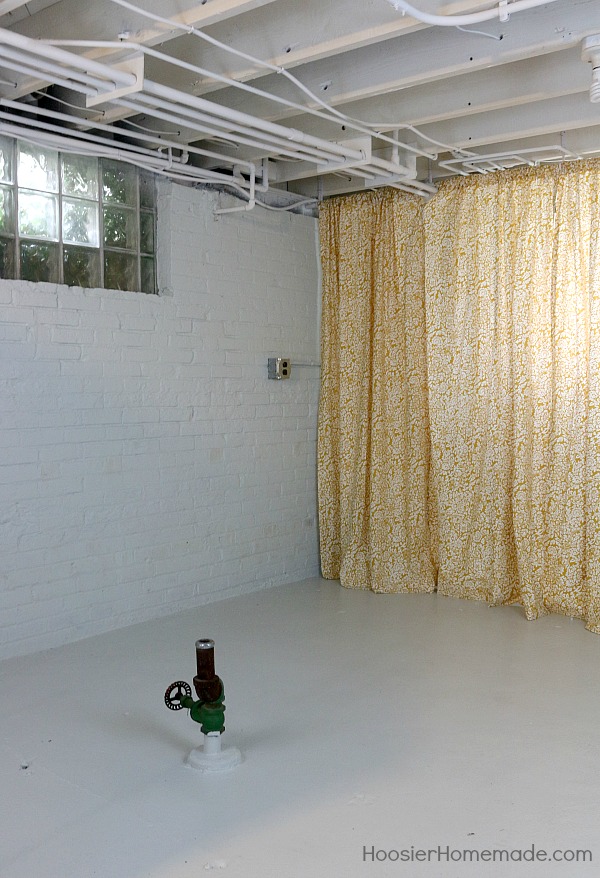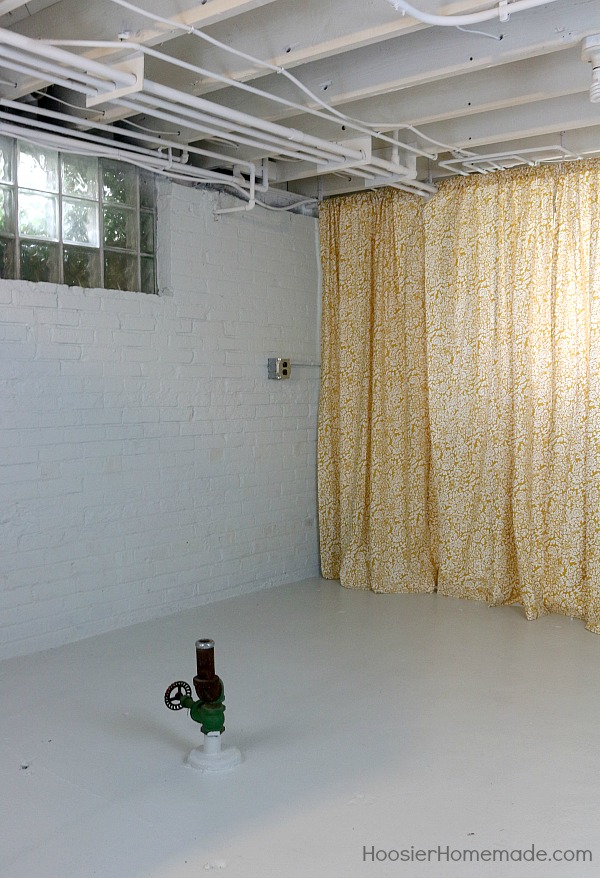 After the walls, ceiling and floor were all painted, then it was time to hang the curtains. And the pipe (that apparently had no reason to be there) needed to be removed.
The curtains ended up being one of the best decisions we made. First they hide all the pipes and electrical box, but they also just add a sense of comfort and home to the space. There is only so much cosmetic work you can do in a basement with all the brick and concrete. I think the curtains soften the space nicely.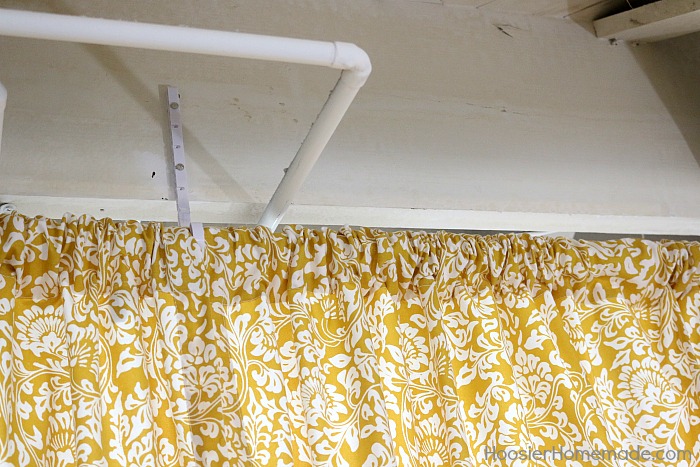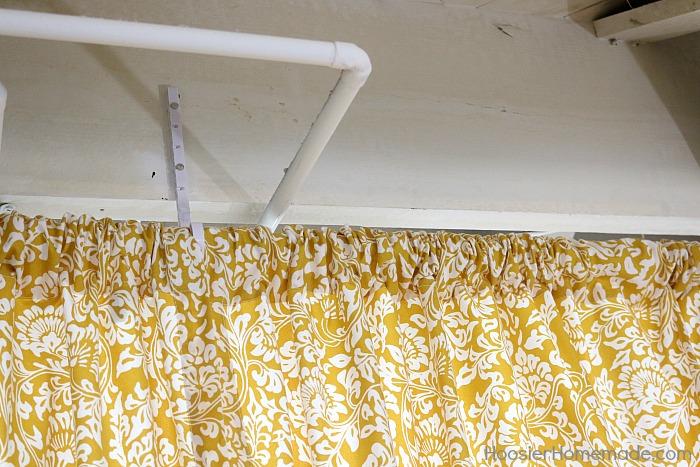 Often times curtains and curtain rods can be the most expensive thing you will purchase for your room. I knew that the price of the curtains was going to be a big chunk of the budget, so we decided to cut back on the curtain rod. Doug used 3/4 inch PVC Pipe for the curtain rod and 1 inch CTS Pipe Hangers to hang the rod. We bought the curtains at Target.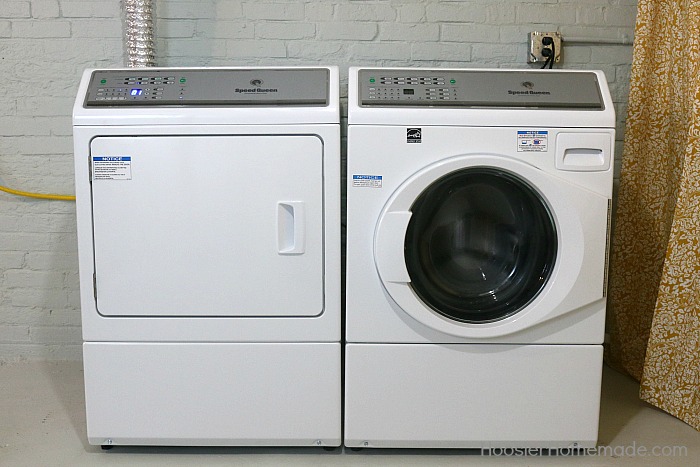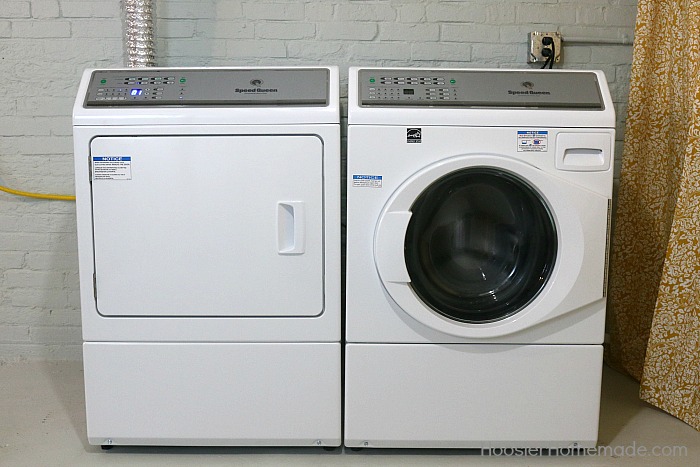 After the laundry room was ready, then it was time to bring in the new Speed Queen washer and dryer. A couple months ago, I asked a neighbor of mine if she was familiar with Speed Queen, she has one of their washers and told me she is hoping her dryer goes out pretty soon so she can get a Speed Queen dryer. She said that they are the best machines she has ever had and she will never buy anything else.
I would have to agree. Even after using it a short time now, I was shocked at how clean our clothes looked. Not only were the white clothes brighter, but all of the other clothes looked brighter and cleaner.
The Front Load Washer is built with the combination of durability and technology never before seen in a front load washer. They are built to last longer and deliver exceptional wash results. Each front load washer is perfectly balanced to minimize vibration and operate so quietly, you'll forget it's even running.
Speed Queen front load washers are designed, tested and built to deliver 25 years of commercial-grade performance in your home. In fact, the Speed Queen front load washers that you put in your home are the same durable, long-lasting washing machines used in laundromats and other commercial applications, like hotels and military bases. Constructed with metal components where others use plastic and rigorously tested to ensure reliable performance, Speed Queen front load washers are built better to last longer.
As the perfect companion, the Speed Queen Dryer has the same outstanding performance as the washer. It's built with the same durability and technology to last a lifetime. The dryer has a Moisture Sensor and Moisture Level Selection that allows you to present the dryness level of each load. There is a time remaining display that eliminates guesswork by clearly showing when your laundry will be finished. It is built with a Commercial-Grade Steel Cabinet that provides three layers of protection for maximum durability.
Speed Queen has earned the Women's Choice Award as America's Most  Recommended Luxury Washer & Dryer in America.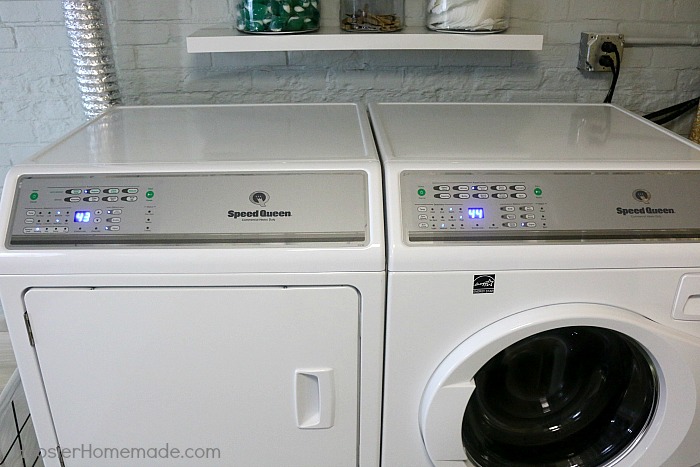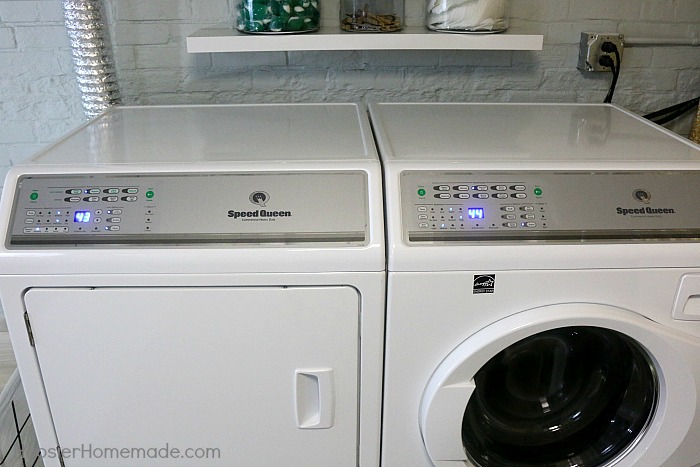 A couple more cool features that I love – the front load washer is Energy Star Certified to ensure high-efficiency operation, and there is also a control lock that allows you to lock the control system, preventing children from starting the machine.
And the dryer has an interior light for clear visibility and there is an up-front lint filter that allows for fast and easy cleaning.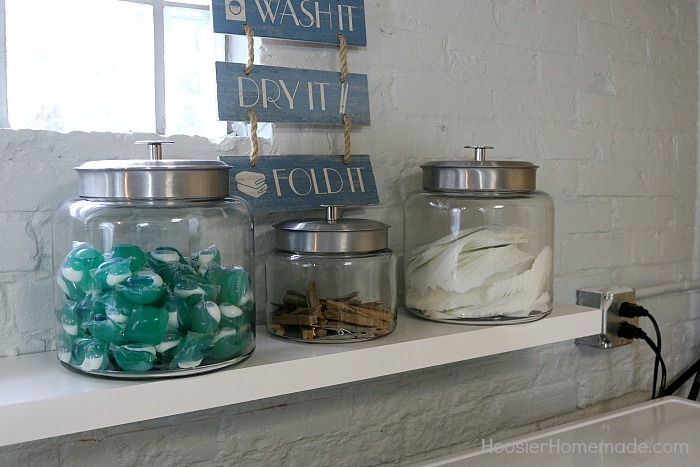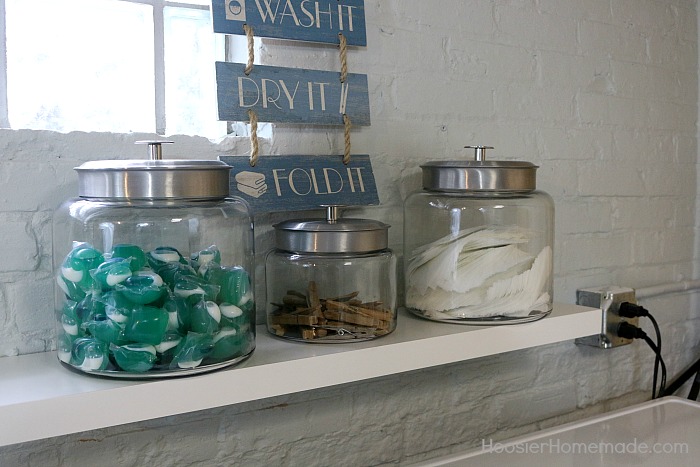 Above the machines, Doug added a 36 inch hidden mount floating shelf then we filled jars with soap, dryer sheets and clothes pins.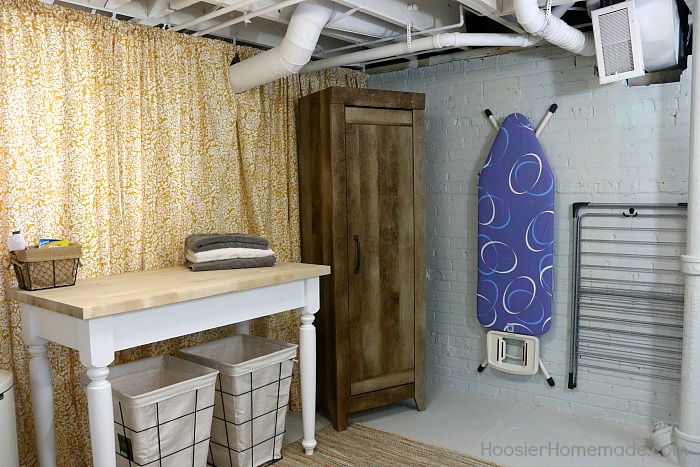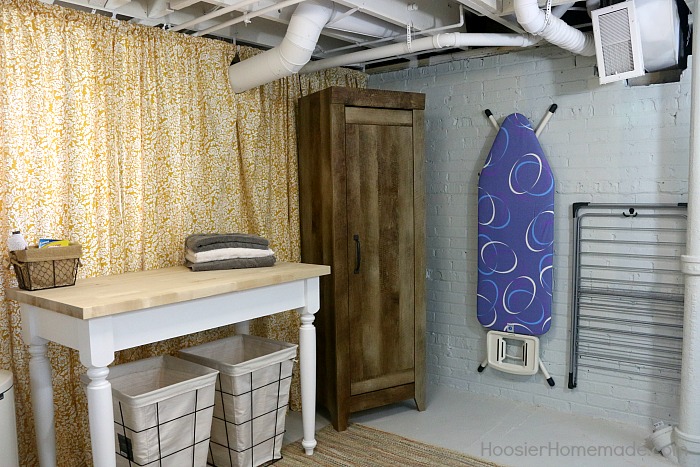 Then it was time to start adding some pieces that would be both functional and make the space look nice. To stay with the Farmhouse style that we have been using throughout our home, Doug built a folding table using a butcher block counter top. Watch for directions and plans on how to build your own!
Like with most big projects, we had a hard time deciding on the shelving unit. We were planning on getting an open shelf unit and using baskets, but when I spotted the narrow storage cabinet, I just had to have it. It's perfect in the space, and with the door on it, all of the extra laundry supplies are hidden.
The ironing board and drying rack were hung on the wall for more organization and to free up floor space.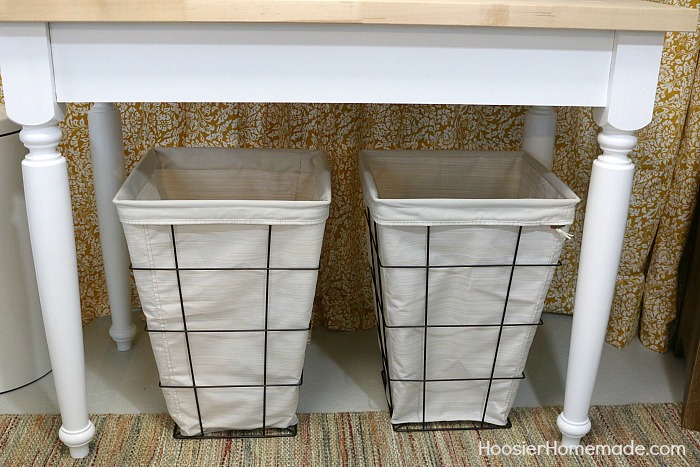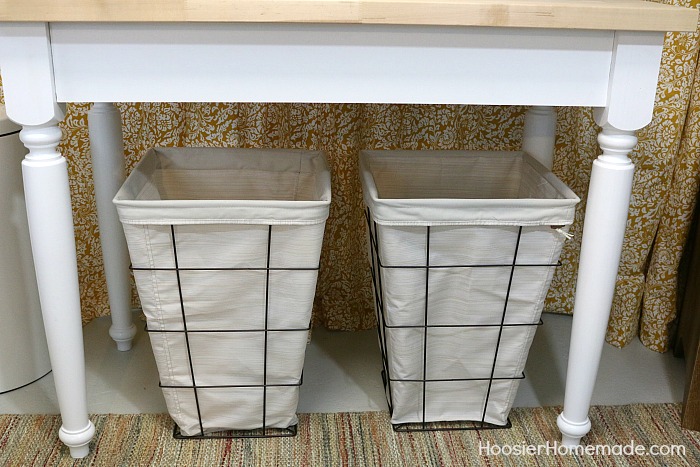 Of course, a laundry room would not be complete without baskets. Even though we used our mobile laundry station everyday (and loved it) I wanted to stay with the Farmhouse theme. I found these wire laundry baskets at Target.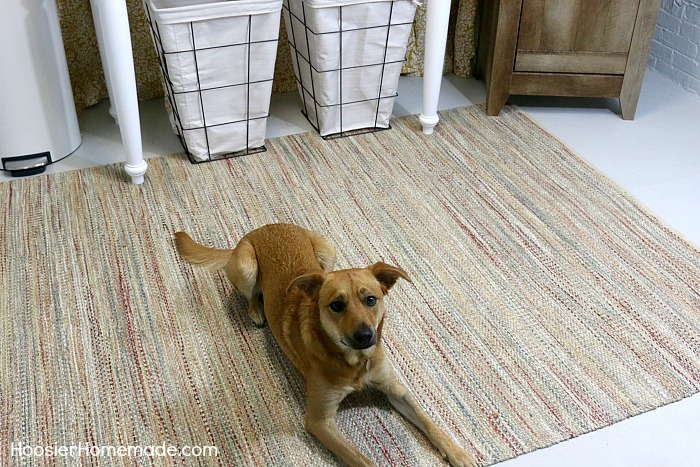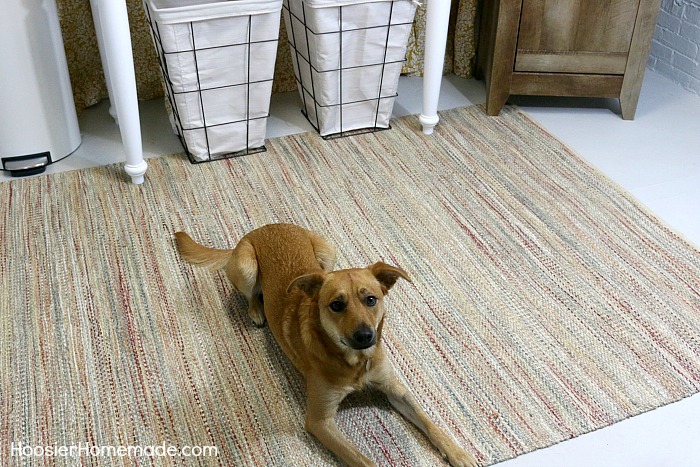 Even Miss Tiki loves the new space. The woven rug is also from Target.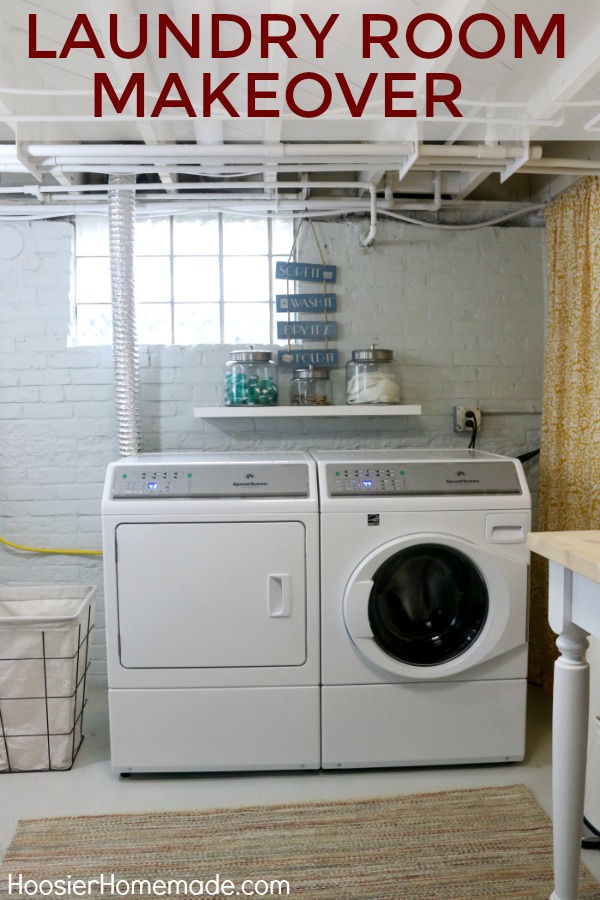 Overall the space is so much better! The walls and floors feel clean and bright while the curtains add some softness. We have a place to fold clothes and store extra supplies. There is nothing better than a laundry room that functions great and looks good too!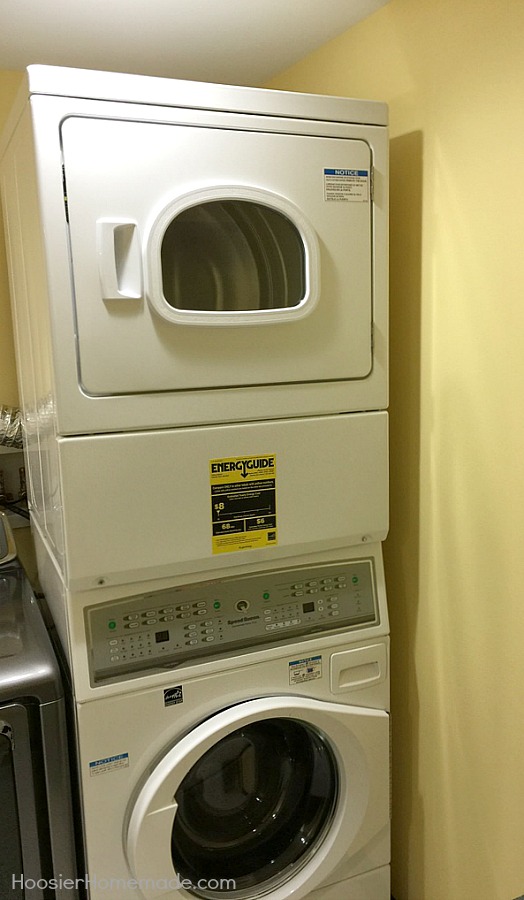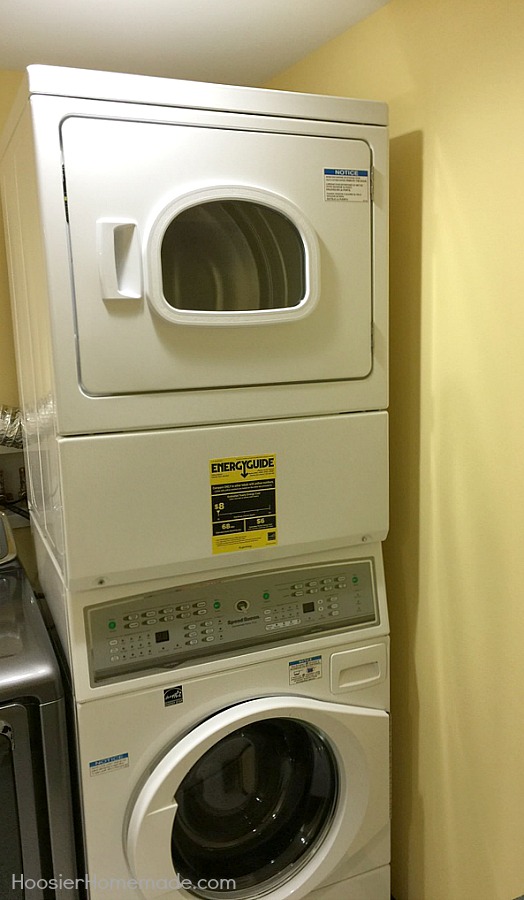 As part of giving back to our community, I help with the local Worthy Women Recovery Home. Speed Queen was so kind to donate a set of stacked washer and dryer. You can learn more about the work that the shelter does and how they are helping women.
Follow Speed Queen for more information: Facebook, Instagram and Twitter.


Love to Decorate?
Me too! Subscribe to get decor ideas for every season straight to your inbox!