Yes I realize it's still September, but the holidays will be here before we know it. And this year, Walmart is helping with their early layaway plan!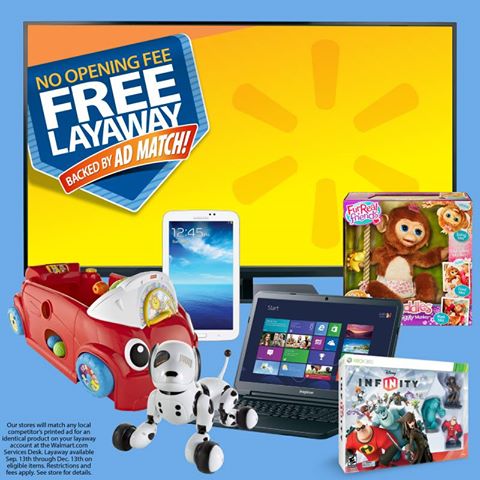 Beginning September 13th you can start your holiday shopping at Walmart! But WAIT – it get's better!
You can start your shopping on September 11th by simply claiming the Facebook offer. You do NOT have to "Like" the WM Facebook page to claim the offer.
Walmart's free layaway means no opening fees, no gift-card reimbursements, just free. Eligible layaway items include electronics, toys, jewelry, small appliances and select sporting goods. And new in 2013 are infant toys and automotive electronics such as speakers and stereos.
Here are the details…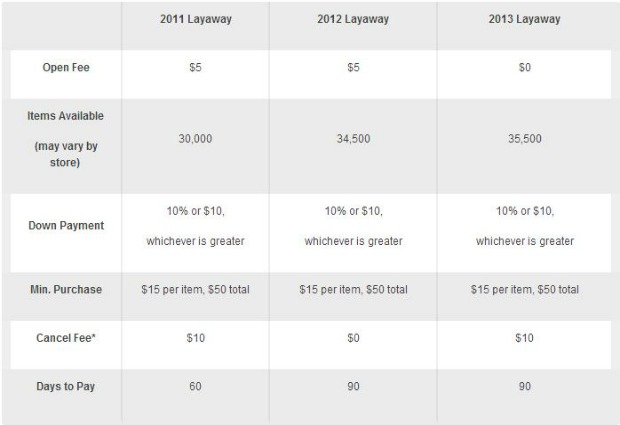 Walmart is expecting this holiday shopping season to be great! Here are some of the popular electronic items…
Tablets such as the iPad, iPad Mini, Samsung Galaxy and Google Nexus
Smartphones like the iPhone 5 or Samsung Galaxy 3 (prepaid only)
PlayStation 4 and Xbox One consoles and new releases
Big screen (60"+) smart TVs
Walmart also expects toys to be popular for layaway, including:
Furby Boom
Barbie Dream House
Big Hugs Elmo
Zoomer, a robotic dog
Bikes and ride-on vehicles
Children's tablets and learning toys such as LeapFrog
And don't forget! Walmart prices are backed by their Ad Match Guarantee!