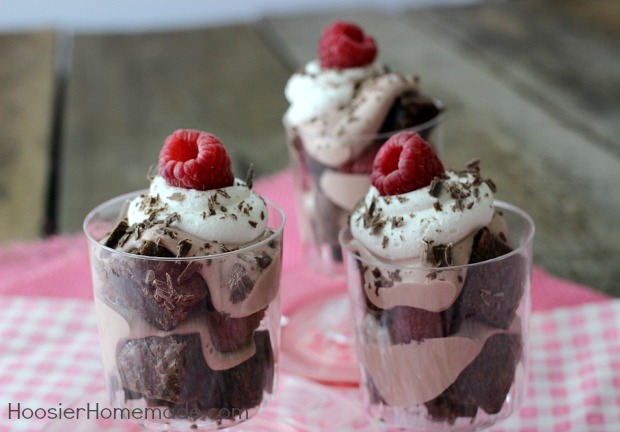 Trifle – a  Scottish dessert made from thick pudding, custard, fruit, cake of some variety, and whipped cream, arranged in layers, has also become a very popular dessert here in the States. And in my opinion, one of the easiest and most impressive desserts you can make.
The perfect example is this Raspberry Brownie Trifle – layers of fudgy brownies, chocolate mousse, raspberries and whipped cream!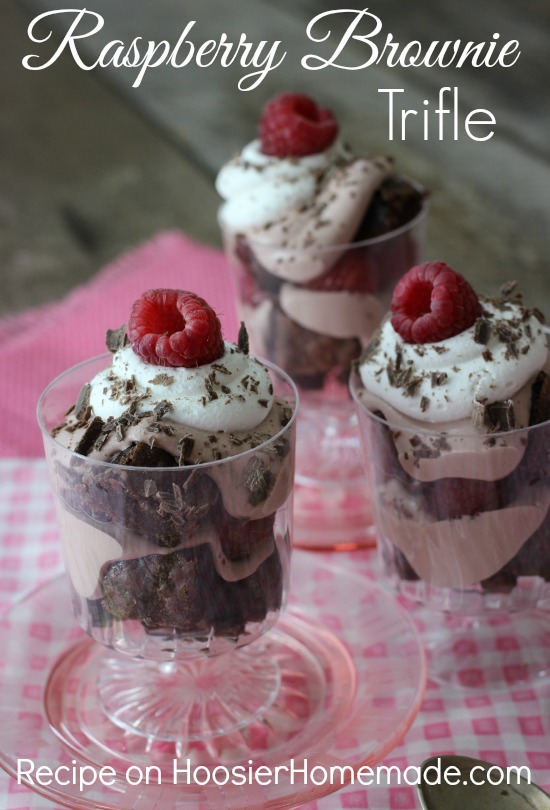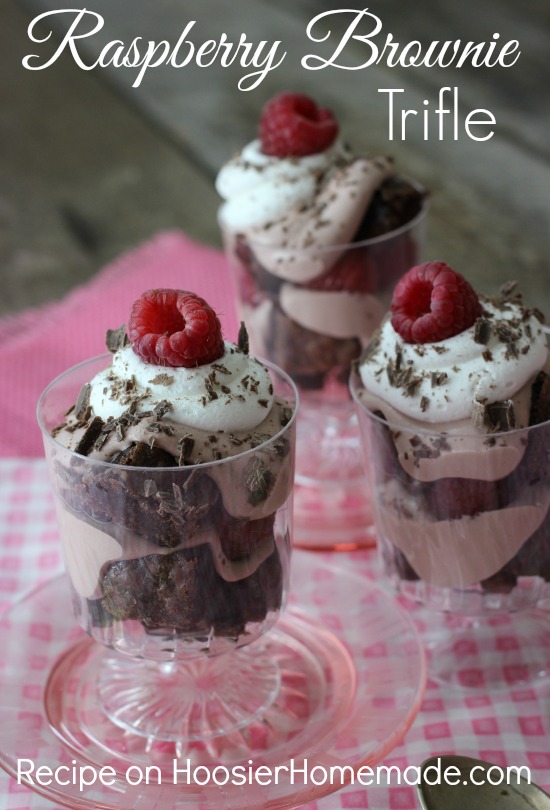 This dessert is one of those "lick the bowl" type of desserts! Seriously my friends, I wanted to eat every-single-one of these! I "forced" the boys to eat them so I wouldn't be tempted.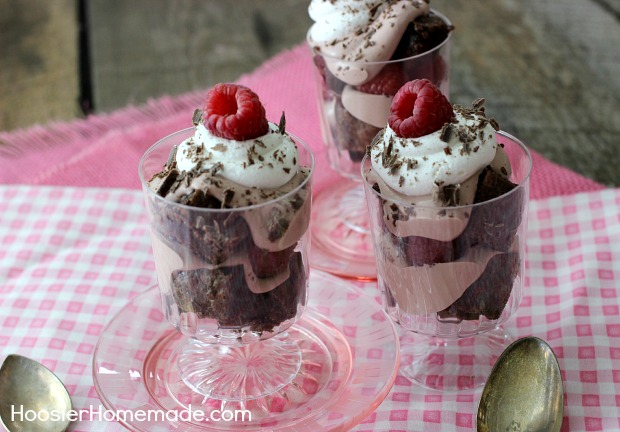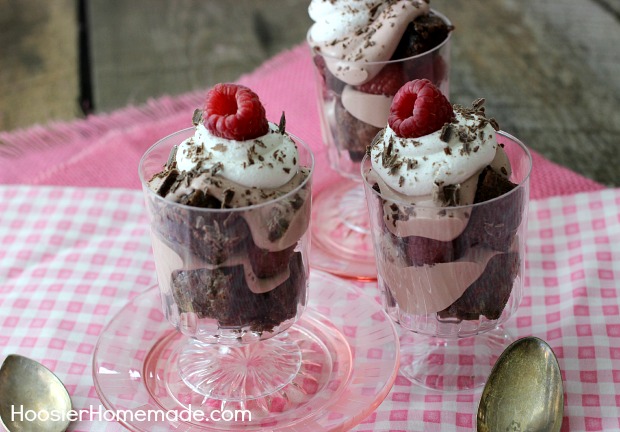 As I've mentioned, Trifle Desserts are so easy yet impressive. They can be served in a large clear glass bowl, or small individual servings. These footed containers are plastic and the perfect size for these luscious Raspberry Brownie Trifles.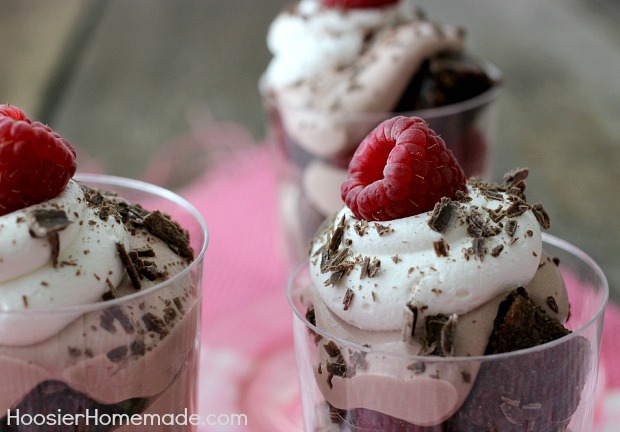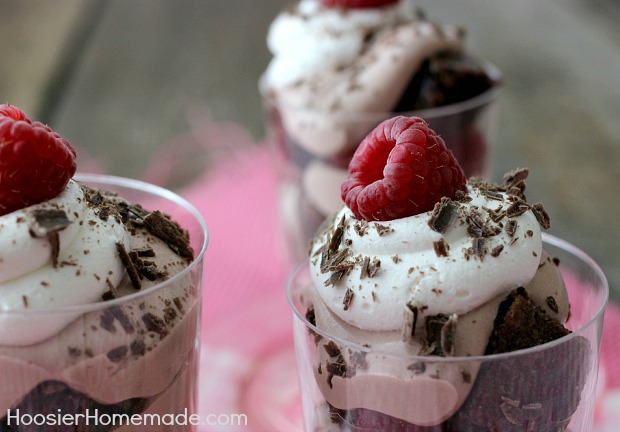 I started with a brownie box mix, then layered them with Chocolate Mousse – a combination of Cool Whip Whipped Topping and pudding, fresh Raspberries and topped with a little more Cool Whip, chocolate shavings and a raspberry.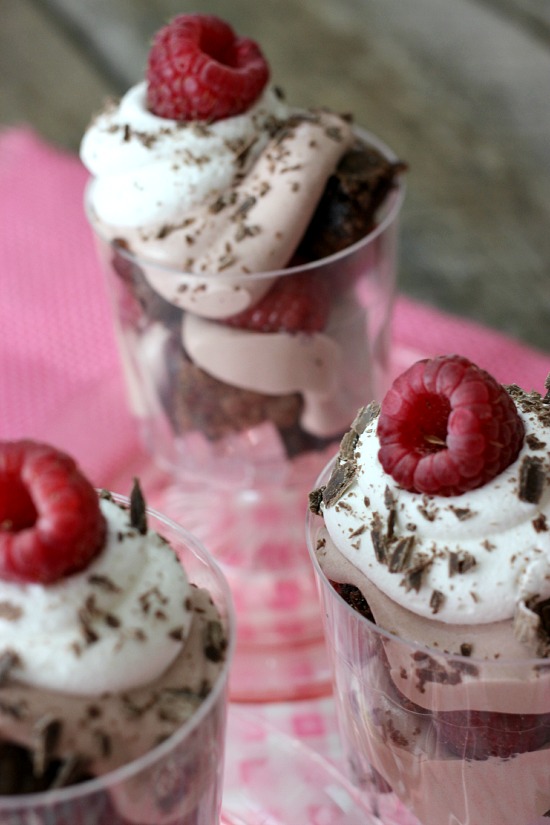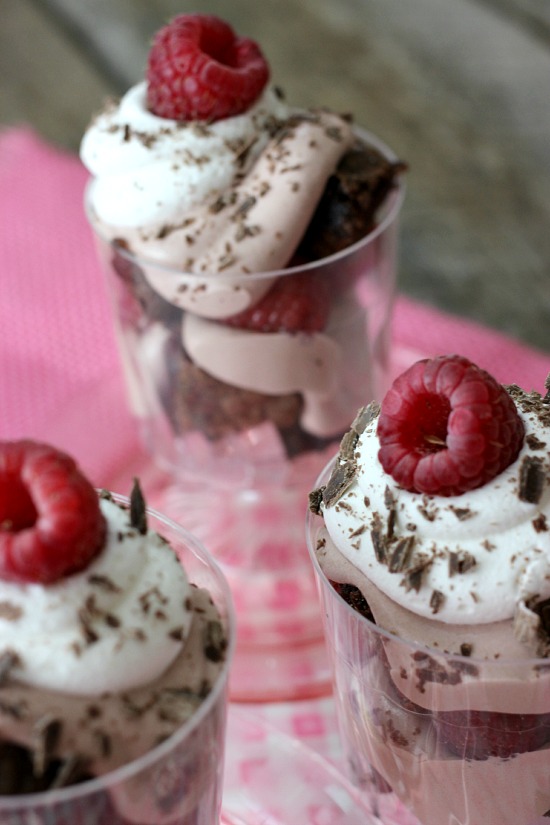 They are elegant enough to serve at a dinner party but easy enough for a weeknight treat! And really, you can serve these for pretty much any holiday – Birthday, Valentine's Day, Easter and more!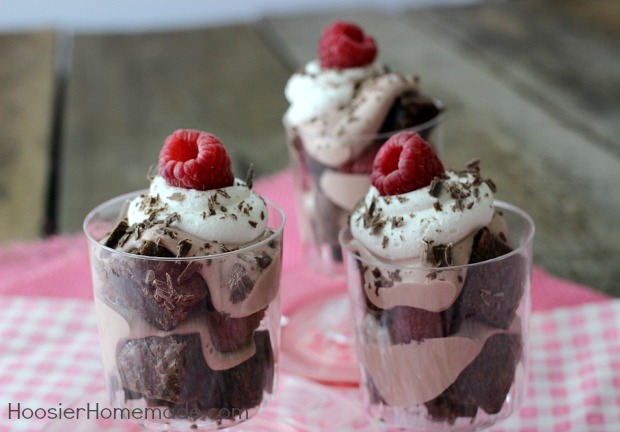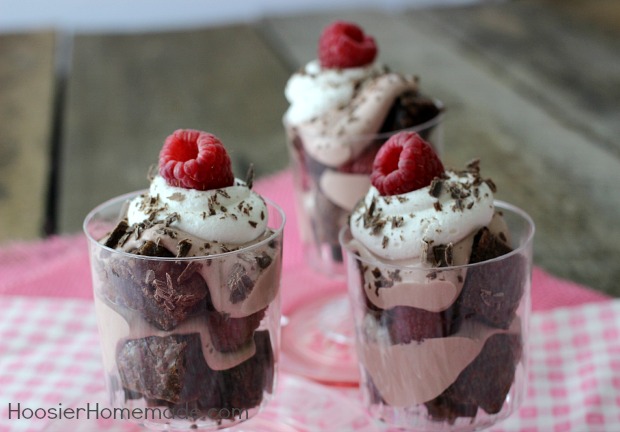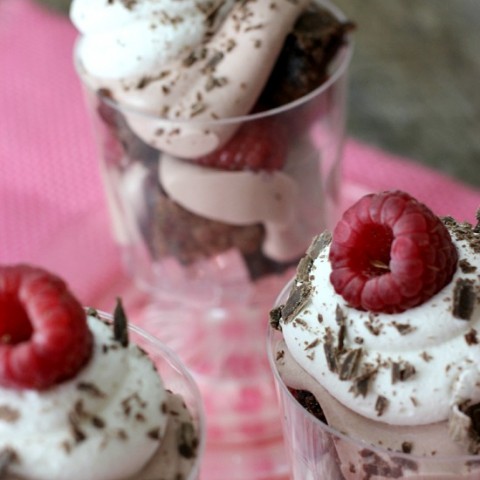 Raspberry Brownie Trifle
Elegant enough for a dinner party - easy enough for a weeknight dinner. Recipe from HoosierHomemade.com
Ingredients
1 box Betty Crocker Brownie Mix plus ingredients - egg, oil and water
2 teaspoons Raspberry Flavoring
1 container of Raspberries
1 small box instant chocolate pudding plus milk
1 (8 oz) tub Cool Whip Whipped Topping, thawed
Chocolate Bar, optional
Instructions
Mix brownies with eggs, oil, water and Raspberry flavoring
Bake and cool brownies, cut into small squares about 1/2 inch
While the brownies are baking, mix the pudding according to directions on the box
Reserve about 1/2 cup of Cool Whip for top
After the pudding is set, about 5 minutes, combine with remaining Cool Whip until smooth
Place pudding mixture and reserved Cool Whip in separate resealable bags or decorator bags fitted with a round tip
Add a layer of brownies, pudding mixture then raspberries
Repeat with brownies and pudding mixture
Top with Cool Whip, chocolate shavings (see notes) and raspberry
Notes
Chocolate Shavings - use a potato peeler to make shavings from a chocolate bar. This dessert can be made in a large bowl or individual servings
You may also like these Trifle Desserts…