Tres Leches and Berry Parfaits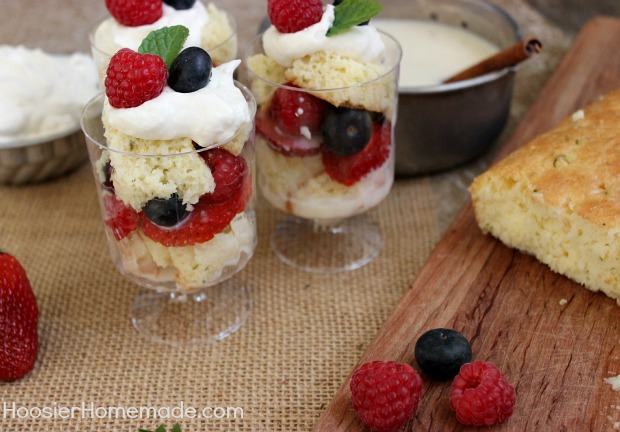 Parfaits or trifles are one of those desserts that are super easy to make but look so impressive. And these Tres Leches and Berry Parfaits give me three reasons to share the recipe with you…
Cinco de Mayo right around the corner
We have been sharing Mexican recipes over at Pocket Change Gourmet and needed a dessert to add to our list
I use any reason there is to bake up delicious treats for a holiday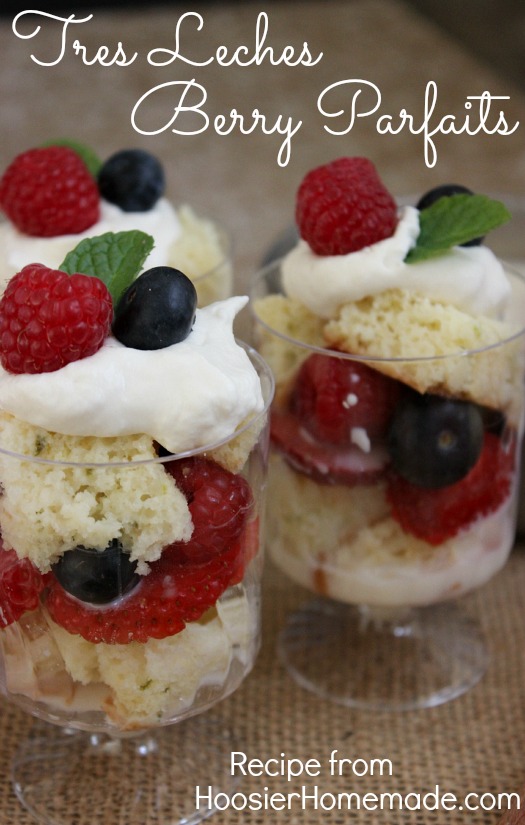 Starting with a white cake mix and packed with lots of Mexican inspired flavors like rum, lime, cinnamon and coconut, these parfaits are easy enough for a weeknight dessert but special enough to serve at a dinner party. And certainly perfect for your Cinco de Mayo celebration!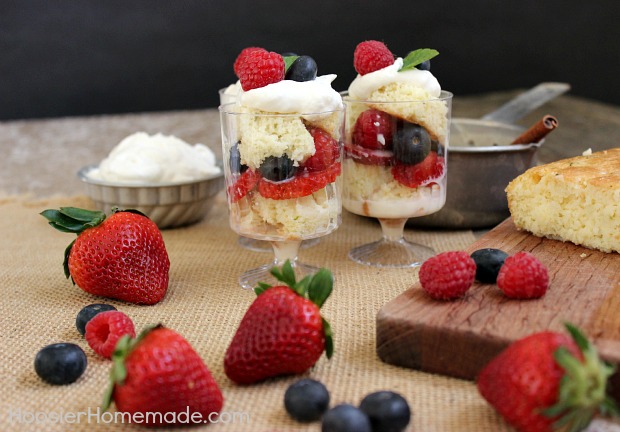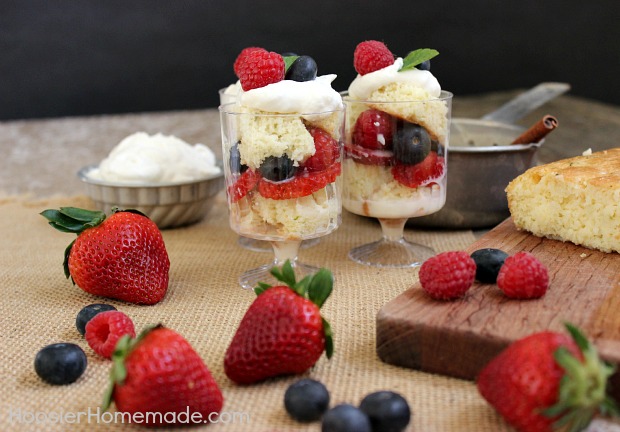 Let me show you how to make these beautiful desserts…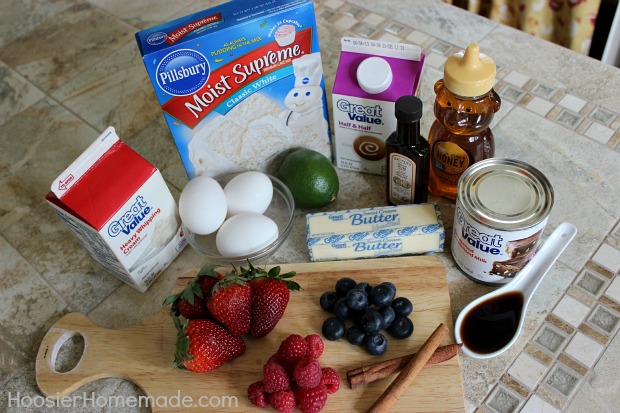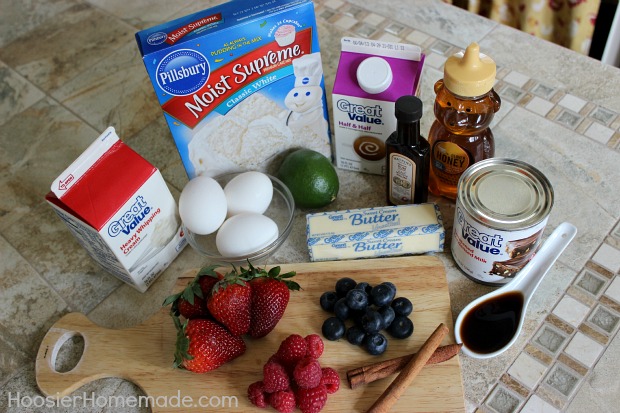 I found everything I needed at Walmart. There was a nice selection of berries as well.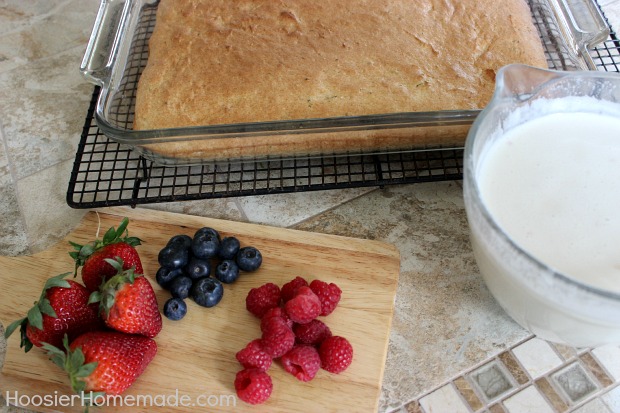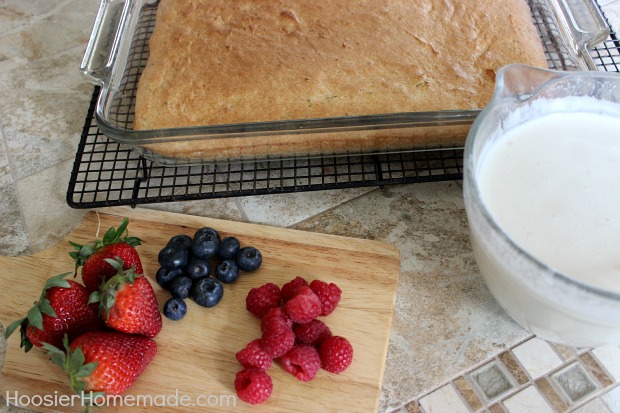 The cake is easy to put together with just a few ingredients added to the white cake mix. The Cinnamon Tres Leches Sauce is a combination of 3 kinds of milk, which is what Tres Leches means, cinnamon and vanilla, cooked on the stove and then chilled.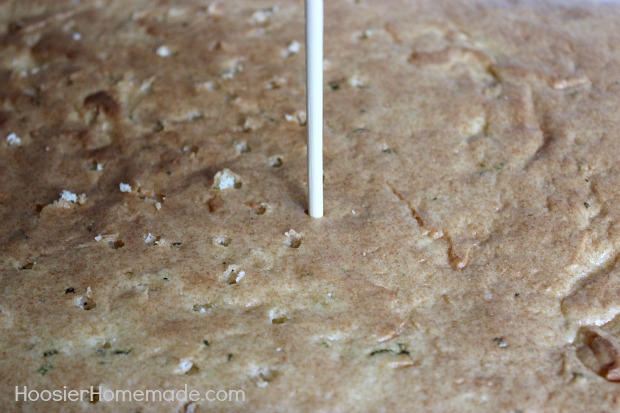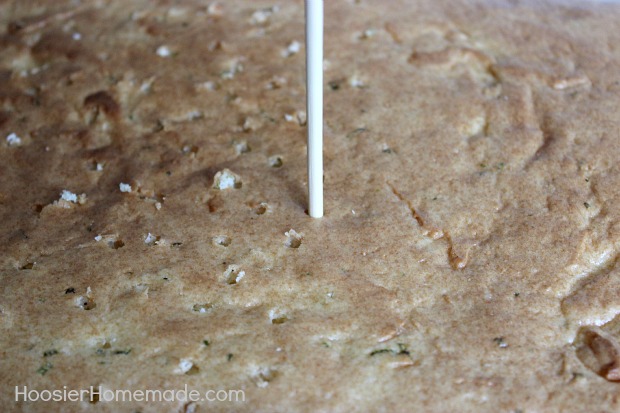 After the cake and sauce have cooled, you need to poke the cake with a skewer or large fork.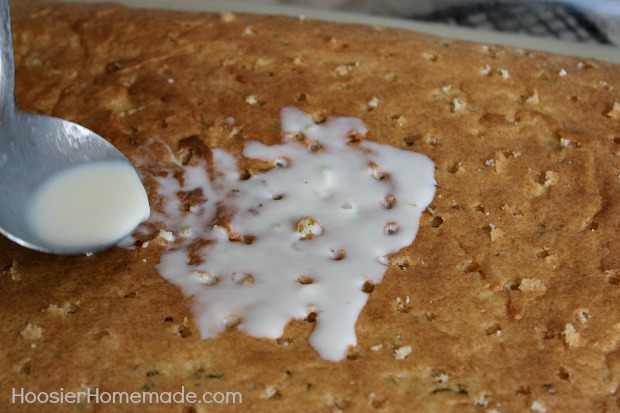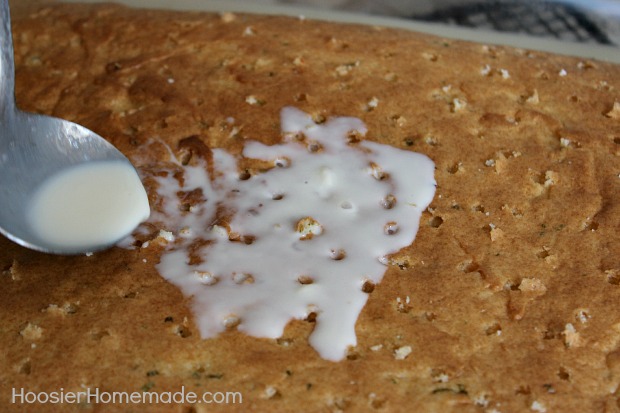 Then spoon the Cinnamon Tres Leches Sauce over and let it soak in.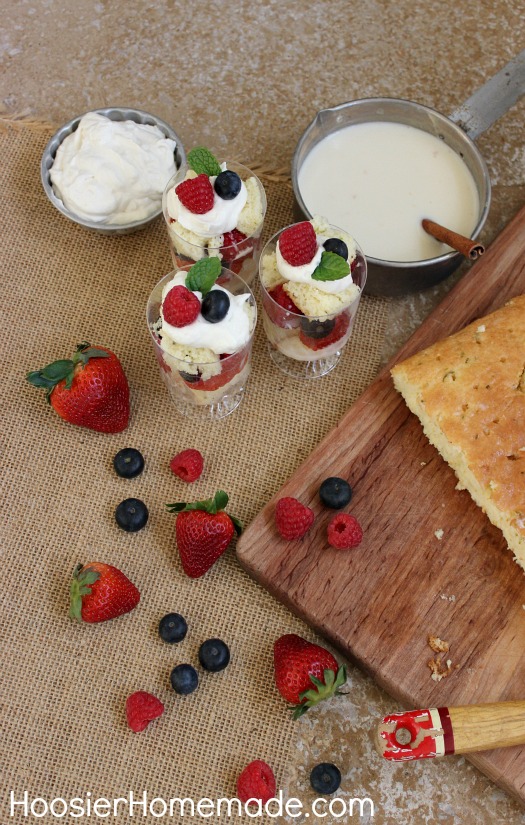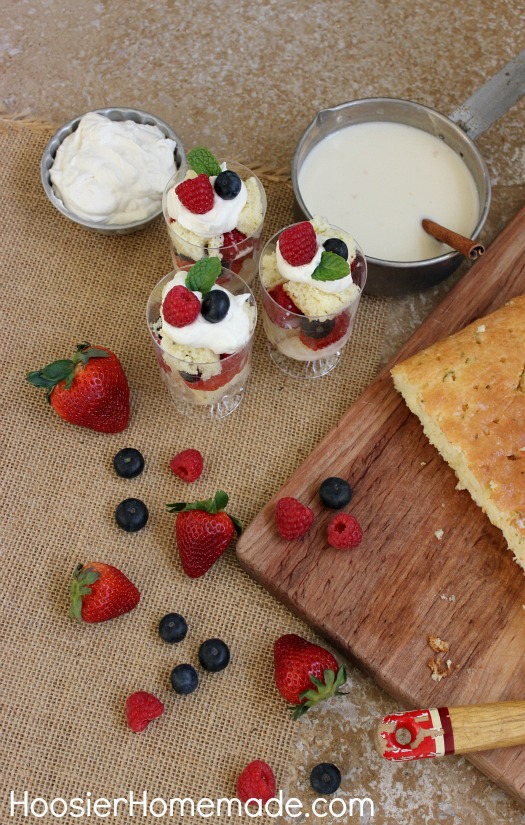 Then it's time to layer the cake, berries and sauce. And top with a large dollop of fresh whipping cream mixed with honey and vanilla. To make them even more resistible add fresh berries and a mint leaf to the top.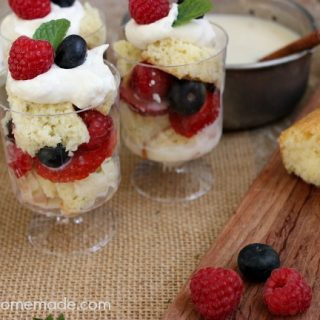 Tres Leches and Berry Parfaits
Easy but impressive looking dessert. Recipe from HoosierHomemade.com
Ingredients
Cake
1 box white cake mix
3 eggs
6 tablespoons butter, softened
3 tablespoons water
1 tablespoon Rum Extract or 2 tablespoons dark rum or brandy
1 tablespoon finely shredded lime peel {about 2 medium limes}
Cinnamon Tres Leches Sauce
1 (14 oz) can sweetened condensed milk
1 (13-14 oz) can unsweetened coconut milk or 1+2/3 cup whole milk
3/4 cup half-and-half or light cream
1 stick cinnamon - 4 inch
1/2 teaspoon vanilla
Whipping Cream
1 cup heavy whipping cream
1/3 cup honey
1 teaspoon vanilla
Parfaits
Fresh strawberries, blueberries and/or raspberries - about 3 cups
1/2 cup toasted coconut, optional
Fresh mint leaves, optional
Instructions
Cake
Preheat oven to 350 degrees and spray a 13x9 baking dish with cooking spray
In a large bowl, combine all ingredients except lime peel
Mix on low until combined, then on medium for 2-3 minutes {batter will be thick}
Stir in lime peel
Spread into baking dish evenly
Bake for 20-25 minutes or until a toothpick inserted in the middle comes out clean
Cool in pan about 15 minutes
Poke holes in cake with a skewer or large fork
Spoon Tres Leches Sauce over top and let set about 15-20 minutes to soak in
Tres Leches Sauce
While the cake is baking and cooling, or before you bake the cake, prepare the sauce
In a medium saucepan, combine all the ingredients except vanilla
Bring to a boil, stirring frequently
Remove from heat and stir in vanilla
Transfer to a large measuring cup or bowl, remove the cinnamon stick and place in fridge to chill
Whipping Cream
While the Tres Leches Sauce is chilling, pour heavy whipping cream into a mixing bowl and chill at the same time
Add the honey and vanilla and beat on medium-high until stiff peaks form
Assembly
Cut cake into 1 inch cubes, add 1/3 of cake to 8 glasses
Top with 1/3 of the Tres Leches Sauce, top with berries
Repeat layer until your glass is full
Cover and refrigerate for 2-6 hours or until completely chilled
Serve with whipping cream and toasted coconut if desired
Notes
Original recipe from Better Homes & Gardens Mexican Cookbook
Linking to…Gooseberry Patch