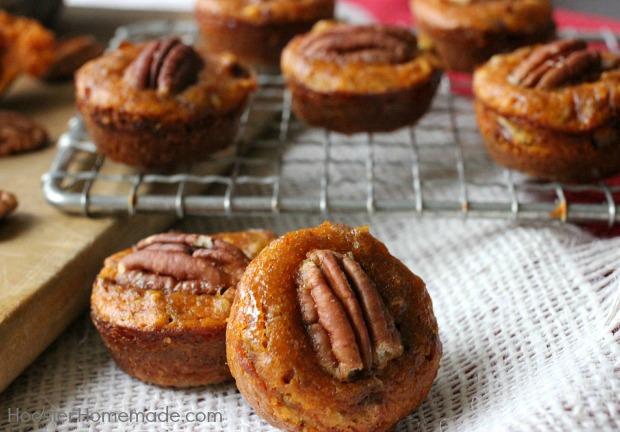 Just like a regular pie, except in bite size pieces for you to enjoy even more! These Pumpkin Pecan Pie Bites have the delicious holiday flavors of rich pecans and flavorful pumpkin, on top of a buttery crust.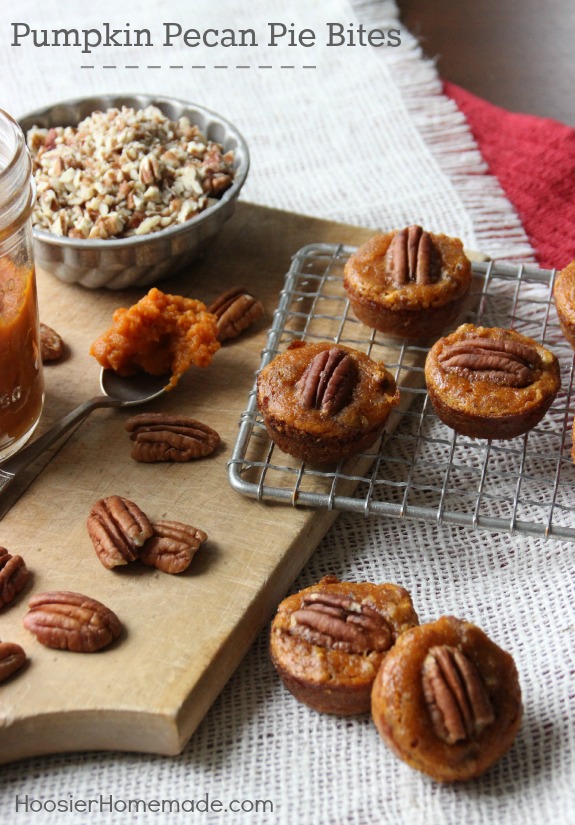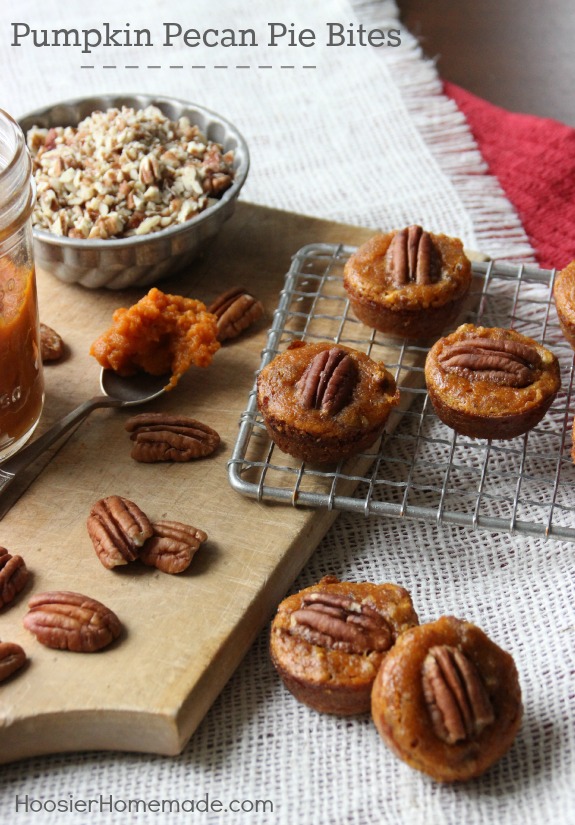 There once was a lady who didn't like pumpkin. She wouldn't eat pumpkin pie at all, and could really take or leave any desserts that had pumpkin in them. But as time passed, the lady grew to love pumpkin desserts. And now – well she still doesn't really enjoy a typical pumpkin pie, but these Pumpkin Pecan Pie Bites – well they are a different story. I – oh I mean the lady – adore these delicious bites of pie.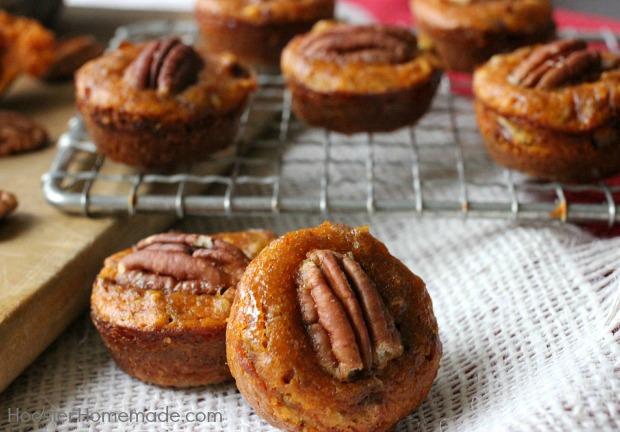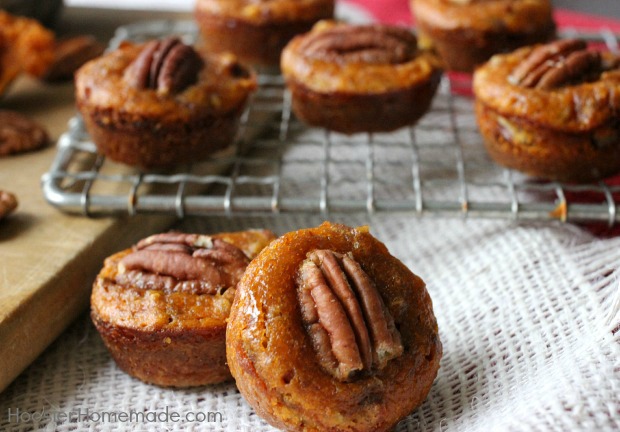 There's something about the addition of pecans to this pumpkin pie filling that took the recipe over the top. There are pecans in the filling but also in the crust and on top.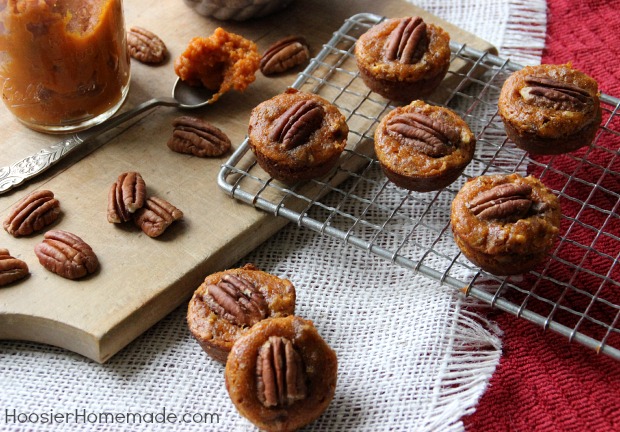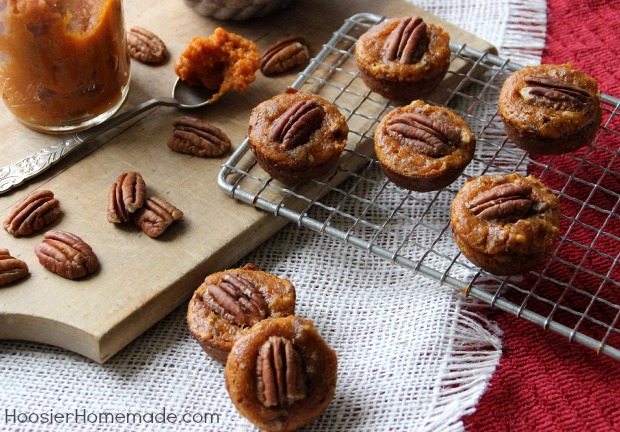 Not only are these Pumpkin Pecan Pie Bites delicious, they are also really easy to make. They start with a crust on the bottom made with the normal pie crust ingredients – flour, sugar, salt, butter and cold water – except for the addition of pecans.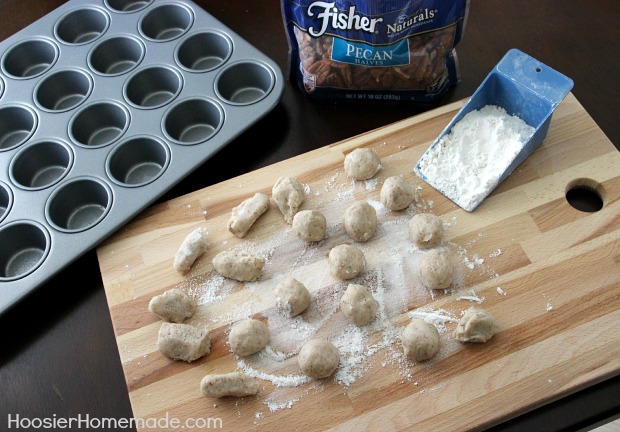 The dough gets mixed in the food processor, which is super easy, then cut into 24 pieces and rolled into balls. Add each ball to the mini muffin tin, and press down lightly with a tart shaper until the dough fills the bottom is covered. Then into the oven for the first part of the baking.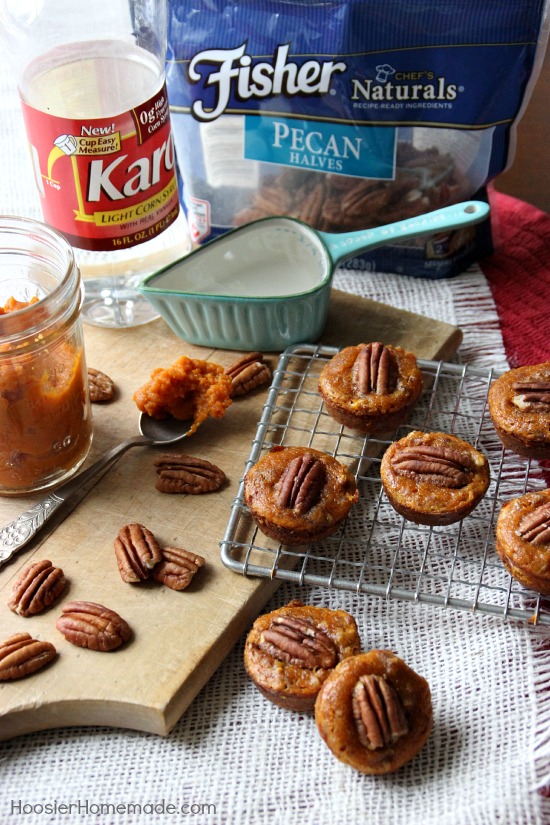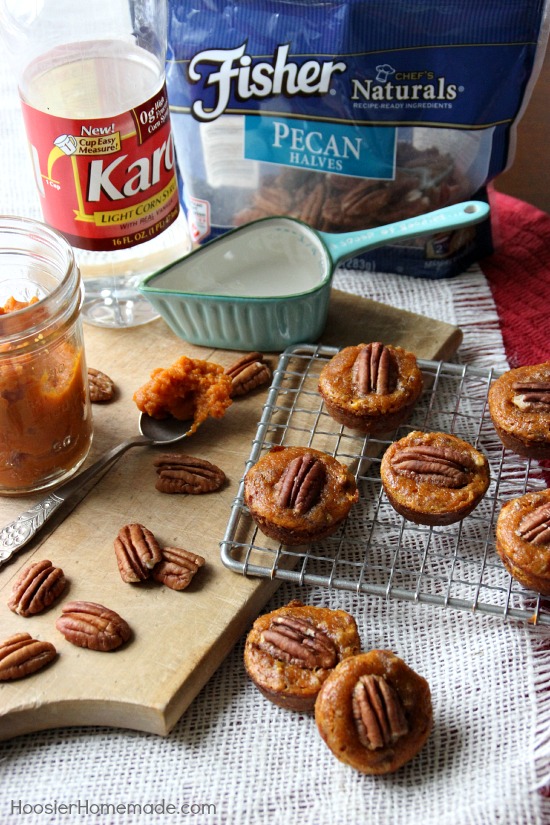 Then it's time to add the filling – KARO corn syrup, pumpkin, pecans, eggs, sugar and vanilla – come together quickly. Spoon on top of each crust, then top with a pecan half. And back into the oven they go.
Fisher Nuts and Karo Corn Syrup are teaming up for a third year to share holiday recipes with you. The five new recipes include: Oatmeal Butterscotch Cookies,Sweet & Crunchy Snack Mix, Spiced Cranberry Walnut Tart, Walnut Shrimp Poppers with Citrus Sauce, and Strawberry Chocolate Tartlets.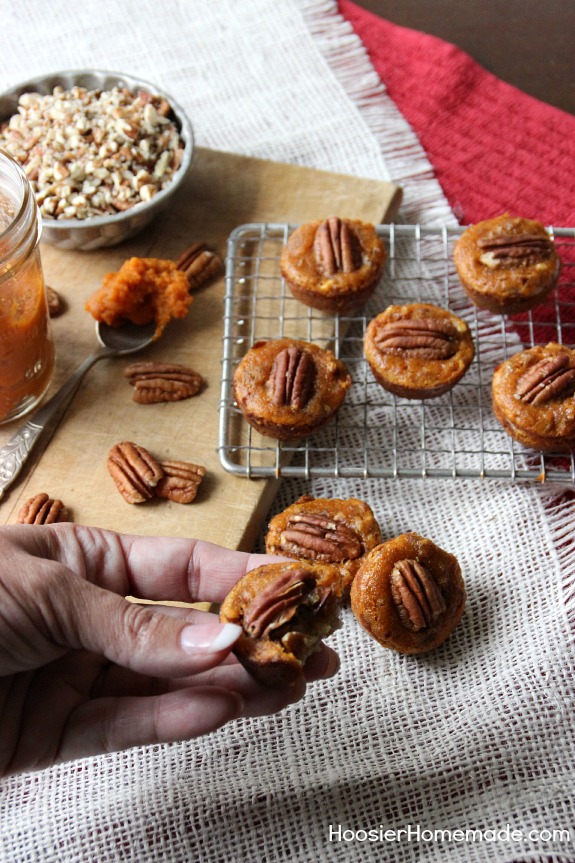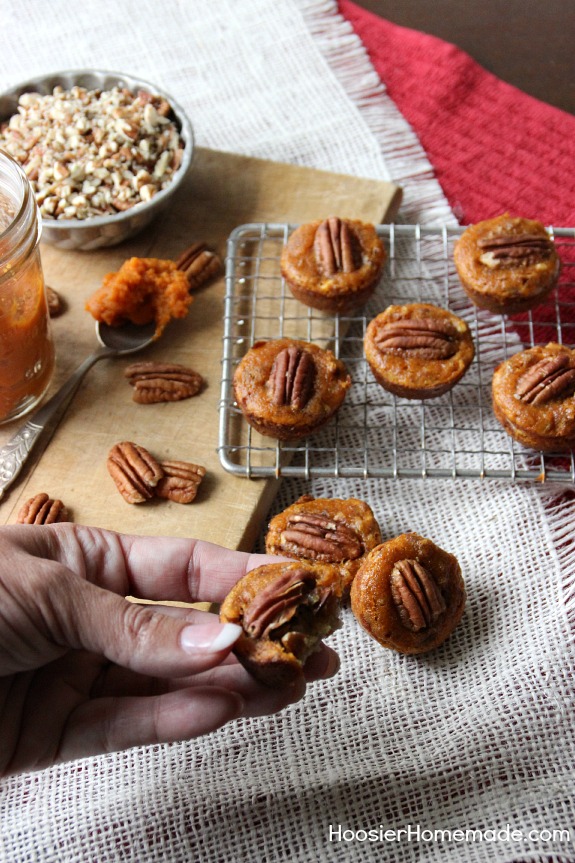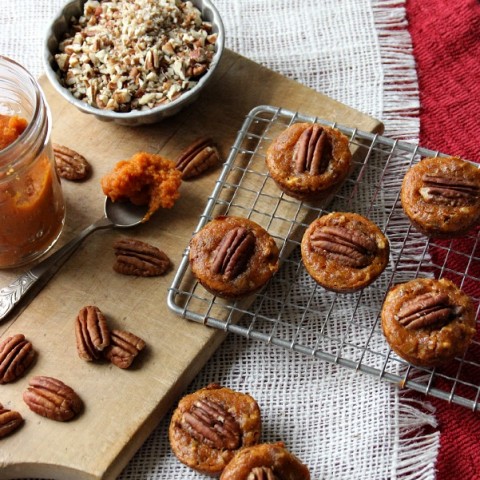 Pumpkin Pecan Pie Bites
Here's a new spin on Pumpkin Pie that everyone will love! These Pumpkin Pecan Pie Bites are easy to make and go together quickly! Recipe on HoosierHomemade.com
Ingredients
Crust
1/4 cup pecans, chopped roughly
1/4 cup sugar
3/4 cup flour, all-purpose + a little for shaping dough
1/2 teaspoon salt
6 tablespoons butter, cold
2-3 tablespoons ice cold water
Filling
1 egg + 1 egg yolk
1/2 cup KARO syrup, light or dark - I used light
1/2 cup pumpkin, canned - not pumpkin pie filling
1 tablespoon sugar
1/4 cup pecans, chopped finely
24 pecan halves
Instructions
Crust
Preheat oven to 350 degrees. Spray Mini Muffin Tin really well with non-stick cooking spray
In the food processor, pulse together pecans, flour, sugar and salt
Gradually add butter, a couple pieces at a time until dough is course
Gradually add ice cold water until dough comes together slightly
Dust counter with a little flour, and shape dough into ball
Divide into 24 equal pieces, roll into balls
Place each ball in mini muffin tin and press down lightly with a tart shaper or spoon until bottom is covered
Bake at 350 degrees for 12-15 minutes or until golden brown
Filling
Meanwhile, in a medium bowl, combine filling ingredients except pecan halves
Remove crust from oven, spoon 1 tablespoon of filling on top of crust, add a pecan half to each
Return to oven and continue baking for 12-15 minutes or until filling is set
Cool in pan. Store in airtight container.
Notes
I used an offset spatula to loosen the pie from the edges of the pan. Then gently slide the spatula under the pie and lift out.
Visit Fisher Nuts for more recipes, follow them on Facebook and Pinterest for more recipes!