Pumpkin Cranberry Cookies with Maple Frosting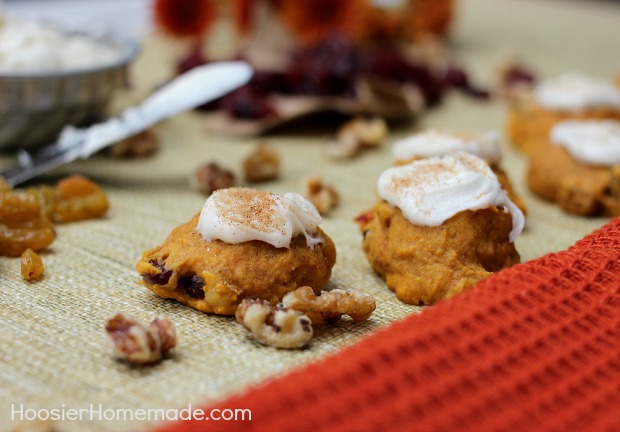 Pumpkin Cookies – ah – but these are not your ordinary Pumpkin Cookies, these are packed with flavor from cranberries, golden raisins and walnuts. They are the perfect Fall treat. Be sure to add the Maple Frosting, it totally sends the cookie over the top!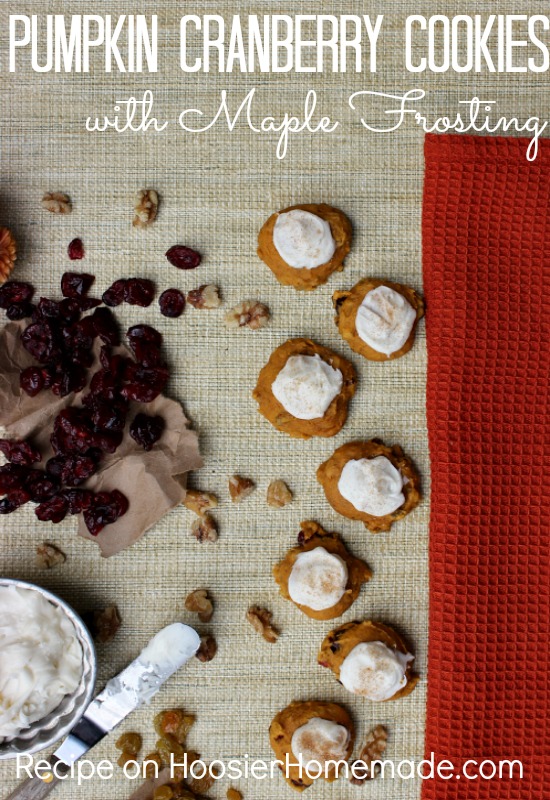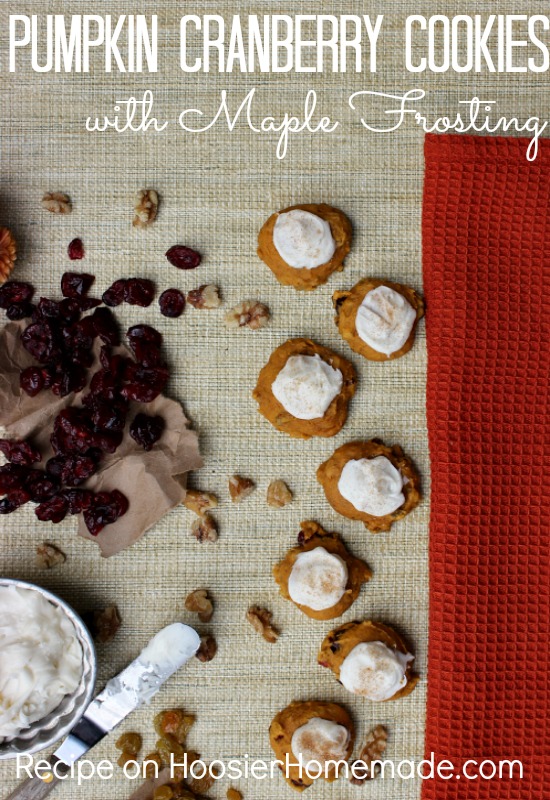 All this week we have teamed up with ALDI to share Fall Recipes with you. On Monday we shared a delicious, One Dish Dinner – Barbecue Chicken and Rice, and did you see the Apple Crumble Cupcakes?  They are so good!  And yesterday we shared Slow Cooker Enchiladas, the perfect recipe to stretch your grocery budget.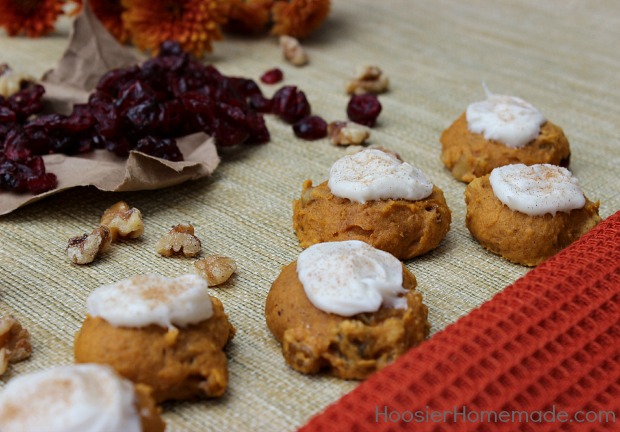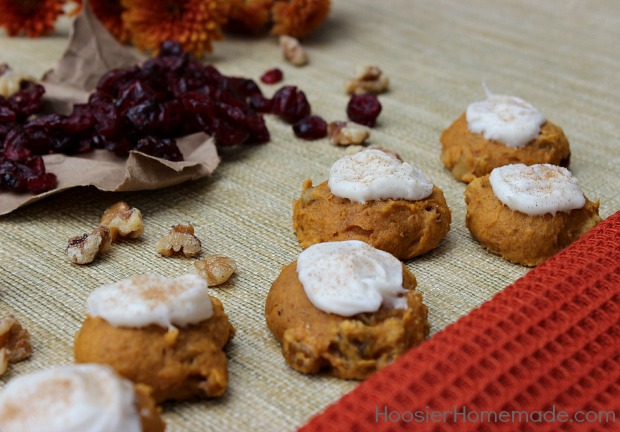 These Pumpkin Cookies are a favorite each time I bake them. When Nick was in football, I used to always bake for the team and the cookies were always requested. They are great for bake sales, gifts, to serve at a Fall Party or just snack on them.
The ingredients are like most cookies – flour, sugar, butter, eggs, etc. With the addition of raisins, dried cranberries and walnuts. This was the first time I have tried the Golden Raisins, and I really liked their flavor in the cookie and to snack on.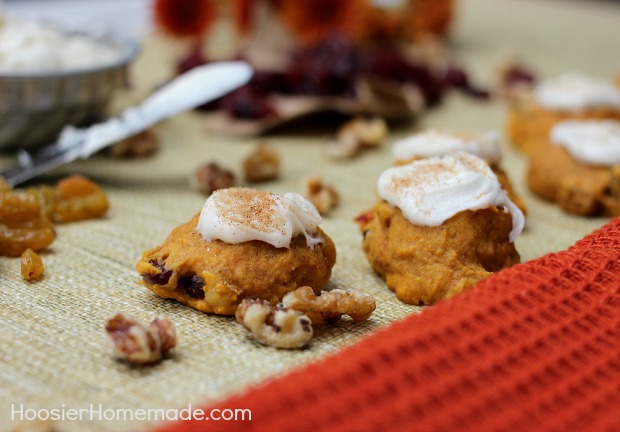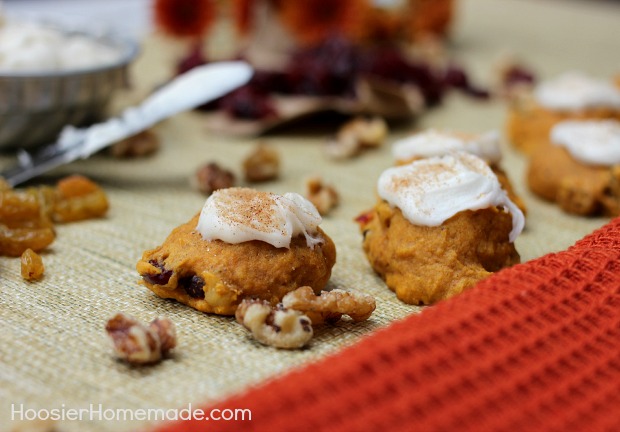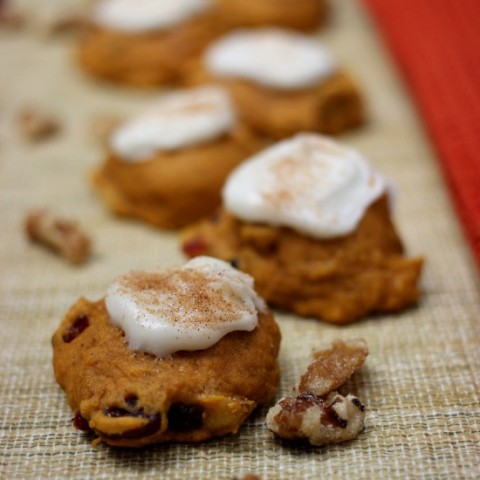 Pumpkin Cranberry Cookies with Maple Frosting
Moist cookie packed with flavor. Recipe from HoosierHomemade.com
Ingredients
Pumpkin Cookies
1/2 cup (1 stick) Countryside Creamery Unsalted Butter, softened
1 1/4 cup Baker's Corner Brown Sugar, packed
2 Eggs
1 teaspoon Stonemill Essentials Pure Vanilla Extract
1 1/2 cups (1 can) Baker's Corner 100% Pure Canned Pumpkin
2 1/4 cups Baker's Corner All Purpose Flour
4 teaspoons Baker's Corner Baking Powder
1/2 teaspoon Stonemill Essentials Ground Cinnamon
1/2 teaspoon Stonemill Essentials Nutmeg
1 cup Southern Grove Golden Raisins
1 cup Southern Grove Dried Cranberries
1 cup Southern Grove Walnuts, chopped
Maple Frosting
3 tablespoons Countryside Creamery Unsalted Butter, softened
2 cups Baker's Corner Powdered Sugar
1-2 tablespoons milk
1 tablespoon Maple Syrup
Cinnamon/Sugar Sprinkle (optional)
1/4 cup Baker's Corner Granulated Sugar
1 tablespoon Stonemill Essentials Ground Cinnamon
Instructions
Cookies
Preheat oven to 350 degrees.
In a large bowl, cream butter and sugar, then add the eggs. Mix well.
Add vanilla and pumpkin.
Sift dry ingredients, then blend into the wet ingredients.
Fold in the raisins, cranberries and nuts. Mix well.
Drop by teaspoon onto a greased cookie sheet, bake for 10 -15 min. Cool completely
Frosting
Cream the butter until fluffy, gradually add the powdered sugar alternating with milk, beat well after each addition
Cream in the maple syrup until frosting is desired consistency
This recipe does not make a lot of frosting but you will use only a small amount on each cookie
Frost cookies and sprinkle with cinnamon sugar mixture, if desired