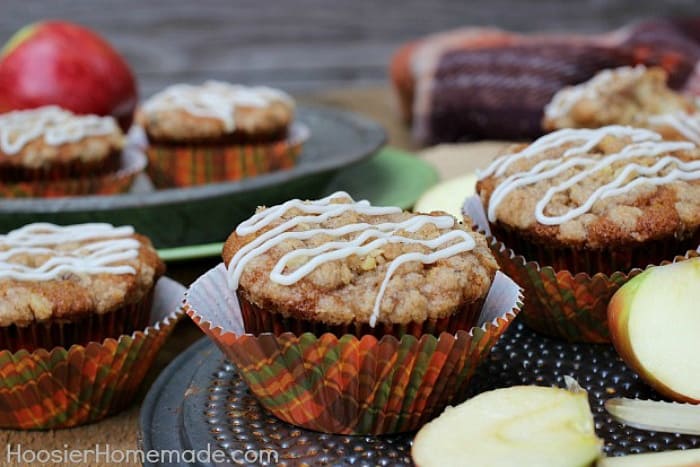 Fall is my favorite time of year to bake! Yes, I love Christmas, but I find that will all the hustle of bustle of the holiday season it's hard to find time to bake. And let's face it, with all the amazing flavors – pumpkin, cinnamon, apples and more – it's the perfect time.
These Apple Crumble Cupcakes are a little different from the typically cupcake with frosting. But I think they are a nice change of pace, then you don't have to feel guilty when you have one for breakfast!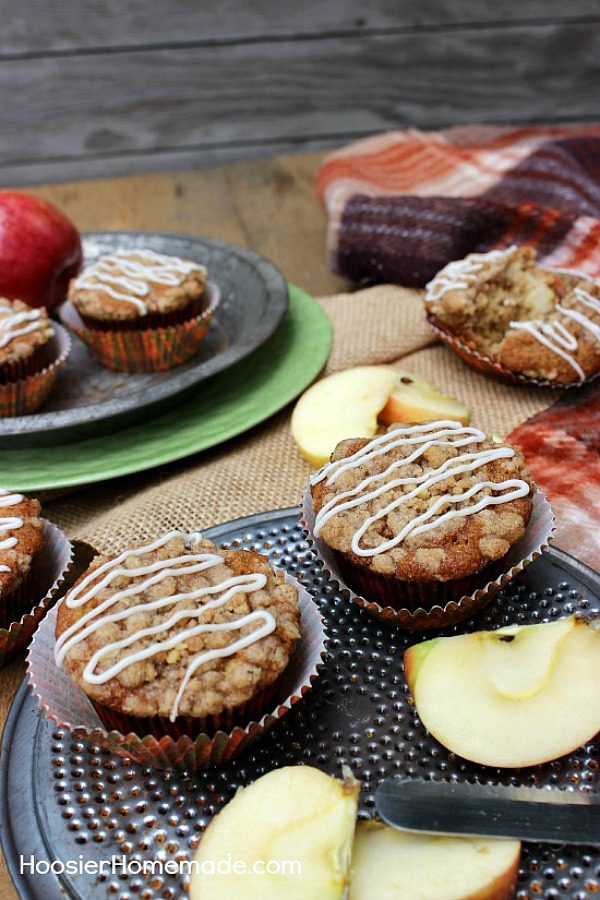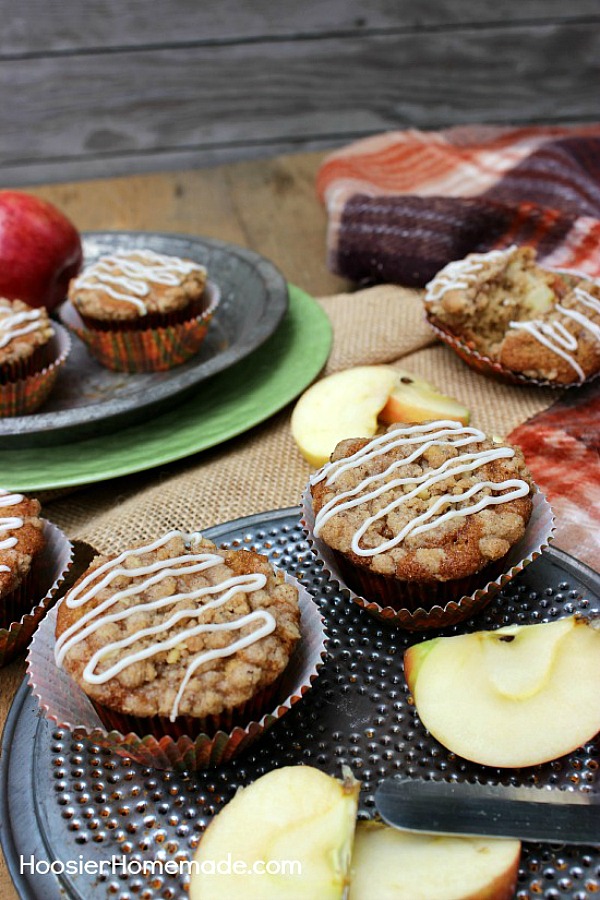 Happy Cupcake Tuesday! I'm so excited you are here! Looking for a cupcake recipe? Be sure to check out the Cupcake Heaven page, there are over 300 cupcake recipes and decorating ideas!
The combination of chopped apples and applesauce makes these Apple Cupcakes moist and flavorful. The crumble topping adds a bit of crunch that pairs perfectly with the cinnamon and nutmeg in the cupcakes.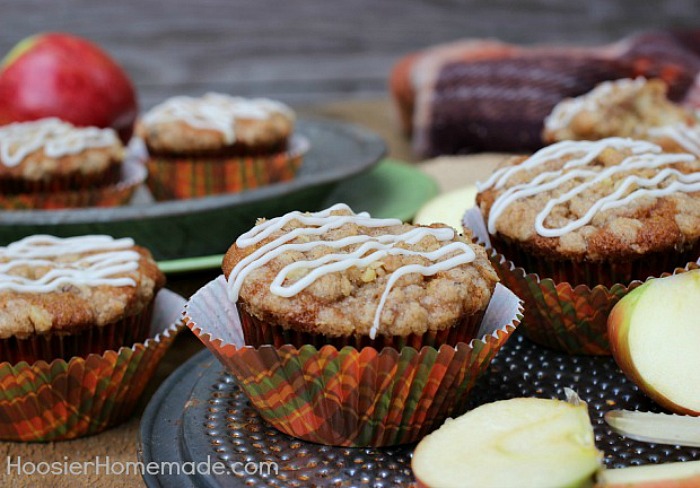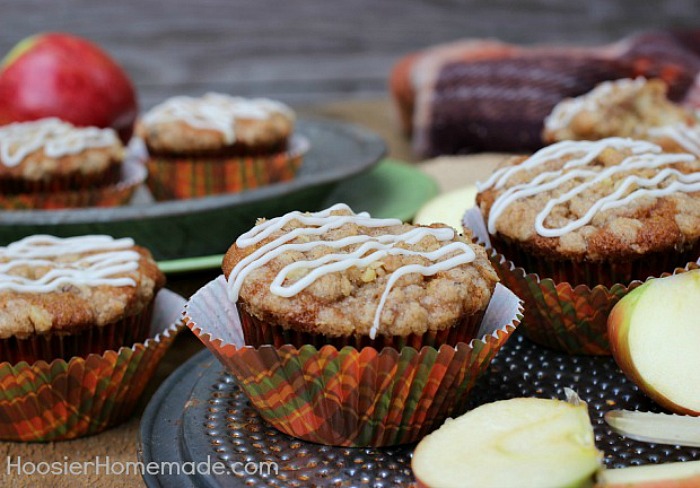 Don't let the list of ingredients scare you, these Apple Crumble Cupcakes go together easily.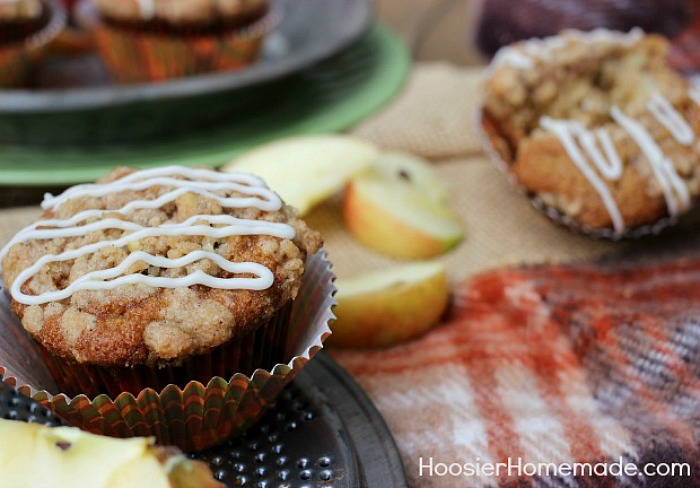 The addition of the glaze to the top was perfect, not overpowering with frosting, and just a little sweetness to finish them off.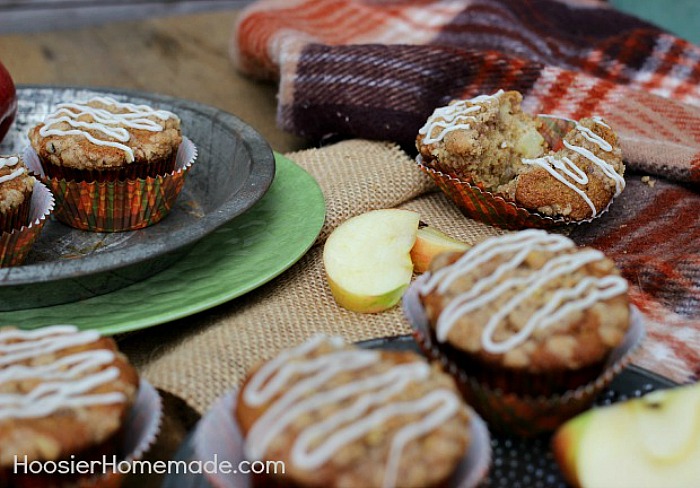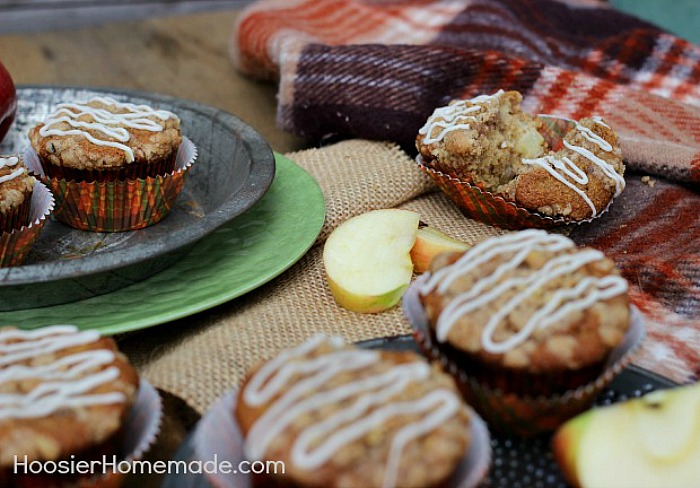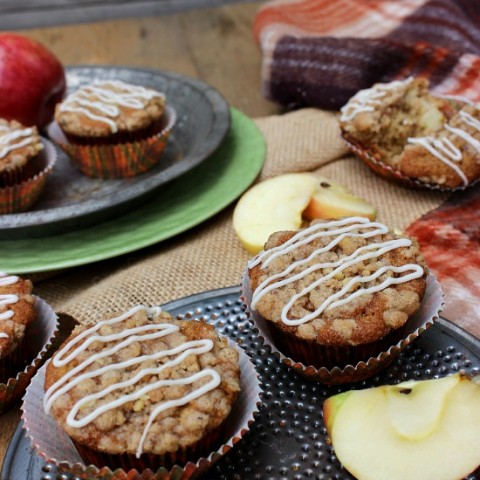 Apple Crumble Cupcakes
Yield: 12

Prep Time: 10 minutes

Cook Time: 15 minutes

Total Time: 25 minutes

Moist cupcakes filled with apples, applesauce and nuts.
Ingredients
3 tablespoons Unsalted Butter, softened
1/2 cup Granulated Sugar
1/4 cup + 2 tablespoons Brown Sugar, packed
1 large egg
1/2 teaspoon Vanilla Extract
1 cup + 2 tablespoons All Purpose Flour
1/2 teaspoon Baking Soda
1/2 teaspoon Baking Powder
1/4 teaspoon Salt
1/2 teaspoon Ground Cinnamon
1/8 teaspoon Nutmeg
3/4 cup Applesauce
1 cup apples, diced, any variety is fine, I used Honeycrisp
Crumble Topping
1/2 cup All Purpose Flour
1/3 cup Brown Sugar, packed
1/4 cup Nuts (walnuts or pecans)
1/2 teaspoon Ground Cinnamon
3 tablespoons Unsalted Butter, softened
Glaze
1 cup Powdered Sugar
1 tablespoon milk
Instructions
Preheat oven to 350 degrees. Place cupcake liners in muffin tin. This recipe makes 12 cupcakes, if you need more, you can easily double the recipe.
Combine the ingredients for the crumble topping and set aside
In a measuring cup or small bowl, whisk together dry ingredients, flour, baking soda, baking powder, salt and spices, set aside
In a large bowl, beat butter and sugars until light and fluffy
Add the egg, and then the vanilla, beat until well combined
Measure applesauce, set aside
Add half of the dry ingredients, alternating with the applesauce
Peel, core and chop apples into small pieces, fold into batter
Divide batter into liners adding about 1/4 cup each. Sprinkle with crumble topping and pat down slightly
Bake at 350 degrees for 12-15 minutes or until a toothpick inserted in the center comes out clean. Cool completely
Combine glaze ingredients in a small bowl, you may need to add a little more milk if the mixture is too thick.
Drizzle over cupcakes