The Power of 3! Are you a numbers person? How about a list making person? I am actually both. The Power of 3 is a very simple method to organize your life. Just 3 things a day to take back control.
As we begin the new year, we are all looking for ways to get organized including ourselves. Over the last couple of years, we have gotten so busy with work and life that we have really let things slip out of control. Now, don't get me wrong, I love to be busy, but I also love to be organized and I love my home to run like a well oiled machine.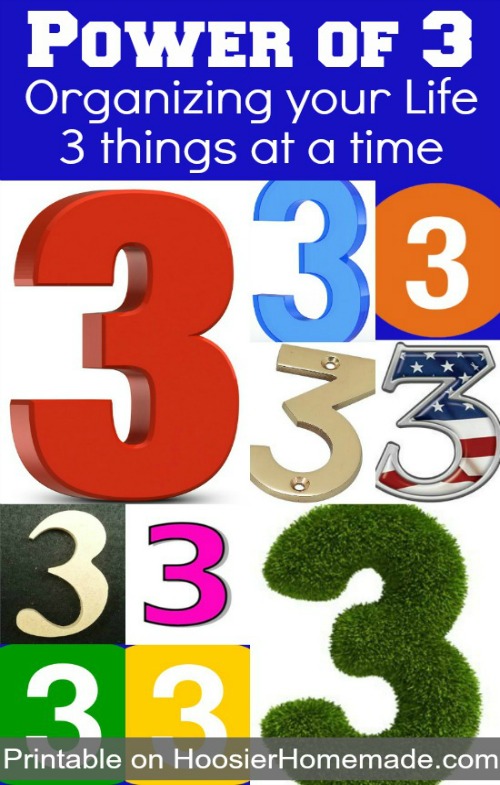 For many years I searched for a simple method to organize our lives, whether it was Household Chores, Business or even Personal Goals. Several years back, I started using the Power of 3 method after hearing our Youth Pastor speak about numbers in the Bible.
It's quite interesting how the number 3 is very important. It is the first of four perfect numbers, meaning Divine. Number 3 denotes Divine Perfection. Many times during Scripture in the Bible, different things or people are mentioned 3 times. You can read more about the number 3 and other numbers in the Bible, here.
So it only made sense to bring the Number 3 into our everyday lives.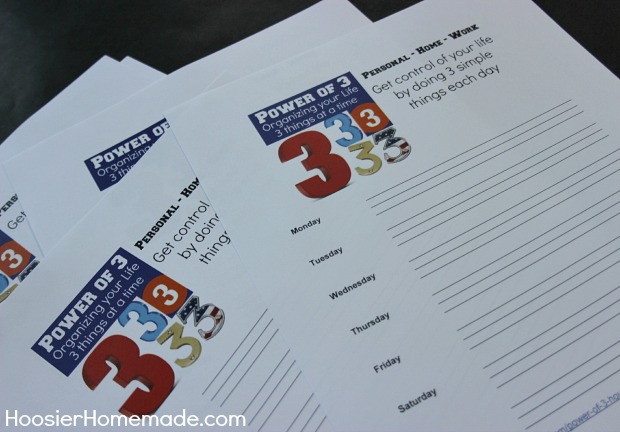 Simple – Easy – Doable – is exactly what I was looking for.
With 3 boys in the house, I can't even begin to tell you the number of times that I have tried a workable chore list for my family. The boys all needed to learn how to take care of themselves and the house, it was time to implement the Power of 3.
And my husband and I needed to simplify our lives. This year it's all about "Systems."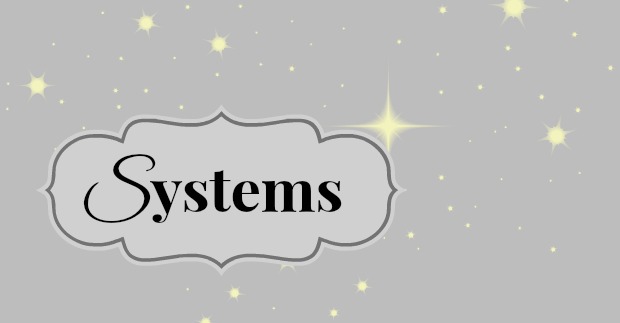 Do you chose a word of the year? We have, for a few years now, and it's very interesting to look back on the year and remember the changes that have happened to your life and how the word that you chose has effected it.
Systems – our chosen word for 2014! We WILL get organized and have time to enjoy life and all that it has to offer. And so, part of that is creating our Power of 3.
I suppose life simply got in the way and we got away from using the Power of 3, I'm not really sure why because it really did make life much easier.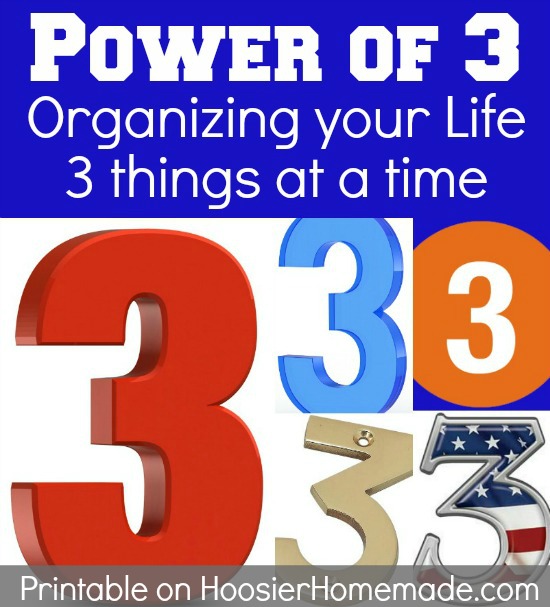 Everyone's list will be different, of course, perhaps you need to concentrate on getting your home organized, or maybe moving your business forward, or even teach your children how to help with the house. Whatever you are looking for – let's take control of our lives together.
Here are some ideas to get you started…
Chores for Kids
Pick up bedroom
Take dirty clothes down to Basement
Put clean clothes away
Take hamper from Bathroom to Basement
Put away Toilet Paper
Put away clean towels
Unload Dishwasher
Take out Recycling
Empty trash can in Bathroom
Sweep floors
Vacuum stairs
Shovel sidewalks
Mow grass
Personal Goals
Exercise
Read
Play a game with the family
Beauty (a few minutes to paint your nails or more time to take care of yourself)
Home Goals
Business Goals
Editorial Calendar
Learn more about Google+
Schedule videos for the future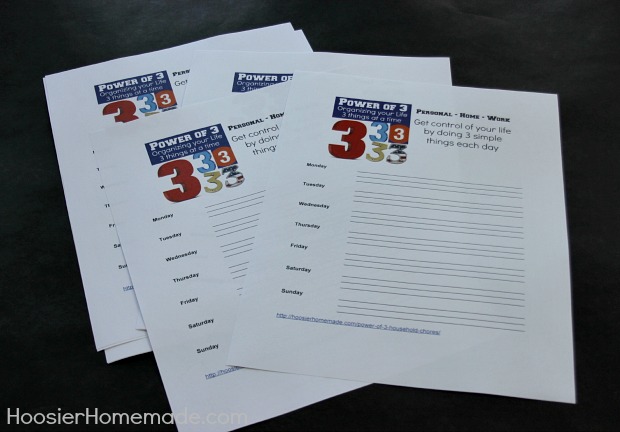 To get you started I've designed this printable for you.

After you click to download, save the PDF to your computer or flashdrive and print as many as you need for your family.
We have one for each family member, one for the house and one for the business.