Chocolate Mousse with Chocolate Covered Cherries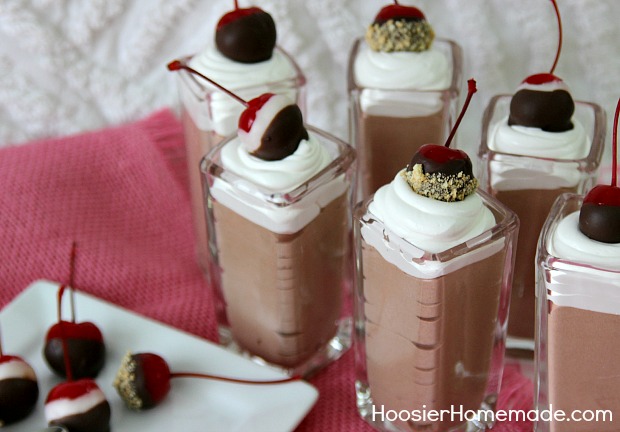 Whether you are hosting a dinner party or simply serving your family a weeknight meal, it's always fun to have a special treat that doesn't take a lot of time to make.
I'm a huge fan of dessert that looks impressive but takes only minutes to make. And this Chocolate Mousse with Marshmallow Topping and Chocolate Covered Cherries is sure to get rave reviews from your family or guests.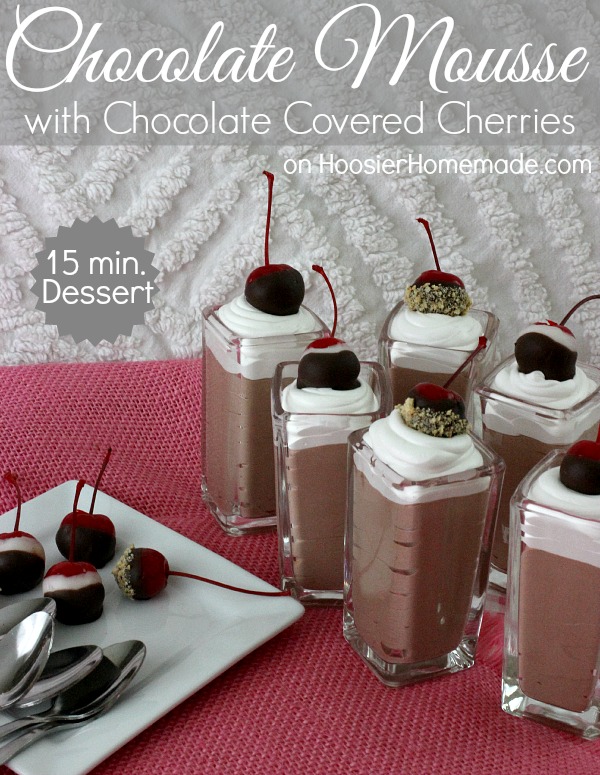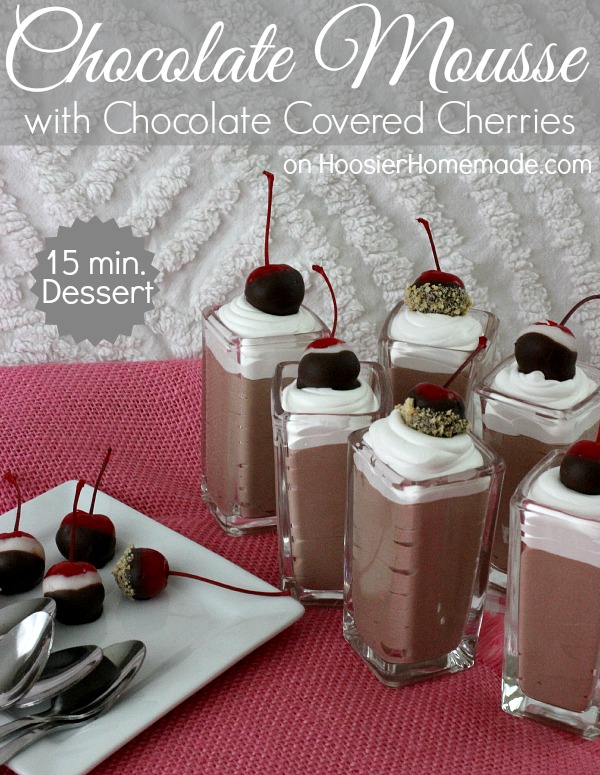 I'm honored to be a part of the 2013 Kraft Tastemaker Community, I am teaming up with Kraft Foods to share with you recipes using everyday ingredients that are sure to please your family!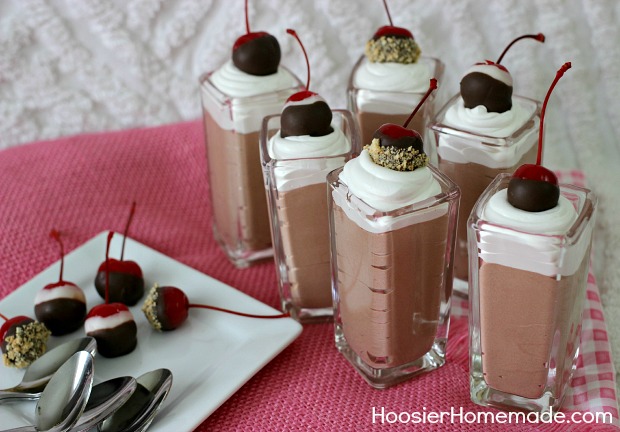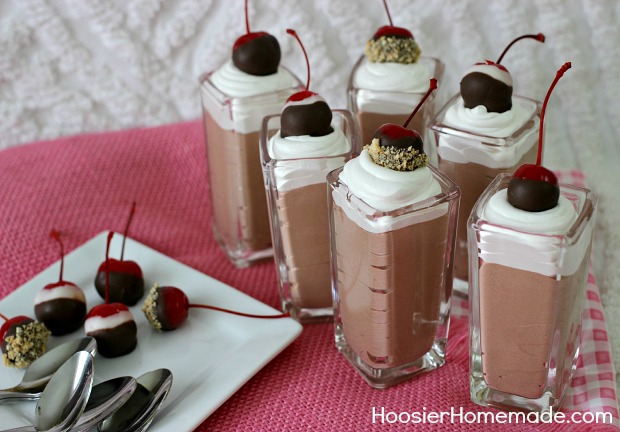 Served in small individual glasses, Chocolate JELL-O Pudding mixed with COOL WHIP Whipped Topping is the simple base of this delicious dessert. Then topped with a mixture of JET-PUFFED Marshmallow Creme and the rest of the COOL WHIP Whipped Topping. To give the Mousse a very special finish, Maraschino Cherries dipped in Chocolate for the finale!
Learn how to make easy Chocolate Covered Cherries in less than 10 minutes!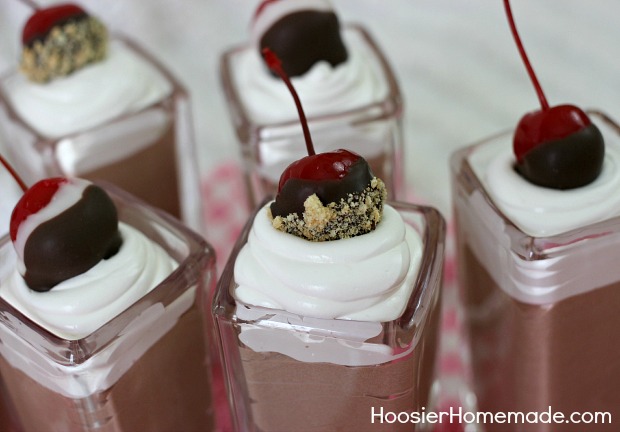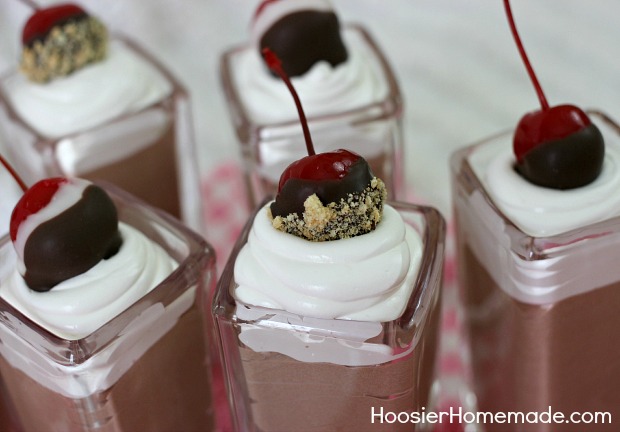 Individual desserts are all the rage now. You can use any type of glass container you have. Shot Glasses, Bowls, Mini Mason Jars and more are sold at Party Stores or Department Stores and available in glass or plastic, in all shapes and sizes. I shared a few ideas with you on the 5 Minute Dessert video.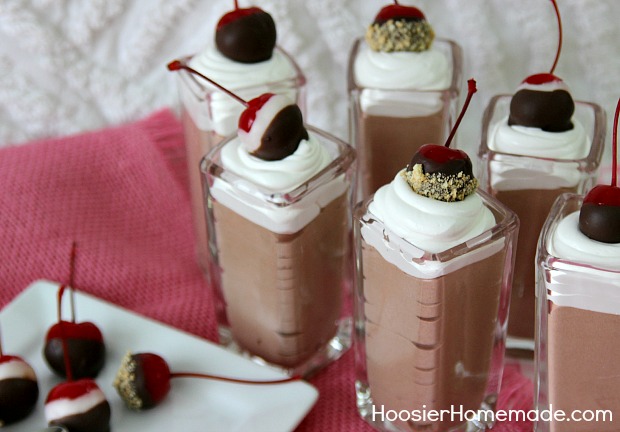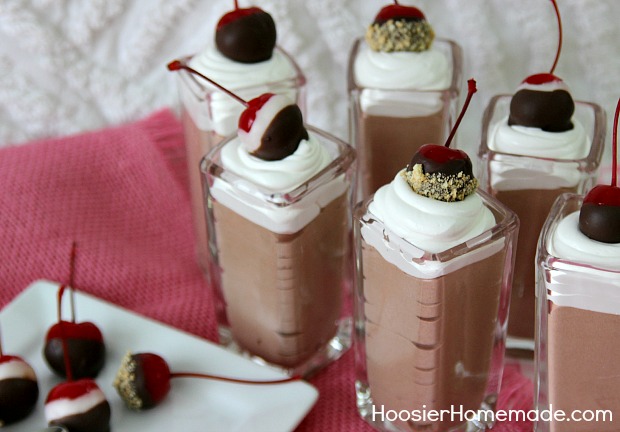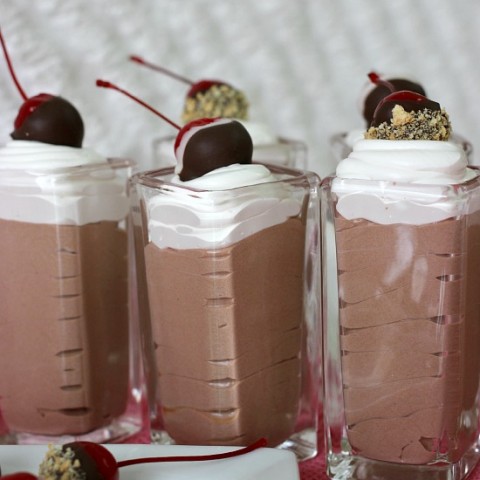 Chocolate Mousse with Chocolate Covered Cherries
Dress up that box of plain chocolate pudding with this Chocolate Mousse with Chocolate Covered Cherries Recipe from HoosierHomemade.com.
Ingredients
Chocolate Mousse
1 small box instant Chocolate JELL-O Pudding
2 cups milk
1 cup COOL WHIP Whipped Topping
Topping
1 cup COOL WHIP Whipped Topping
1 container (7 oz.) JET-PUFFED Marshmallow Creme
Chocolate Covered Cherries
Maraschino Cherries with stems
1 Block Melting Chocolate {I use Almond Bark found in the baking aisle}
1 Block White Melting Chocolate {again Almond Bark}
Graham Crackers, finely crushed, optional
Instructions
MIX pudding and milk in a medium bowl according to directions on box
PLACE in refrigerator until set, about 10 minutes
FOLD in COOL WHIP Whipped Topping and mixture is completely combined
BEAT ingredients for topping until smooth
FILL glasses about 2/3 full with Mousse. TIP – use a plastic resealable bag for smaller glasses
PLACE back in refrigerator
DRAIN and rinse cherries and pat dry. TIP – the chocolate will stick better if they are dry
MELT chocolate in microwave for 30 seconds, stir and heat additional time as needed
DIP cherry in chocolate and place on wax paper until set
REPEAT with remaining cherries adding white chocolate and graham cracker crumbs if desired
ADD Marshmallow Topping
TOP with Chocolate Covered Cherry
For more recipes visit KraftRecipes.com


Linking to…Gooseberry Patch