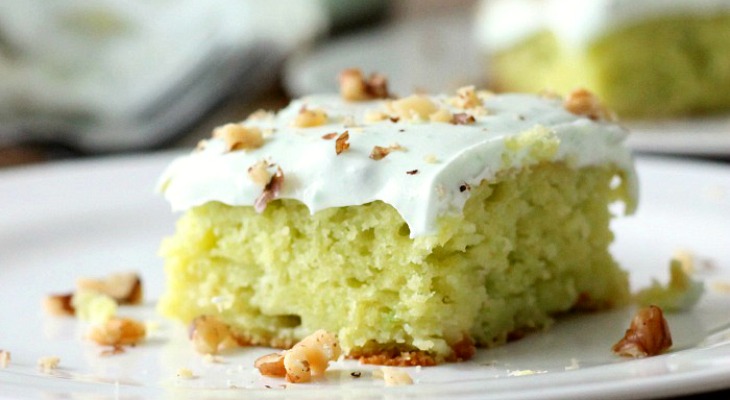 Spring has finally sprung and this Pistachio Pineapple Cake is the perfect way to welcome it…FINALLY!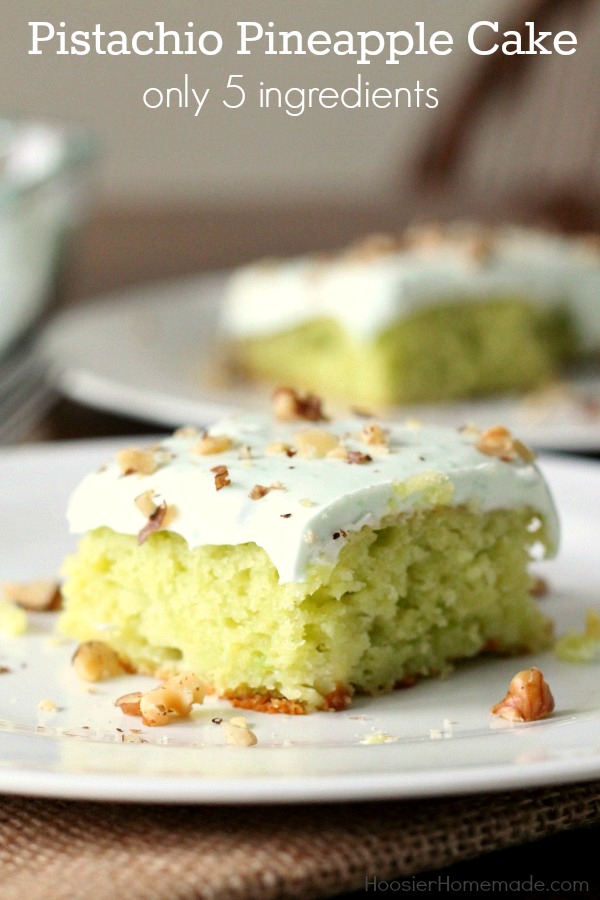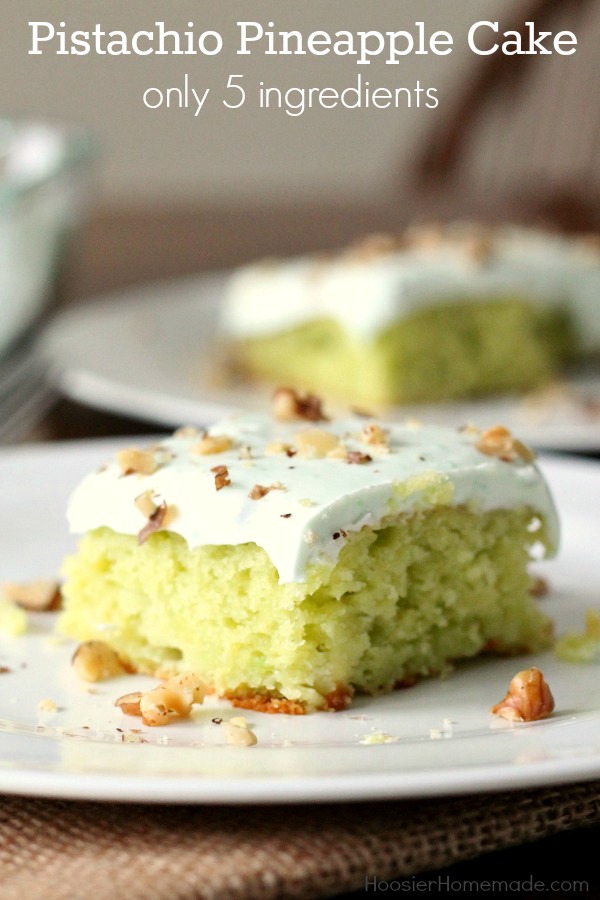 Hi there Hoosier Homemade fans! I'm super excited and thrilled to introduce you to Maria from Real Life Dinner. Maria has joined our team and will be sharing delicious, easy to make recipes with you. Today she has a yummy Pistachio Pineapple Cake that is perfect for Easter and Spring – really anytime! I can't wait to give it a try!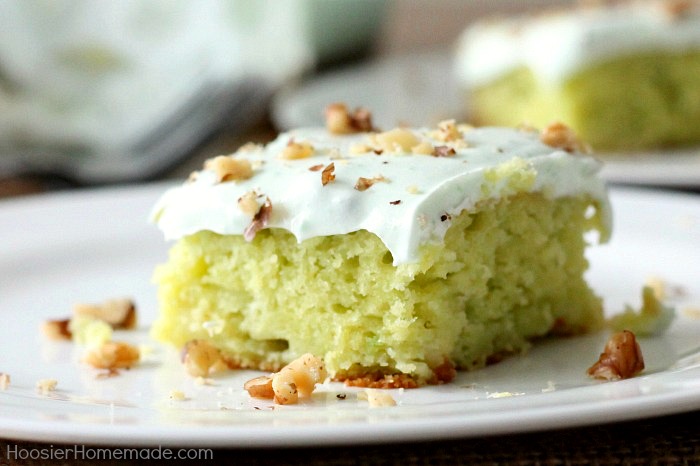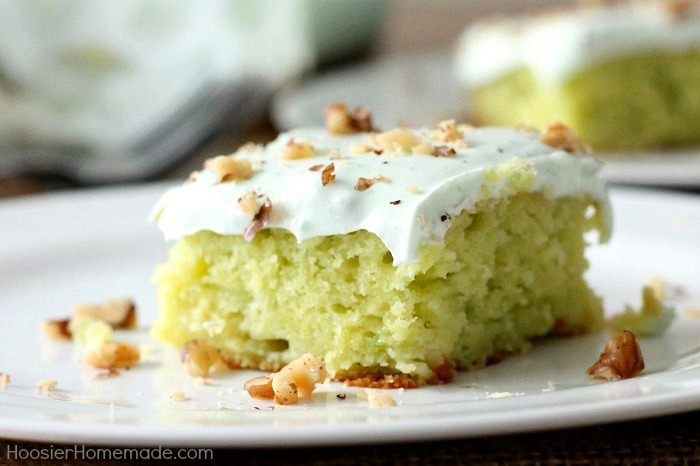 Pistachio and pineapple may seem like an unlikely pair, but if you've ever had Watergate Salad you know that is not true. They perfectly compliment each other.
The pineapple and pistachio pudding mix add incredible moisture to the cake and the whipped topping pistachio frosting is the perfect amount of creamy goodness to balance out this pretty cake.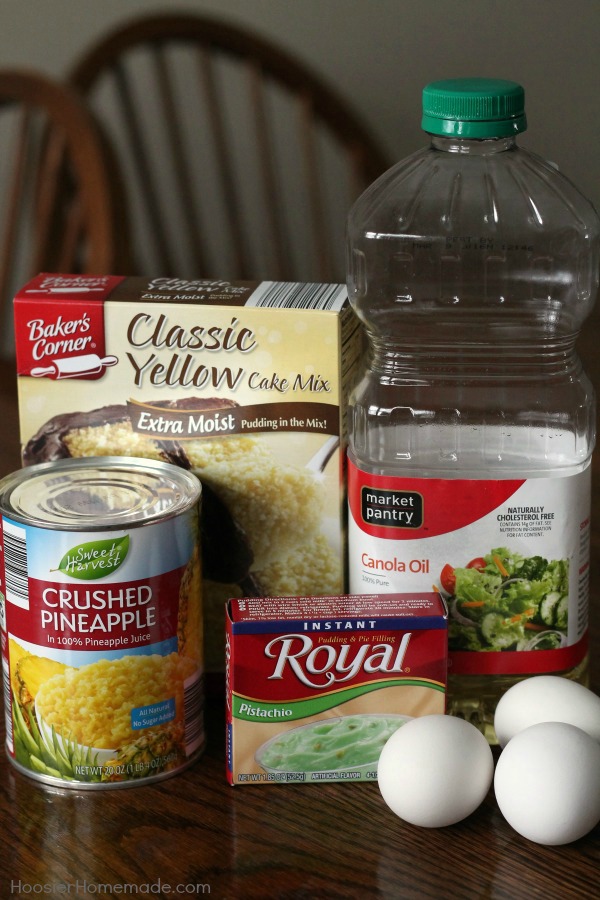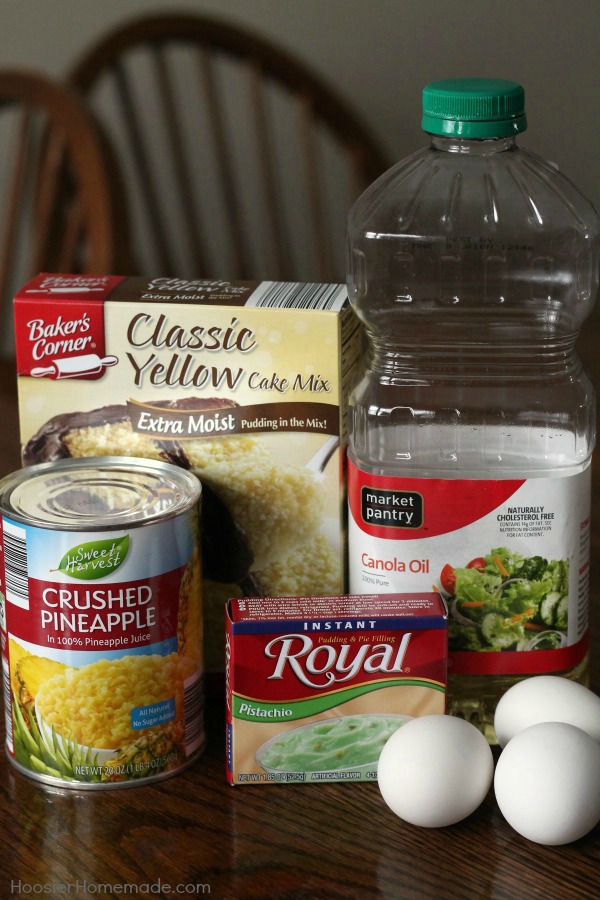 As a busy mom I love recipes that are made from ingredients I can keep on hand in my pantry and freezer. This Cake fits that bill and, even better, only takes minutes to mix up.
Pistachio Pineapple Cake is the perfect quick dessert for those days when you just want to be your family's hero and it's equally perfect for potlucks, spring holidays and basically any other excuse you can find to bake and eat cake.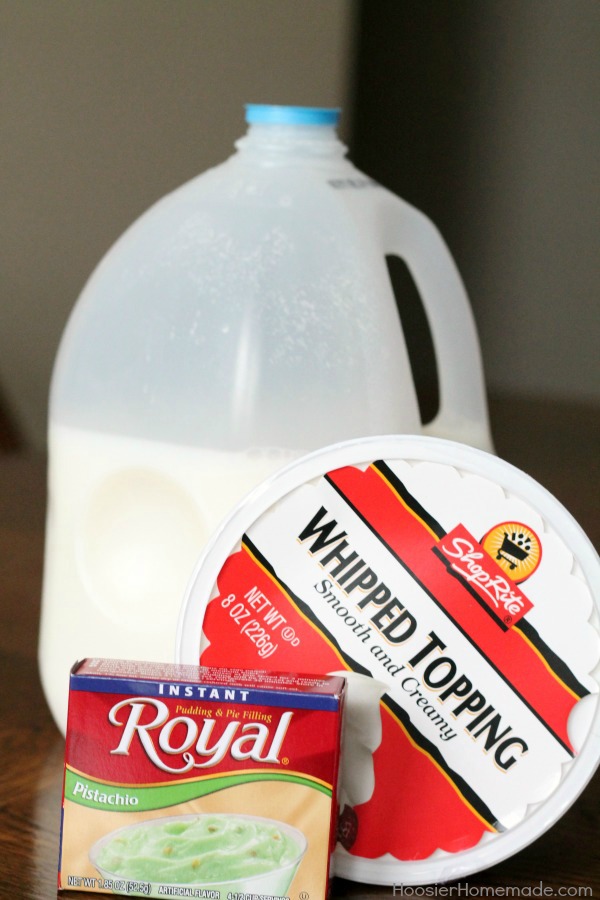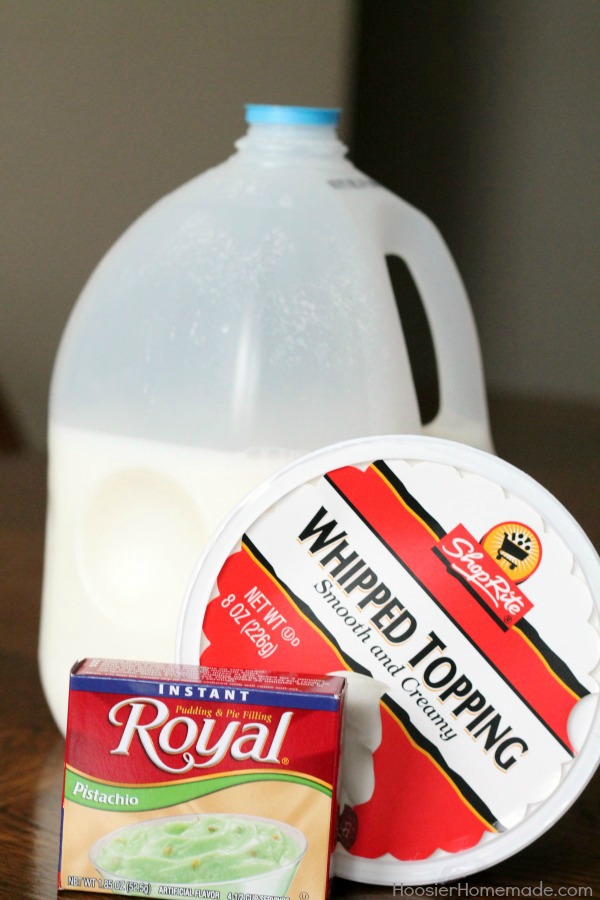 So, I didn't put it in the ingredients photo but, I have a little secret ingredient I like to add to the frosting when I'm feeling crazy, which is basically all the time…..
It's a spoonful of sour cream. Skeptical? Don't be – just give it a try. The sour cream just gives it a tiny tiny zip, that makes you go, "mmmm….this taste amazing."
I'm a pretty big fan of the little zip a spoonful of sour cream can give to dairy based dessert…If you don't believe me try my favorite Coconut Cream Pie Recipe or my Amazing Fresh Strawberry Pie Recipe and you'll be a believer in no time!


Find Maria on her blog, Real Life Dinner. Follow her on Pinterest, Facebook, Instagram and Twitter.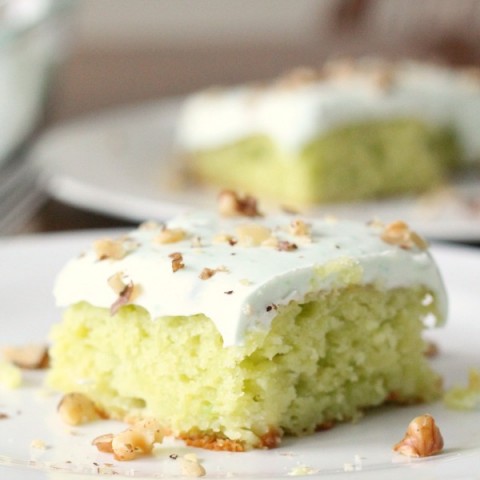 Pistachio Pineapple Cake
Delicious and moist cake made with just 5 ingredients and topped with a creamy frosting.
Ingredients
Cake
1 yellow cake mix
1 small box of pistachio pudding mix
1/2 cup oil, vegetable or canola
3 eggs
1 15 ounce can crushed pineapple, undrained
Frosting
1 1/4 cup milk
1 small package pistachio pudding mix
2-3 tablespoons sour cream
1 (8 ounce) package whipped topping
chopped nuts for garnish if desired
Instructions
Cake
Preheat oven to 350 degrees, Grease a 9x13 pan and set aside
Combine cake mix, pudding mix, oil, eggs and pineapple in a mixing bowl
Using a stand mixer or a hand mixer, mix cake on medium speed for approximately 2 minutes. Pour batter into greased 9x13 pan and Bake at 350 for 30-35 minutes or until a toothpick comes out clean.
Let cool completely before frosting
Frosting
Combine milk and pudding mix in a medium sized mixing bowl. (if you are going to get crazy and add some sour cream, this is the time to do it. Just a spoonful approx. 2-3 tbsp) Whisk for 1-2 minutes and let stand for 4-5 minutes.
Gently fold in the whipped topping and spread creamy pudding frosting evenly over cake.
Sprinkle with chopped nuts if desired. Refrigerate until you serve it.
Notes
Note: If your kids will freak out at the site of a small pineapple chunk, blend the pineapple up in your blender before mixing into the cake.
For more Cake Recipes, visit our Cake Page