Peanut Butter & Chocolate Chex Party Mix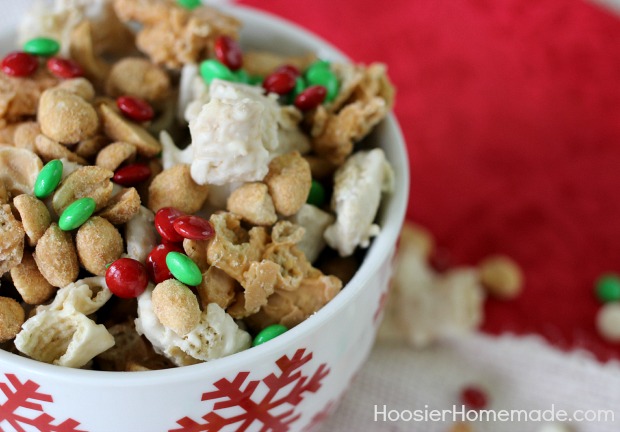 Chex® Party Mix is a long time favorite in our family! My Mother-in-law used to make 5 gallon containers for the family to enjoy during the Holidays. Chex has now gone beyond the traditional Party Mix, and created several 15 minute recipes for you to enjoy.
Peanut Butter and Chocolate is a popular flavor combination, so it only seemed natural to add it to the Chex® Party Mix!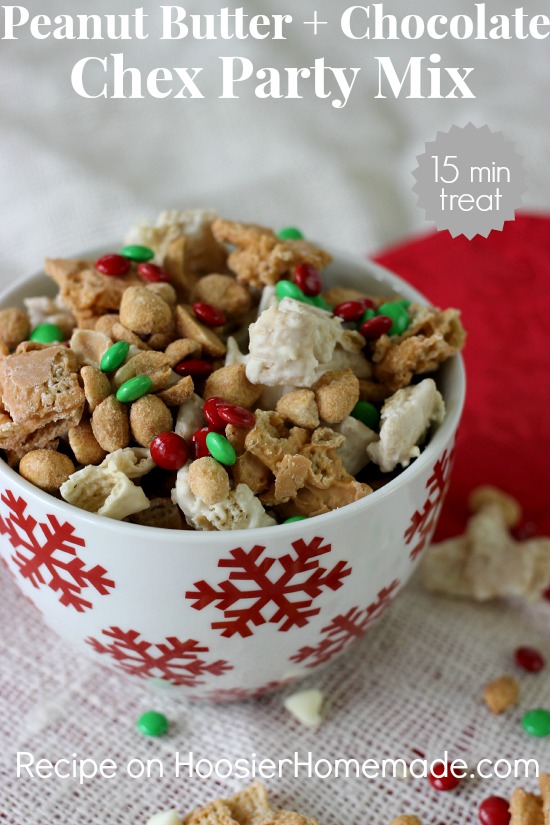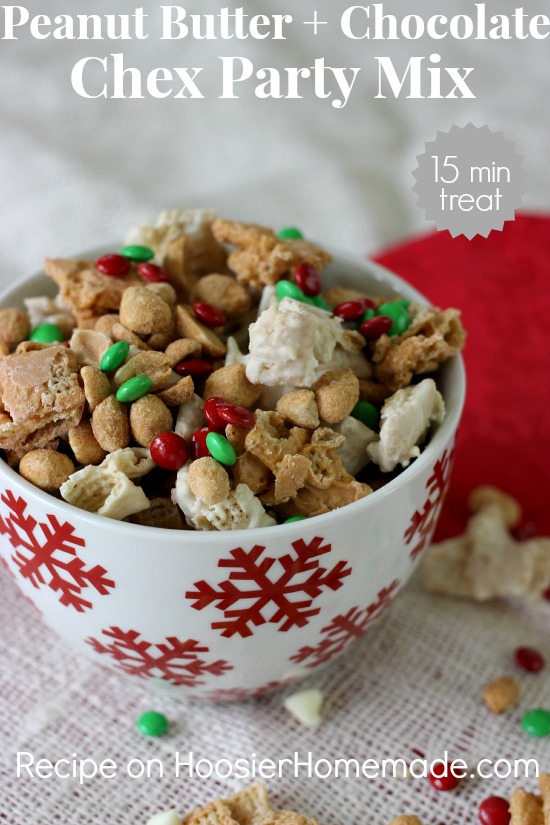 Chex® Cereal's signature light crunchy squares are the base for this easy 15 minute treat! Part of the cereal is coated with melted white chocolate chips and the other part with melted peanut butter chips. After it chills only 5 minutes, you toss it with peanuts and seasonal candy.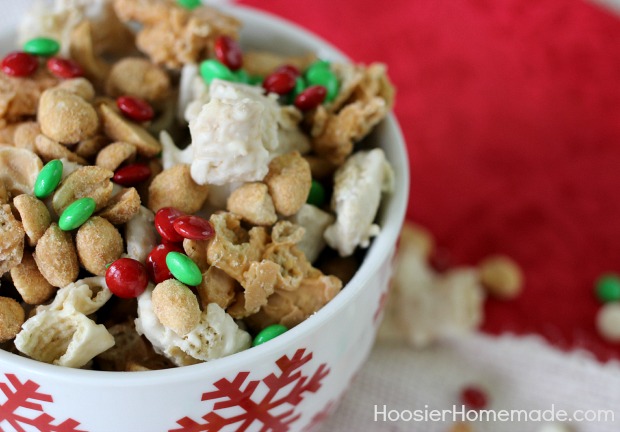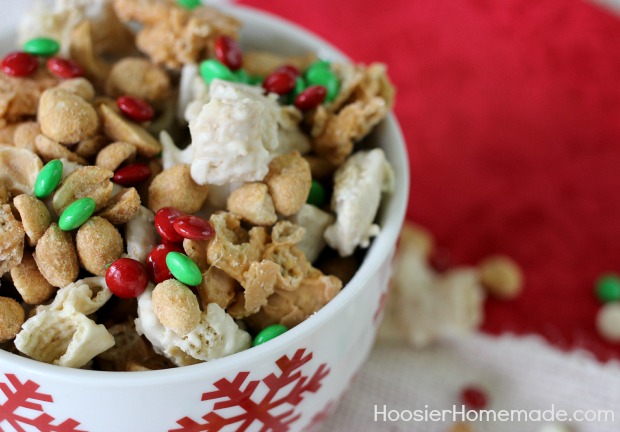 Some of the other recipes that caught my eye over on Chex.com were the Caramel Cookie Crunch, Buttery Trail Mix and Vanilla Muddy Buddies® mix,but there are lots to choose from.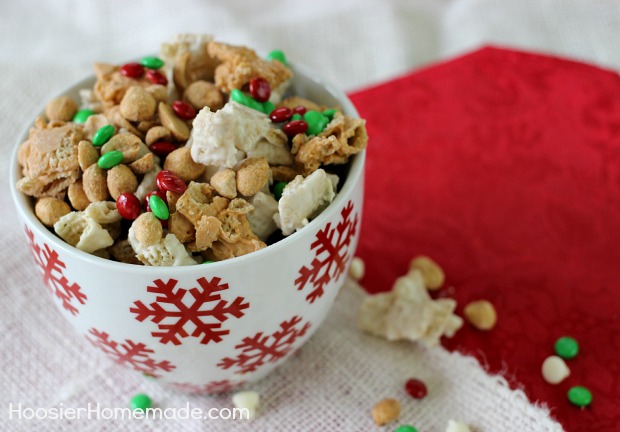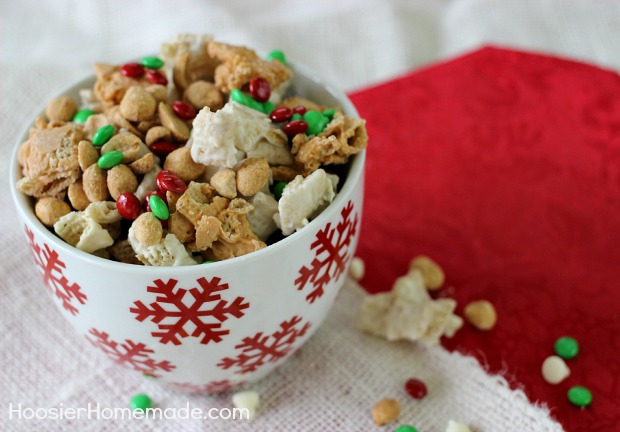 I love mixing up a batch of these easy treats to add to holiday dessert trays, fill in little Santa boxes for a special gift, or even some to enjoy while watching a movie. There are 8 great-tasting flavors – from Rice to Honey Nut to new Apple Cinnamon, so the flavor combinations are endless. And all Chex® Cereals have 8 grams or more whole grain per serving; at least 48 grams recommended daily.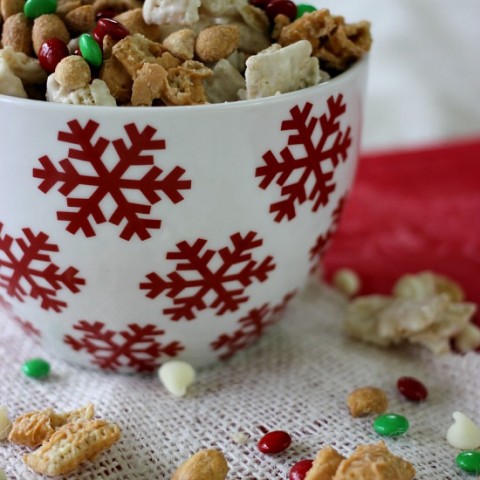 Peanut Butter & Chocolate Chex Party Mix
A quick treat to enjoy at home or give as gifts. Recipe from HoosierHomemade.com
Ingredients
6 cups Rice Chex® cereal
1 cup white vanilla baking chips
1 cup peanut butter baking chips
1 cup red and green candy coated chocolate candies
1 cup dry roasted peanuts
Instructions
Line 2 cookie sheets with wax paper
Pour 3 cups cereal in a large bowl
In a small microwave safe bowl, add the white chips and melt for 1 minute, stir until completely smooth
Pour over cereal and toss until well combined, pour onto cookie sheet, spread and place in fridge for 5 minutes
Pour remaining 3 cups of cereal into another bowl
In a small microwave safe bowl, add peanut butter chips and melt for 1 minute, stir until completely smooth
Pour over cereal and toss until well combined, pour onto cookie sheet, spread and place in fridge for 5 minutes
In a large bowl, gently break up pieces of cereal, add candy and peanuts, stir gently to combine
Store in airtight container
Notes
Original Recipe from Chex®
For more Chex® Party  Mix Recipes, follow them on Facebook. Other helpful nutritional information: http://www.chexpartymix.com/products/
This post brought to you by Chex® cereal. I have been compensated and given free product for my time & commitment, but all opinions are 100% mine