What comes to mind when you think of the two most popular foods for children? For me it's Peanut Butter and Jelly Sandwich and Rice Krispie Treats. So I've combined the two and came up with Peanut Butter and Jelly Krispie Treats for you!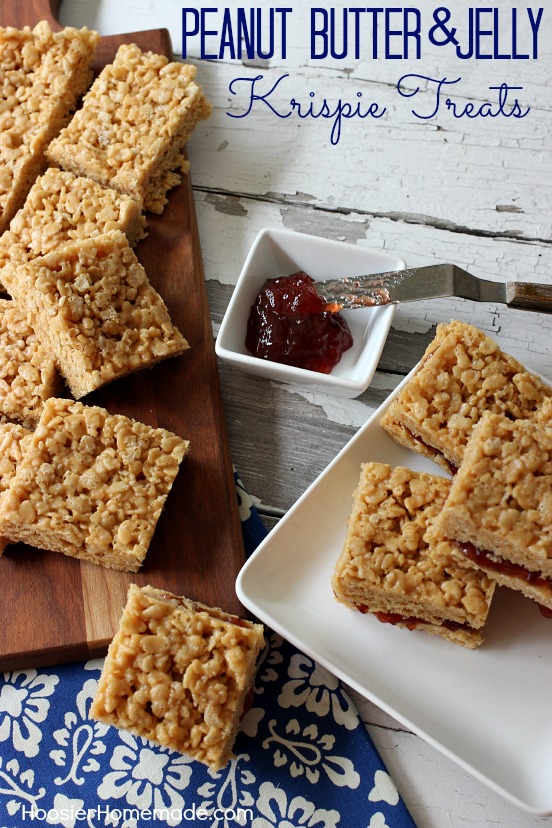 Many, many years ago, I began making Rice Krispie Treats with Sugar, Corn Syrup and Peanut Butter. They are soft and taste a whole lot better than the treats made with marshmallows. And they are super easy and go together in about 5 minutes.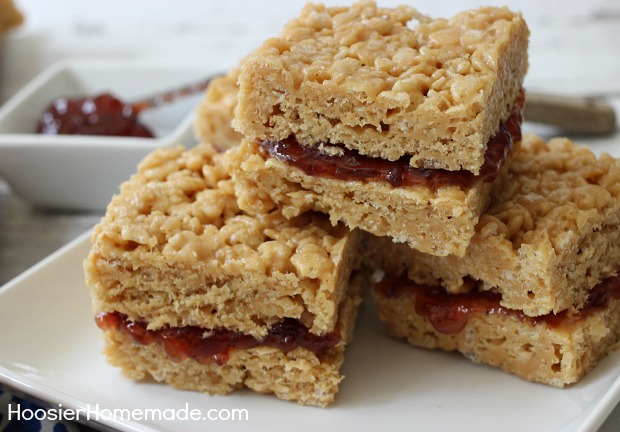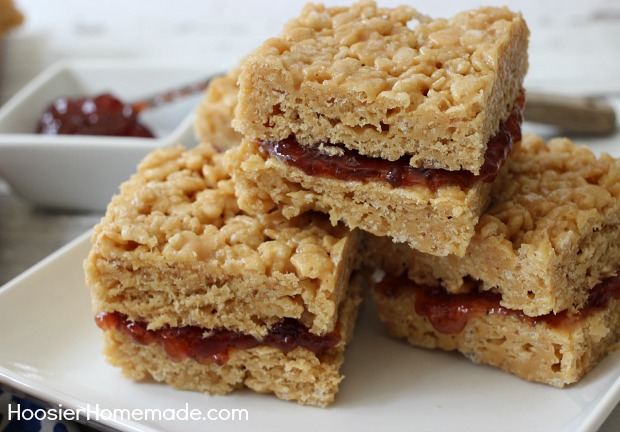 Our middle son who is 20, plays college baseball, and during the Summer months, he is on a travel team. So far this Summer, he has played – and we have watched – about 60 games, averaging about 8 per week. On the weekends, they host double header games, having 2 games back-to-back, so the coach began grilling hot dogs for them to eat between games and a couple of the Moms would bring food for the players to go along with the hot dogs. We always took Watermelon and Rice Krispie Treats. The boys loved them, and even though they are older, they all seemed to love the Peanut Butter in them.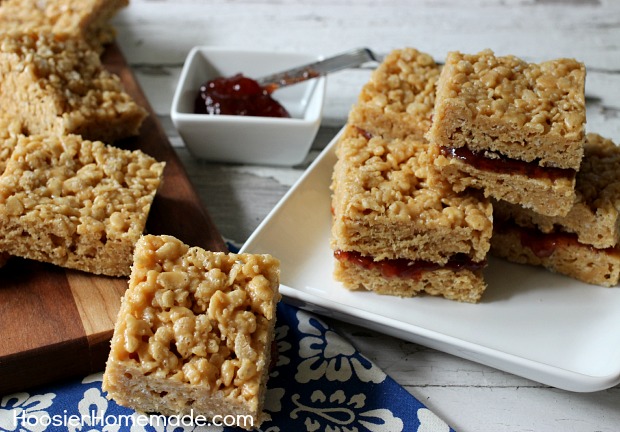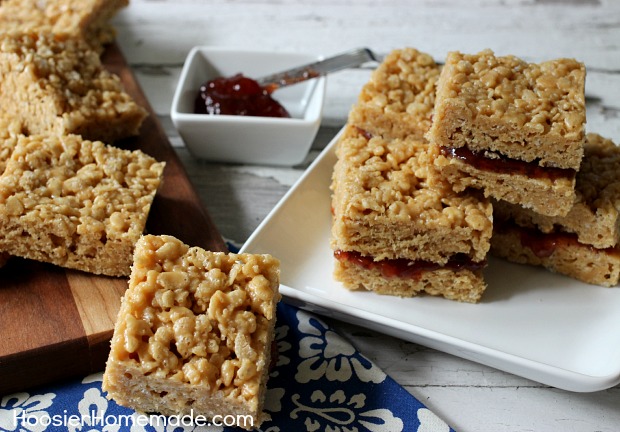 Adding the Jelly in the center and making a sandwich with the treats was a no-brainer, because of course, what goes better with Peanut Butter than Jelly.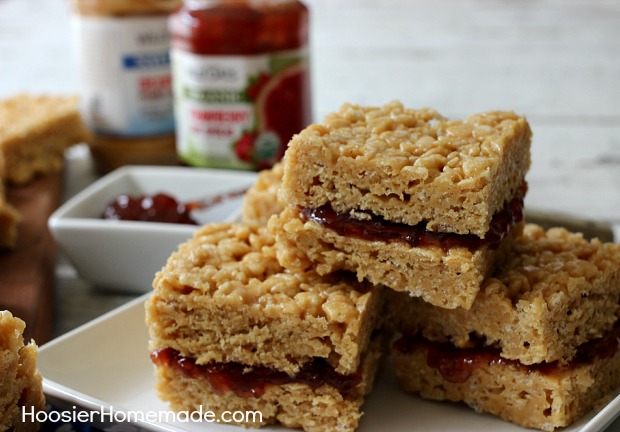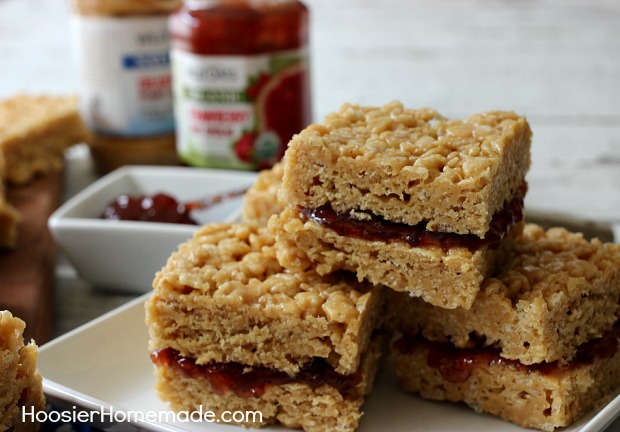 This time around though, I used the new line of Organic Products at Walmart, Wild Oats. Wild Oats Marketplace has been in the food industry over 25 years, making great food to those that care about what food they eat and where it comes from. Wild Oats recently launched a new line of Organic products at Walmart – and you guessed it, they are affordable. The 16 ounce container of Peanut Butter is priced just under $3, making it comparable to non-organic brands. We recently used the Wild Oats Beans and Pasta in our Healthy Three Bean Pasta Salad and loved it!
I haven't really used organic products much in the past, because frankly they were expensive. But with this new line of Wild Oats products, they will definitely be on my grocery list now.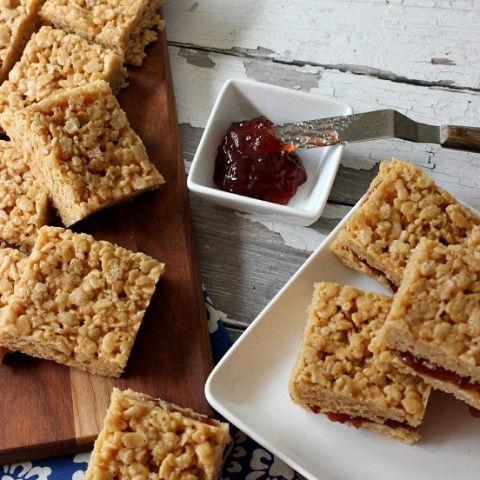 Peanut Butter and Jelly Krispie Treats
The BEST Rice Krispie Treats you will ever make! Recipe on HoosierHomemade.com
Ingredients
6 cups Krispie Treats
1 cup Sugar
1 cup Light Corn Syrup
1 cup Peanut Butter
Jelly to spread
Instructions
Add foil to a 13x9 pan to make cutting the treats easier
Add cereal to a large bowl
In a small saucepan, combine sugar and corn syrup
Bring to a bubble (NOT BOIL) over a medium heat
Remove from heat and stir in peanut butter, until smooth
Add to cereal and stir until all cereal is coated well
Pour into foil lined pan and spread evenly
Leave on counter to set, about 30 minutes
Remove from pan using edges of foil, cut into squares
Spread Jelly on bottom of square and top with another square, push together slightly
Notes
These are great even without the Jelly.