No Bake Mini S'mores Cheesecakes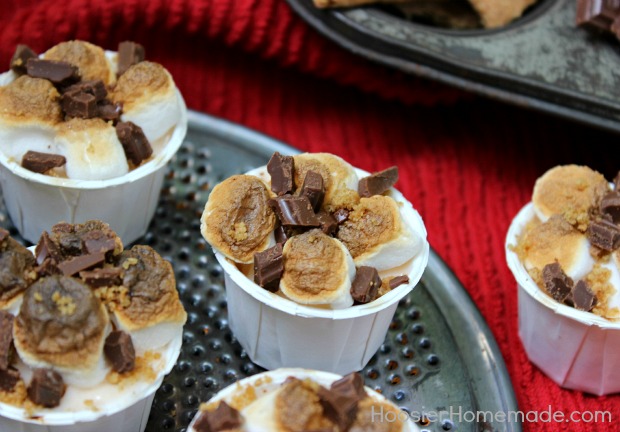 There's nothing like sitting around the campfire, roasting marshmallows to add to stacks of graham crackers and ooey gooey chocolate. Our family does not go camping, but we love sitting in the backyard spending time together and enjoying S'mores is always a treat.
But what about when you head to a picnic or potluck? There are many picnic recipes and s'mores are one of the most popular Summertime treats, so how can you share them with your family and friends at a potluck? Well…Mini S'mores Cheesecakes – of course!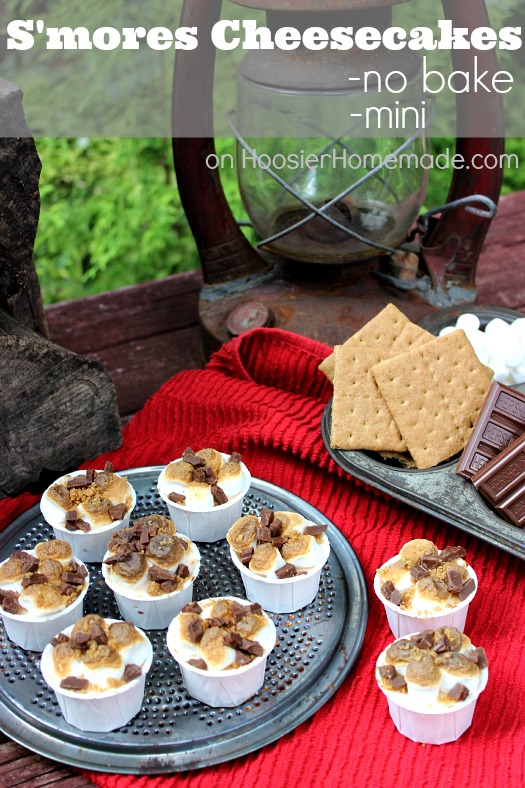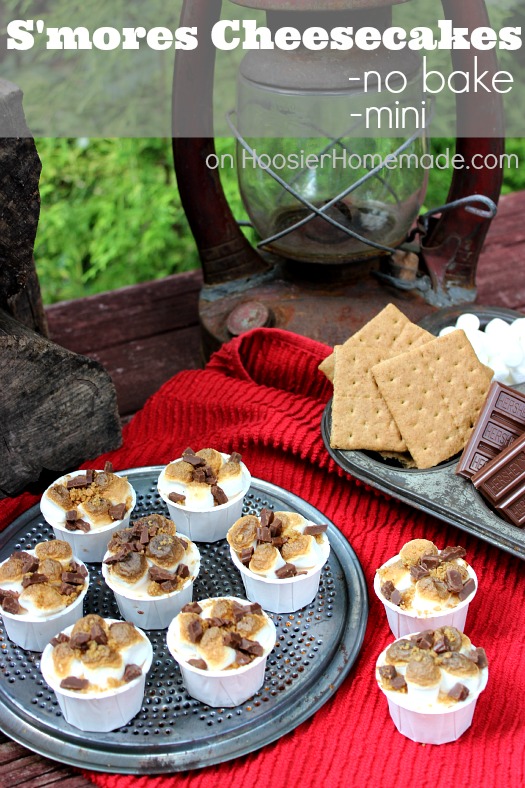 I'm honored to be a part of the 2013 Kraft Tastemaker Community, I am teaming up with Kraft Foods to share with you recipes using everyday ingredients that are sure to please your family!
These little cheesecakes start with the delicious Fluffy 2-step Cheesecake recipe; a combination of PHILADELPHIA Cream Cheese, COOL WHIP Whipped Topping and sugar, on top of crushed graham crackers mixed with butter to form a crust.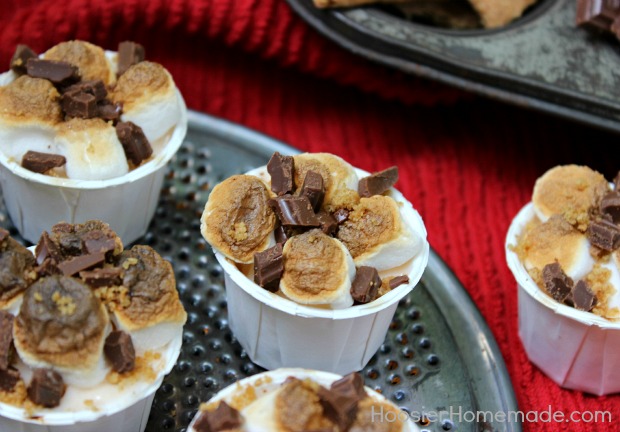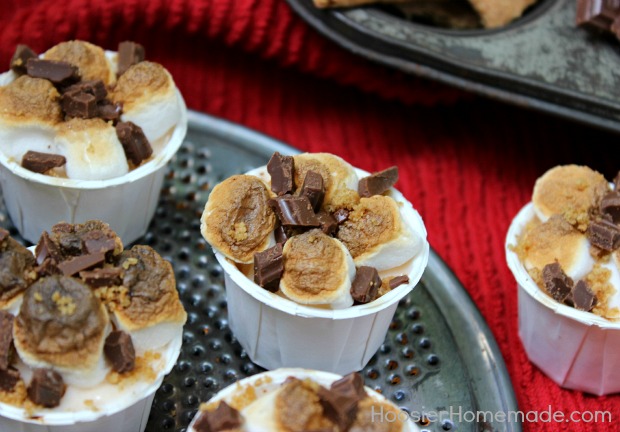 Then to top them off, JET-PUFFED Miniature Marshmallows toasted under the broiler, a sprinkle of the graham cracker crust mixture and chopped chocolate bars.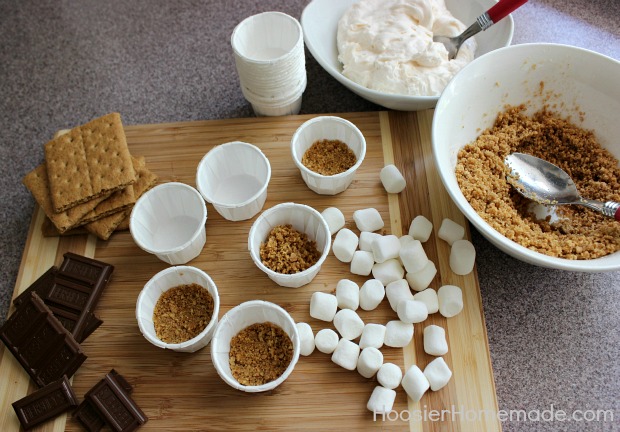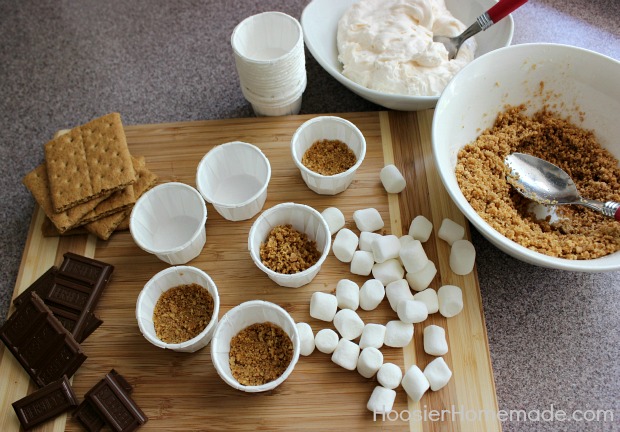 If you have a kitchen torch, you can easily toast the marshmallows a bit, but I just used the broiler. Set your oven to broil and move the top rack all the way up. After the broiler is hot, place 4 mini marshmallows on each cheesecakes, place on a cookie sheet and place under the broiler. Be careful though – they will cook really fast! I stood right next to the oven and counted to 10, opened the door, took and peak and they were done.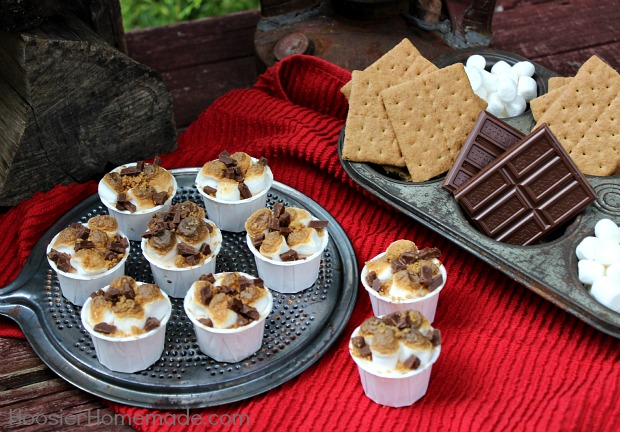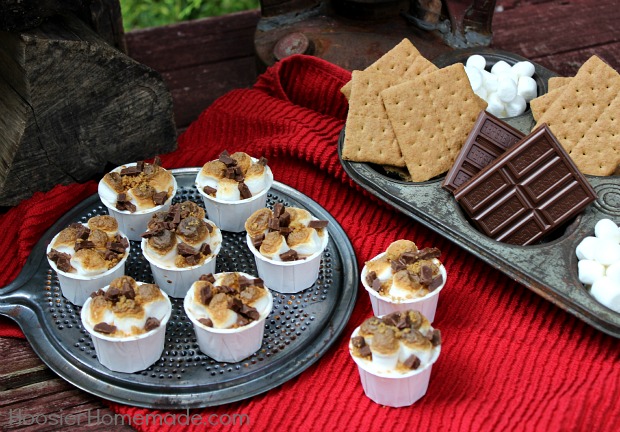 This cheesecake recipe is also very versatile, just by adding a little flavoring you can easily change them for any occasion. A few months ago, I added Tutti-Fruiti flavoring and a bit of Cotton Candy to the top for Cotton Candy Cheesecakes, they were a huge hit! I have also added strawberry flavoring to the cheesecake and fresh fruit on top. The options are endless!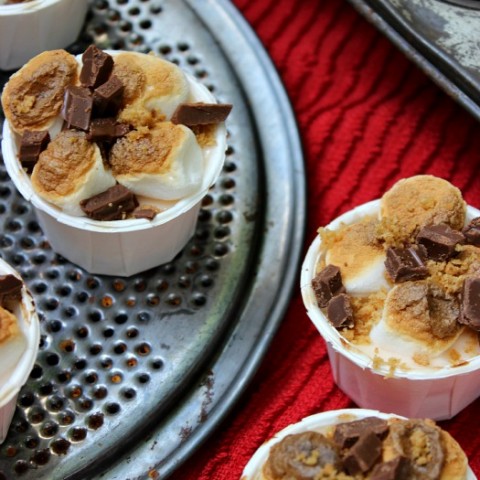 No Bake Mini S'Mores Cheesecakes
Perfect to serve at potlucks, picnics or even a dinner party. These Mini S'mores Cheesecakes are super easy and go together in a snap! Recipe from HoosierHomemade.com
Ingredients
1 package (8 oz) PHILADELPHIA Cream Cheese, softened
1/3 cup sugar
1 tub (8 oz) COOL WHIP Whipped Topping, thawed
1 sleeve of graham crackers, crushed
1/4 cup butter, melted
1-2 cups JET-PUFFED Miniature Marshmallows, approximately
2 chocolate bars, chopped into small pieces
Instructions
In a large bowl, cream together the cream cheese and sugar until well blended.
Stir in COOL WHIP until smooth
Crush graham crackers in a resealable bag with a rolling pin
Melt butter in microwave and add to graham cracker crumbs, stir well. Mixture should hold together, add more butter if needed.
Spoon graham cracker mixture into liners and press down with the back of the spoon. Add about 1-2 tablespoons per liner depending on the size of liner
Spoon in cheesecake filling, smooth with back of spoon
Place in fridge to set about 3 hours
Before serving, add marshmallows to the top and heat under broiler for 10 seconds or use kitchen torch to toast
Sprinkle with any remaining graham cracker crust mixture and chopped chocolate
Serve with a spoon
Notes
Total time includes chilling time
For more recipes visit KraftRecipes.com