Nautical Themed Decorations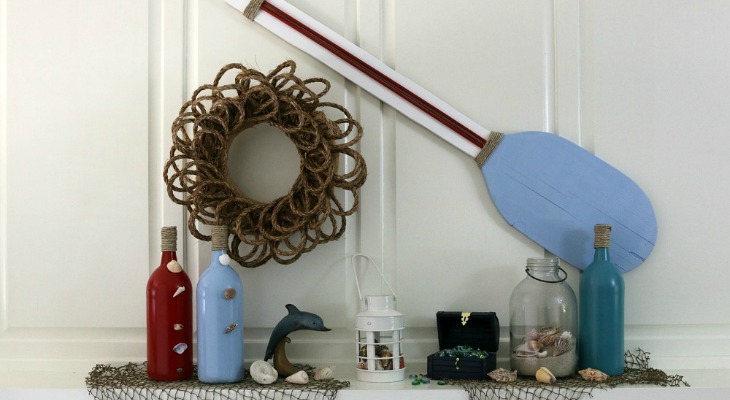 It's Summer! So why not bring a little beach inside with these Nautical Themed Decorations! These easy to make decorations go perfectly on your Mantel, Table or even as Party Decorations.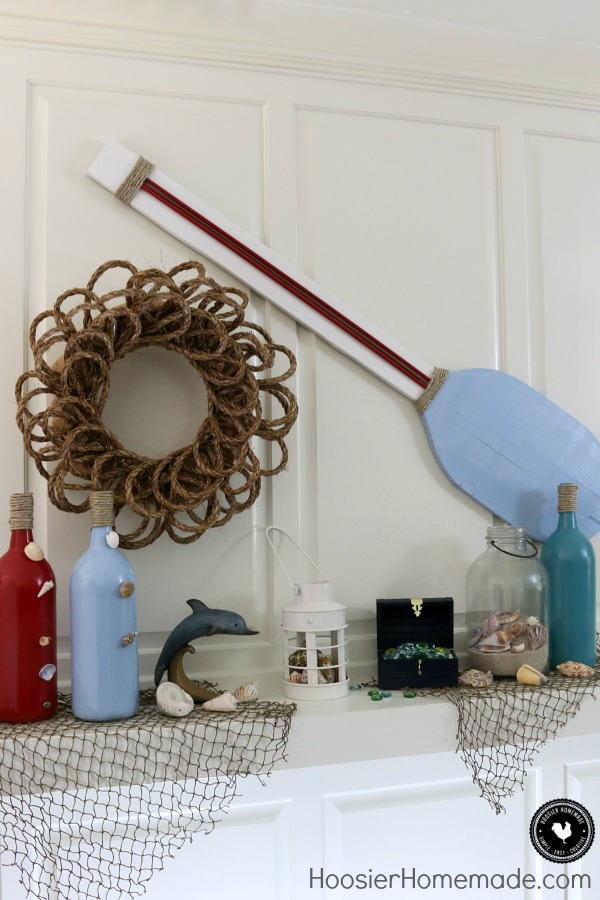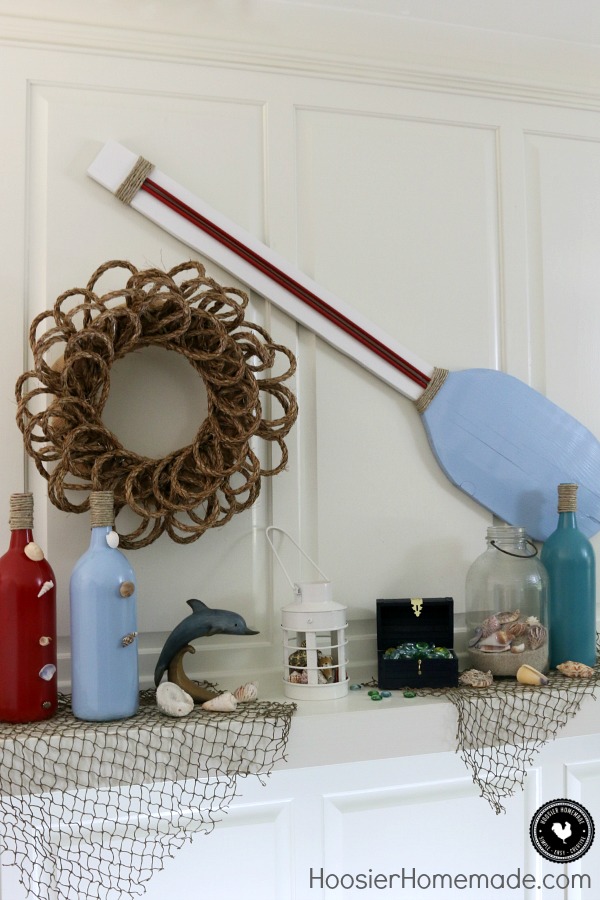 One of my favorite places to go to is the beach. There is something about the waves crashing against the shore that is so relaxing. But unfortunately, we just don't get to the beach as often as I would like. So I decided, why not bring a little beach inside with our decorations.
I debated what the best spot would be to decorate. We thought about decorating outside on the deck, but decided then we would have the weather to worry about. I wanted a spot that I would see many times every day, so it would often remind me of the beach, so the most logical spot was our Mantel. I absolutely love decorating our Mantel so it was a perfect fit.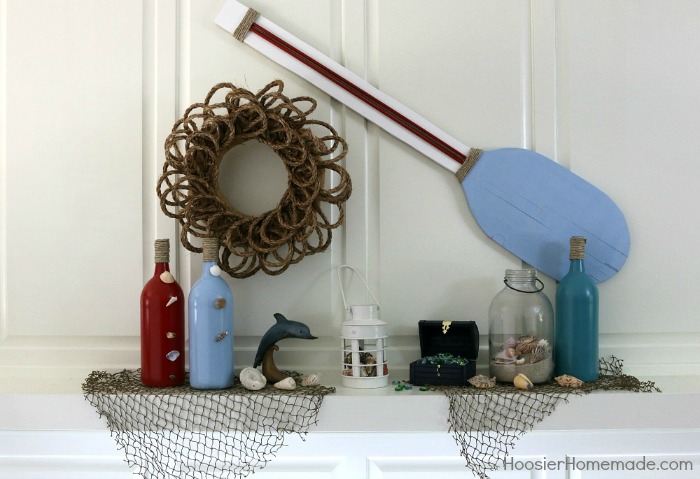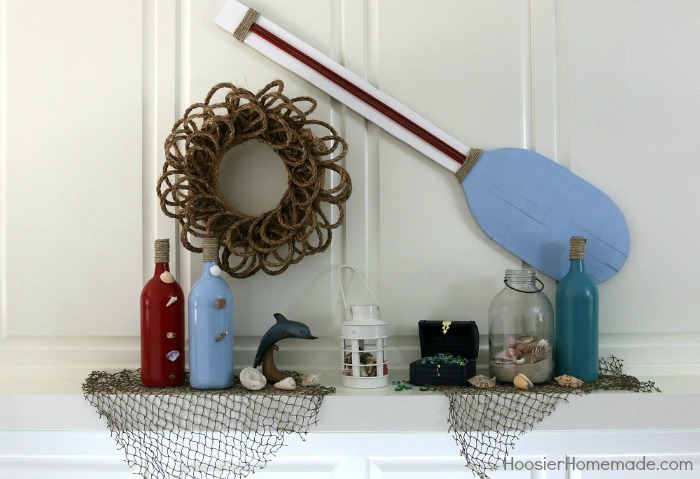 When I think of a Nautical theme, I think of water, boats, shells, fish and sand. We definitely wanted to try to incorporate all of those into our Nautical Themed Mantel. The great thing is though, you don't have to have a Mantel for these nautical decorations. You could use them just about anywhere, even as party decorations.
Let's get started…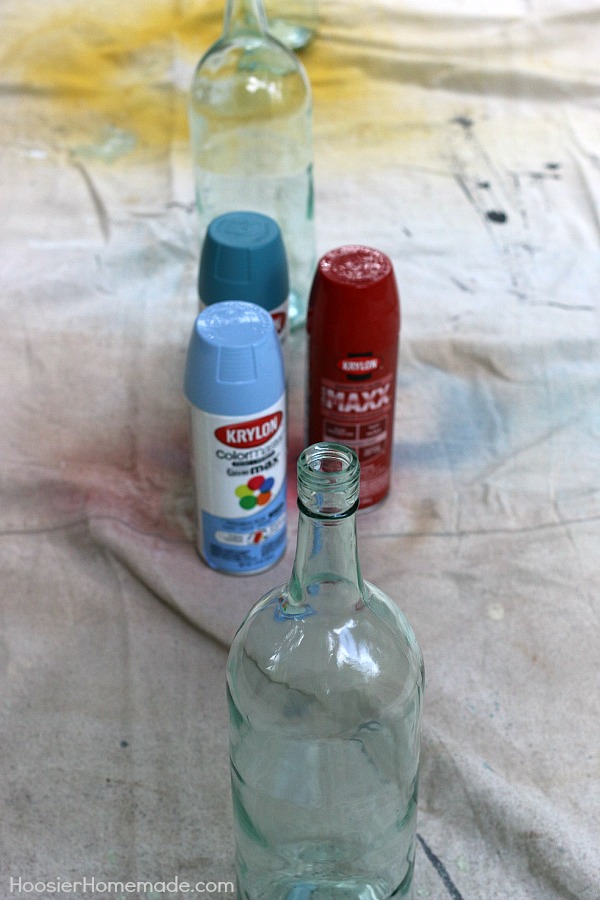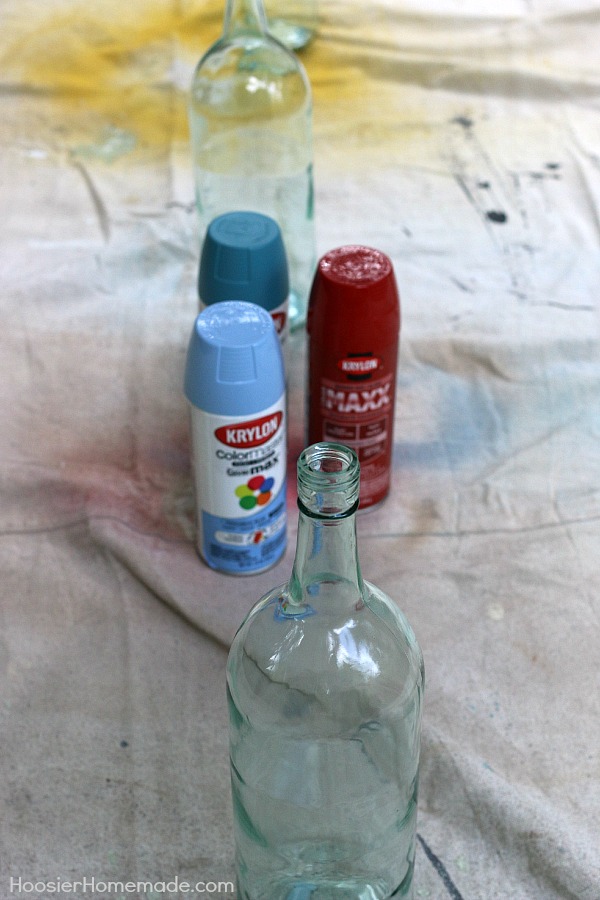 We began by painting wine bottles. It's super easy to upgrade a recycled bottle by painting it with Krylon ColorMaster Paint. Peekaboo Blue is Krylon's Color of the Month, it's actually one of my favorites! I love the softness of the blue, yet the vibrant color that it creates.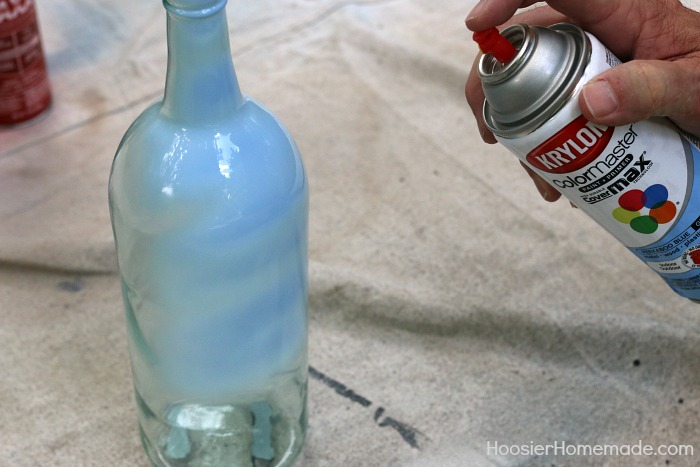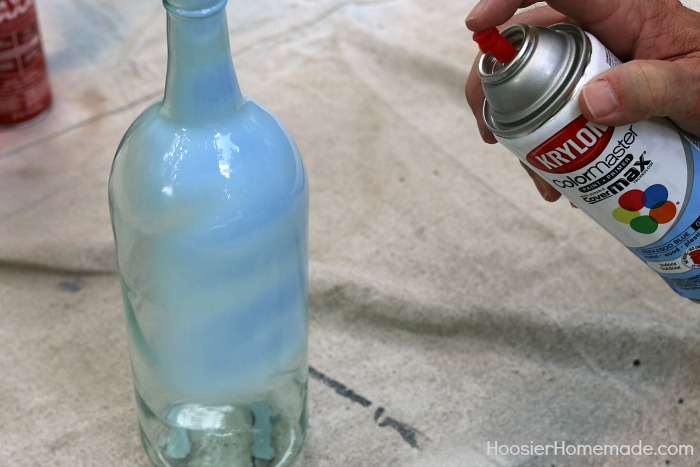 First you want to cover your work area. We laid a large tarp down in the driveway. The bottles need to be clean and dry, be sure to remove any sticky residue from labels. Then using even strokes, coat the bottle with Krylon ColorMaster Paint.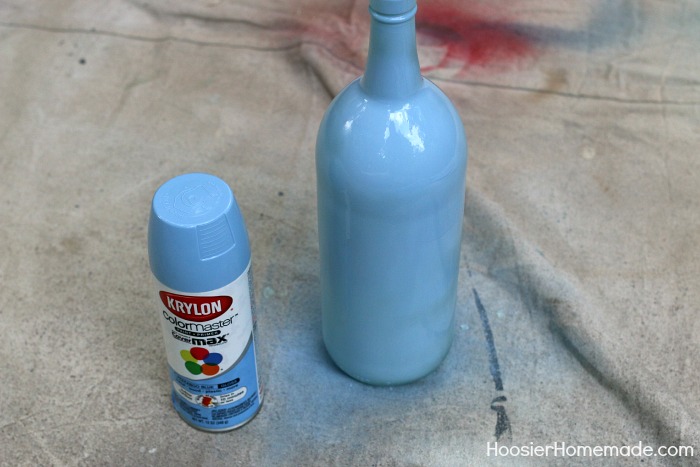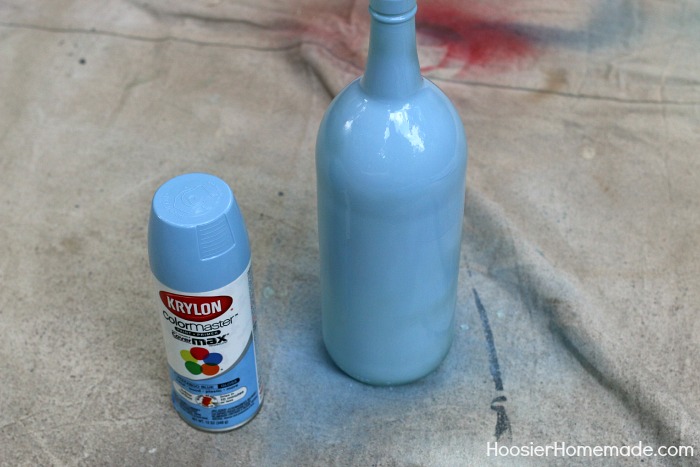 Depending on the bottle, you may need 2 coats. We let the first coat dry about 10 minutes, then painted a second coat and let it dry.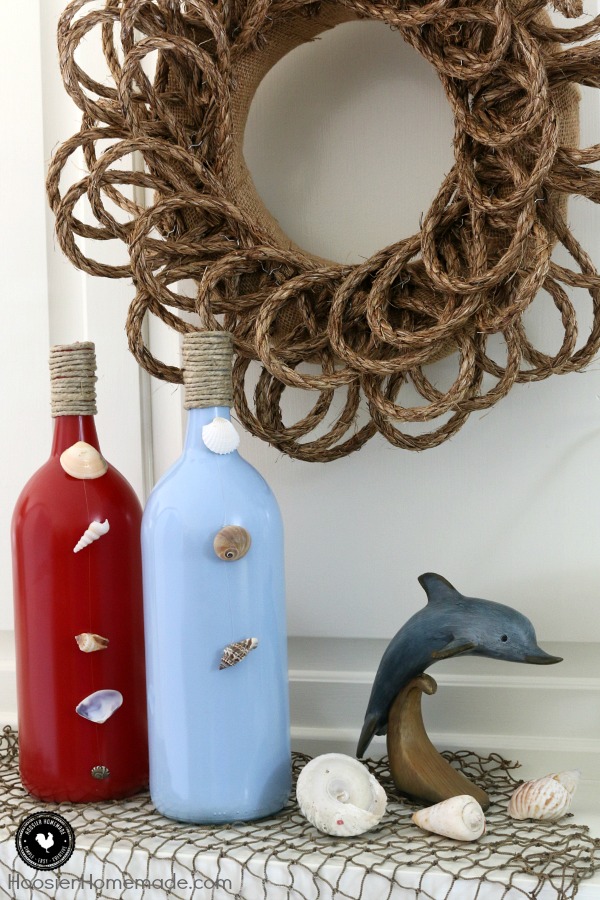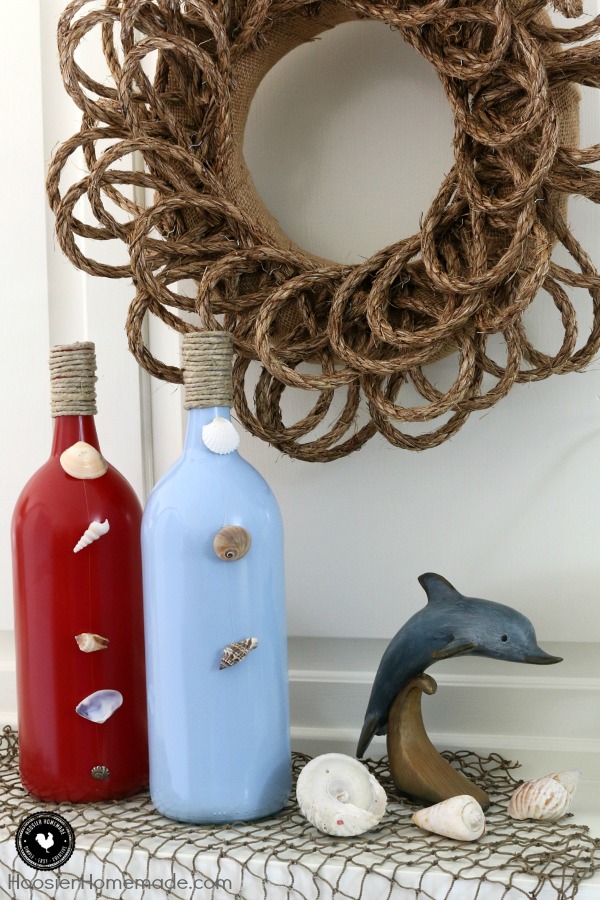 After the bottles were dry, we wrapped twine around the top, securing it with hot glue. Then attached a piece of fishing line and added some small shells. You can find shells at most craft stores.
We also used Krylon Banner Red for the other bottle.
The wreath is made with a straw wreath, then wrapped in burlap. We cut pieces of 3/8 inch rope, looped the piece and secured it into the wreath with a floral pick.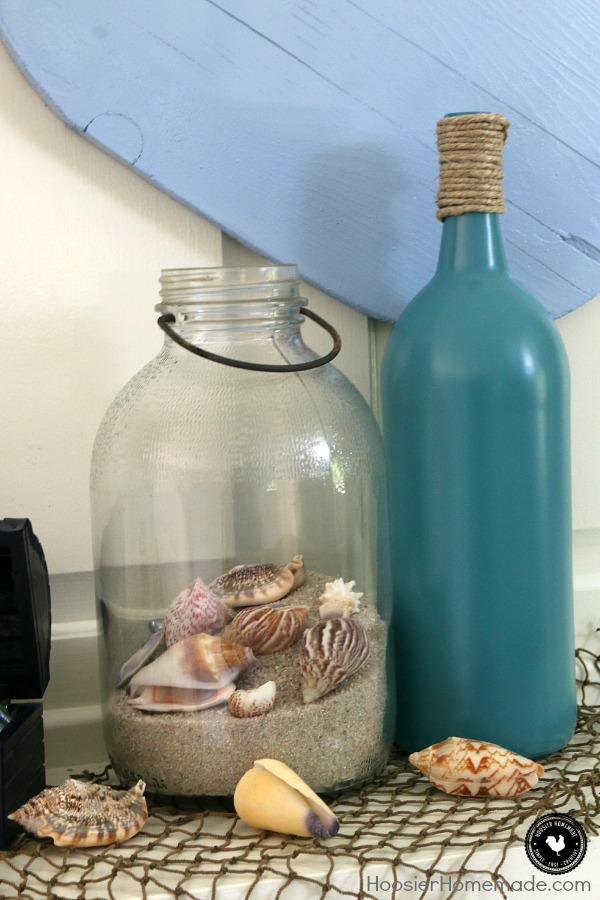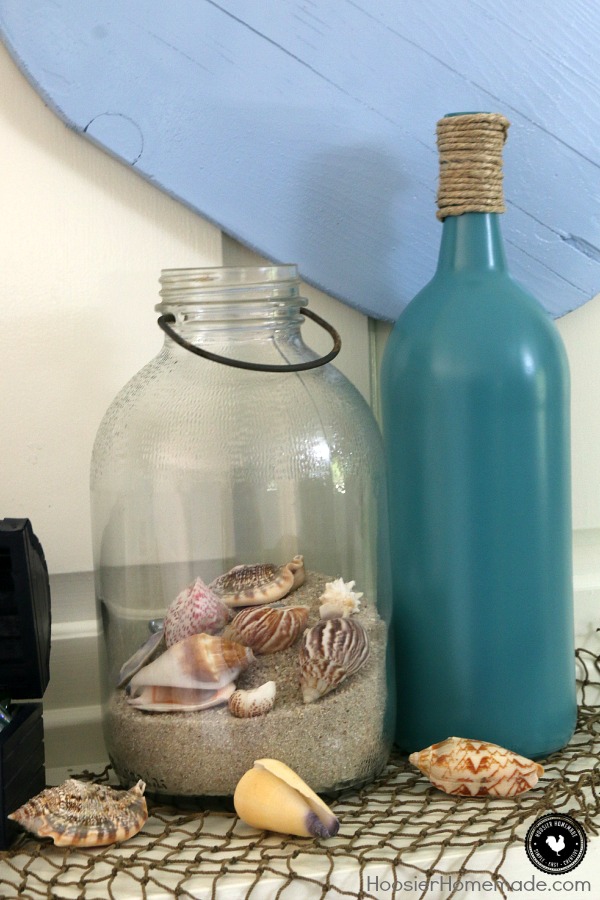 The third bottle, we painted with Krylon ColorMaster Surf (appropriately names)  but left the shells off. The jar is one that we already had, and we added sand from the craft store and more shells.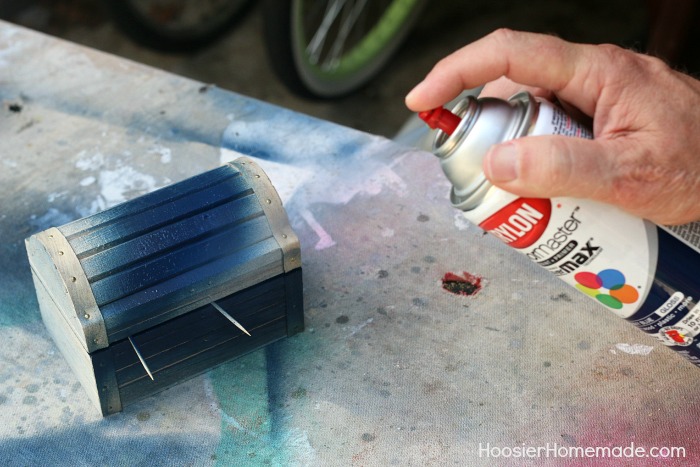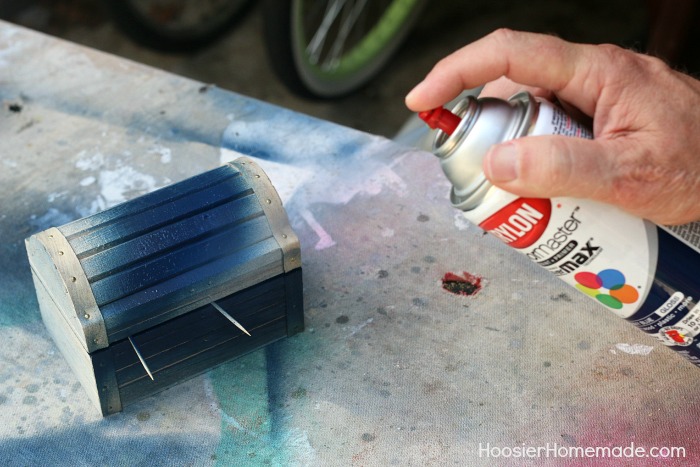 The next project was the wooden treasure chest. We found it at Michael's Craft Store. Again, we covered our area with a tarp, and used Navy Blue Krylon ColorMaster. The toothpicks worked great to keep the lid open a bit so the paint would cover all the areas. It was easiest to remove the gold hardware and then attach it back on after the paint was dry.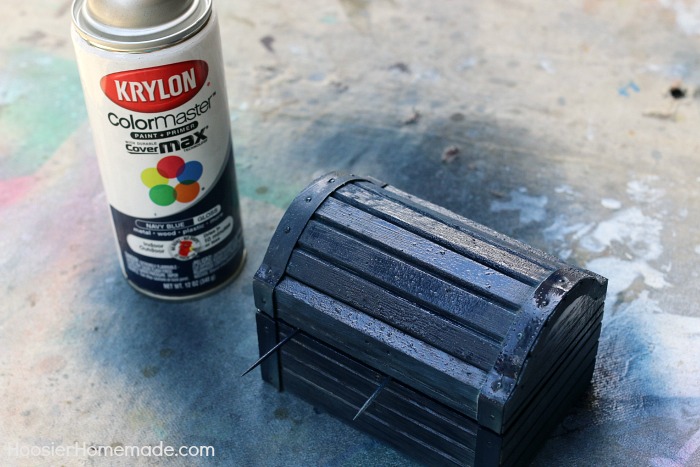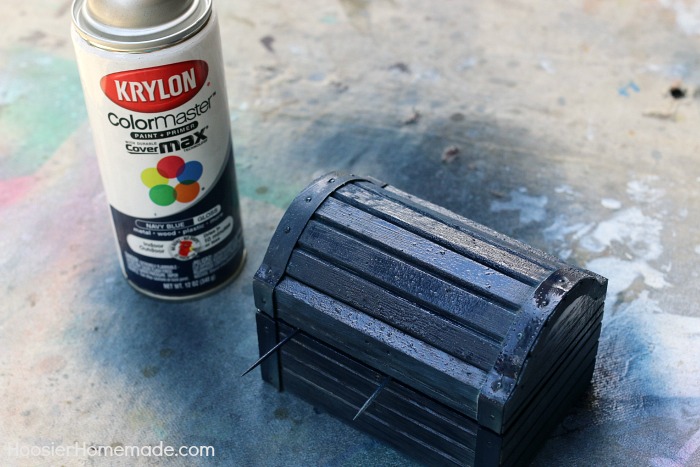 We gave the box two coats of paint, letting it dry about 10 minutes in between coats.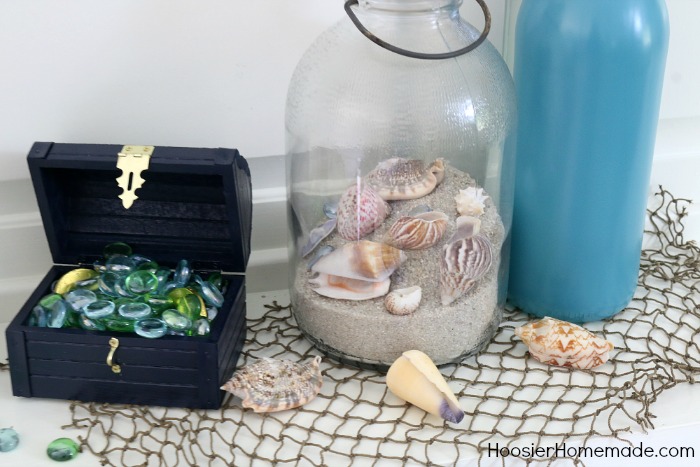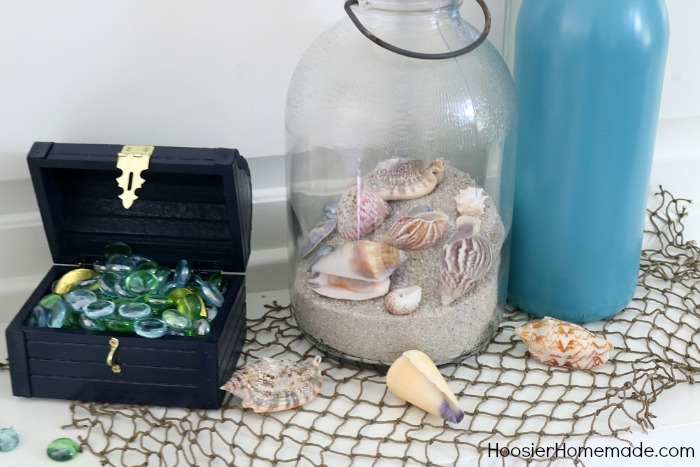 You can't have a treasure box, without treasure. So we filled the chest with gems found near the floral supplies, and a couple gold coins.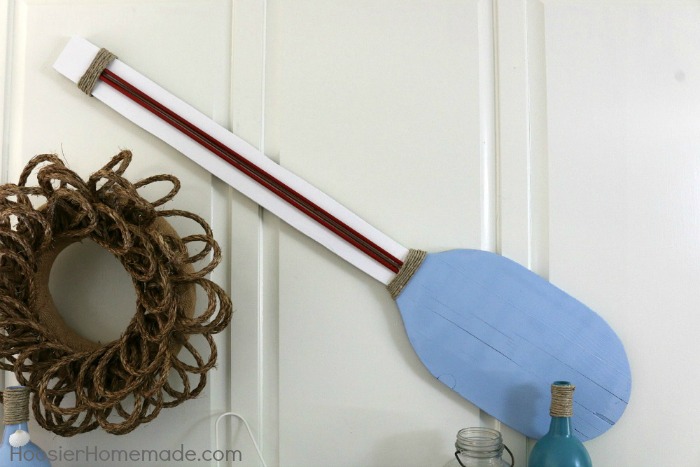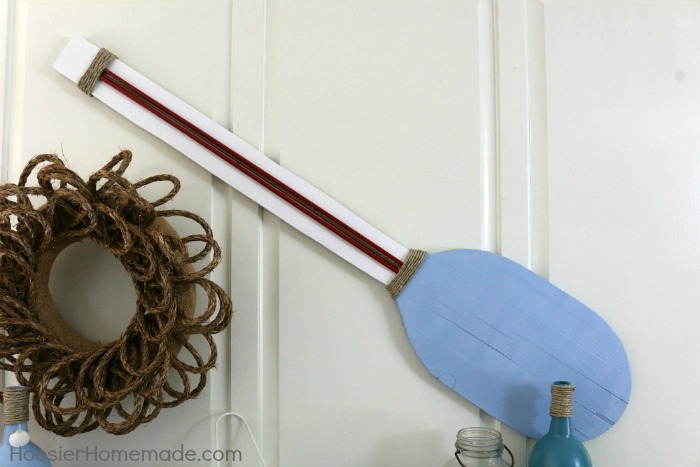 To add another touch of the beach, we added a paddle cut from wood and painted and the rope wreath.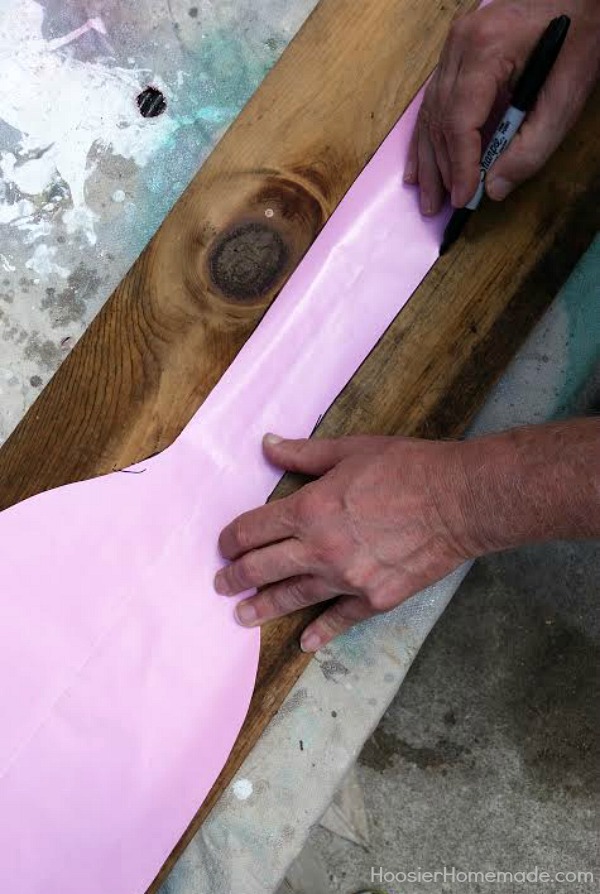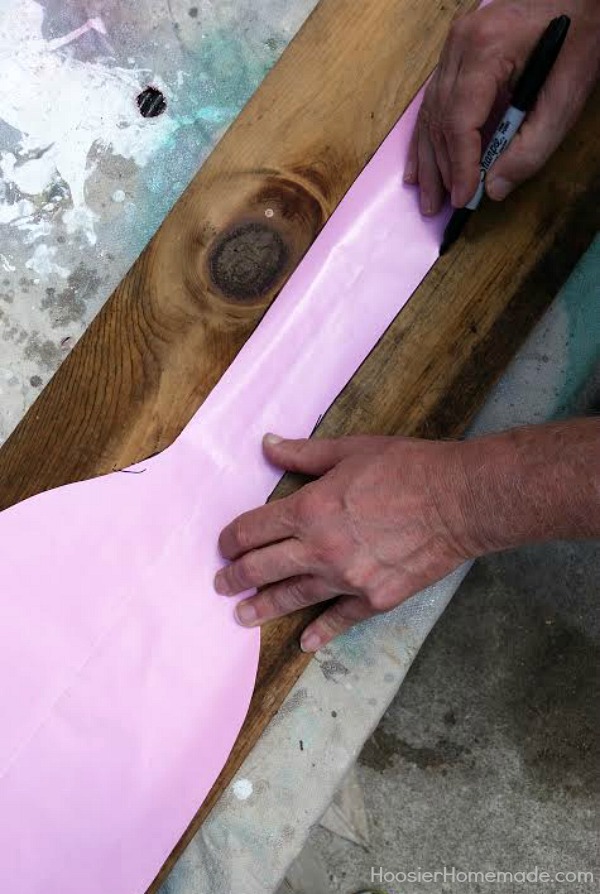 To make the paddle, we folded a large piece of wrapping paper in half, measured how long we wanted the paddle and using a plate for a template, drew the pattern. Then Doug traced it onto wood, and cut it out using a jigsaw.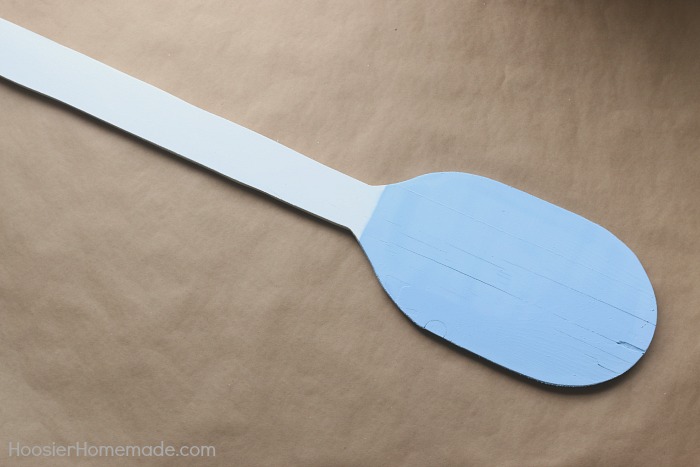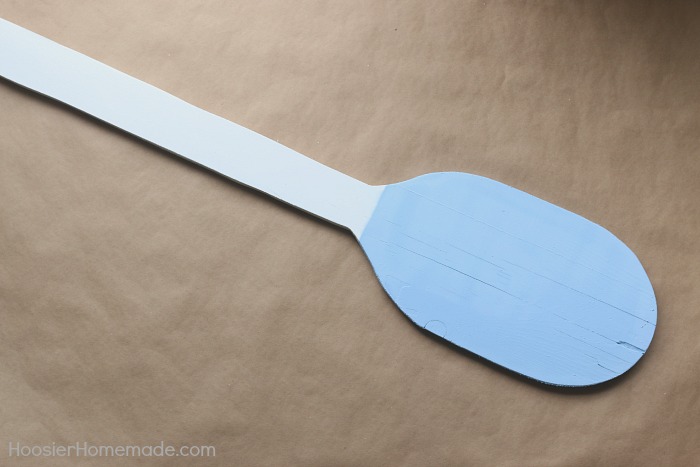 First we painted the whole paddle with Krylon Cover Maxx Primer, then taped off the end and painted the handle with Krylon ColorMaster White and the end with Peekaboo Blue.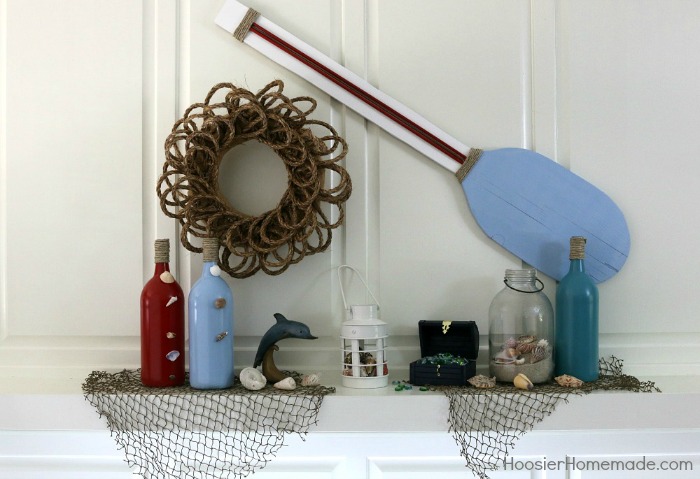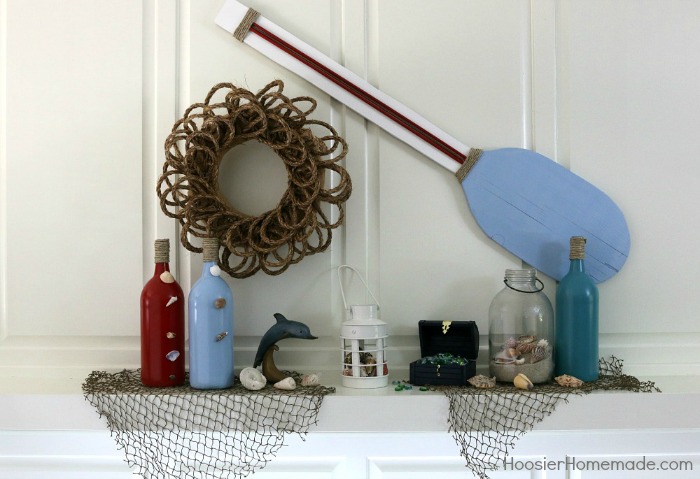 We painted small pieces of wood with Krylon Banner Red, glued them on, then added twine.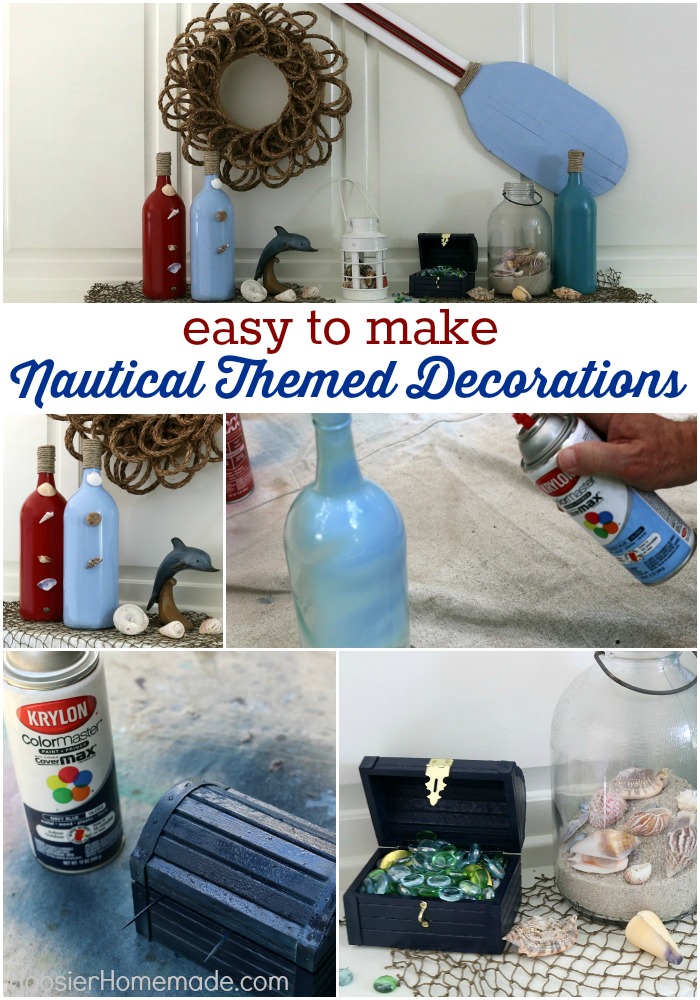 Visit the Krylon Facebook page and "like" them for more inspiration and to see all the great projects featuring the Color of the Month!


Paddle – Wood, Krylon White Primer, White Paint, Peekaboo Blue and Banner Red, Twine
Wreath – Straw Wreath, Rope, Floral Picks
Bottles – Empty bottles, Krylon ColorMaster Peekaboo Blue, Banner Red and Surf, Twine, Fishing Line and Shells
Treasure Box – Krylon ColorMaster Navy Blue, Gems, Gold Coins
Extra Decor – Jars, Sand, Shells, Fishing Net (found at Michael's), Dolphin (bought at a Flea Market), White Lantern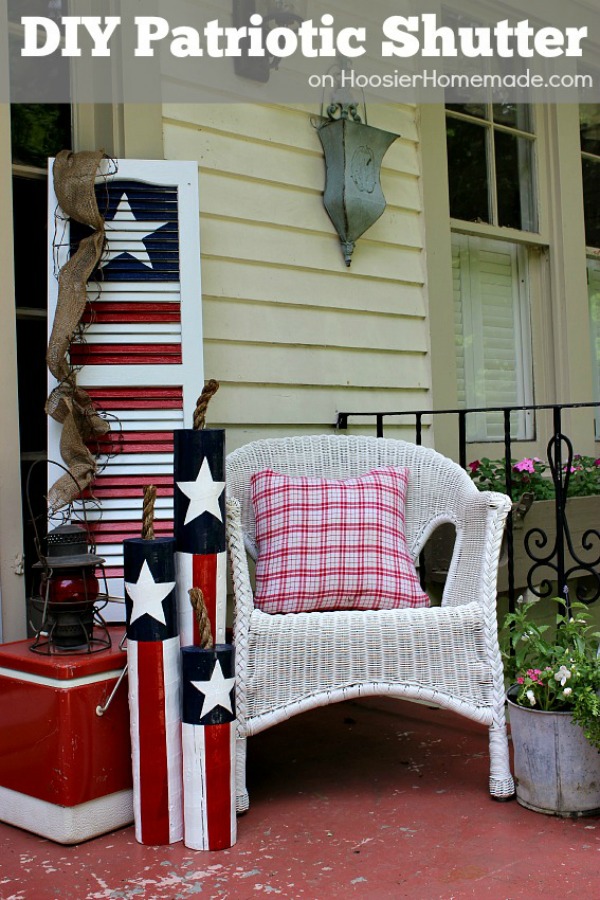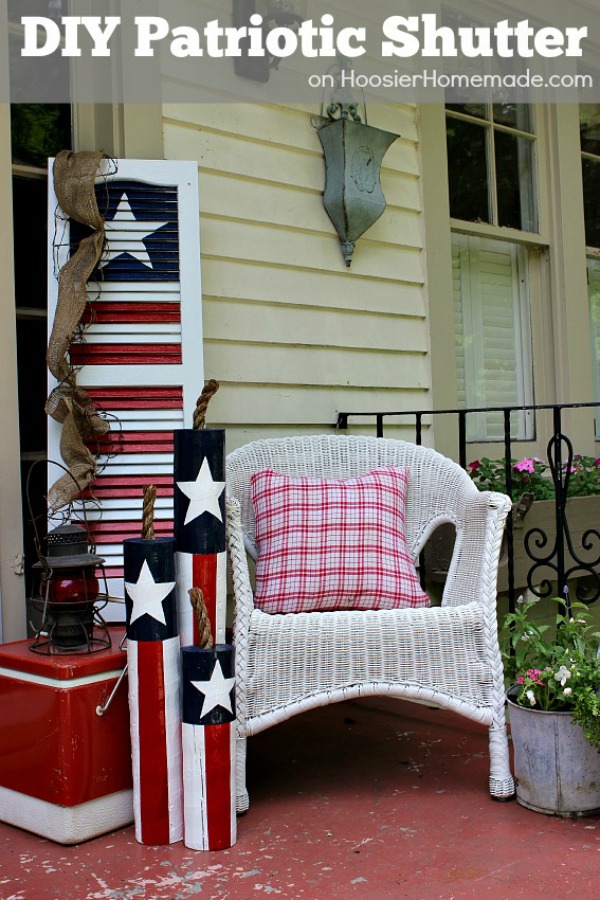 You may also like the DIY Patriotic Shutter and Wooden Firecrackers that we shared! They are perfect for the 4th of July and your Summer Decorations!