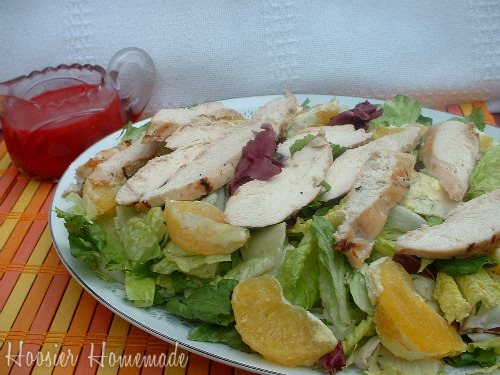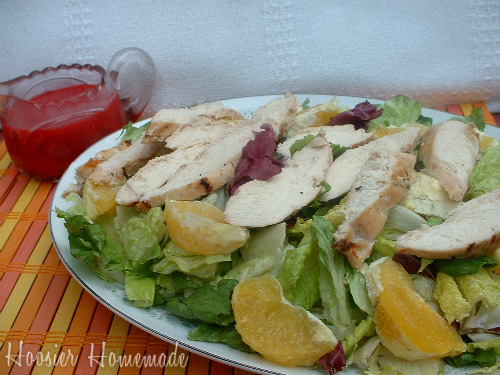 GIVEAWAY CLOSED…Winner announced soon
I recently received a bottle of NAKANO® Seasoned Rice Vinegar for my review. I had never heard about these seasoned rice vinegars before, but we really like marinating and grilling, so I was excited to give it a try.
I also received a little recipe booklet, and chose the Grilled Chicken Salad with Fresh Raspberry Dressing, to try. We love a great salad during the hot Summer months, and when you combine it with fresh fruit…even better!
NAKANO® Seasoned Rice Vinegars are naturally brewed, fat & gluten free and have a sweet, light flavor that dresses up any dish. Simply splash it on everything from salads to pasta to meat and vegetables. Enjoy the unique variety of distinctive flavors, only from NAKANO®: Seasoned, Roasted
Garlic, Basil & Oregano, Red Pepper, Pesto, Balsamic Blend and Italian Herb.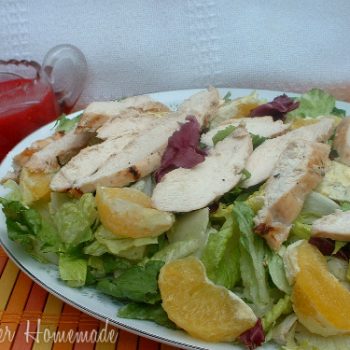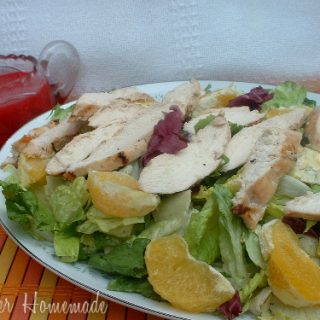 Grilled Chicken Salad with Fresh Raspberry Dressing
A delicious Grilled Chicken Salad with Fresh Raspberry Dressing - recipe from HoosierHomemade.com
Ingredients
3/4 cup plus 1 tablespoon NAKANO® Seasoned Rice Vinegar
1 teaspoon dried tarragon, crushed
1/2 teaspoon salt
4 boneless, skinless chicken breast
2 navel oranges
1 cup fresh raspberries (about 5 ounces)
3 tablespoons honey
1 tablespoon salad oil
12 cups mixed greens
1 tablespoon olive oil
Toasted pecans (optional)
Instructions
Combine 1/2 cup rice vinegar, tarragon, and salt, stir well.
Place chicken in shallow, non-metallic container.
Add vinegar mixture, marinate for about 45 minutes.
Drain chicken and discard marinade.
Grill or saute chicken.
When slightly cooled, slice each breast, cover and set aside.
Grate the peel of 1 orange, set aside.
Peel both oranges and slice.
In blender, combine raspberries, 1/4 cup rice vineagar, honey, salad oil, and orange zest.
Blend until smooth.
In a large bowl, drizzle greens with olive oil and a dash of salt, toss well to coat.
Drizzle greens with remaining 1 tablespoon rice vinegar, toss.
Place greens on a serving platter or on individual plates.
Add sliced chicken and orange slices.
Pour raspberry dressing over chicken or serve on the side, like I did.
Sprinkle with toasted pecans, if desired.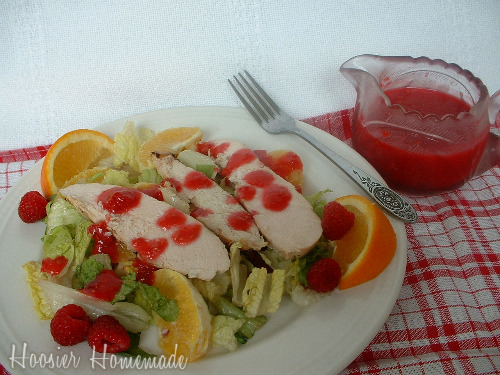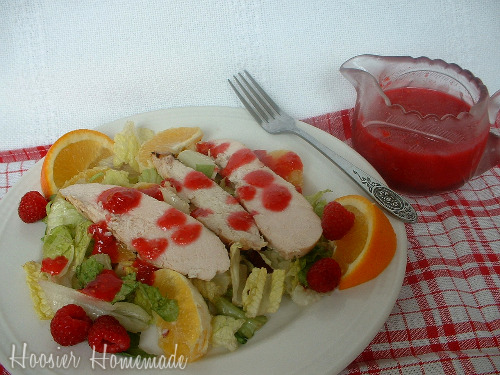 We really enjoyed this salad. The chicken was very moist and flavorful. My youngest is not a salad eater, so he just had the chicken, and liked it as well.
A few quick tips to use the NAKANO® Seasoned Rice Vinegars…
Splash on sliced, fresh tomatoes
Stir into cole slaw recipes
Splash on white rice
Toss into bean salads or green leafy salads
Marinate beef or pork before cooking
And guess what?? I have a Nakano Seasoned Rice Vinegar Prize Pack ($25 Gift Card, 1 bottle of seasoned vinegar and a coupon/recipe booklet) for one lucky reader!
Giveaway Guidelines: Please leave a seperate comment for each entry
Giveaway ends Wednesday, August 25th.at 10 p.m. CST.
REQUIRED ENTRY: Visit the NAKANO website then come back HERE and tell us what your favorite Splash tip is.
Find NAKANO on Facebook, become a fan, come back HERE and leave a comment HERE with your Facebook name, so we can verify you.
Become a Subscriber to Hoosier Homemade, leave a comment HERE telling me you subscribed or are already a subscriber
Subscribe to my Newsletter (coming soon with a FREE Printable) entry form in sidebar, leave a comment HERE telling me you subscribed or are already a subscriber
HoosierHomemade was provided NAKANO® Seasoned Rice Vinegar, the opinions are our own. NAKANO is providing HoosierHomemade with the Prize Pack to giveaway to one lucky reader. For more information on Hoosier Homemade's policy, please visit my Disclosure Page.