Mini Ice Cream Sandwiches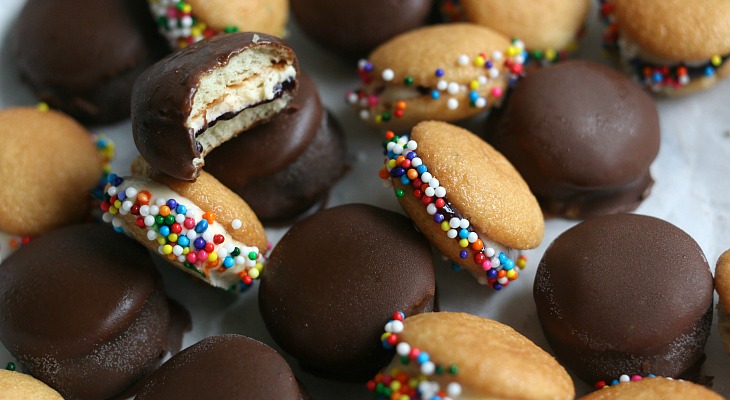 These bite-size Mini Ice Cream Sandwiches can be put together in minutes! Kids of all ages will love them! Dip them in chocolate coating, add sprinkles or leave them plain!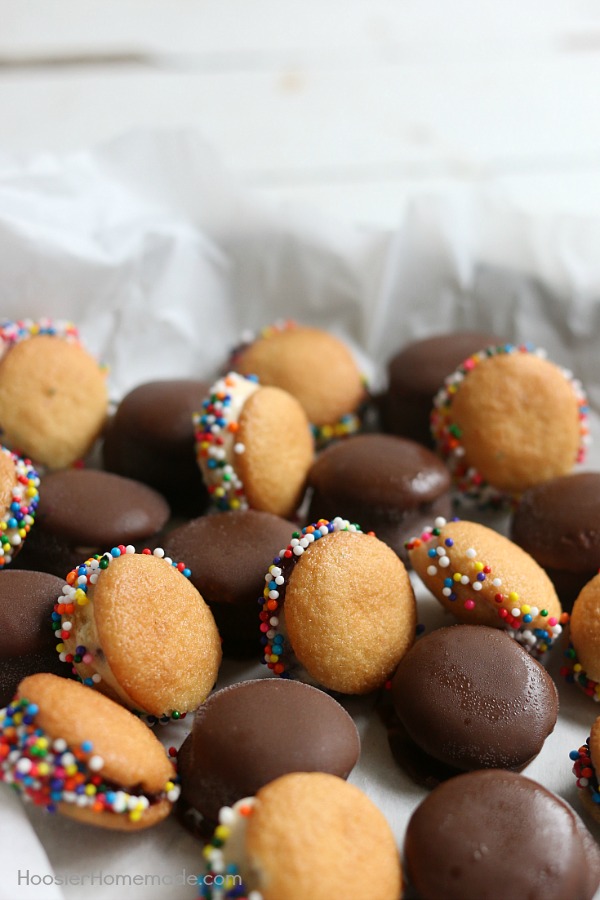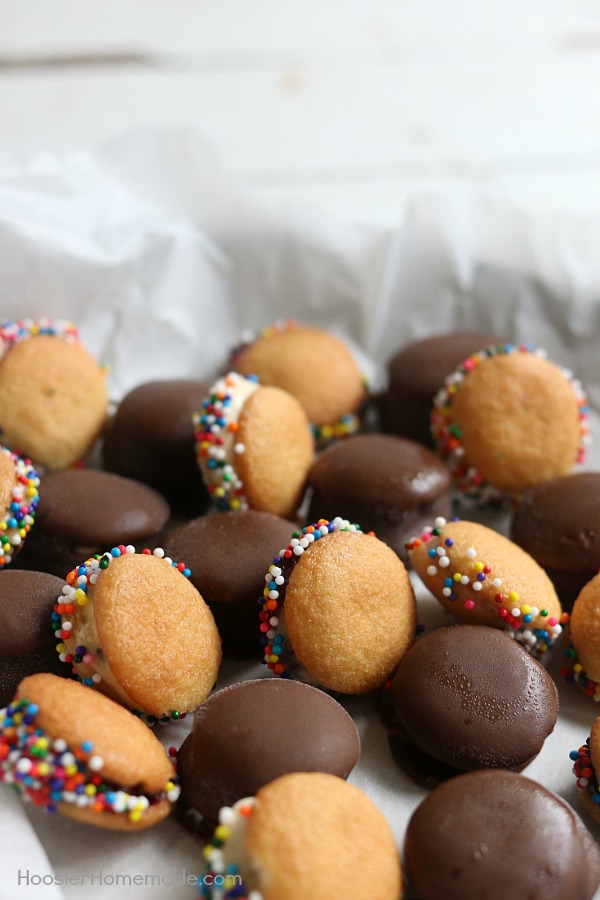 There is something so fun about eating ice cream with your fingers. I know that sounds really strange, but when you can pop an ice cream sandwich into your mouth and enjoy the fun of eating ice cream sandwiched between cookies – your day will be made. These Mini Ice Cream Sandwiches are as fun to make as they are to eat, seriously!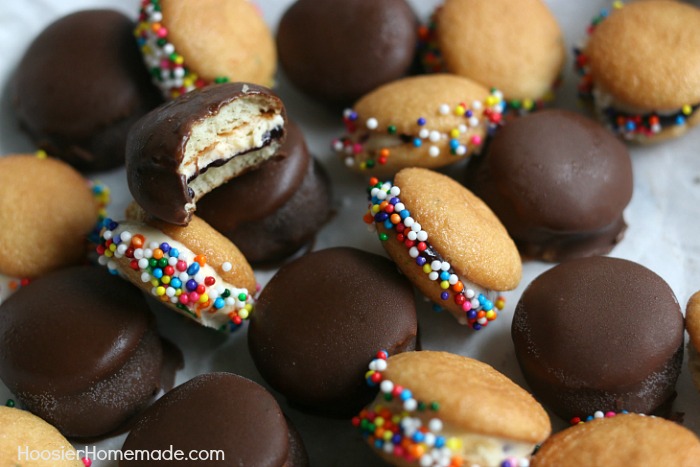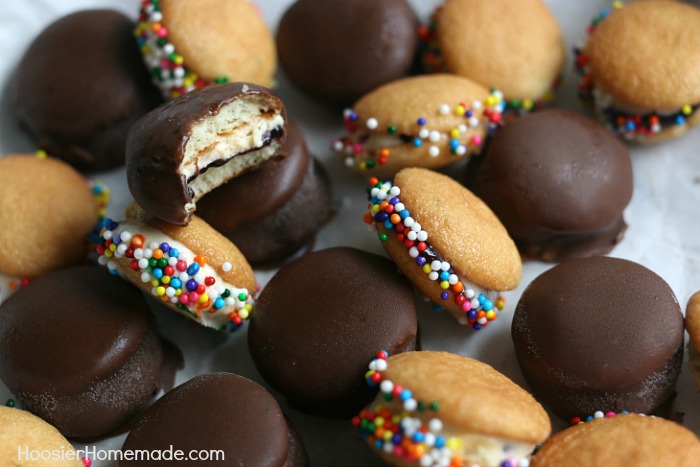 Growing up, ice cream was a big part of my Summer. We would walk to our local candy and ice cream shop, pick out a handful of candy and a special flavor for the day and sit around chatting about what we were going to wear on the first day of school. Ahh…the good ole' days!
Back then our food and dessert was simple, an ice cream cone with chocolate ice cream. Now though, food has evolved so much. Of course, that's not to say that there weren't ice cream sandwiches back then. I just ever remember making them yourself at home, at least my Mom didn't.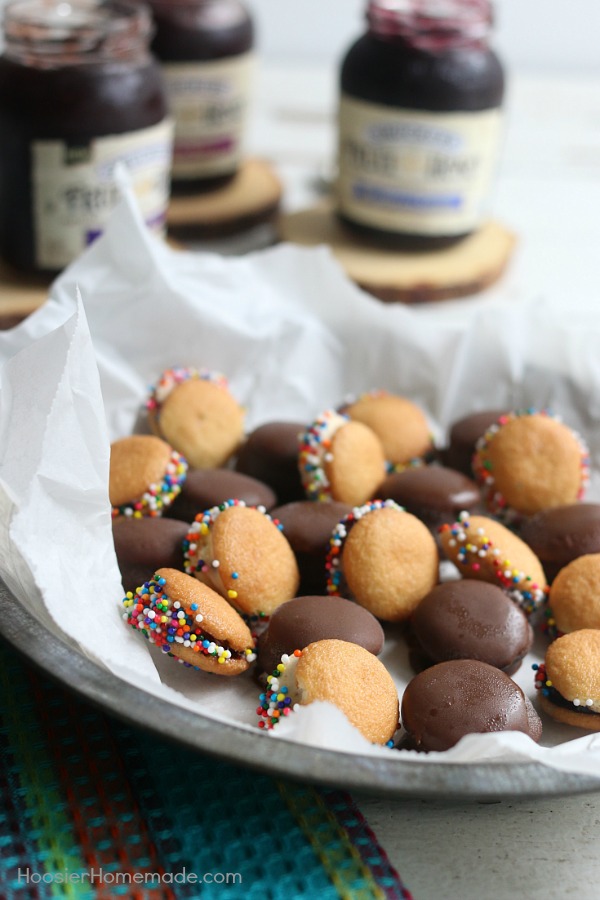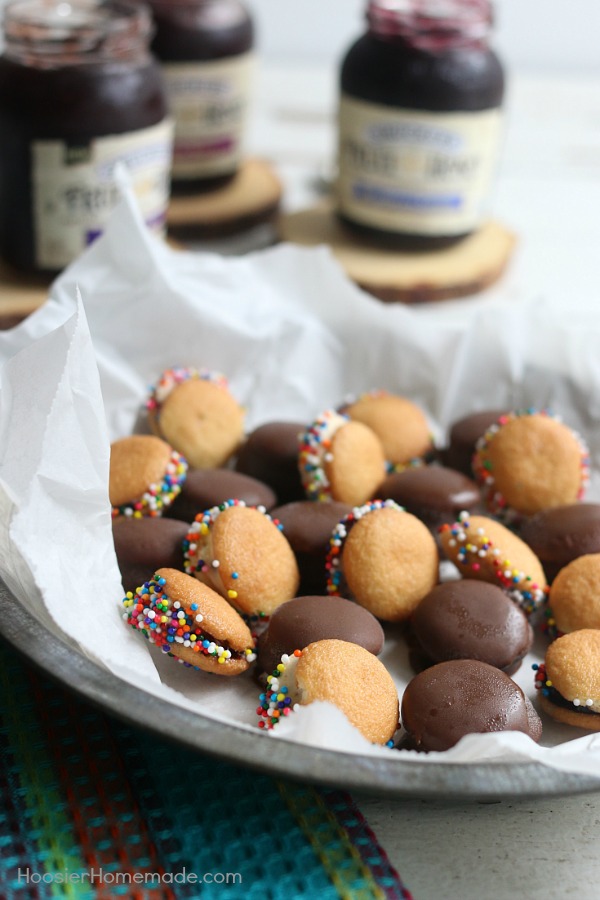 After making these bite-size Ice Cream Sandwiches, we visited our son who just graduated college this past spring. We took dinner for him and his friends and of course dessert. One of his friends couldn't stop eating these little ice cream sandwiches, he said "they are just so good I can't stop." And another friend loved the chocolate coated sandwiches, she said that the addition of the fruit spread and the chocolate combination was really good.
Whether you are hosting a dinner, or just having a family dinner on the deck, these Ice Cream Sandwiches make the perfect little treat. The kids can help make them and they go together in about 5 minutes (plus freezing time).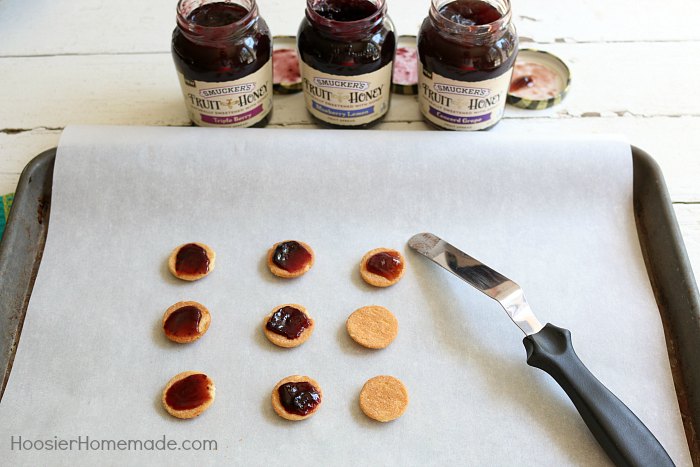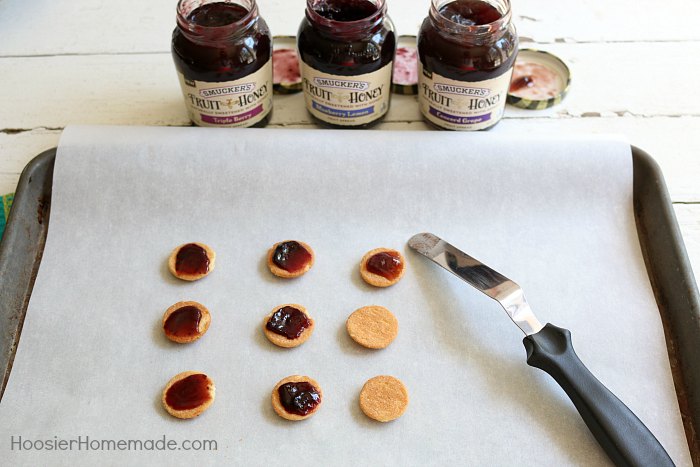 Spreading the Smucker's Fruit & Honey spread on the mini vanilla wafer is the first step. There are several flavors to choose from – I used Concord Grape, Blueberry Lemon and Tripe Berry. They also have Strawberry and Strawberry Jalapeno.
Line a cookie sheet with parchment or wax paper. Using a small spatula, spread the fruit spread onto the bottom of the mini vanilla wafer.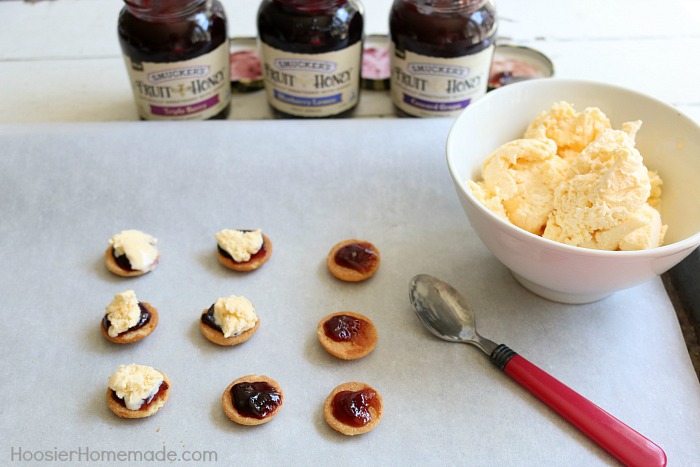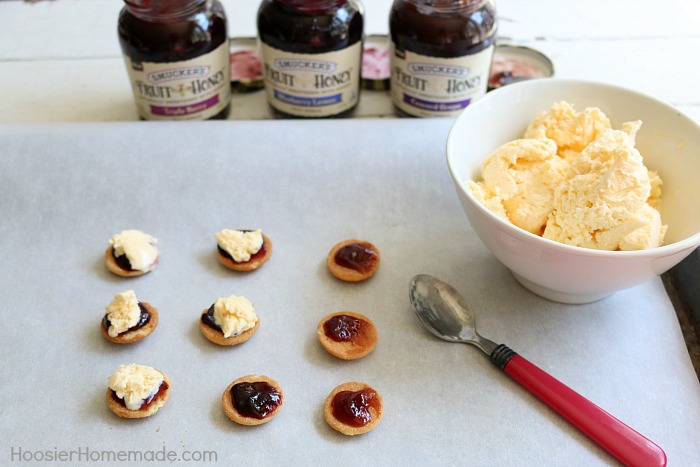 Now it's time to add the ice cream. First, I decided to use vanilla so that the flavors of the fruit spread would not be muddled . I also tried a few different options to see what method was easiest for adding the ice cream. In the end, a plain old spoon worked the best.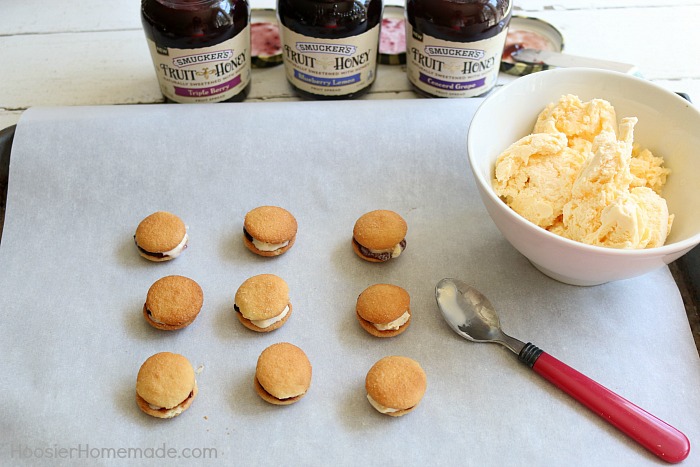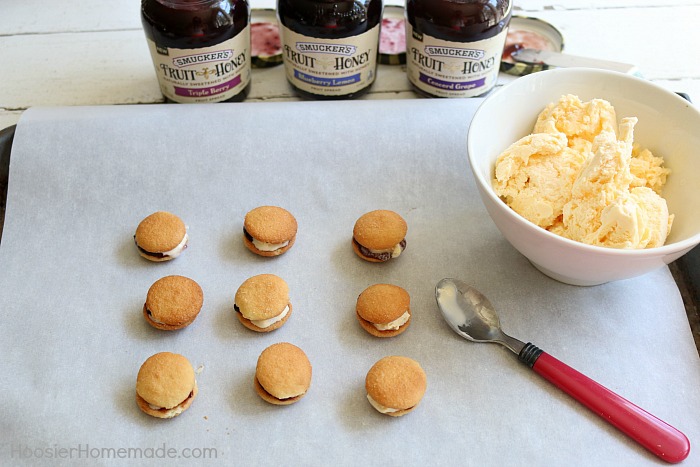 Then top with another mini vanilla wafer. And into the freezer they go for at least a couple hours.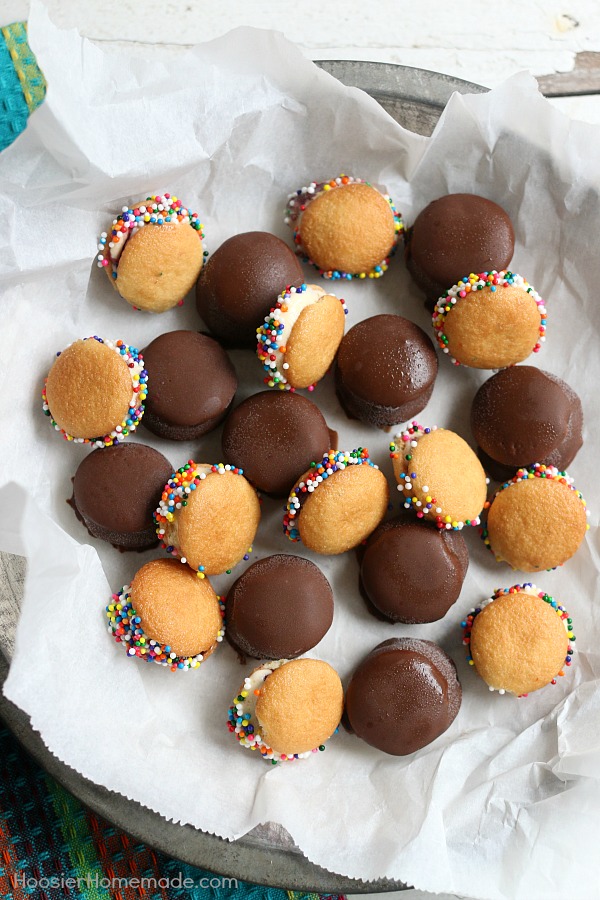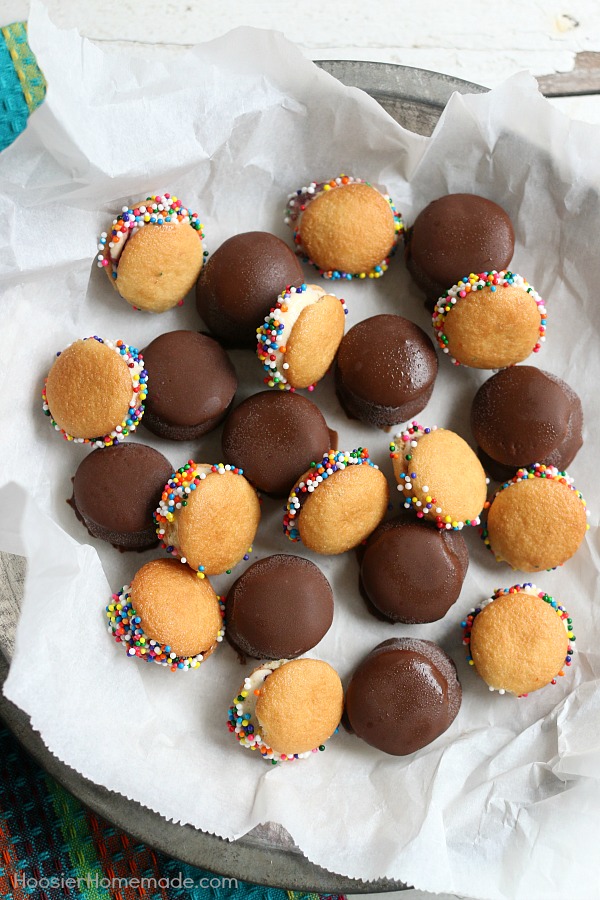 After the ice cream sandwiches are frozen solid, then you can add the chocolate. Smucker's Magic Shell worked great. Shake the bottle well, then pour it into a bowl, using a fork, dip the ice cream sandwiches into the chocolate and place on the lined cookie sheet.
You can also use sprinkles or nonpareils to add a bit of color to the ice cream sandwiches.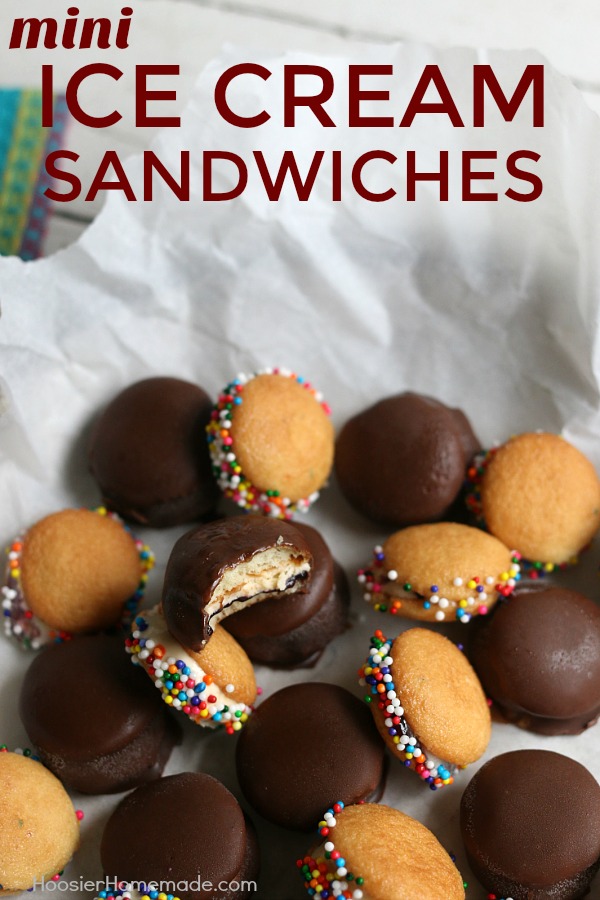 I bet you and your family will have a blast making and eating these Mini Ice Cream Sandwiches. Be sure to share your photo on social media, I'd love to see what you make! Use hashtag #hoosierhomemade and I'll be sure to see and share your creation!


Visit Smucker's for more recipes! And follow them on all social media channels – Pinterest, Instagram, Facebook and Twitter. They have supporting Team USA for the 2016 Olympics, follow along with #PBJ4TeamUSA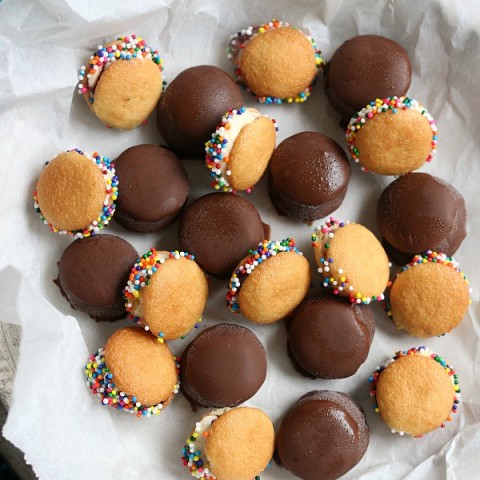 Mini Ice Cream Sandwiches
These bite-size ice cream sandwiches can be put together in minutes! Kids of ALL ages will love them! Dip in chocolate coating, add sprinkles or leave plain!
Ingredients
Mini Vanilla Wafers - or you can use regular size
Smucker's Fruit & Honey spread
Vanilla Ice Cream
Smucker's Magic Shell - optional
Multi-colored Nonpareils - optional
Tools
Cookie Sheet
Parchment or Wax Paper
Small spatula or knife for spreading
Small spoon
Instructions
Line cookie sheet with parchment or wax paper
Add fruit spread to bottom of vanilla wafer
Add small amount of ice cream
Top with vanilla wafer
Freeze at least 2 hours
Remove from freezer
Chocolate Dipped
Shake Magic Shell bottle well
Pour into bowl
Use a fork to dip the sandwiches
Place on lined cookie sheet
Place in freezer about 15 minutes or until firm
Sprinkles
Pour sprinkles or nonpareils onto a paper plate
Roll sandwiches in sprinkles
Place on lined cookie sheet
Place in freezer until ready to serve