Colgate Optic White Toothbrush: Coupon + Contest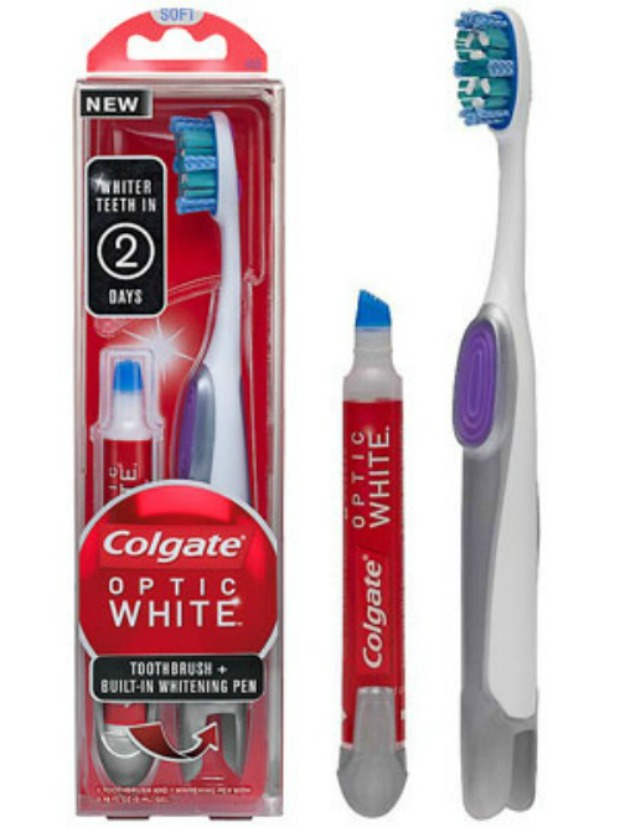 The new Colgate Optic White Toothbrush + Built-in Whitening Pen is the first of its kind. Colgate is introducing this toothbrush that delivers not only a superior clean, but also whitening beyond the surface.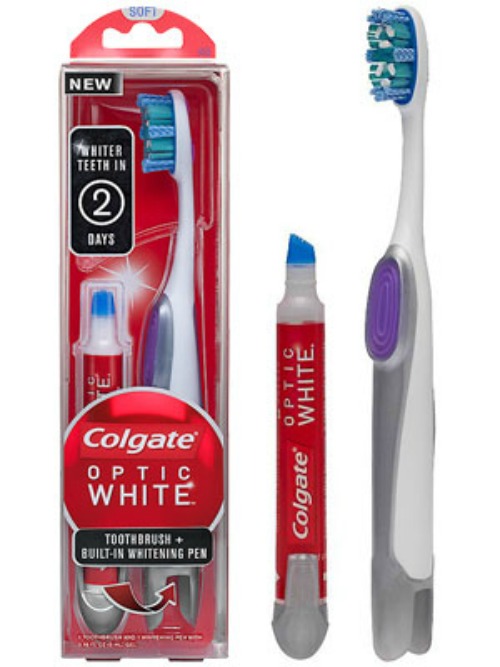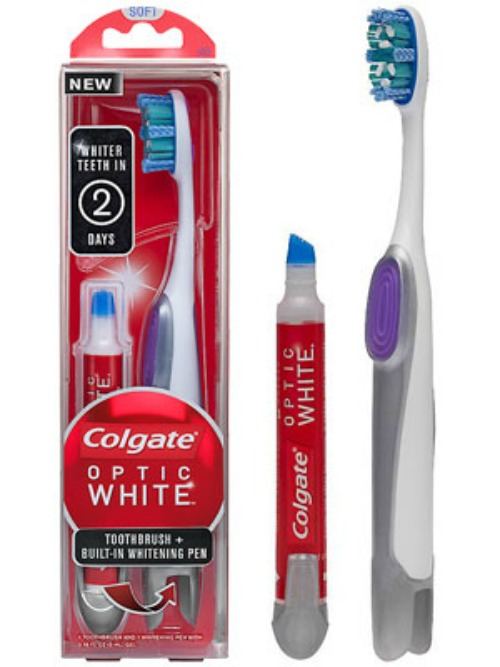 This new and improved toothbrush that Colgate is launching has a built-in whitening pen, that makes it quick and easy to get whiter teeth in just 2 days! Not only does this new toothbrush offer quick whitening, but is also affordable and convenient. In just two easy steps, your kids, significant other, and yourself can all have a noticeably whiter smile in just days.
Step one is the same as every other toothbrush, brush your teeth for two minutes (make sure to even get in the very back).
Step two is where the new whitening pen comes into play. A simple two clicks of gel for the top teeth and two clicks for the bottom teeth is all it takes. Simply spread Colgate's whitening gel over your teeth and within seconds the whitening agent begins to stick to your teeth. Once this gel is applied, stain fighters attack stains beneath the surface to give you a noticeably whiter smile.
In just two days, I noticed a whiter smile. It's not a myth at all, this stuff really works and it works quickly. I would recommend this product line for anyone who wants real results in a quick and easy product. I am 100% satisfied and I hope that you are too.
Purchase your Colgate Optic White Toothbrush + Built-in Whitening Pen at Walmart stores or at Walmart.com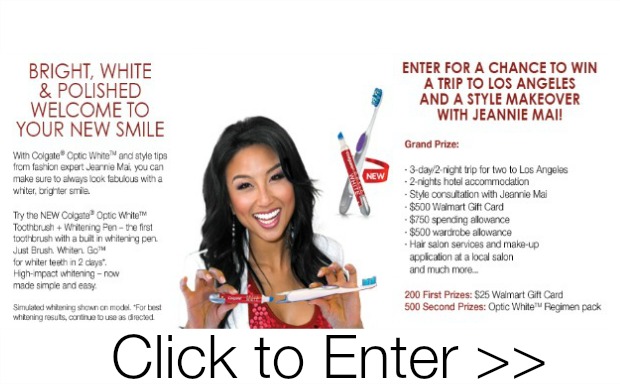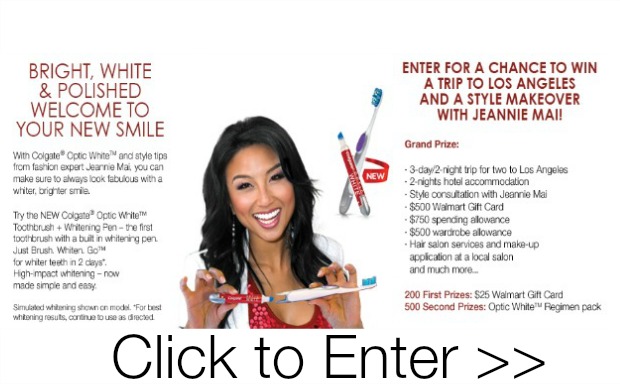 Ever dreamed of a Style Makeover? I know I have. Colgate is once again offering you a chance to win a trip to Los Angeles and receive a makeover with Jeannie Mai, or one of hundreds of first and second prizes.  The contest is sponsored exclusively by Colgate-Palmolive, with all entries receiving a $3 product coupon.
Contest Details
Contest timing: March 3 – April 19, 2014 
Grand prize: A three (3) day / two (2) night trip for winner and one (1) guest to Los Angeles, CA on Sponsor-selected dates expected to be in June/July, 2014 
First prize: TWO HUNDRED (200) FIRST PRIZES:  one (1) Walmart® Gift Card worth $25 
Second prize: FIVE HUNDRED (500) SECOND PRIZES: one (1) Colgate ® Optic White® Style Regimen 2-in-1 Kit + 8oz Mouthwash
Coupon: upon contest entry, download coupon to save $3 on purchase of Colgate Optic White Toothbrush + Whitening Pen