Here comes Peter Cottontail – hopping down the bunny trail…Now that I have that song stuck in your head, let's make some easy Bunny Cupcakes.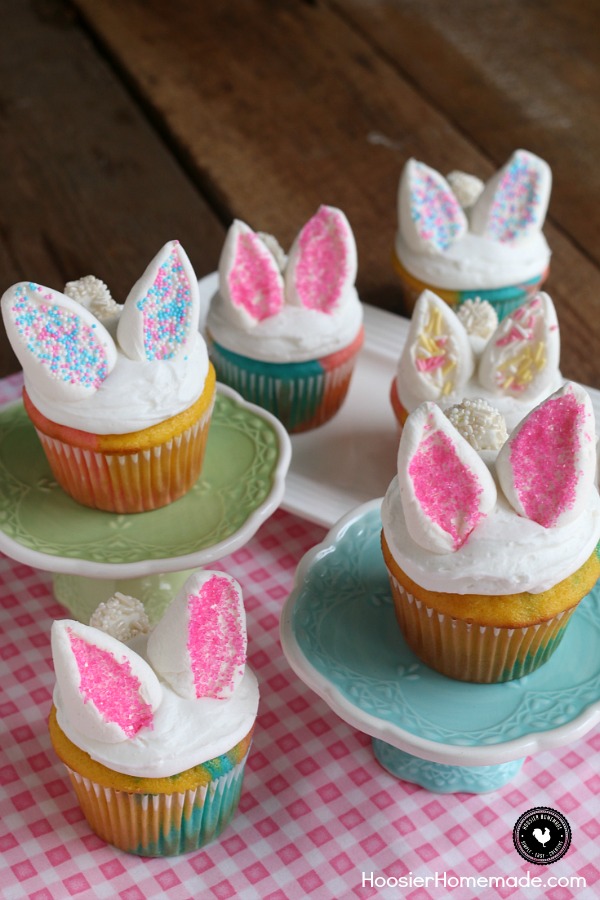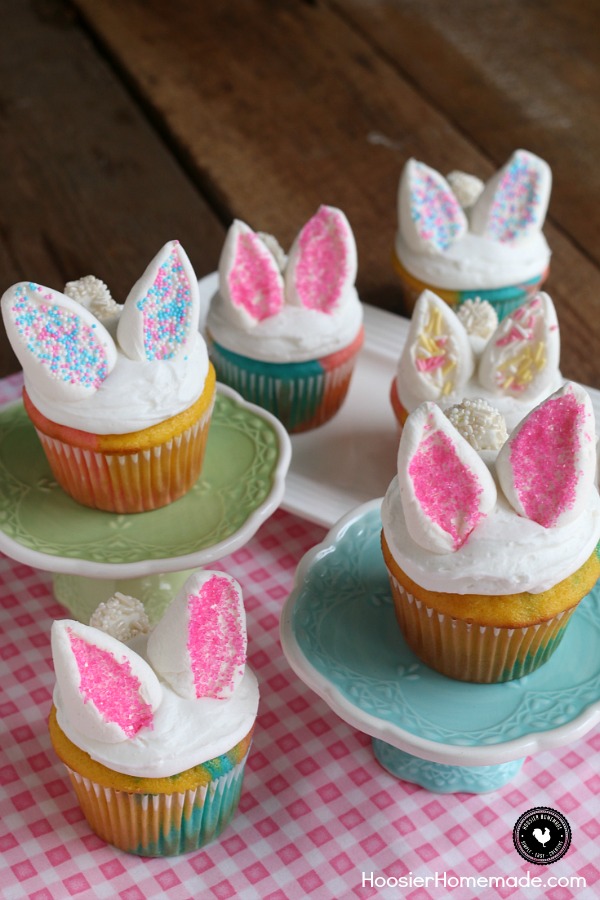 Easter is on it's way, and you know what that means – it's time to bake Easter Cupcakes. I kept these super simple for you, and the kids can even help with them too.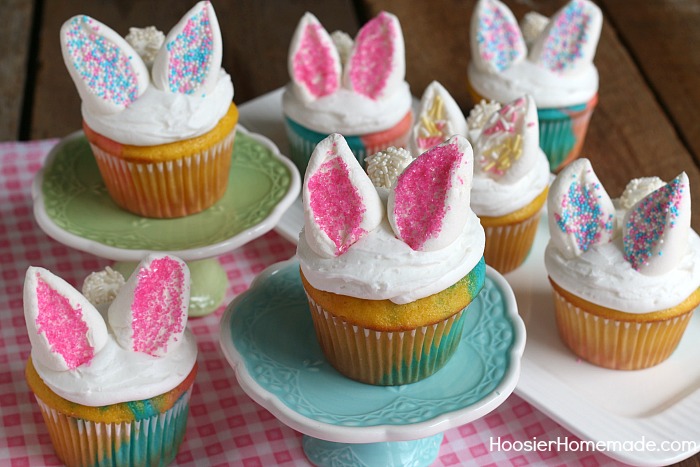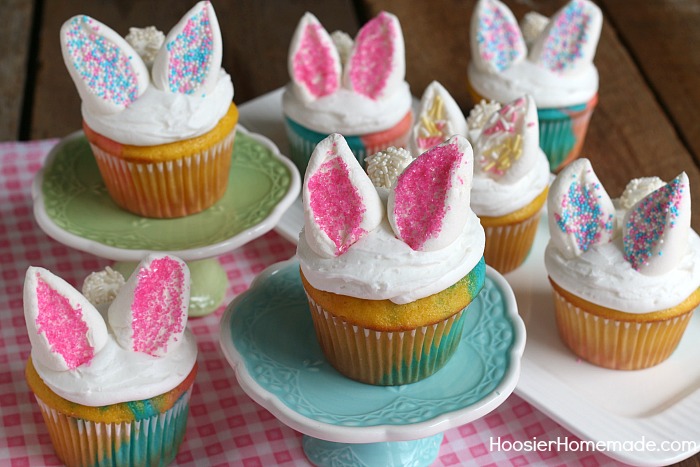 These Easy Bunny Cupcakes are perfect for Easter or even a Spring party! They start with a 3-color cupcakes, white frosting and marshmallow bunny ears and tail.
Let's get started…
Supplies:


Instead of a plain cupcake, I decided these Bunny Cupcakes needed a bit of color. To stay with the Spring theme, I chose pink, blue and yellow. All of the batters start with a cake mix, the pink and blue are Duncan Hines Velvet Cake Mixes, and the yellow is the French Vanilla Cake Mix with yellow coloring added.
I added ingredients to the cake mix to make them taste more homemade – buttermilk, butter and eggs.
To make filling the cupcake liners, really easy, add the batter to plastic decorator bags. Because the cake batter is not as thick as frosting, I found that it's easiest to put the bags into a tall glass and fold the top down around the edge of the glass.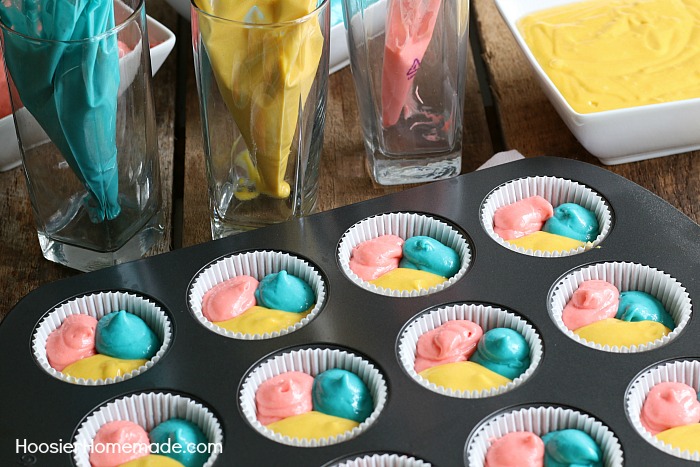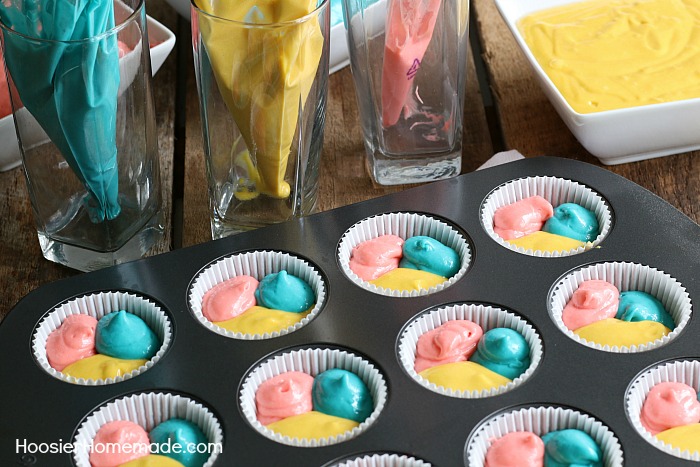 Then add the batter to the liners. I added a small amount until I got all 3 batters in, then filled it to about 3/4 full.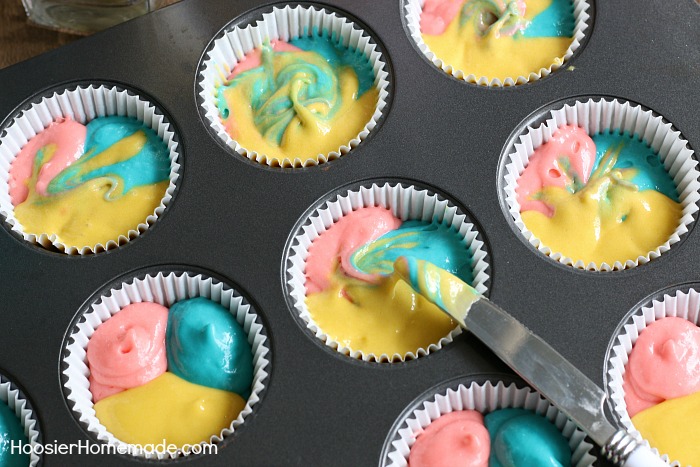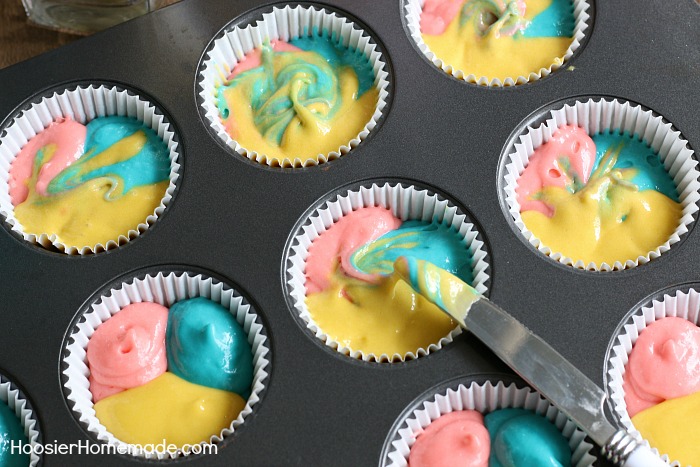 Using a butter knife, you can swirl the cake batter if you want. I baked them both ways and found that I liked them better not swirled.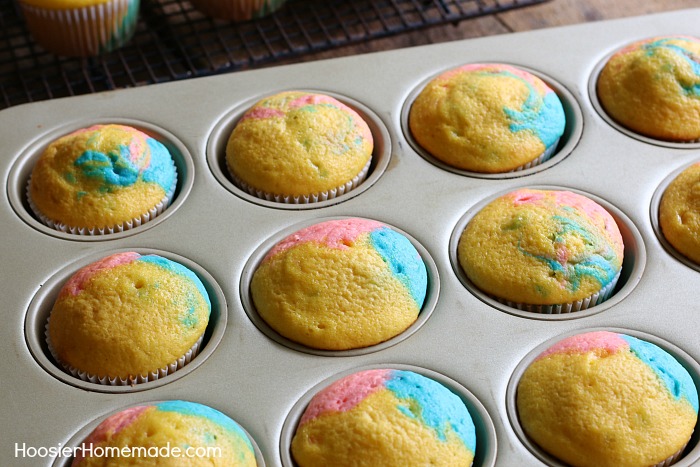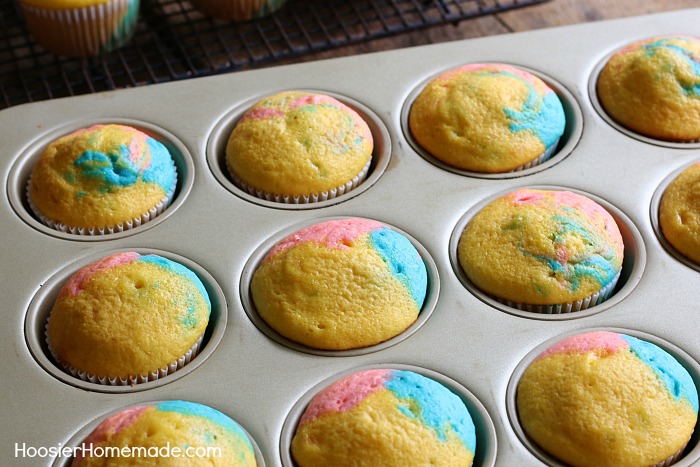 You can see how they look without the frosting. I think using the multiple colored batters is fun. The pink and blue would be really fun for a baby shower. Maybe even a party when parents reveal the gender of the baby.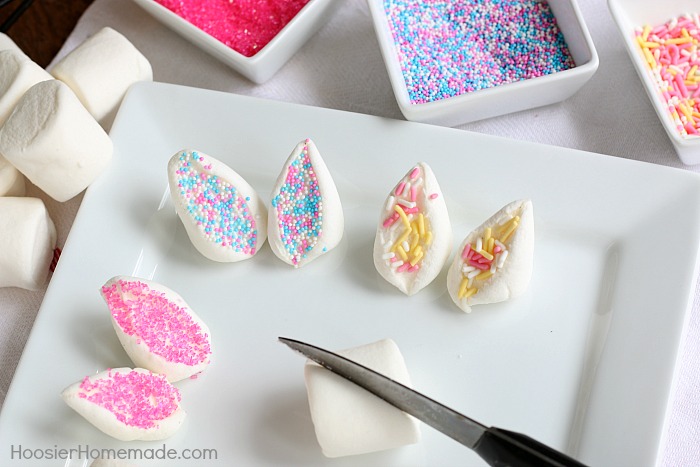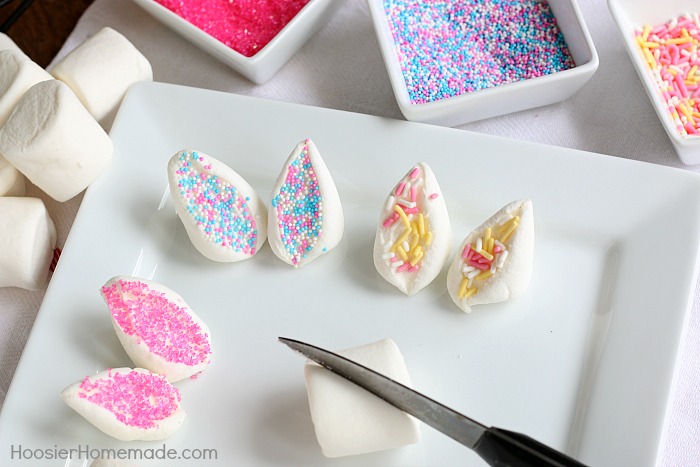 While the cupcakes are baking and cooling, it's time to make the Marshmallow Bunny Ears.
Lay the marshmallow on the side
Cut diagonally with a sharp knife
You may need to open the marshmallow a bit to expose the sticky side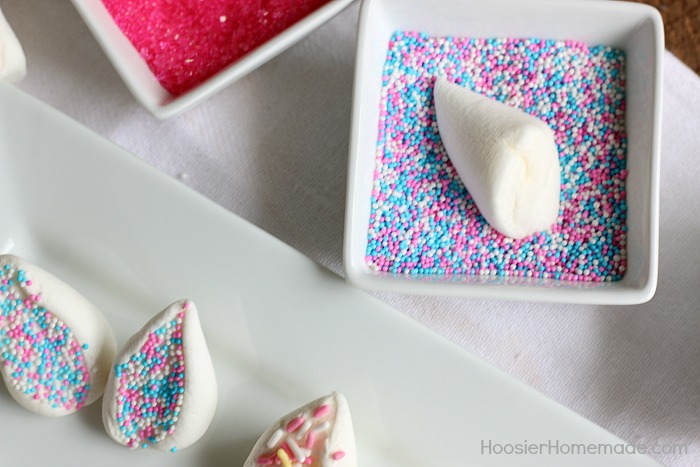 Lay the marshmallow in sprinkles or nonpareils – cut side down
Push down gently
This is a great job for little helpers – the kiddos will love adding the sprinkles
I used three different sprinkles. You can find them in the cake decorating aisle- or on Amazon!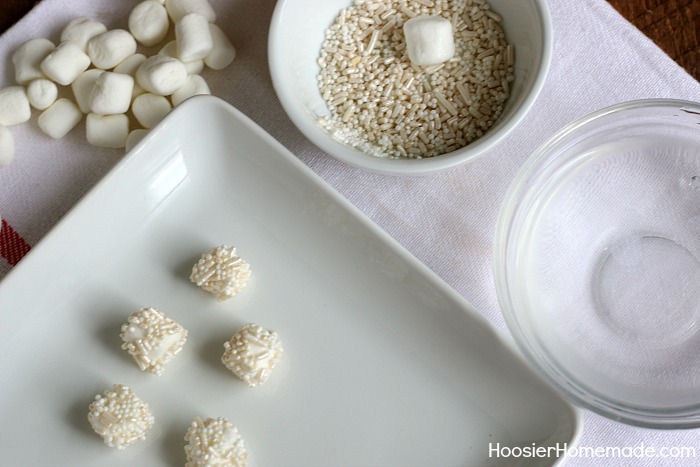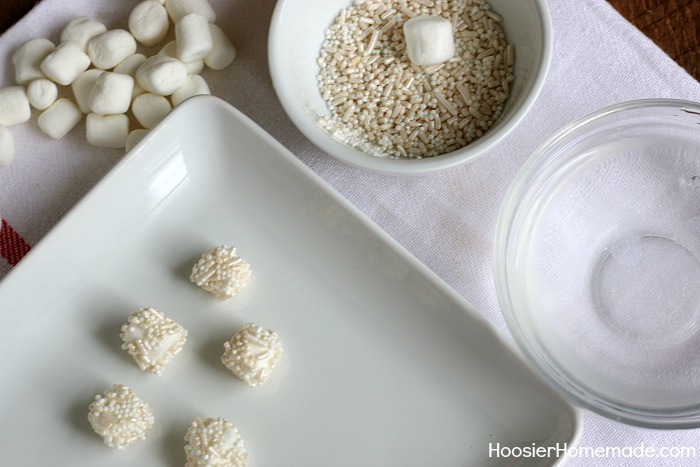 Then you can make the Bunny Tails.
Dip a mini marshmallow in water – you don't need much, just a quick dip
Roll marshmallow in white sprinkle or jimmies
To frost the cupcakes, I used Wilton Ready to Use Decorator Icing. It's a favorite of mine because it tastes good and stands up nicely when decorating cupcakes. It's also very white, which is what I wanted with the bunnies.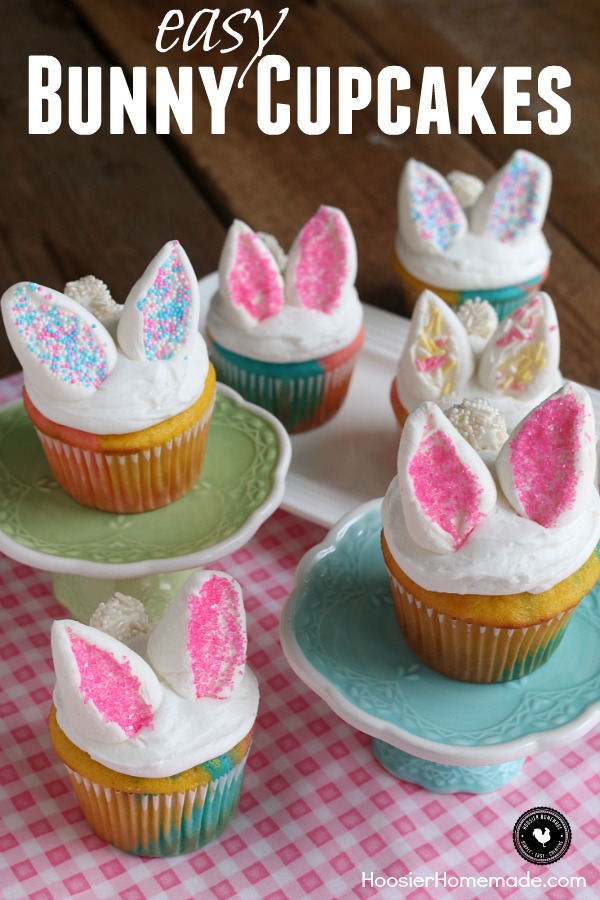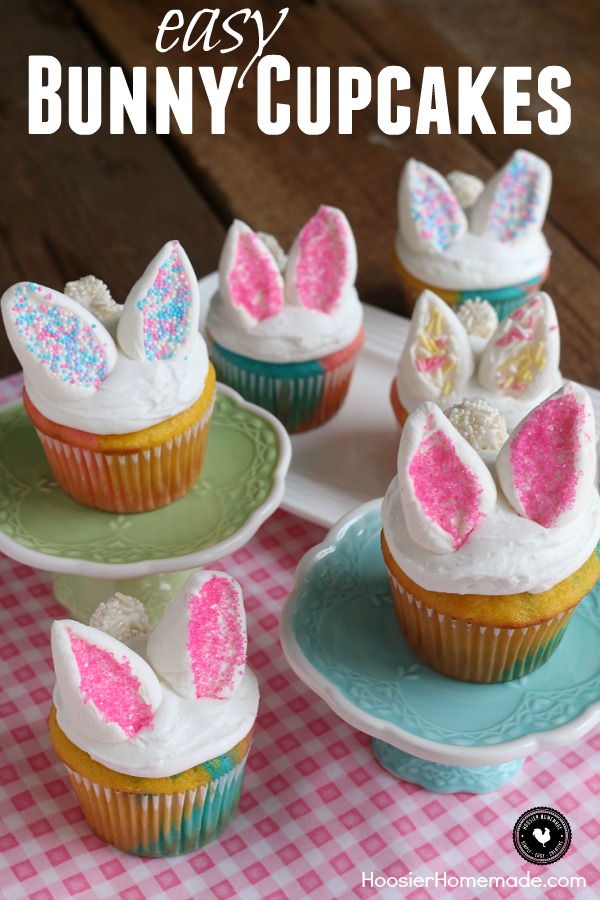 *Affiliate links used.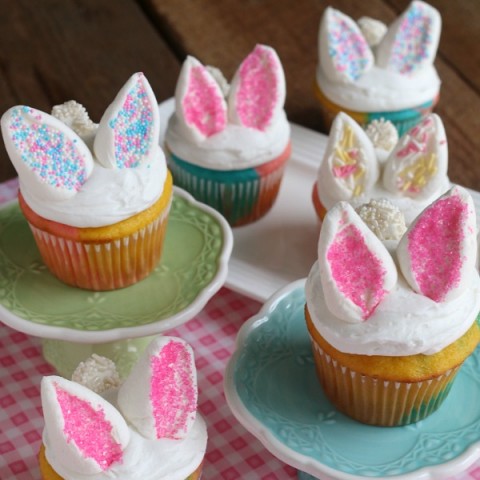 Easy Bunny Cupcakes
These Easy Bunny Cupcakes are perfect for Easter or Spring! They start with a 3-color cupcakes, white frosting and marshmallow bunny ears and tail.
Ingredients
1 box Pink Velvet Cake Mix
1 box Blue Velvet Cake Mix
1 box French Vanilla Cake Mix
12 eggs - 4 for each cake mix
Buttermilk for cake mix - replace the amount of liquid on the box (2/3 cup or 1 cup) - splash of vinegar in the measuring cup, fill with milk and let set a couple minutes
2 sticks butter - 1 for each cake mix - follow directions on box
1/3 cup oil for French Vanilla Cake Mix
Frosting
To get really white frosting for bunnies, I used Wilton Ready to use Decorating Icing
Ears
Regular size Marshmallows
Sprinkles - your favorite
Tails
Mini Marshmallows
White Sprinkles
Instructions
Cupcakes
Combine each of the cake mixes and move to separate bowls until all 3 cake batters are done
Add a plastic decorator bag to a tall glass, and fill each with cake batter
Add cupcake liners to muffin pan
Heat oven to 350 degrees
Fill each liner with a small amount of each color of cake batter until about 3/4 full
Bake at 350 degrees for 13-15 minutes or until a toothpick inserted in the center comes out clean
Cool completely
Ears
Lay marshmallow on it's side and cut diagonally
Dip the cut side into sprinkles
Set aside
Tails
Dip mini marshmallow in water quickly
Immediately add white sprinkles to marshmallow
Frosting
Pipe on frosting or add with an offset spatula
Add ears and tails
Notes
You can also use your favorite cake batter for these Bunny Cupcakes. Anything is fine.