Is your laundry piling up? Keeping your laundry room organized is half the battle! These Laundry Room Organizing Ideas are sure to help get you on the right track.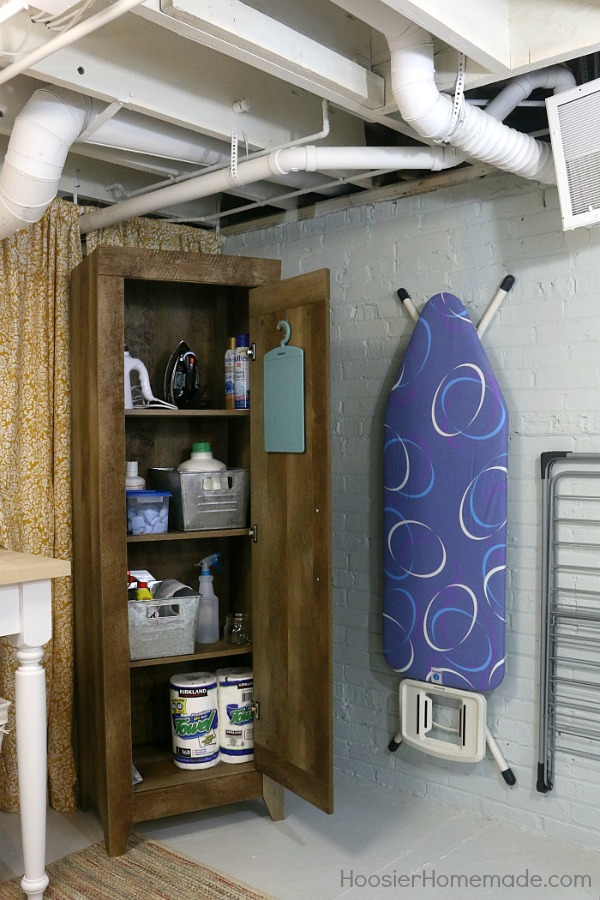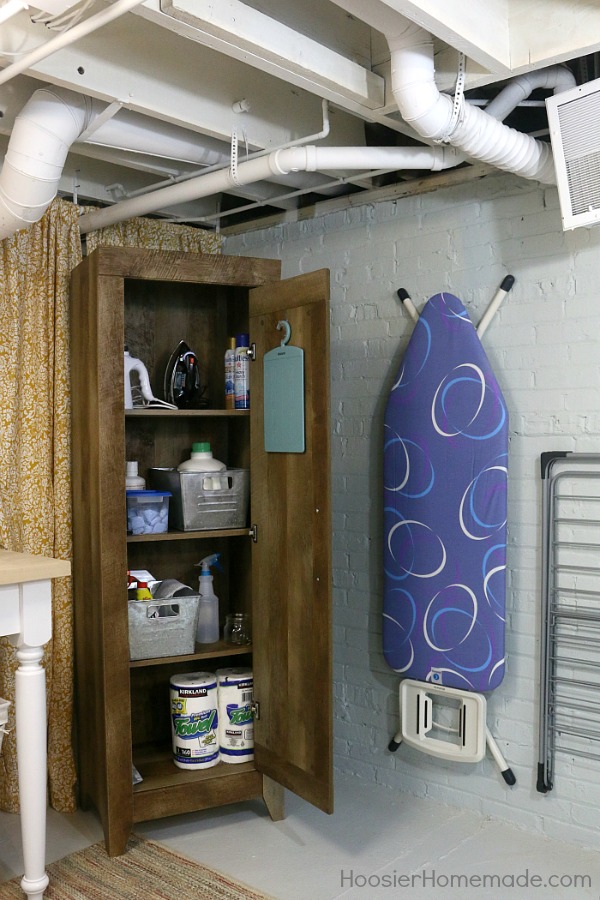 Yesterday we shared with you our Laundry Room Makeover. I couldn't be more thrilled with how it turned out. A big part of the remodel was organization. Little by little, I am making my way around our home to get the space cleaned, painted, decorated and organized. Keeping up with the piles and piles of laundry can often times be a struggle, but if you have a good system in place and it's organized, then you are well on your way!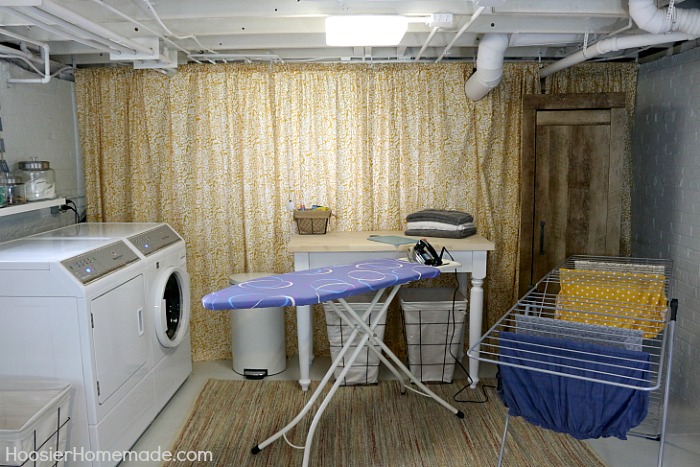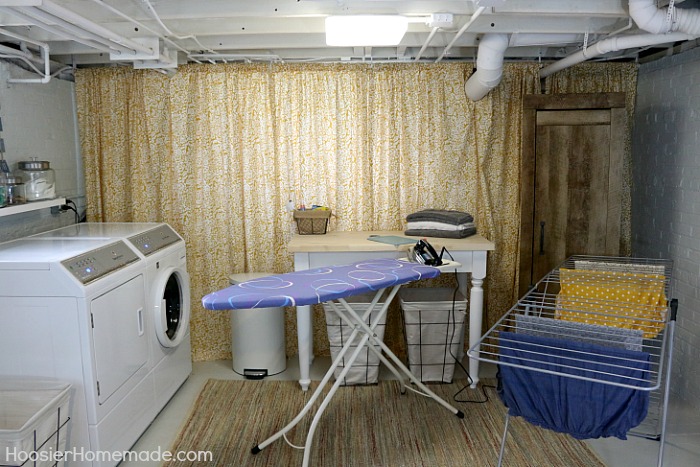 Not only is the new space gorgeous, it also functions really well. After all the cosmetic work was done (cleaning, painting and clearing out the space) it was time to get organized.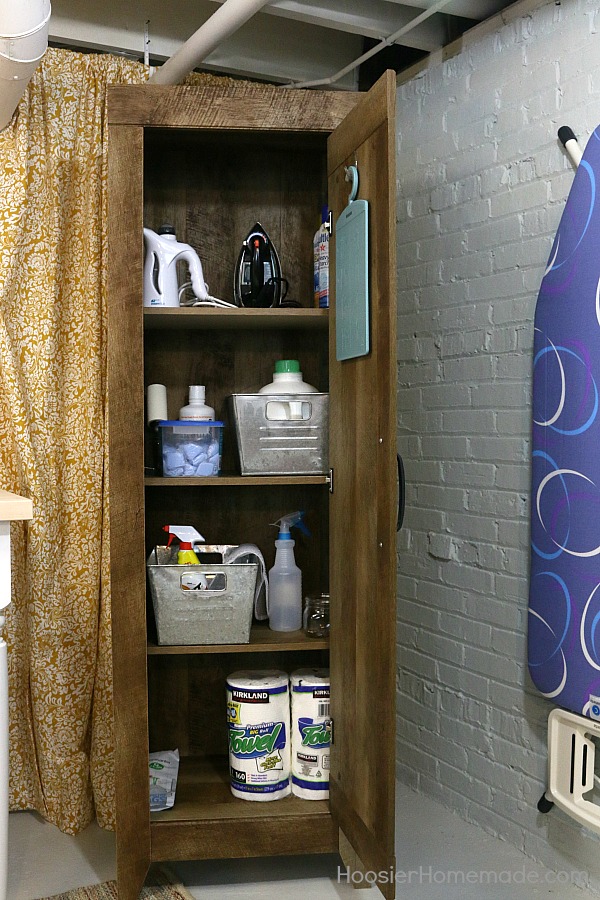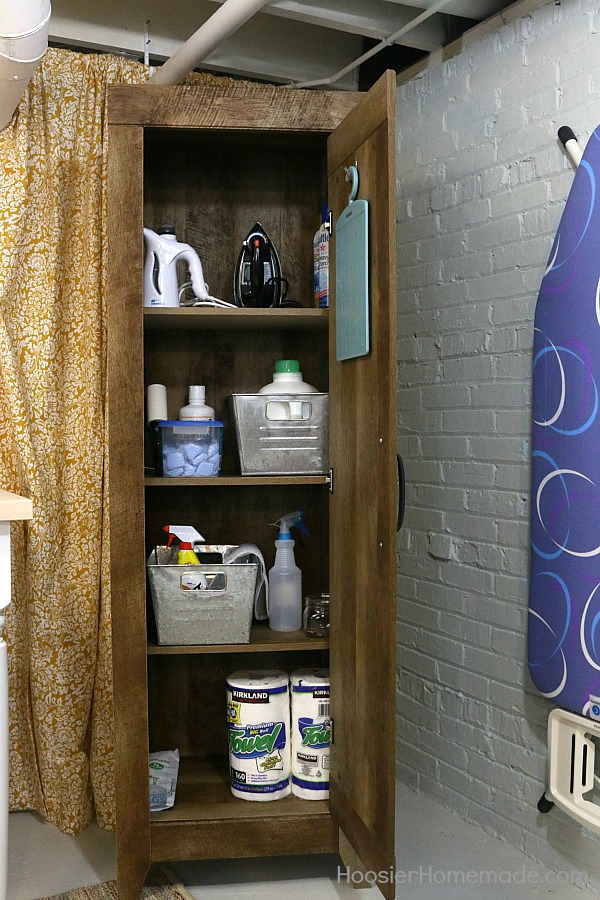 The first thing we needed was a spot to hold all the extra laundry supplies, like the iron and steamer. We originally were going to buy or make open shelves, but when we started comparing prices – purchasing vs making – we decided that for the same money, we could get this narrow storage cabinet. It fits the Farmhouse style of the rest of the home and laundry room perfectly, and having a door to close is great. Laundry supplies aren't the cutest decor on open shelves!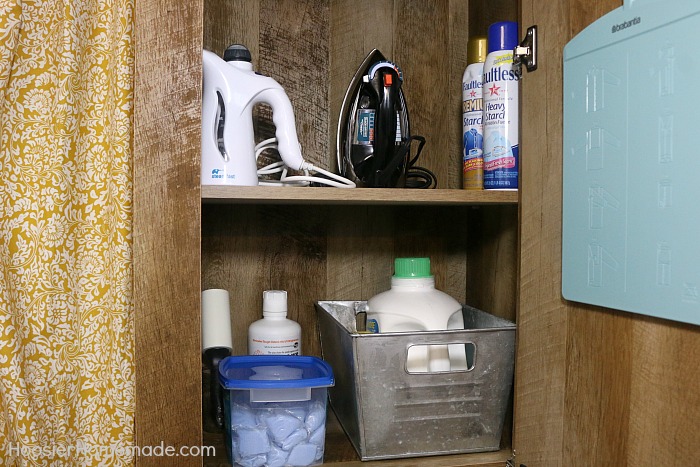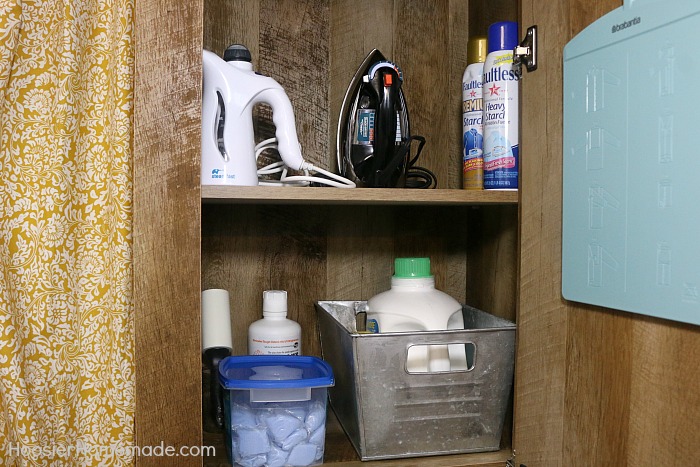 At the top we stored the iron, steamer and spray starch. The galvanized tubs come in so handy, we have extra laundry soap, softener, color catchers and a lint roller. The folding board from Brabantia hangs nicely on the inside of the door. (more on that in a minute)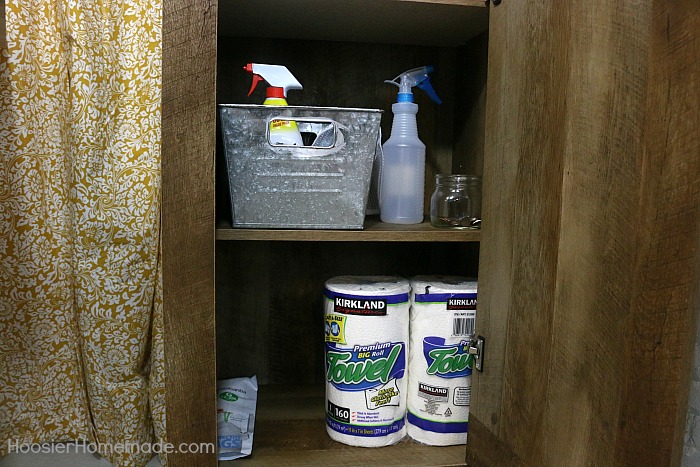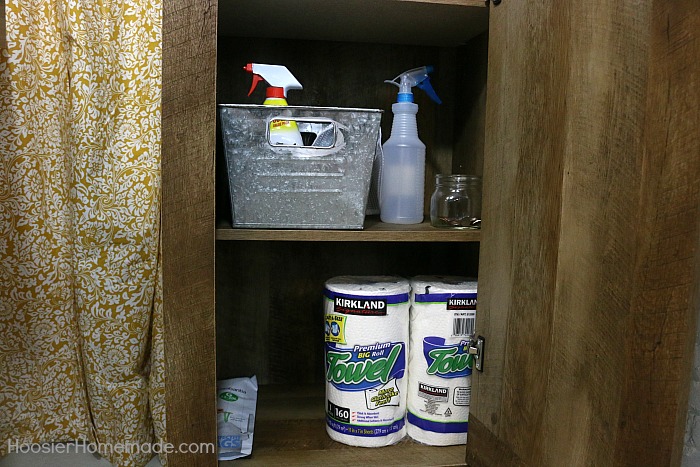 Then another galvanized tub holds stain removal, a plastic spray bottle and a small jar for change. On the bottom extra paper towel are always necessary!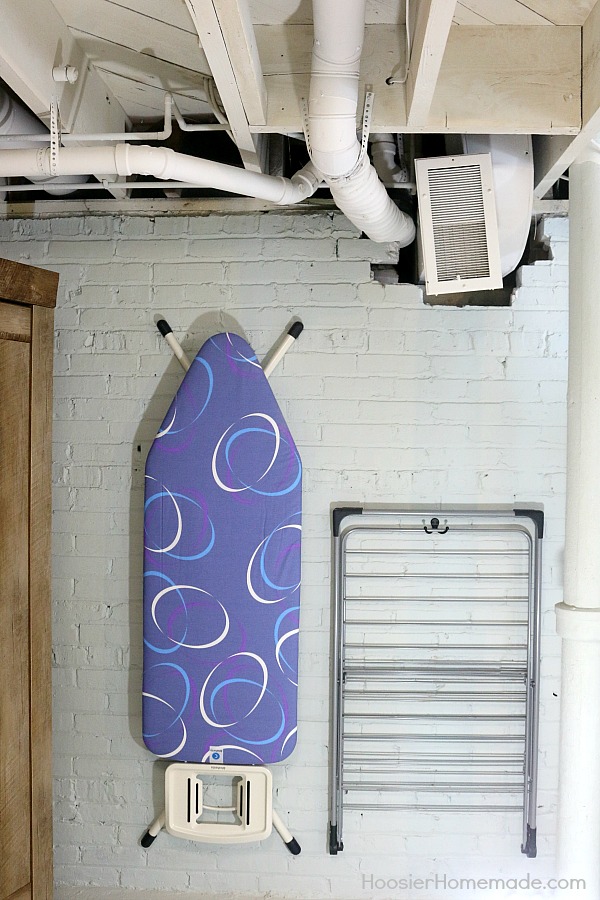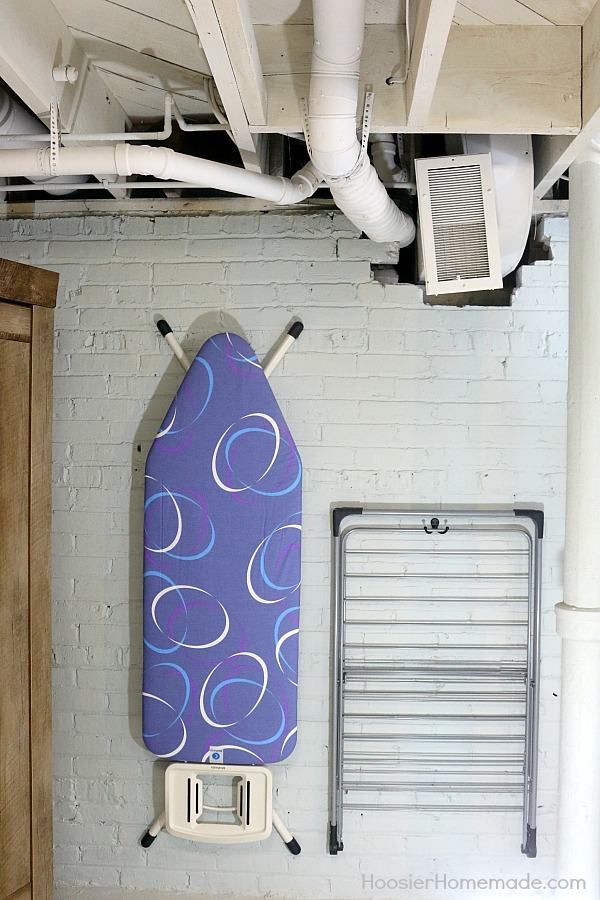 Now I don't know about you, but having my ironing board and dryer rack hung up on the wall is super helpful. Large pieces like these can easily get in the way.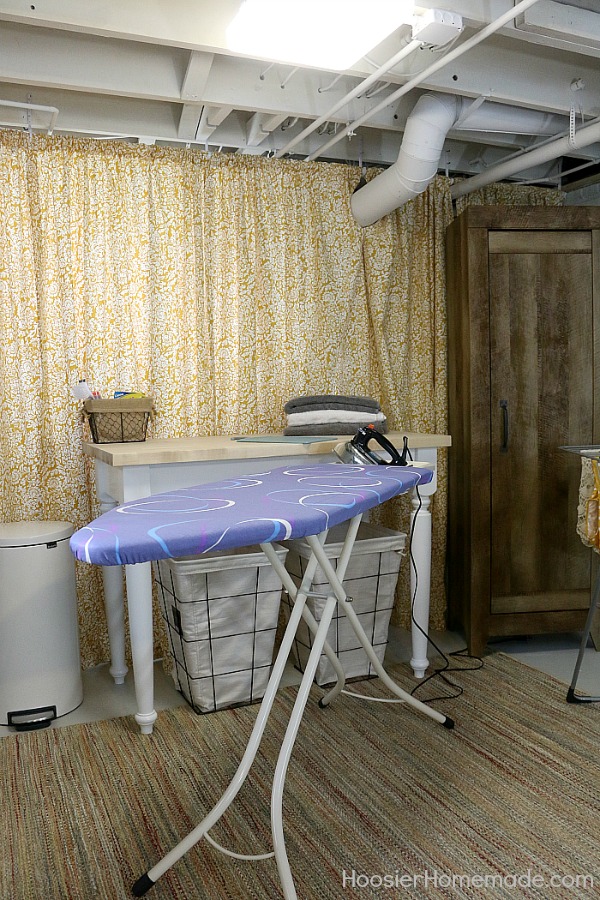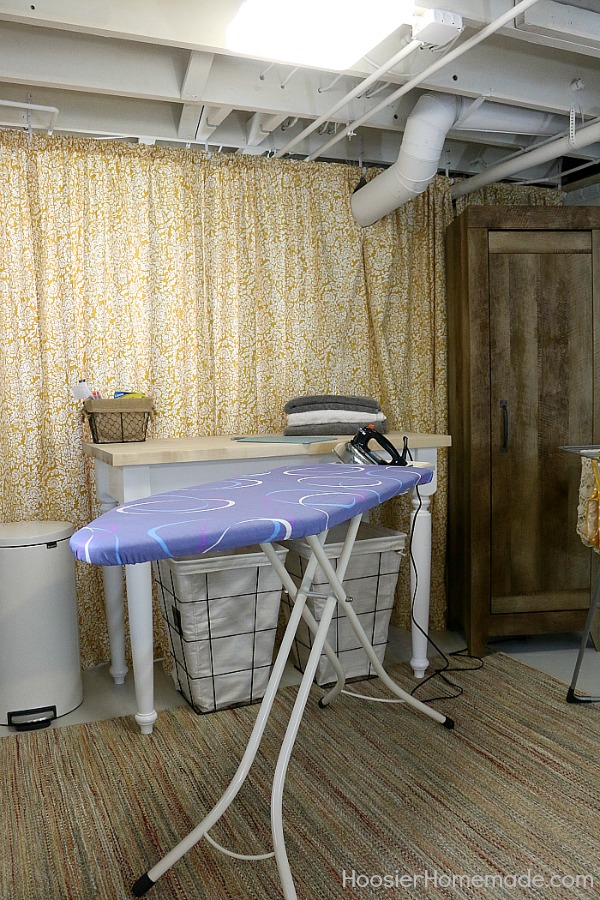 I never thought I would ever say that an Ironing Board is amazing, but honestly, this one actually makes me WANT to do the ironing. This Brabantia Ironing Board has won the Best Review Award, it has an extra stable worktop with sturdy legs with robust protective non-slip caps. The ironing board adjusts to 7 different heights, and has a  child lock that prevents the ironing board from collapsing accidentally. The 100% cotton cover has resilient foam/felt underlay and comes in a variety of cover designs. That is a lot of features!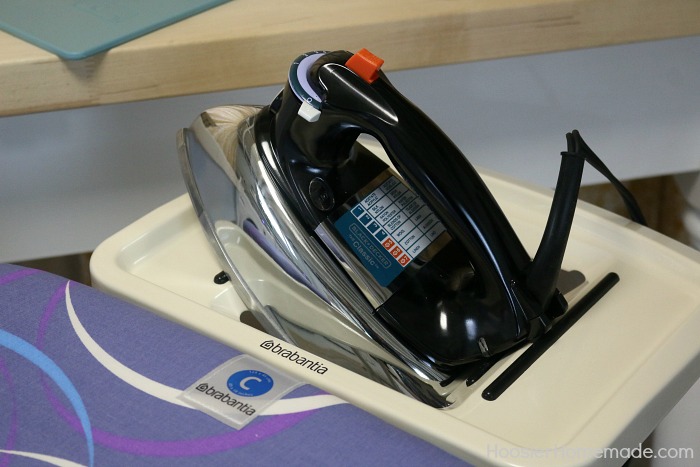 I think the Iron rest is my favorite feature. It keeps the iron in a stable area, handy and frees up space on the board. And I'm not terrified the iron is going to fall over.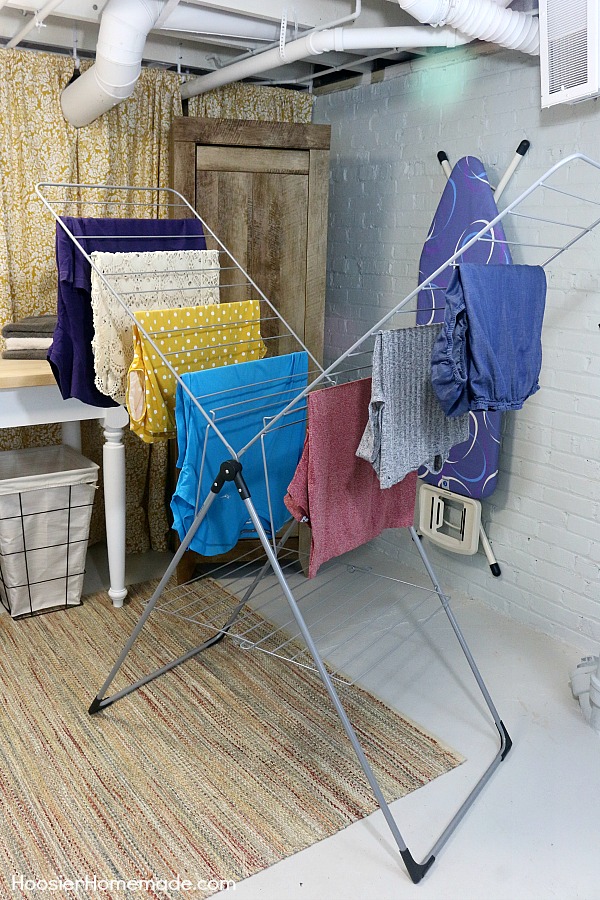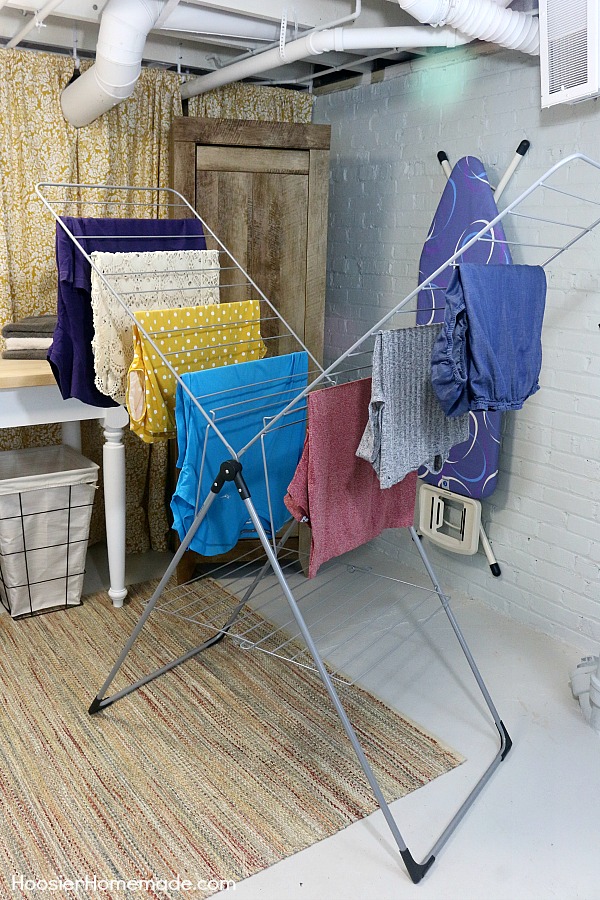 I remember my Mom hanging clothes out on the line- a few times a week our back yard would be full of clothes. Now, though, it's much easier, especially with this Brabantia Drying Rack that holds a full machine load. It's easy to move, is solid, durable and the "wings" are adjustable. The drying rack is also space efficient and folds down completely to store easily.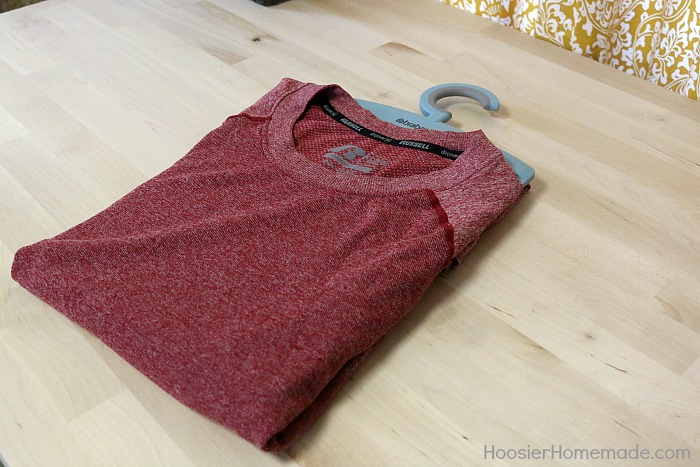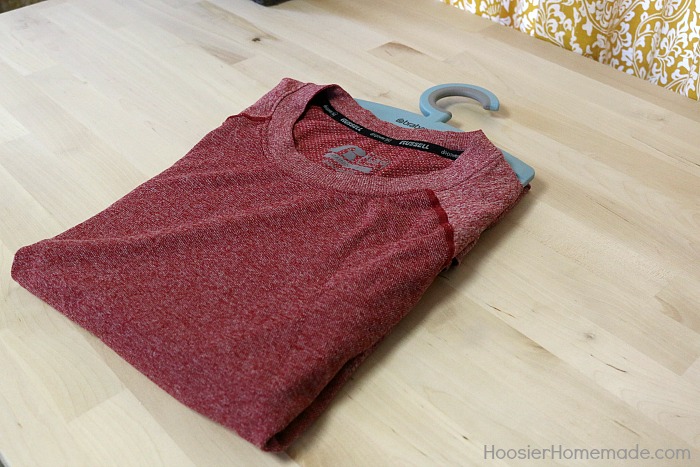 I have a confession to make – Doug does our laundry. Several years ago, when he left his full-time job to come home and help with the business, laundry was one of the chores that I asked him to do. Of course now, in my beautiful new laundry room, I might just have to take it back.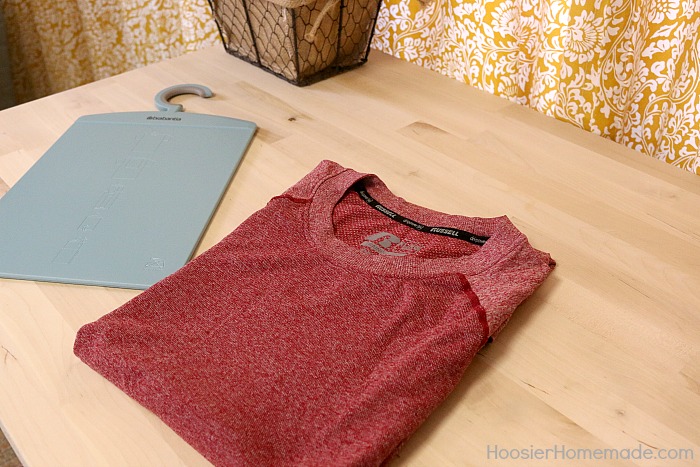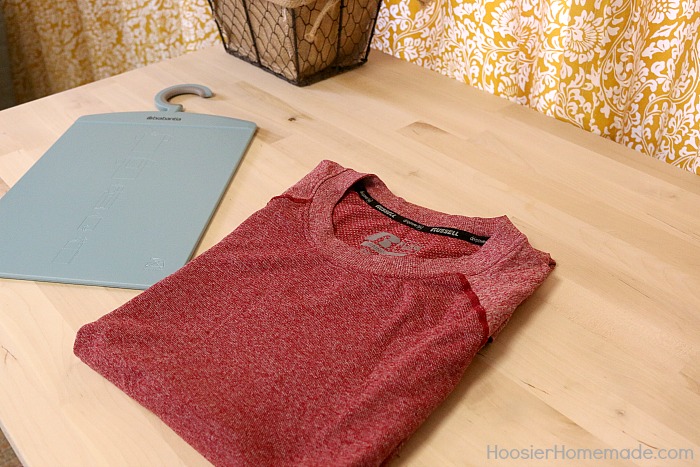 One of the things he is a stickler on is folding shirts. The Brabantia Folding Board works perfectly to fold shirts uniformly. When we went to the Chicago Housewares show last spring, we actually met the folks from Brabantia and they gave him a folding board then. He absolutely loves it!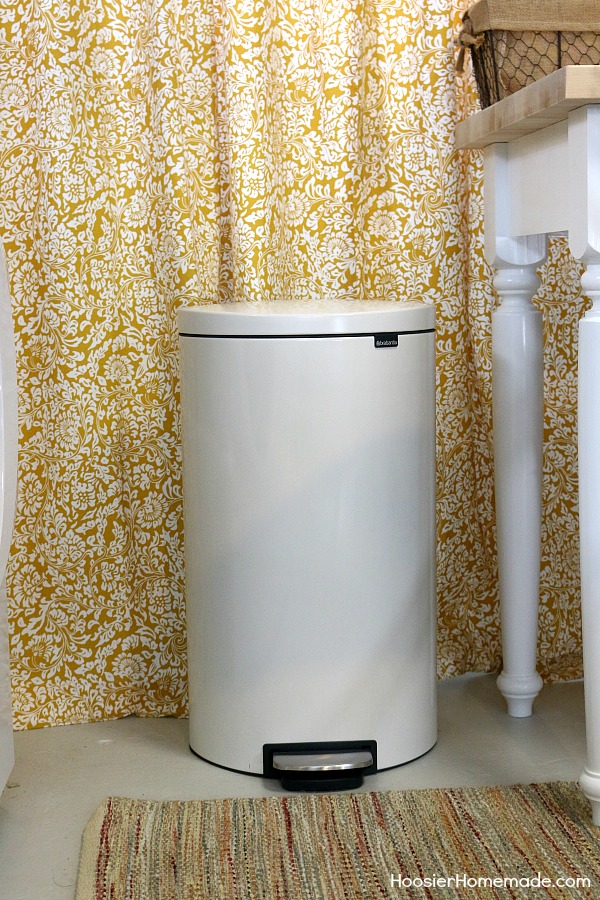 Have you ever been excited over the silliest thing? That is how we feel about the Brabantia Pedal Bin. Thanks to MotionControl™ technology it closes softly with light pedal operation. The lid does not hit the wall when opens, it's easy to clean and best yet – it's fingerprint resistant. I didn't know I could love a trashcan so much!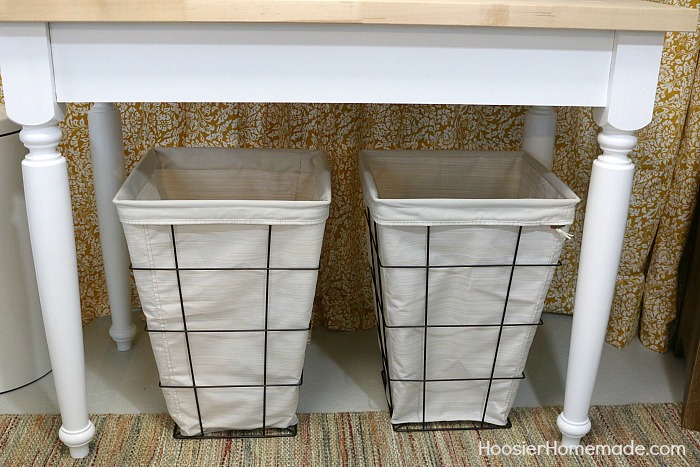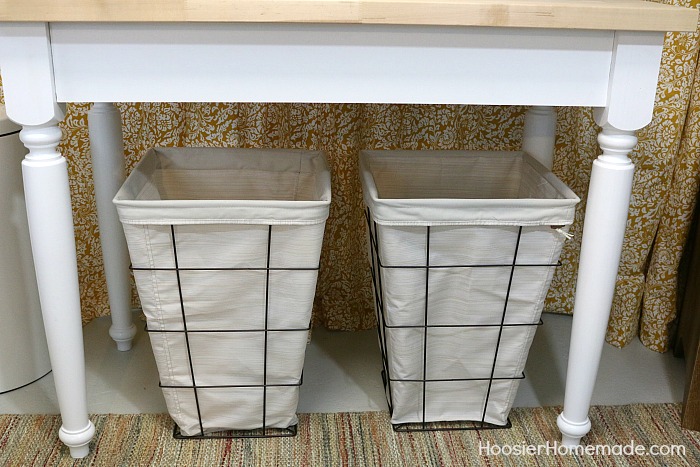 To finish up the Laundry Room Organizing, Doug built a folding table using a butcher block counter top. I wanted to stay with the Farmhouse theme. I found these wire laundry baskets at Target.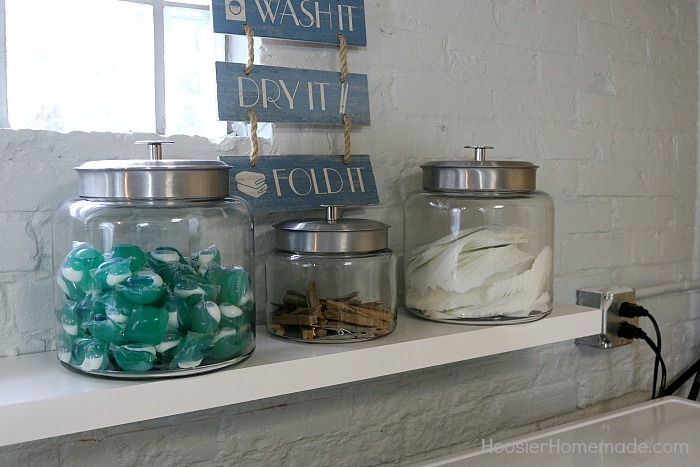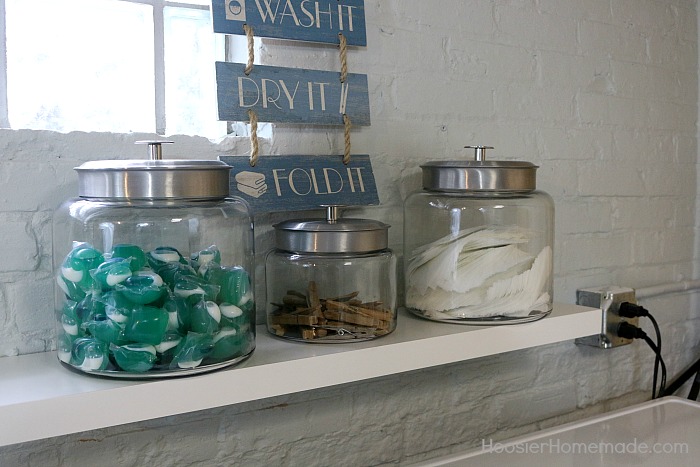 And last, above the machines, Doug added a 36 inch hidden mount floating shelf then we filled jars with soap, dryer sheets and clothes pins.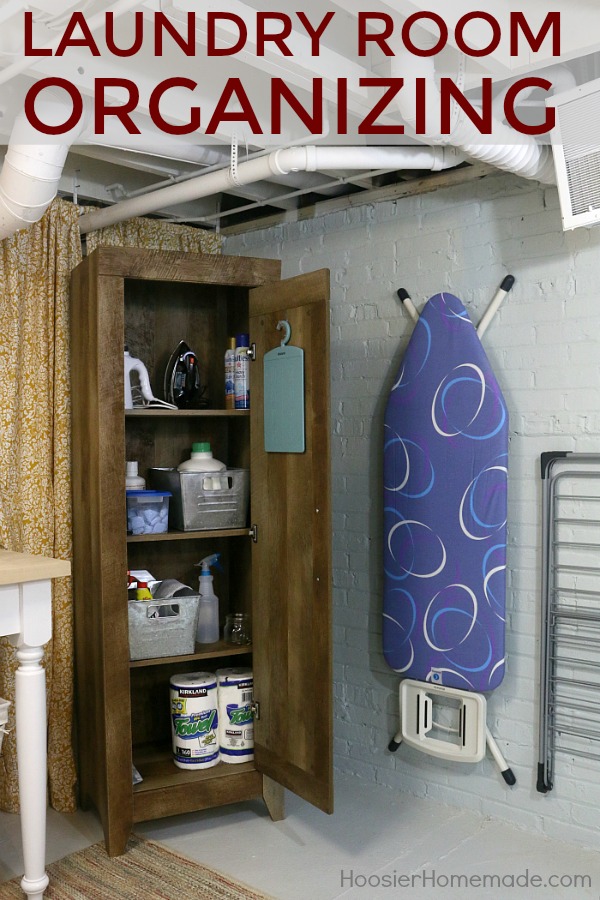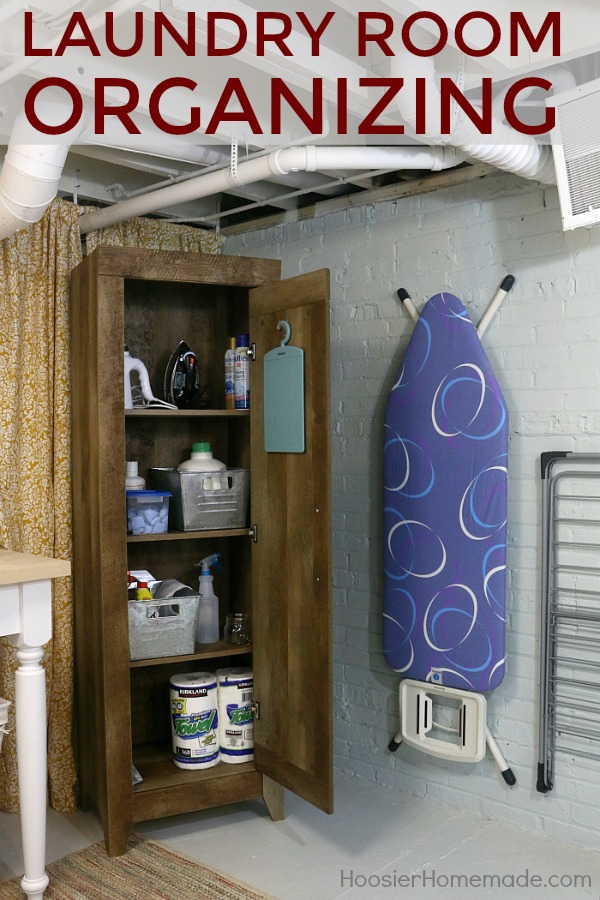 Love to Decorate?
Me too! Subscribe to get decor ideas for every season straight to your inbox!