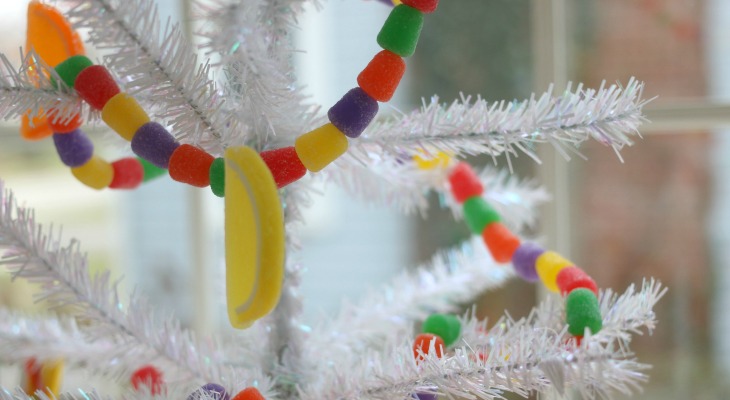 See Christmas through the eyes of a child with this fun and whimsical Kitchen Christmas Tree. Decorated with assorted candies, it's not only fun for the children but adults as well!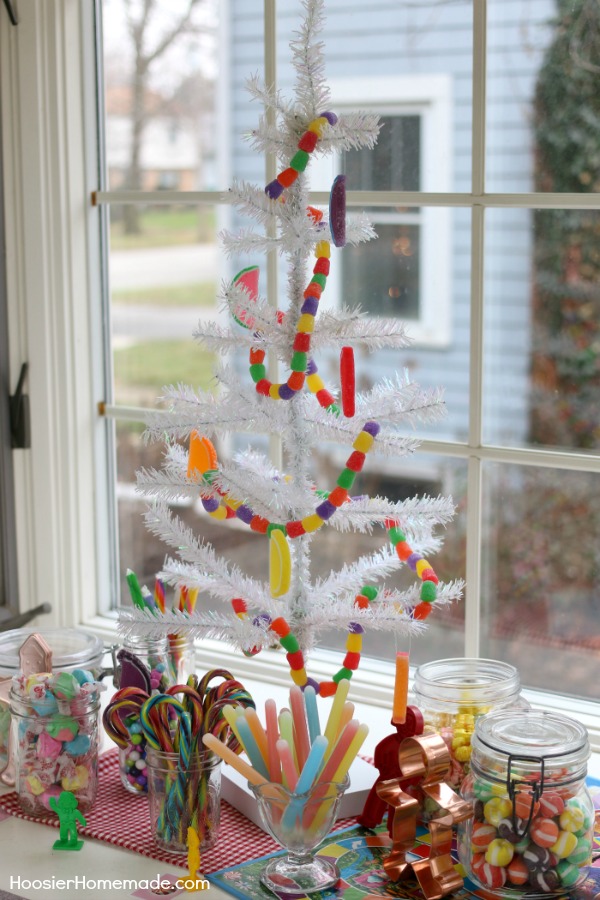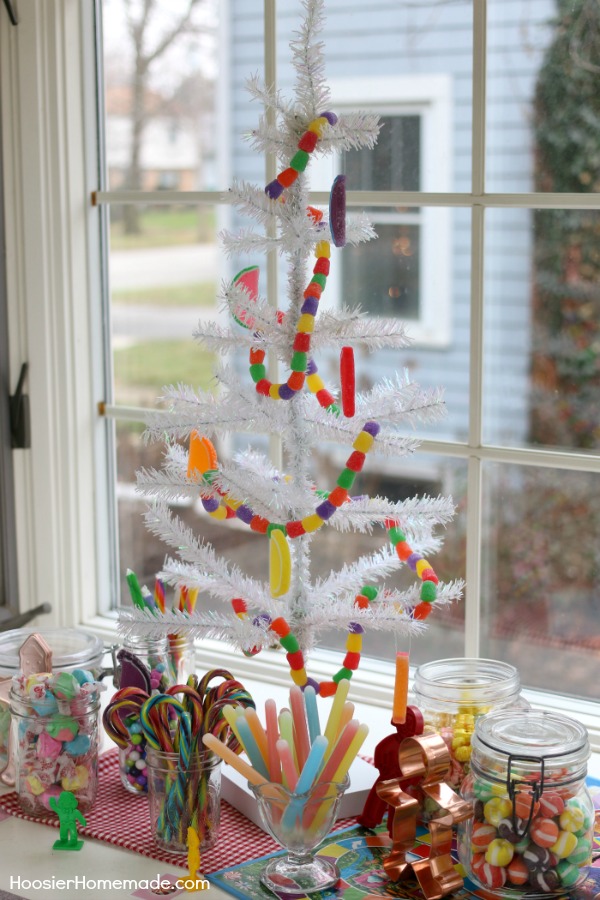 'Twas the night before Christmas, when all through the house
Not a creature was stirring, not even a mouse;
The stockings were hung by the chimney with care,
In hopes that St. Nicholas soon would be there;
The children were nestled all snug in their beds;
While visions of sugar-plums danced in their heads…
Or maybe – gumdrops, fruity candy canes and salt water taffy?
As a young girl, I remember the days leading up to Christmas, the special day seemed like it would never get here. My Mom would lovingly decorate our home and fill the buffet with treats and candy. We would spend the evenings playing games, like Candy Land, while trying to patiently stay out of the gifts.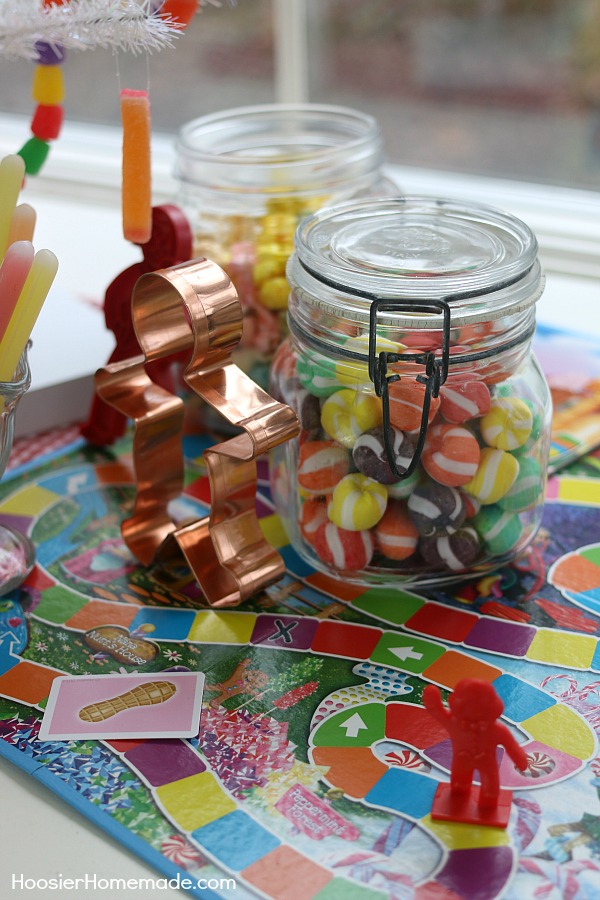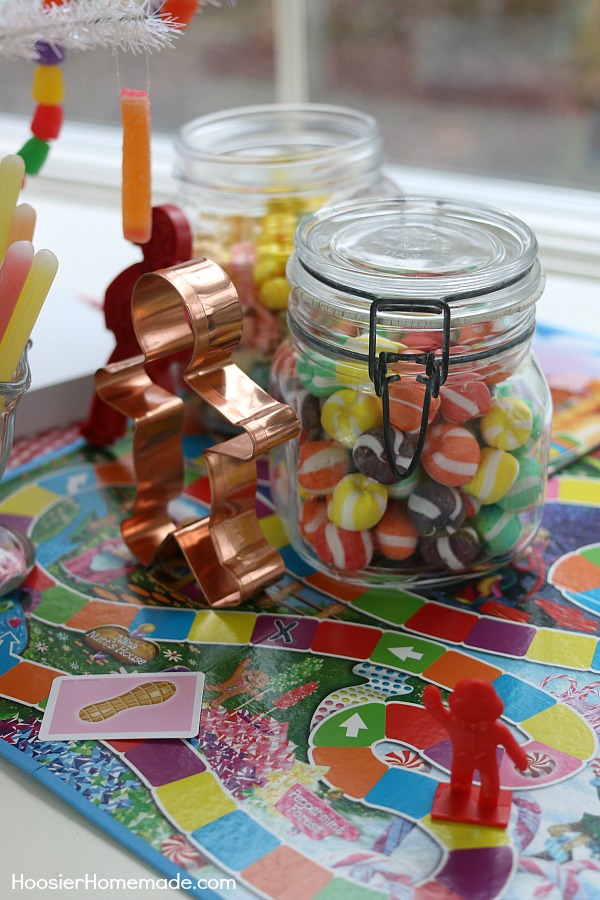 Seeing Christmas through the eyes of a child – that is what builds memories during the holidays. The kitchen Christmas decor is sometimes the most difficult to create. This Christmas Candy Tree is not only jumping back in time and bringing forward those memories of years past, but also a fun theme for the kitchen.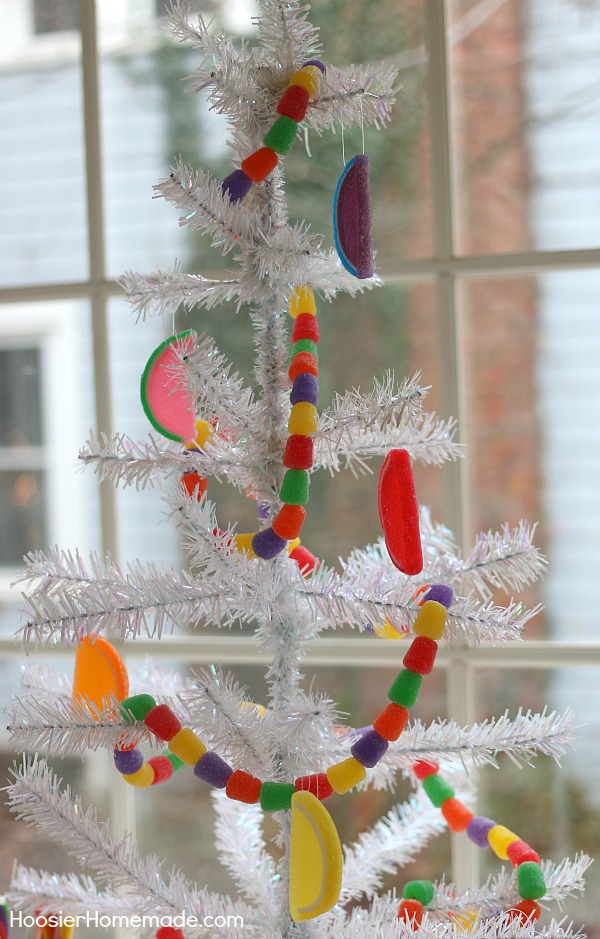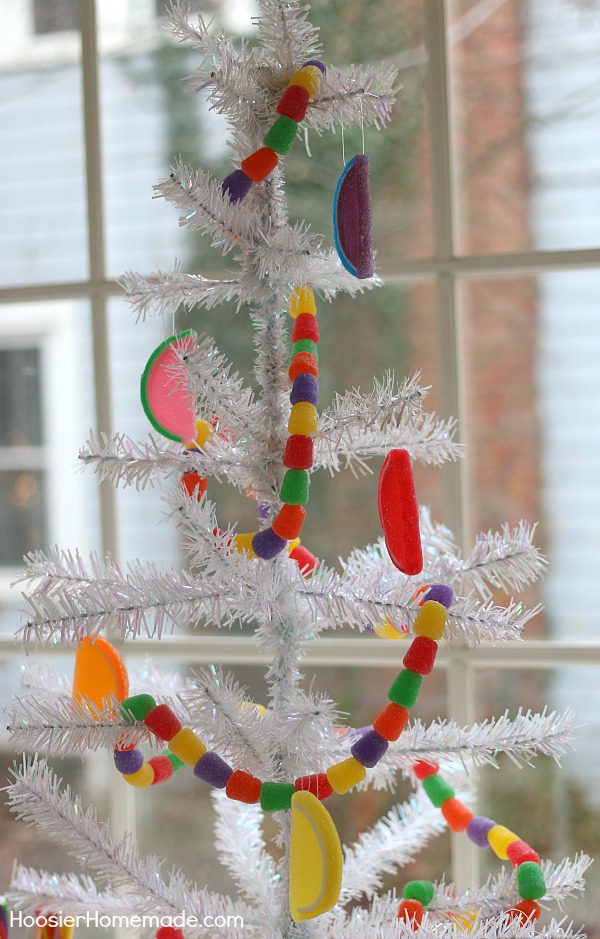 The white tree was the perfect size to hold the gumdrop garlands and fruit slices. To string the gumdrops, we used fishing line, and a large needle. The trick to keeping the needle from getting too sticky is to have a glass of very hot water next to you and dip the needle into the water every 2-3 gumdrops. If stringing your own is not something you want to do, this candy garland is super cute.
The fruit slices are also strung using the fishing line and needle. The trick with these is – be sure to string them far enough down that the fishing line won't pull through from the weight of the fruit slice.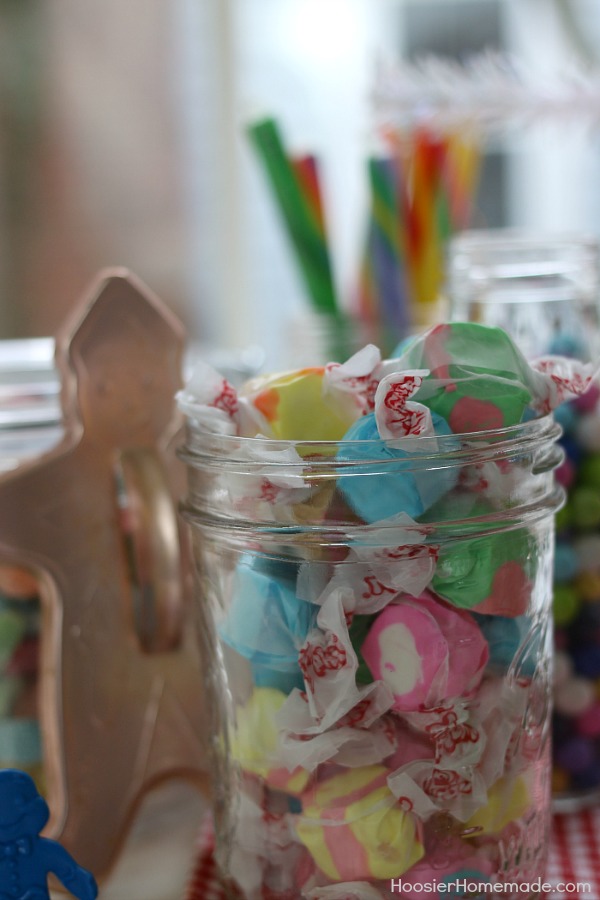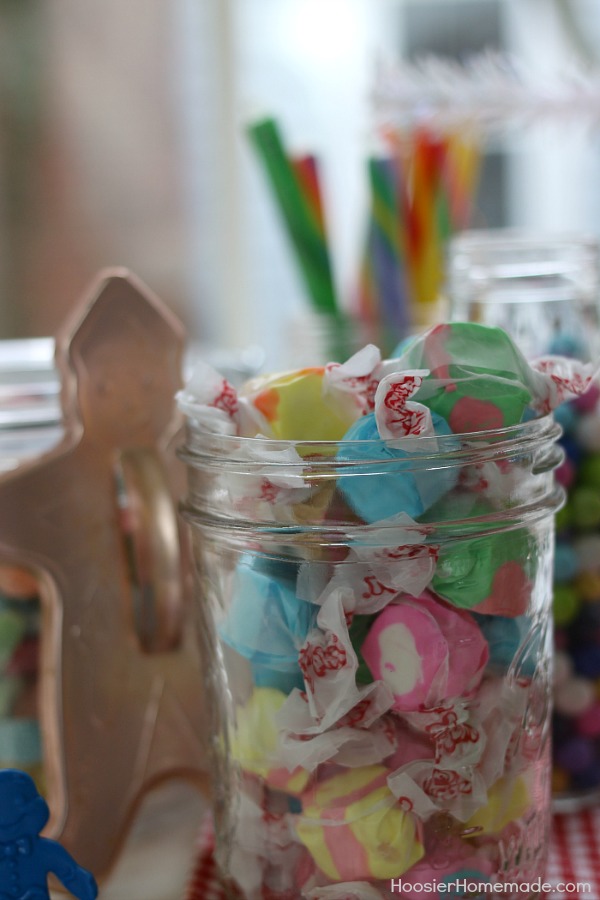 After the garland and fruit slices were finished, then I gathered up all different sizes of glass jars that I had and added the candy. The bright colored salt water taffy almost looks too pretty to eat.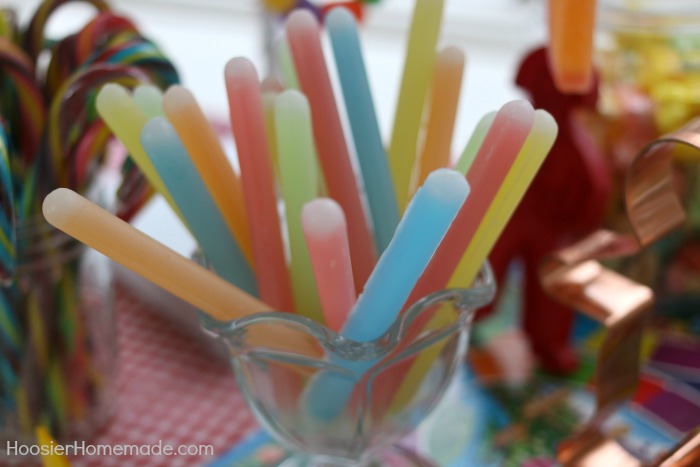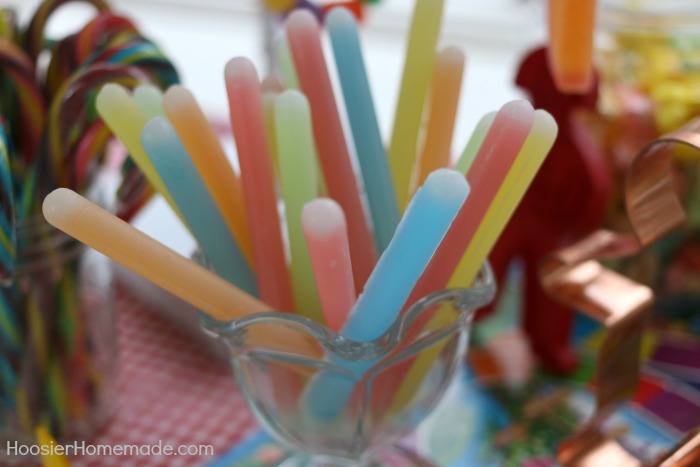 These wax sticks are very nostalgic. They remind of the ice cream shop that we would walk to after school that was filled with old fashioned candy.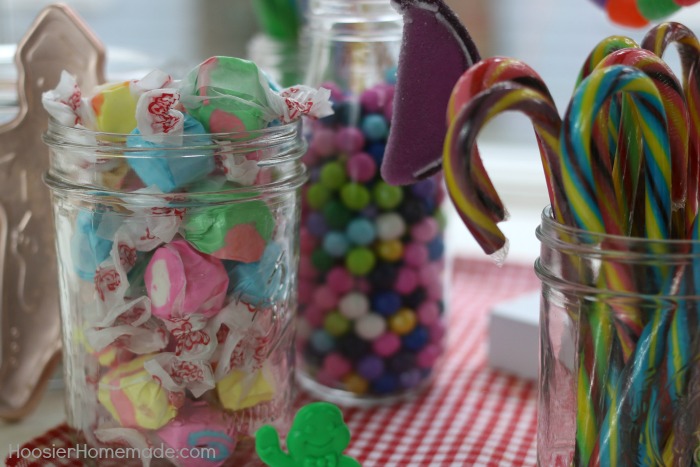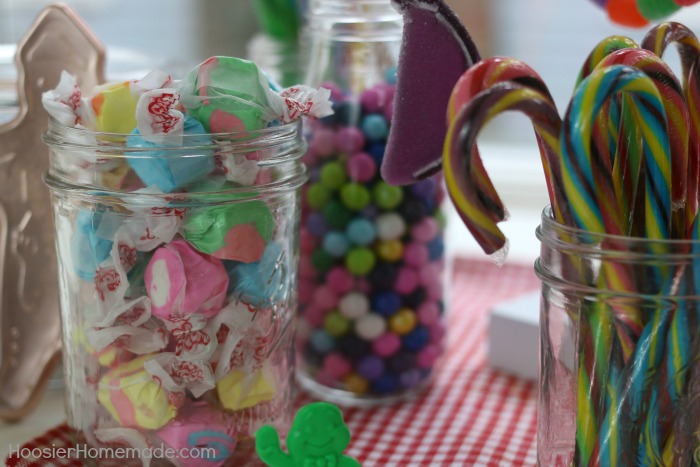 The bright colored fruit candy canes are also a fun addition to the Kitchen Christmas Tree, and the multi colored chocolate candies too.
Are you ready to create your own Candy Tree for your Kitchen? Here is what I used…