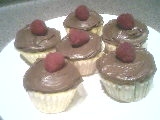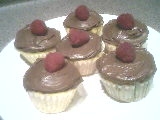 Last week I shared with you the recipe for Jam Cupcakes from Martha Stewart. And since today is the last day of the giveaway for her Cupcake Book, I wanted to get these cupcakes done. I had bought the raspberries and I didn't want them to go to waste, so I decided to whip up a batch and share them with you. Because it was Semi-Homemade Sunday, it was late and I was really tired, I decided just to use a box mix that I had in the pantry. (Sorry, Martha) But I can still share with you how I made them.
I started with the cupcakes, of course, and red raspberry jam.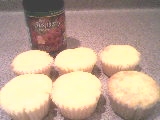 I got out my handy little apple corer and filled them using this technique.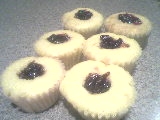 And then put the plugs back in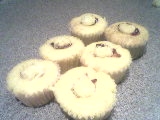 I frosted them with chocolate frosting and topped with a fresh raspberry.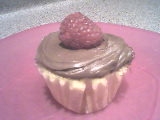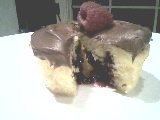 Note: Next time I won't put quite as much filling in. I usually use pudding in the middle, and I think when using jam, a little goes a long way.
I received a very nice email from a reader that had made them using homemade strawberry jam. Yum! There are endless possibilites for these cupcakes.
For more great blog carnivals, please visit:
~Make Something Monday hosted by Go Graham Go
~Make Something Monday hosted by Jolly Mom
~Recipe Swap hosted by Our Chaotic Life
~Mouthwatering Mondays hosted by The Land of Monkeys and Princesses