Easy Summer Entertaining: How to set your table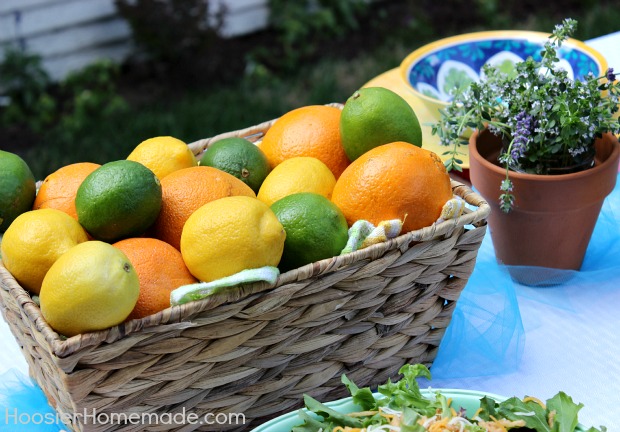 Enjoying a relaxing evening in the backyard with friends are memories we treasure. Entertaining – whether it's just a couple friends or a crowd, doesn't need to be stressful, take lots of time or cost a lot of money.
This gorgeous table was set with fun, decorative dishes, fresh fruit and herbs. Pair the easy tablescape with Grilled Southwest Chicken Wraps, Salad and Grilled Peach and Blueberry Cobbler and you have an amazing evening that you will never forget!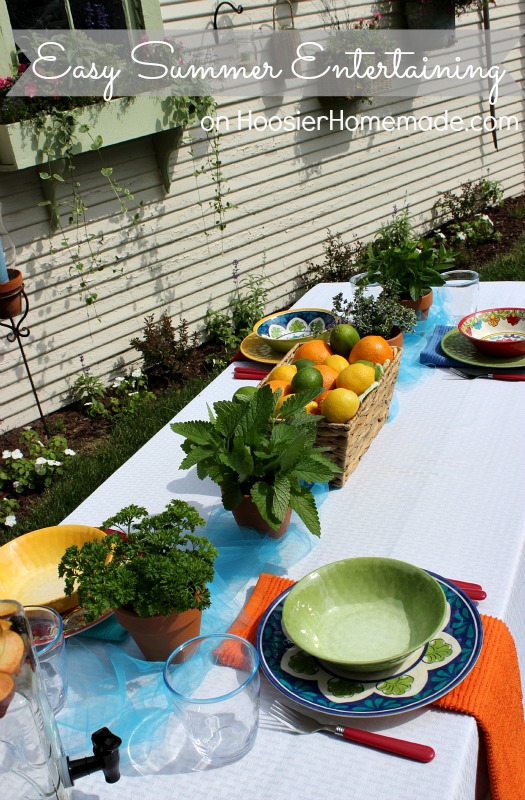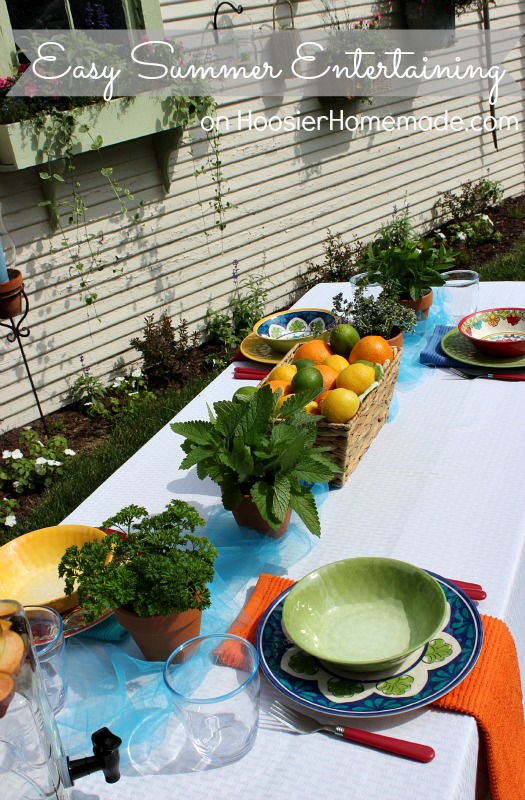 During a recent trip to Walmart Shareholder's meeting in Bentonville, I was inspired by the folks at Better Homes & Gardens to set a beautiful table with easy ideas.
As I said, entertaining should be easy and fun, let me show you…
We have changed our video style a bit, and I love how it turned out! If you are reading this post in email and can't see the video, please pop on over and see what we did, and we would love to hear what you think…leave us a comment!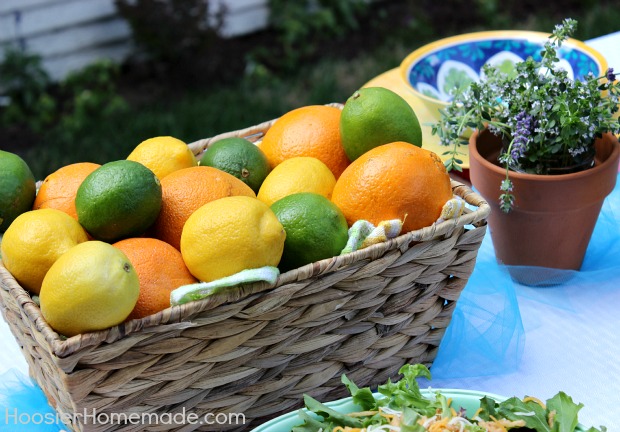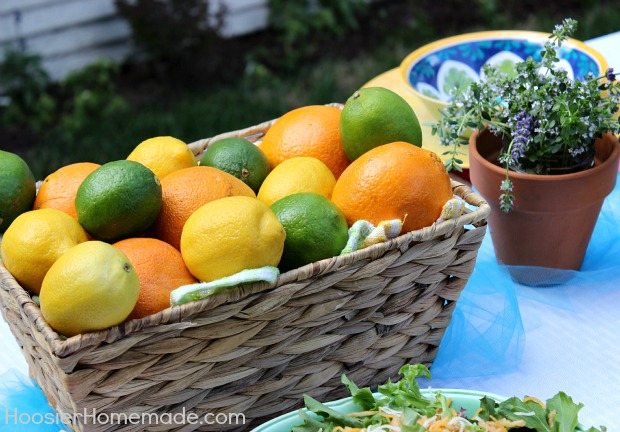 When you are setting your table, be sure to keep the centerpiece low, you want your guests to be able to easily see over it and visit. Using fresh fruit is always a great alternative, not only does it look beautiful, you can use the fruit after you are done with the centerpiece.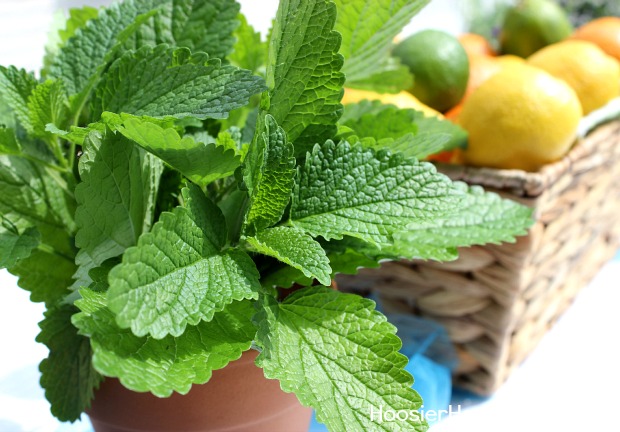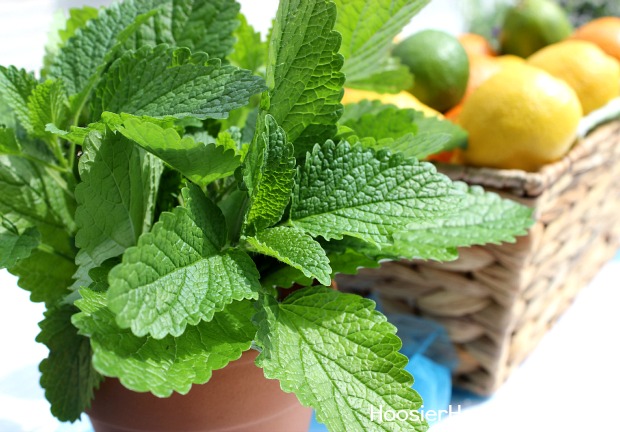 The terra cotta pots, filled with fresh herbs that are cut from the garden, add a fresh Summer feel to the table along with a refreshing scent.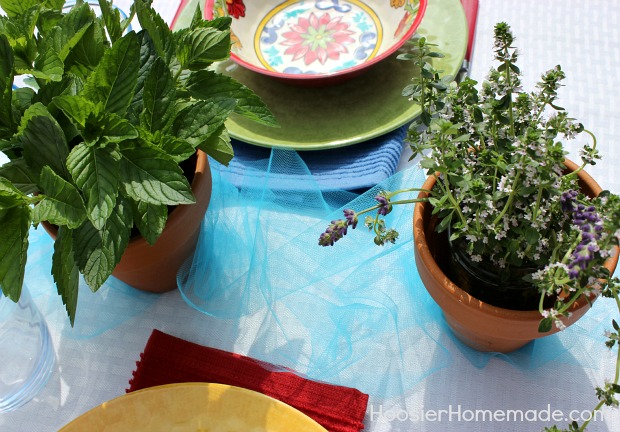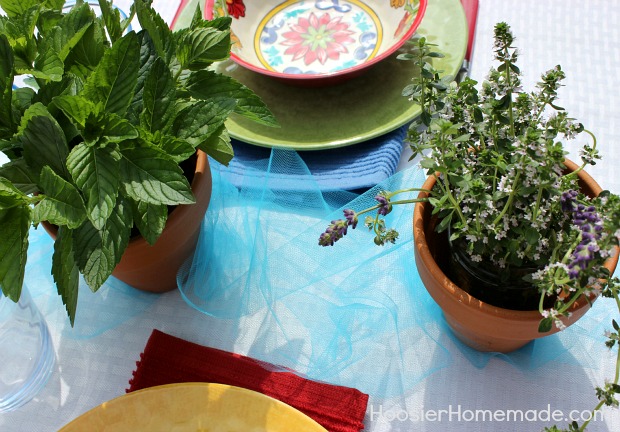 The bright blue tulle was added down the center of the table to add a burst of color and texture.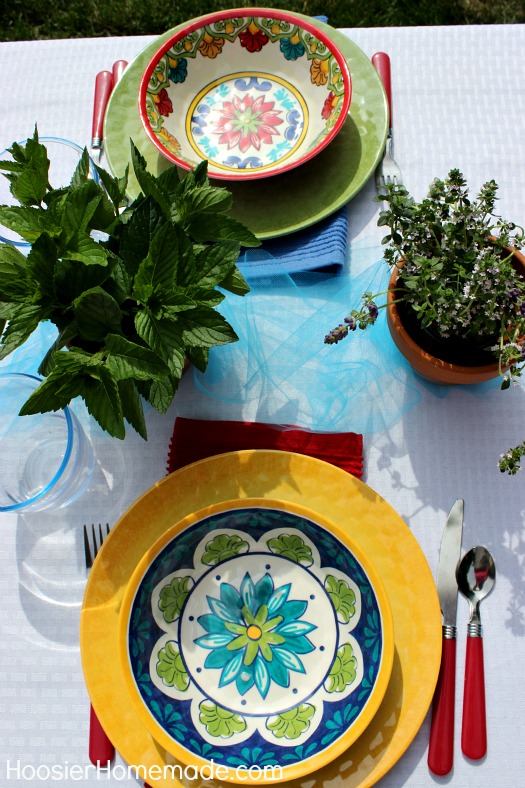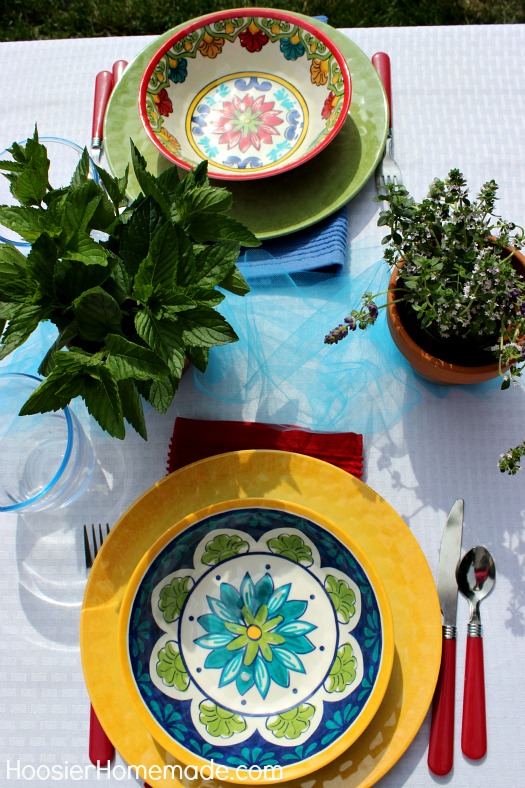 Then the dishes were placed on top of colorful bar towels. The glasses are plastic but look like glass, and the red silverware also adds a pop of color.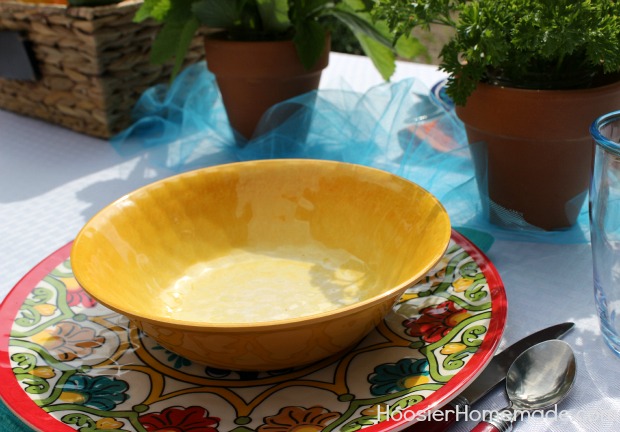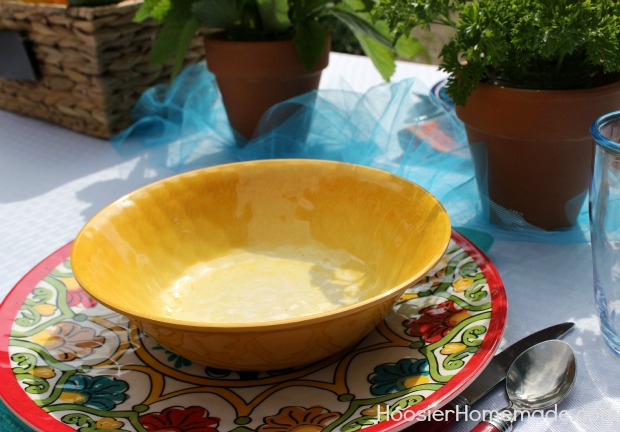 Although the dishes look like they are ceramic, they are melamine, making them light weight, easy to handle and care for.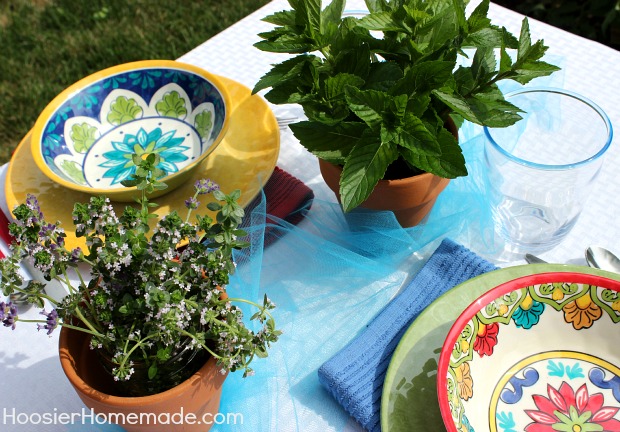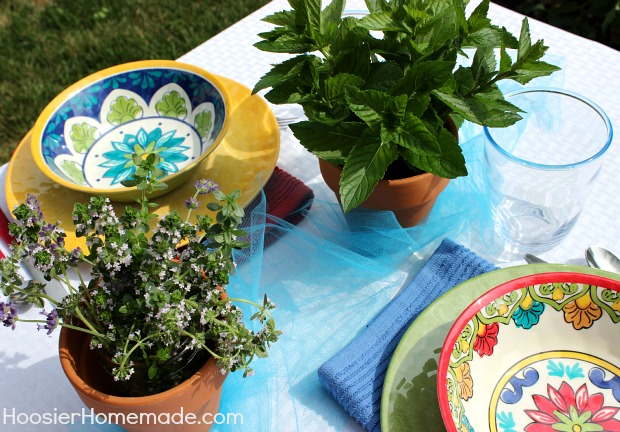 Another way we added color to the table was to mix and match the dishes. There are several different patterns available at Walmart.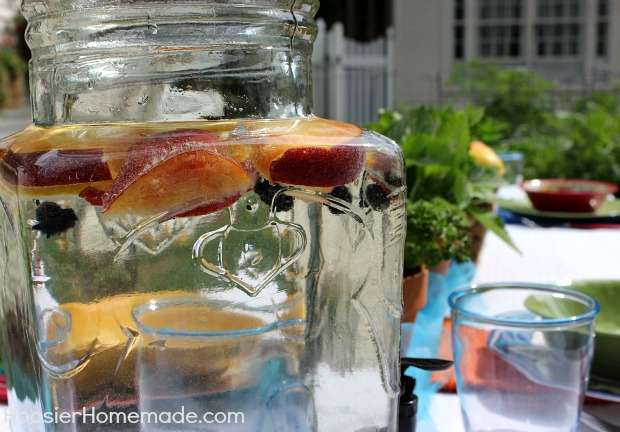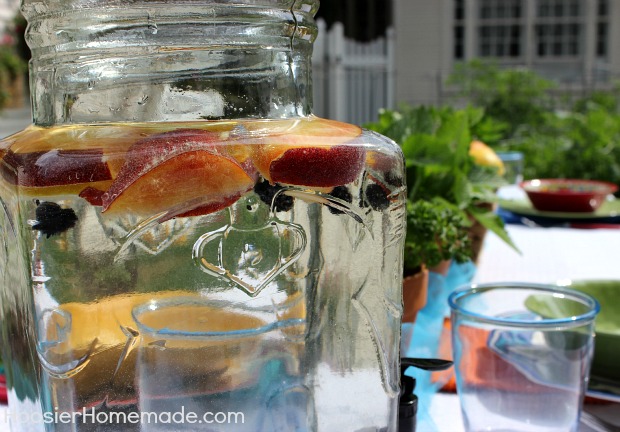 I love the glass beverage dispenser filled with water and fresh fruit added.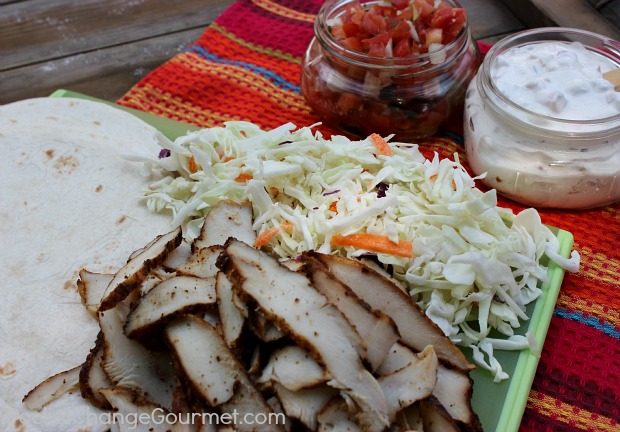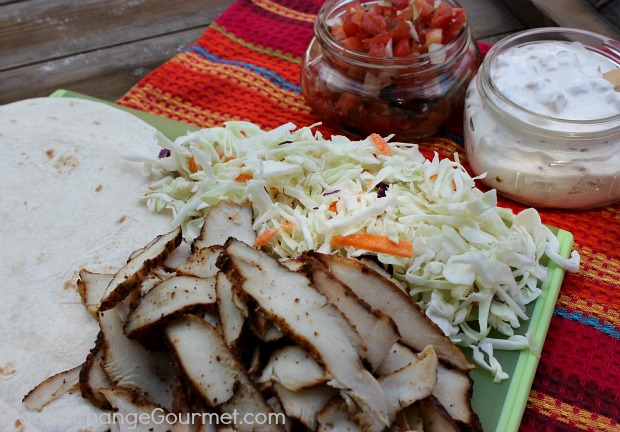 The Grilled Southwest Chicken Wraps were easy to make and can also be made up ahead of time.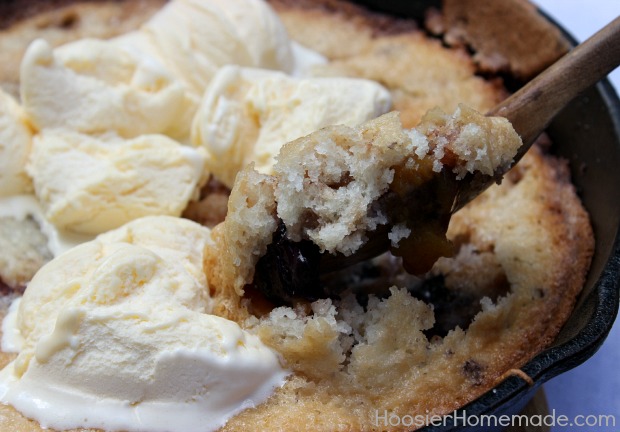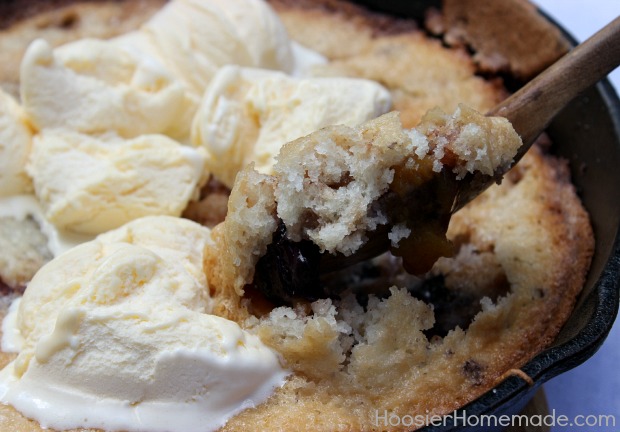 Finishing off our wonderful meal was the Grilled Peach and Blueberry Cobbler. Watch for the recipe on Monday!
Easy Summer Entertaining Re-cap
Table Setting
White tablecloth
1 pack of Ribbed Bar Towels
Dishes – Better Homes & Gardens
Basket with Fresh Fruit – TIP: fill your basket with towels first, that way you don't need as much fruit
Small terra cotta pots – available in Lawn & Garden
Glass half-pint jars for inside pots – found near the canning supplies
Fresh herbs – from your garden or produce section – you can also cut greens along the road or from a bush in your yard
Tulle – found in the Craft Department near the ribbon – it comes in many colors
Glass Beverage Dispenser – found near the dishes and only $10
Food
Grilled Southwest Chicken Wraps – recipe on Pocket Change Gourmet
Grilled Peach and Blueberry Cobbler – recipe coming Monday
Salad – Spring Mix from Produce, French Fried Onions and shredded cheese on top