I made these cute little lunchables to take with us to the Fourth of July Parade. I didn't really have an occasion to share them, until now.
FishMama over at Life As Mom is hosting the Ultimate Recipe Swap today with lots of great recipes for your lunchboxes.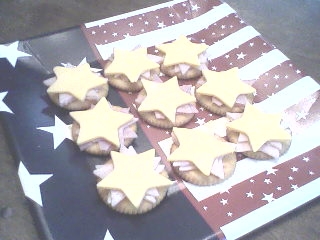 I used a round cracker (Aldi's brand), lunchmeat and sliced cheese. And cut the meat and cheese with a small cookie cutter.
These are quick, easy and fun for kids of all ages. And a special treat for the lunchbox.